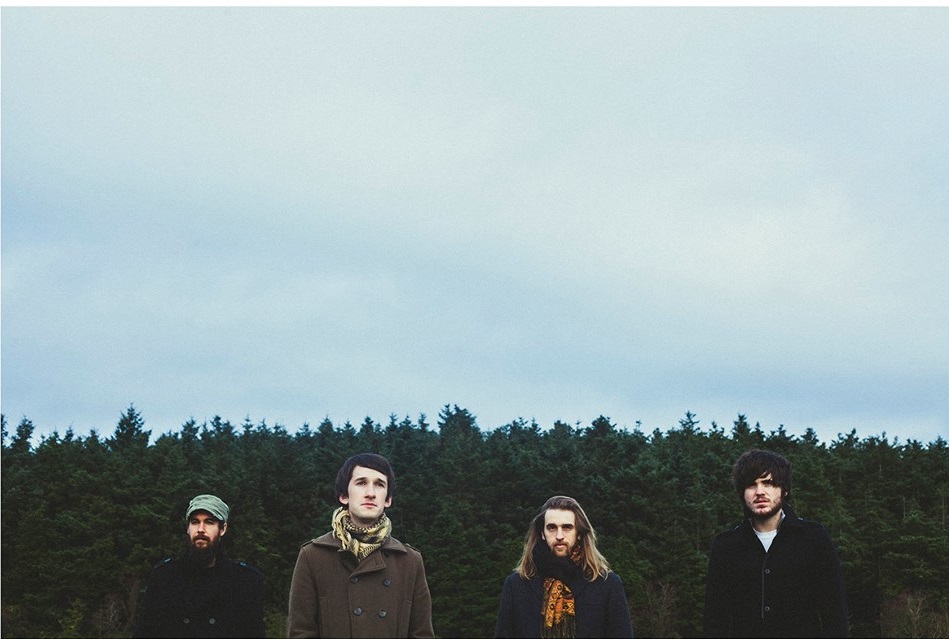 In the latest installment of Inbound, we chat to Paul Connolly and Dan Acheson from hotly-tipped Derry alt-rock quartet The Wood Burning Savages. Having just released their debut video for their wonderful new single 'America' following a hugely impressive headline performance at Belfast's Radar, the pair talk about the band's stance on being "old school" in the modern age, their stance on the imprint of last year's City of Culture and having two albums worth of material waiting in the wings.
Hi guys, you have just released the video for your new single, 'America'. Can you tell us more about that song and the making of the video?
Paul Connolly (vocals/guitar): 'America' is a song about a million different things. It's about the fact that a huge percentage of our generation has had to relocate to places like America and Australia just to find a decent job. It freaks me out a little that here in Northern Ireland and the UK we're completely in awe of American popular culture, sport and politics and I wanted to put that in a track. It's a song about how America treats itself. I keep up with current affairs on the news as much as I can and it always seems like America is the au pair of the world; standing with their hands on their hips giving any nation that throws the toys out of the pram a sharp look.
Dan Acheson (bass/backing vocals): It's a satirical disco rock song – some kind of philosophical commentary on the USA as a nation. On the one hand, it's seen as a land of endless opportunity and growth, and culturally speaking, the American people have given much to the planet. On the other, it is an increasingly invasive superpower with (at best) questionable foreign policy and a whole host of internal problems including the healthcare/education system, wage disparity, and a media industry that keeps things as they are. It's a statement of disappointment and anger, humorously wrapped in the packaging of a commercial pop song. Our next single's going to be called 'China'.


The video was really something we made in order to frame the song so that people "get it". Our friend, Chris McAlinden is a cinematographer – both he and Lisa Byrne (WrappedInPlastic Photography) have been indispensable regarding the visual accompaniment to this release. A couple of us compiled a load of American themed stock footage, we got hold of some old projectors and played the song live in a gallery space for three hours virtually nonstop – we would have filmed for longer but there were some time constraints.
You've really came on leaps and bounds over the last twelve months and have proved yourselves to be a highly-motivated band. What inspires you as a collective to constantly write and perform as much as possible?
PC: We're actually really motivated by larger bands. For instance, if I'm watching a well known band perform, my first thought is "Well, we can do that too!" Performing is paramount for me; people have worked hard all day and when you're playing a gig you want to entertain them and give them something to enjoy and digest.
DA: In recent times, people in technocratic societies like ours have become used to sitting in front of their laptops for several hours a day. We think it's important to get out and play live because there's a feeling of wholeness to the live experience that you just can't get from YouTube.
PC: As regards writing, it's something we're fairly tuned for. I'll write something everyday, I'm not going to make sure I write something everyday and I'll not sit in a café looking wistfully over an empty cup making sweeping movements to write one line hoping that someone will look at me or anything but I'll write a note in my phone if a few words come into my head. The fact that I try to write lyrics so frequently really aids us and speeds up the development of tracks. We'll sit quite often just at home writing melodies and keeping a record of them so that some time they can be fleshed out into a full track.
DA: We want to create. It's important to realise that we're all going to be dust in a matter of years and it feels good to give something and enrich other people's lives even if only in a minor way. I don't think any of us see any other paths in life as being quite so rewarding as the one of a creator, but at the same time it's not exactly easy, particularly in fiscal terms.
It's clear that your sound has progressed quite strongly over the last while too. In terms of general songwriting dynamics, has new inspiration or influences seeped in?
DA: We're constantly messing around with different instruments, effects pedals, software – they're merely sonic tools to experiment with and frame the story of the song. Sometimes a couple of us will sit with acoustic guitars, other times we write jamming out and improvising at our practice space. We all listen to a lot of different music, read different books, and are open to taking things in different directions – I think it's important for people in general to be open minded and tolerant; it makes for a much more interesting life.
PC: It's a cliché and an often said thing by bands that their collective record collection is very varied but I'll say it, ours is. That goes some way in explaining the Jekyll & Hyde nature of the songs we've written. I'm a 60's garage fanatic, I love Gram Parsons too, so I guess when I think of a song it's got to be three minutes long and visit the chorus a couple of times. That being said, I think being in a band means listening as much to the things that influence your bandmates and their consequent ideas as your own.
I've started reading a lot more recently too, I love wacky and oddball books. Anything like Spike Milligan's Puckoon or Flann O'Brien's The Third Policeman will spark a bit of a manic thing in me whereby I feel like I have to invent characters and situations as interesting as theirs' in order to make a good atmosphere for a track.
Your most recent material seems increasingly driven and impassioned. What kind of themes and concepts have started entering into your lyrics?
PC: Coming from a town where people argue over what it's called will make you want to question everything and everyone from a very young age. I think a lot of people living in the Northwest have a part of them that inherently wants tranquility and fairness for their fellow person. That's something that I write about. I don't think that there are too many bands in Northern Ireland writing protest songs or as someone recently called them 'Fuck You' songs. So often I'll try my best to have an element of that in our output. 'Long Good Friday' is about sitting in a bar beside a group of men who had just been made redundant from a local factory and listening to what they were saying. I think a big theme in our music is togetherness; life will throw all sorts of awful shit at every one of us but as long as we have good people around us, nothing is insurmountable.
Every band writes about love and love lost. We're no different; 'Flu Season' is one that came from thinking about my own experiences in relationships and listening to people opening up about their own highs and lows too.
Mortality is something that fascinates me too. The fact that as a species we'll queue up for a week for the new iPhone and watch The Kardashians coo over tiny dogs on TV and see that as the pinnacle of entertainment scares the shit out of me. One day we'll die and that'll be that. So as cheery as it sounds I try to get a bit of death into the odd pop track too.
As a Derry band, how have you found the whole City of Culture thing having an effect on your own rise over the last while? Has it been instrumental or merely complimentary?
DA: I wouldn't say so – not directly. I think City Of Culture was positive for many different reasons, but to be completely honest the majority of our "progress" comes from us putting in the hard yards – staring at email inboxes, making phonecalls, designing our visuals – occasionally finding the time to write a song or rehearse a set. The people who support us also play a big role, because without them we might as well be huddled together in a cave, shouting at the dark. When times are tough, acknowledgement that something you had a hand in creating meant something to someone is what keeps you going.
PC: Having Derry as the City of Culture last year was a bit of a double edged sword. We made some excellent new friends who came to the city, so with that in mind there were a few wonderful opportunities for us and other musicians to forge links all over the world. When it ended, it ended rather unceremoniously and with a guy from a certain pop band famed for standing up from stools, being given money that could have been spent better on facilitating young musicians and furnishing them with rehearsal space and equipment. As regards our rising, I think that the City of Culture buzz was very helpful, but at the end of the day we're a band who very much ploughs our own furrow.
In terms of Northern Ireland generally, what bands and acts have caught your ear recently – ones that maybe you've played with and can envisage going far?
DA: I think we all appreciate the strength of singer songwriters based here. The likes of Robyn G Shiels and Malojian, not to mention the incredible amount of talented musicians based in Co. Derry is testament of the country's ability to punch above its weight when it comes to writing songs and telling stories. We really enjoy playing with The Bonnevilles – 'Good Suits…' never leaves the van.
PC: The Bonnevilles are the masters of getting in a van and driving to gigs and blowing the roof off night after night wherever they go. The entire Northwest has always been a hotbed of excellent songwriters and groups so much so that if I were to list them it would fill this page. Donegal's In Their Thousands rank among the best live acts I've ever seen.
DA: ITT are fantastic. In fact, you should go and check them out right now.
Is there a distinct, achievable aim that you collectively have in mind as band, or are you playing as it comes? In other words, is music the aim in itself or a bridge to something bigger?
DA: I think we all treat it as a 'life thing'. Ideally, we'd like to forge some kind of career out of it, whereby we could support ourselves by making music and performing the majority of the time. Sharing ideas and provoking thought from our audience, as well as entertaining them and if necessary, allowing them to escape the banal aspect of 21st century living.
PC: We're quite old school. In that our aim is to constantly write and create a catalogue of hopefully thought-provoking and interesting songs that people will want to listen to as a soundtrack to their lives. I can only be as specific as saying that I'd happily get in the van and gig every night for the rest of my life. Our aim is to keep creating, whether that's albums, events or videos as long as it's something that allows us to get music on the go it's all good. Oh, but I would love a fur coat and a diamond ring on each finger.
Finally, in terms of future material and all that comes with, what can we expect from The Wood Burning Savages in 2014?
DA: Well, we've enough songs to fill two albums already – we're also constantly writing new stuff. Recording in studios can be expensive – we invest everything we make as a band back into the band, so the more support we get, the more able are we to keep making. We'd like to put together a full-length release over the next year or so, but that's not to say that we won't have a couple more smaller releases before then.
Touring wise, we're going to be playing as much as we can. We do everything ourselves, so booking can be tough going and a lot of hard work – We really want to get over to the UK and Mainland Europe; luckily we bought Fighting With Wire's van a few months ago so all we need to do is get the dates in place and make sure we make enough money to feed ourselves on the road.
PC: We like to throw little curveballs for people, our most recent one being a free download for a track called 'Flu Season.' We're working on a folk set, featuring acoustic versions of our songs with some different instrumentation than we're used to currently too. It keeps us on our toes and makes us work harder. So in the time between now and an album, who knows?
DA: Expect us to keep doing what we're doing, but do more, and do it better. We're not going away anytime soon.