Features
Published on April 1st, 2014 | by Brian Coney
0
Track Record: Dan Walsh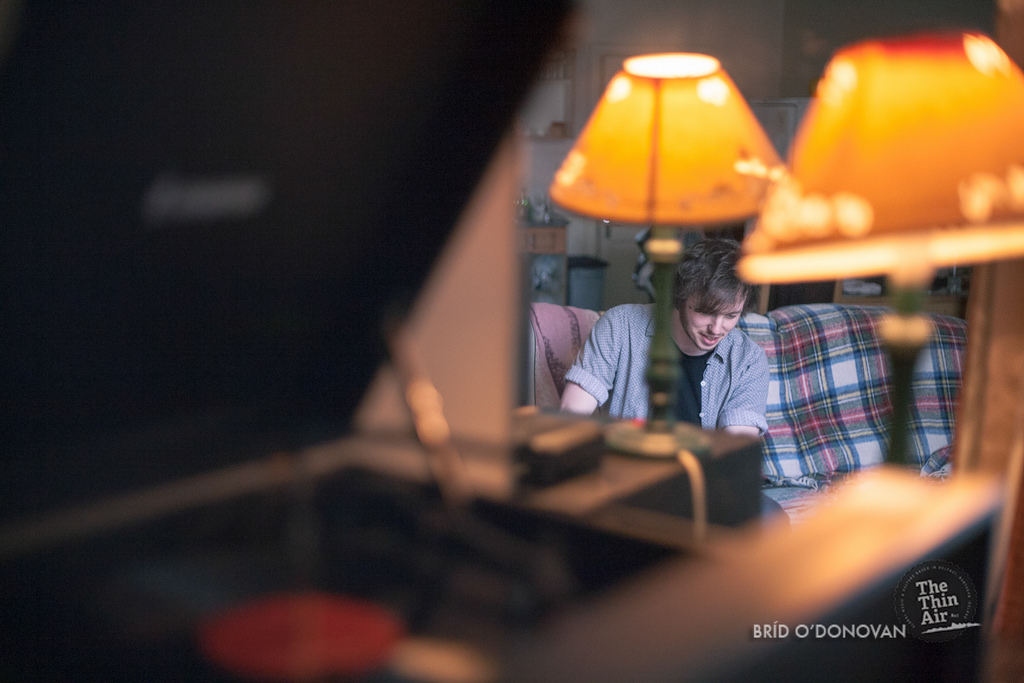 In the latest installment of Track Record, our photographer Brid O'Donovan meets with Cork musician Dan Walsh – primarily a drummer, who performs with Cork-based bands including Grave Lanterns, Elastic Sleep, The Great Balloon Race and STINK! – to have a look at some of his favourite records. Some fantastic music awaits.
Billy Joel – The Stranger
This is a record I got off my Dad. I've been listening to this since I was tiny but it took me years to come back to it and realise that it wasn't just background noise. I knew all the songs from having them on in the house growing up and I'm pretty sure that some of the scratches on the vinyl are from me when I was a kid. It's absolutely amazing pop music and not in a traditional way either. A lot of the time he doesn't even have definite choruses. The whole song will be made up of just choruses. Loads and loads of choruses. The ballads on this album are probably the biggest tunes for me which is unusual enough. It has 'Just The Way You Are' and it's got "She's Always a Woman". A big thing I can remember is the sax solo on the former. I could always remember that solo but I couldn't remember the lyrics. I listen to this a lot still.
Glasshouses, 52nd Street and The Stranger – they are three unbelievable Billy Joel albums. Also, the cover is absolutely incredible and sometimes the back is the best part. It's this little extension of what they are doing at the front. Sometimes there's a load of information too which I love. You buy a record and then on the bus home you'd be reading it and you get so excited just to listen to it. I remember that when I started buying records, thinking "I just can't wait to get home and just listen to the thing". You learn so much about it and you are making up the sound in your head before you even put it on the turntable. You are attaching all these expectations to this one record. If it's fulfilled then that's great and if it's not then the surprise is amazing.

Billy Holiday – Lady in Satin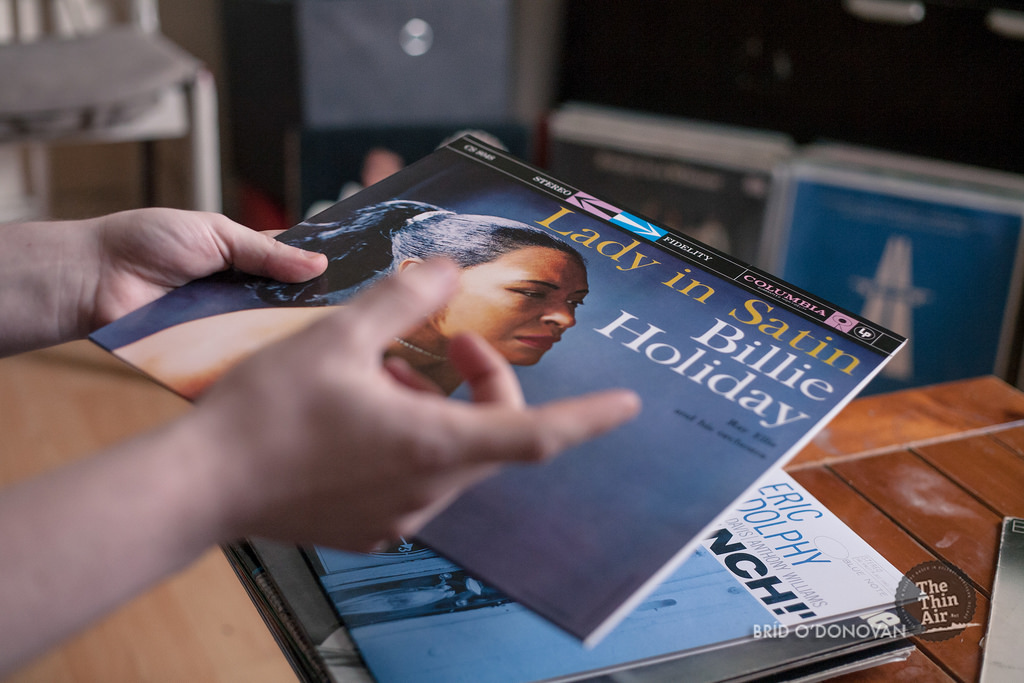 This is the saddest music I have ever heard in my entire life. It's so beautiful it's scary. It scared the shit out of me the first time I heard it because it's really intense and really beautiful. She has this huge orchestra on it, the Ray Ellis Orchestra. Ray Ellis was this arranger that she really wanted to work with. There are amazing musicians on this like JJ Johnson, he was a huge trombone player. You can really hear the turmoil in her voice. She sounds like she's on the edge the whole time. Sometimes she can't reach a note, sometimes she might dip away from something but the way she goes from phrase to phrase it sounds like she is constantly challenging herself. The cushion of syrupy strings the whole way through the album is amazing. It has the big tunes on it like 'I'm a Fool to Want You'. It's absolutely heartbreaking stuff but I can't stop listening to it. On the back of most jazz records there is a blurb written by a well respected journalist specific to jazz or by someone who specialises in that kind of music. They would write about the album before it came out and then when the record did come out it had this information on the back. They didn't have any other way of getting that information to the people. It's a document of how this person was thought of at the time.

Eric Dolphy – Out To Lunch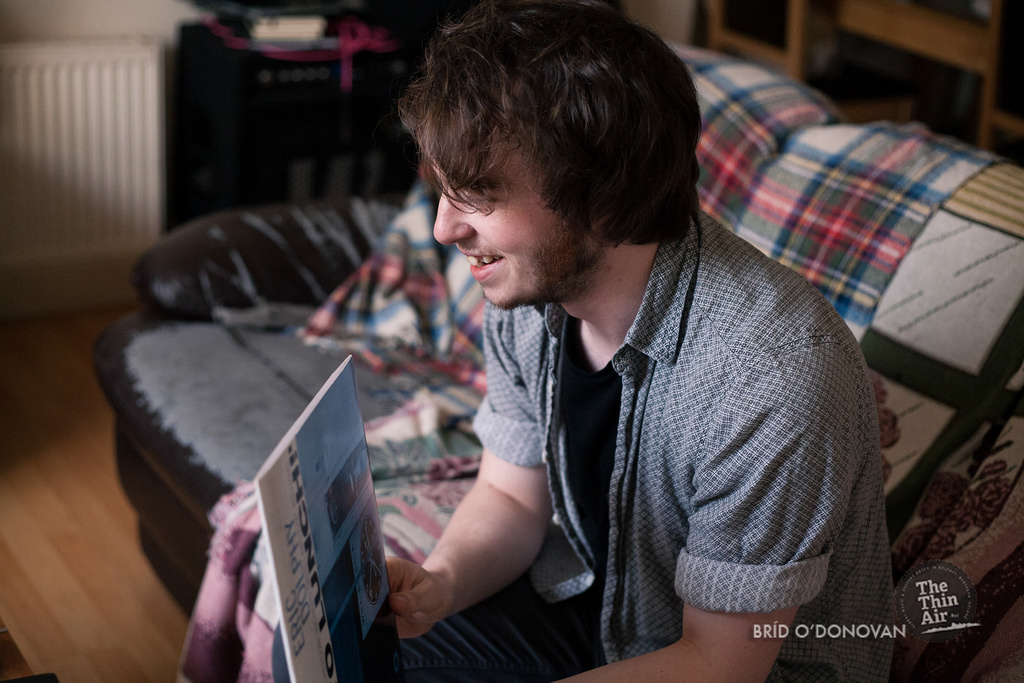 This album really blew the top of my head when I heard it. It's probably my favourite Blue Note record. I have quite a few of them but this is a stand out. The way he writes and the combination of people in the band is absolutely perfect. He knew exactly who should be playing what. Eric Dolphy was a sax player with John Coltrane and he played with all the greats. He was developing on what Ornette Coleman did five years previous. This record was released in 1964 so, it's fifty years old, just a couple of weeks ago. It's really free and really open, improvised music but the band had a huge understanding as to what points to meet at because the compositions are so well thought out. They sound like they are having a lot of fun but its super intelligent. I bought this in Plugd (Record Store, Cork) and got a t-shirt with it which was handy!
Again, this has all the information on the back of it which is a nice element of these records. The information on these records is all you need to enjoy the record. You can enjoy the record anyway but that album cover is absolutely beautiful because they knew exactly how it was going to look. The back of it is the perfect size. It's so well laid out. Every Blue Note record has this format – beautiful piece of artwork, with all the information you need to gain interest in the album, name of the record, the piece of artwork and on the back you have the list of the band members and what they play, the list of tunes and who wrote them and then you have the description which is almost an introduction to Eric Dolphy, but if you know who he is you get a lot more information. It gives you the context in which this record was made.

John Coltrane – A Love Supreme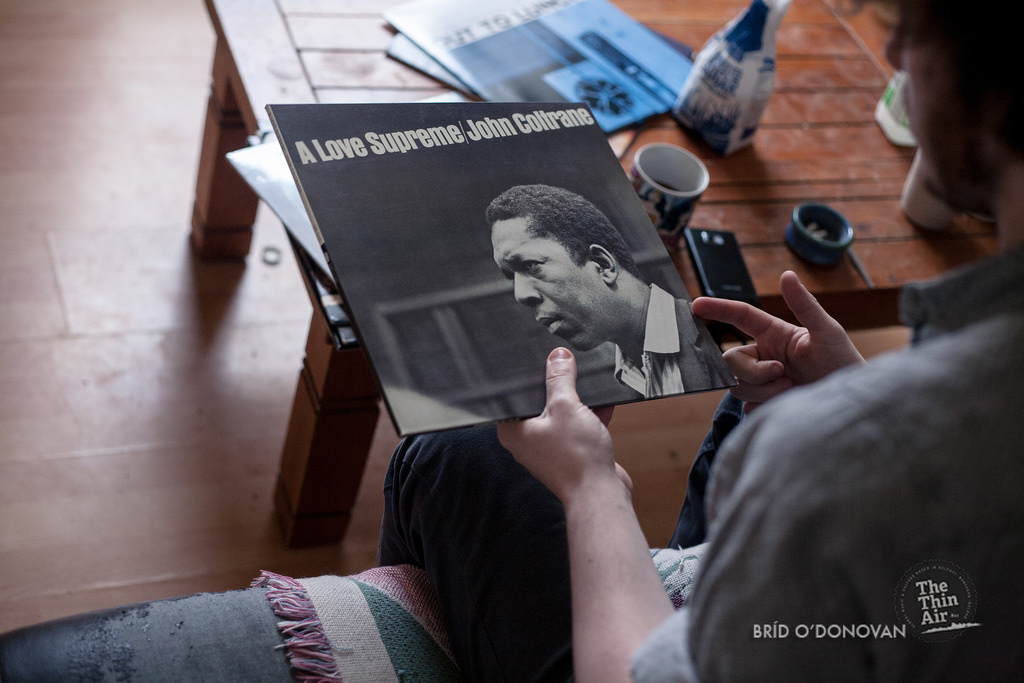 He wrote this prayer for the inside of the record, which comes back to God or whatever he thought that represented. Even the name A Love Supreme, you know the record is going to be really heavy. This guy is so serious on the cover and it's beautifully laid out. Front and back are the same. This came out the same year as Out to Lunch, 1964, This is one of the most important albums, to me. It was one of the first CDs I got with my own money and I had no idea what to expect because a lot of the stuff I heard that Coltrane played on recordings was really straight ahead, swinging jazz. I had heard it at least by Miles Davis and Coltrane was on it so I made that connection. I bought A Love Supreme and I would just listen to it over and over again until I felt like I understood it a little bit more. If it gets put on I just can't stop talking about it. I always recommend people listen to it on their own because it feels like it was made for one person to think about at a time. It's serious stuff.

Astrud Gilberto – The Astrud Gilberto Album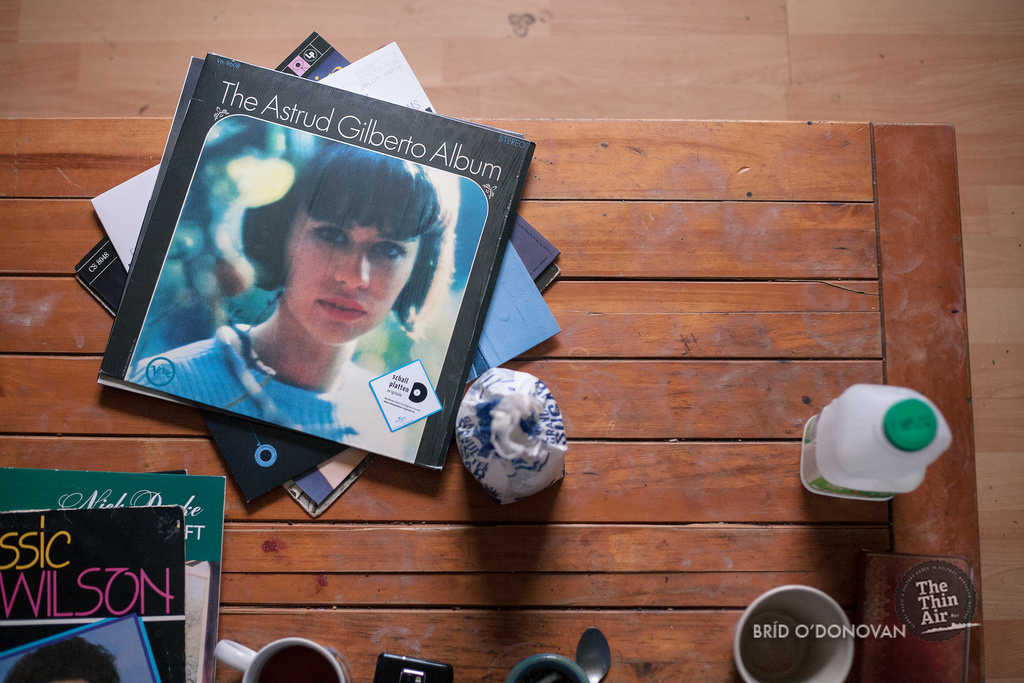 This is The Astrud Gilberto Album, so called because I think it sums her up in a lot of ways. It's a huge statement but it's also fairly traditional bossa nova. It's with Antonio Carlos Jobim, who wrote most if not all of the songs, and it was arranged and conducted by Marty Paich. It's beautiful, summery music but all the lyrics are about longing. It's much sadder music than what it seems from the periphery level. The more you listen to it the more heavy it seems. I have got a serious soft spot for bossanova. Some of the arrangements catch you off guard and her voice is absolutely incredible.  She has this pure tone to her voice. People thought she was way younger than what she was. She was in her twenties but when she went on tour with Stan Getz they thought she was sixteen. They thought it was really strange that this sixteen year old girl was coming out to sing with the Stan Getz band. This record will fix your day if something's not going well. You just listen to this album and you feel a hell of a lot better without even realising that it's happening. 'Photograph' is the standout track from the album. I don't even know how to describe it. It's like being in a bath of honey.

Jackie Wilson – Greatest Hits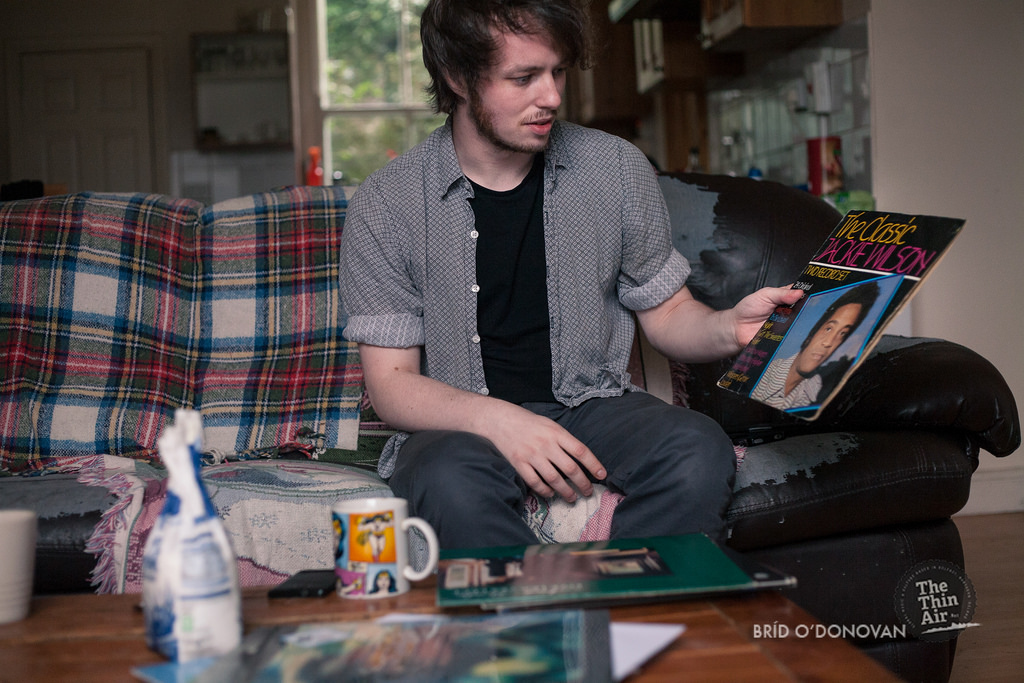 This is the first record I bought outside of Cork. I got it in Dublin for like €3 in some market stall. I was getting into soul a bit, then I got this and I was way more into soul after hearing it. It varies between rhythm and blues and huge soul ballads and then you got 'Reet Petite' and all that almost boogie woogie stuff. I never actually sat down and listened to that style before I picked this up. That picture on the front – he looks like an absolute badass. Then you hear him singing and he has this beautiful voice and he can do amazing things with it. I don't know if people know how good a singer he was. He kind of contemporaries with Elvis but he has much more of a virtuosic sound. He was a great show man. He was one of those entertainers like Sammy Davis Jnr.
He fitted the mould of what needed to happen to be a successful musician with credibility and amazing technique and still have huge hits. Tunes like 'Lonely Teardrops', there are all these subtle things in the arrangements, even in the way he sings that caught you off guard. You could never drift off from it. From the cover you could think it was just pop music but there's so much going on. It really draws you in. I like to think that they are trying to play little tricks on you so you don't stop listening. That is something that I'm always trying to do as well – trick people into not being able to drift off. Little surprises that you don't realise you hear until the second time you listen to it. Everytime you hear it you are back on it and and then you find something else. There are so many layers to it even though the songs are really solid. He's this amazing anomaly in male singers. It's really masculine, but it's not afraid to be tender and sensitive. I'm not sure if that still exists to the same extent. A lot of the time now, when guys do ballads there's a different formula to it. It's almost apologetic. The music is playful but there is a serious tinge to it. Some of the songs like 'I Get the Sweetest Feeling', there's always something in there that makes it sound a little off but it's perfect.

Nick Drake – Five Leaves Left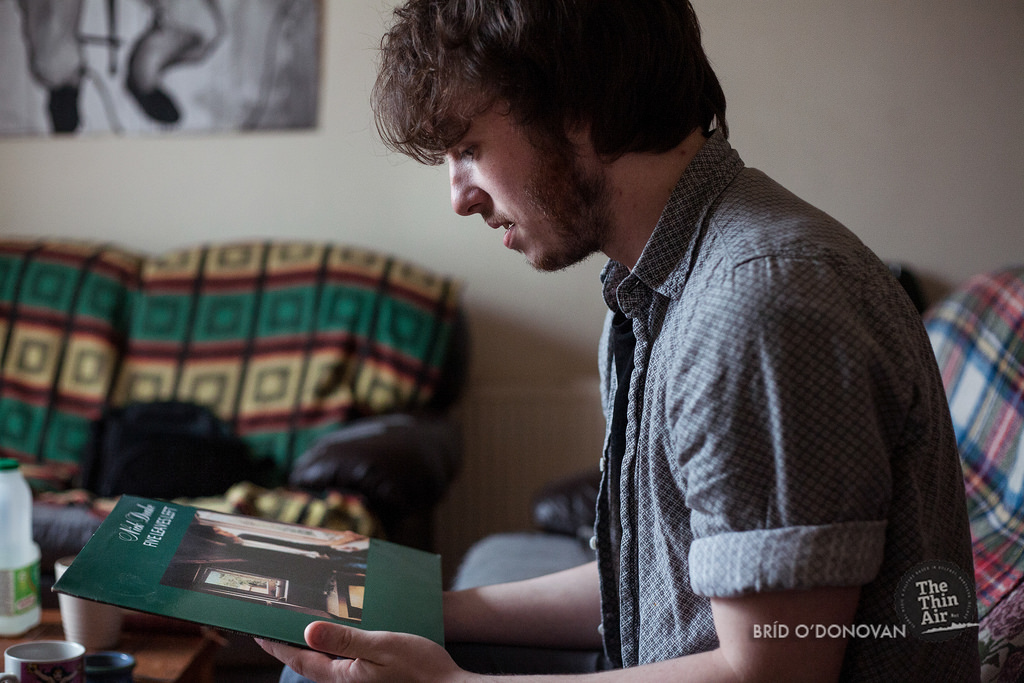 Another gorgeous cover. It's just him in a room, looking out the window but it's framed so well. It's so unusual but you don't even realise it. I heard this record for the first time when I was in my mid-teens. I didn't listen to much folk but I heard 'River Man' on MTV2 and there was this crude video with it because there was no existing footage of him. That song really blew a lot of stuff open in terms of having a really simple idea for a song with just guitar and voice and the string arrangements that went with it are so unsettling. Everytime I listen to it I get the same tingle that I got the first time. It never settles in your mind. It always catches you. All the songs are like that. There are amazing musicians like Danny Thompson on bass who was in Pentangle, he played with John Martyn as well. This lead me on to checking out a lot more Nick Drake and a lot more John Martyn and also Pentangle after that. Again I got this when I was a teenager and when I started buying records it was one of the first ones I got. It's still mighty impressive. It's got this earthy quality but he sounds a little bit detached from everything. There's a song on it called 'Fruit Tree' and in it he sounds like he knew exactly what was going to happen to him when he wrote that song. He died and then he got widely respected for his music – "Fame is but a fruit tree, so very unsound. It can never flourish, till it's stock is in the ground.".

Dorothy Ashby – The Rubaiyat of Dorothy Ashby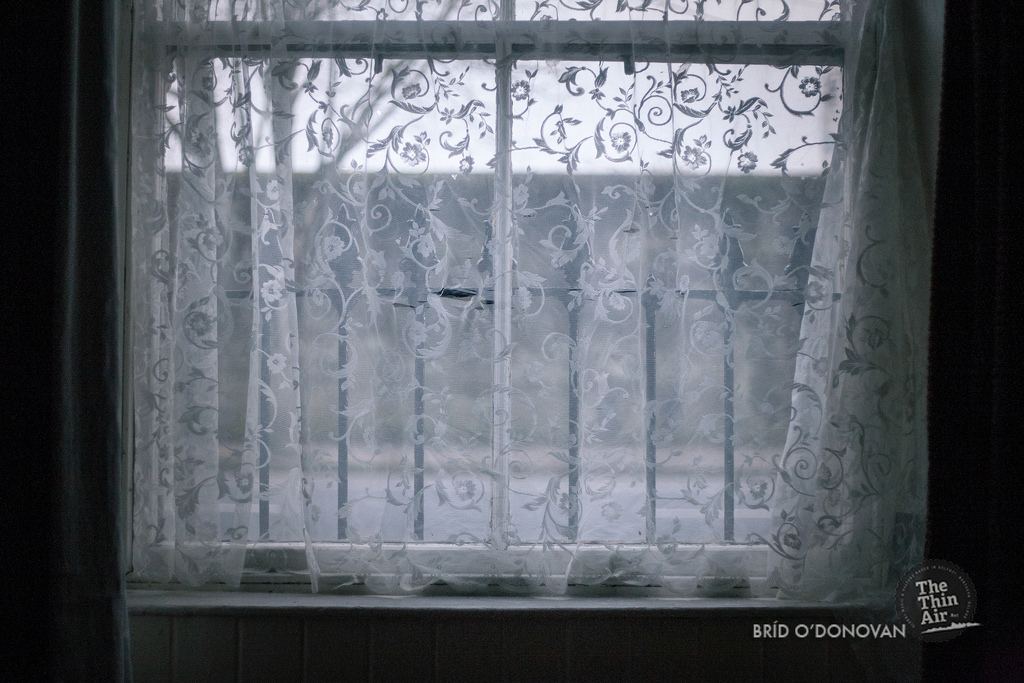 It's got an absolutely gorgeous album cover. That rug is the best rug I've ever seen in my life. I was playing records with Stevie G in The Pavilion, Cork, maybe two years ago, some afternoon. He had this in his record bag, I saw the cover and instantly took it out and asked him "What is this?!" and he put on something from it. It was incredible. The next day I went into Plugd and got it because I just had to have it. The track he played was one of those tunes where it had straight ahead funk groove but with all of this amazing improvisation in these little pockets in the arrangements. I got the album and listened to it through. And then I listened to it through again, and again. I listened to this album for two weeks straight without taking it off the turntable and I still get so much out of it. It's based on this philosophical text which she took ideas from that. I must really look up more about it. There is very little information about it considering the time it was. This is recorded in 1969 and released in 1970. There's so much music happening, it's ridiculous.
There are all these classical, jazz, afro-cuban, funk influences and there's harp all over it, which makes everything instantly better. She was a harpist and she released quite a few albums but there's this one solo album called Misty and it's just all solo harp. That was the first thing I heard and years later I realised that this was the same person. It's so funky. Every musician on this should have huge recognition for being involved. A lot of them are unknown. A lot of flute, harp and really really intense spoken word and vocals. It feels like a really important album every time I listen to it. It's one of those albums that should held in the same regard as Sgt. Pepper or Dark Side of the Moon. It ties in with some of what was happening with Alice Coltrane at the time, with meditative music but it uses that as well as amazing grooves. The bass player is one of the heroes on this album. It all ties together like one piece of music. It's an album that's made to listen to as an album. Picking tunes off of it is never really satisfying. You have to just listen to it from start to finish. It ends on this amazing moment which you will hear when you listen to it.

Roy Ayers – Ubiquity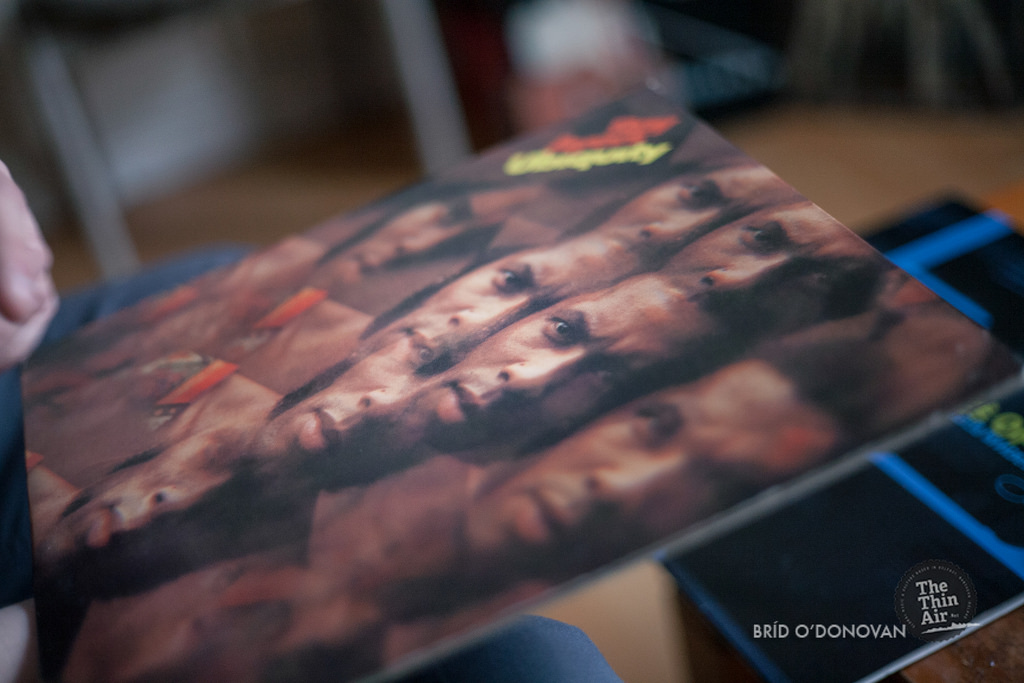 This was made around the time where he was finishing up with straight ahead jazz and just digging into what was happening with funk at the time. The imagination he has is really incredible. He did so much after this like with 'Everybody Loves the Sunshine' and big records. It seems to me that here he really started taking off with funk. It's called Ubiquity and afterwards he had the band Ubiquity. It developed from this album. He uses a vibraphone through a fuzz pedal through an amp and it sounds like nothing I have heard. It's halfway between electric guitar and a grand piano. It's filthy. When I got this record all the tunes were in perfect nick apart from this one track called 'Pretty Brown Skin'. Whoever had it before me loved that tune. I think the bigger one, for me on this, is called 'Hummin' In The Sun'. It's a pretty laid back, minor key, soul tune. I don't really want to say slow jam but it's kind of a slow jam. It's the only track like that on the album, everything else is funk and bits of latin music and straight ahead almost James Brown grooves with this mental electric vibraphone going on over it. Excellent use of cowbell. The picture on the cover is one of those images that no matter where you are he's always looking at you, and there's loads of his face, and then on the back he's staring right at you. He's everywhere, he's ubiquitious. It took me a while to figure that out. His singing on this is absolutely great aswell, it's really laid back, soul singing and then his vibes playing is anywhere between really tender, beautiful, old school vibes and this nuts, it's as if he's playing electric guitar, like he hears electric guitar in his head and plays it on a vibraphone through a fuzz pedal. Again, the band are absolutely amazing. They sound like they play together a lot. And the organ player is called Edwin Birdsong. Edwin Birdsong.

Madlib – Shades of Blue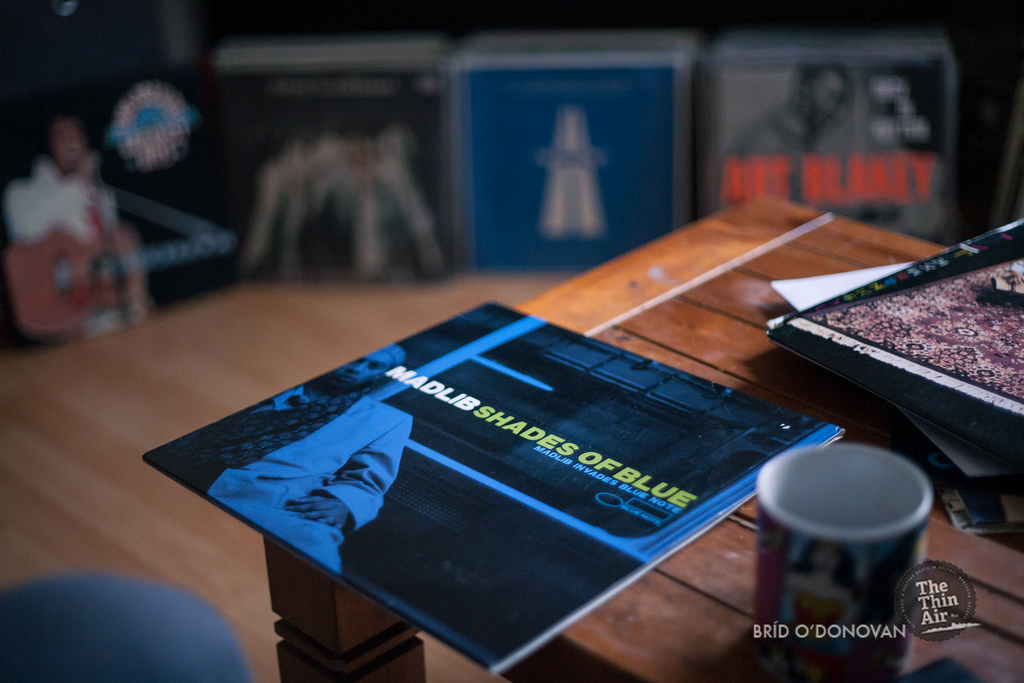 As far as I can see, Madlib got free reign over the Blue Note records catalogue and made an instrumental hip-hop album. It's absolutely incredible and it came out on Blue Note records in 2003. It's seriously badass hip-hop. He made serious good use out of the Blue Note jazz. I got this recently enough. I had it on CD for years because I got into jazz through hip-hop and a few other things. This just brought it all back. I bought it recently on vinyl for much less than what I would pay, which was great. It's laid out like a Blue Note record. One of the best things about this, besides the music itself, is the little snippets from a documentary that was made about Blue Note Records. If you listen to this from start to finish you actually get the history of that record label from these little bits and pieces.
The tunes are incredible. 'Mystic Bounce' is a remix of a tune called 'Mystic Brew' by Ronnie Foster and it was sampled by loads of artists like A Tribe Called Quest. There's a tune called 'Montara' by Bobby Hutcherson and there's a moment in this mix of where the cowbell happens and every time you hear it it's the most satisfying cowbell. His production is incredible and he plays drums on this as well. He is a modern producer, he's also an incredible drummer and musician. He has a band too called, well they have a lot of names like Yesterday's New Quintet. His name is Otis Jackson Jnr when he's not called Madlib. He plays on a couple of tunes with amazing old school jazz musicians like Joe Chambers on drums and others who would have been on Blue Note Records when it was in it's heyday.
This is the perfect middle ground between jazz and hip-hop which are both connected really well already. There's no rhymes on it, it's just instrumental but it says a lot. It's a huge statement. It's so cool that he was able to do it and bring it out on Blue Note Records at a time when sampling is super expensive and really hard to do. He was able to do this without any hassle. Blue Note are an amazing record label. They are seventy-five years old this year. That's a lot of years. It was owned by two German guys who came over in the 40s to New York. They found all these musicians and developed a record label, and 75 years later it's still going. It's the most iconic artwork of any record label, I think. All of the photos on the covers are candid shots from the recording of the album. Francis Wolff took all the photos for the record label and another guy did the design work for the record. Apparently they didn't get on at all because the guy that did the design would crop the photos, he'd cut off the bodies, tops of heads and Francis hated that his photos were being chopped. But the artwork was amazing.