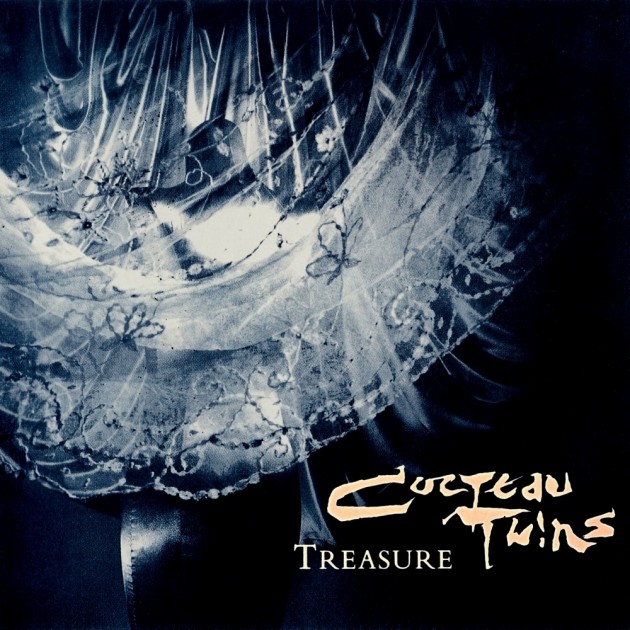 When was the last time you heard something that sounded like it came from another world? We can often be blasé about things now, and with everything being up for grabs and accessible thanks to the ol' information superhighway, it's that little bit harder to find something fresh. So try and imagine what it was like when a band from the Scottish industrial town of Grangemouth arrived with something that sounded like it had fallen directly from the kingdom of heaven itself? Minds were, indeed, blown.

In no uncertain terms, the first two records by the Cocteau Twins can be filed under 'goth'. You could even go for 'goth-lite', if you were feeling cruel. On Garlands (1982), the Scottish three-piece owe an obvious debt to the twin titans of Joy Division and The Cure, taking the droning misery of the latter's Faith album, and the rumbling, sub-sonic bass textures of the formers' Unknown Pleasures. Consisting of vocalist Elizabeth Fraser, guitarist Robin Guthrie, and bassist Will Heggie, the record scored a few glowing reviews at the time, but it hasn't aged particularly well. If Garlands could be summed up in one word, it would most likely be 'brittle'.

Head Over Heels (1983) is better, a pop sensibility emerging into the mix, with the departure of Heggie. Guthrie starts to come into his own as a manipulator of sonic textures, whilst Fraser carries herself as a soaring, but indecipherable vocalist of some quality. 'Sugar Hiccup' is a stand-out, a glimmering wash of sound and colour, that uses the primitive studio technology open to the band at the time, and pushes them to their limit.

And then, in 1984, they release Treasure.

Much like Dorothy entering the kaleidoscopic, colourful world of Oz, and leaving behind the muted greys of Kansas, the Cocteau Twinsunleashed something that hadn't been heard before. Joined by new bassist Simon Raymonde, the band began to draw from a sonic palette that simply had not previously existed, and in doing so, created a masterpiece.

Building on the experiments of their first two albums, and a series of EPs released in the interim, Treasure finds the band establishing a template of sorts, and then exploring every possible aspect of it. Guthrie begins layering melody upon melody, utilising an array of guitar effects to create complex and beguiling webs of sound, unlike anything that had really been heard before. Raymonde holds the melody, his resonant, reverberant basslines humming in the air like electricity, and bouncing around inside our craniums. And Elizabeth Fraser reaches deep within herself and creates a new language, a violent, ethereal, passionate, and otherworldly noise that is without precedent.


For years, critics have been struggling to describe this sound, and really, there's no way of doing it. The Cocteau Twins genuinely invented a new lexicon, and it's become part of the tapestry of pop, without ever truly becoming understood. Elements of their sound can be found everywhere, but no-one has ever hit upon that incredible formula of art and emotion that they perfected on this album.

And so, without ever making any kind of coherent meaning, 'Ivo' wobbles out of the speakers, riding crescendos of sound like a dolphin surfs a wave. 'Beatrix' introduces an almost medieval atmosphere, whilst 'Persephone' brings a stuttering, robotic pulse into contact with Guthrie's jagged, broken glass guitars, and the unhindered madness of Fraser's vocals. The Cocteaus frequently get labelled as fuzzy, indistinct peddlers of atmosphere and ambience – a hip and cool 'New Age' music, if you will – but on Treasure, they are positively dangerous, violence lurking behind every note. This is music full, not just of beauty, but of pure, piercing pain.


In the aftermath of its release, many lesser bands adopted the aesthetic of The Cocteau Twins, without ever really understanding the substance. And most of them ended up signing to 4AD, the visionary label that saw the early promise in the band. 4AD gained a reputation for airy bathtime music largely off the back of the Cocteau Twins, and it was only their (again, visionary) signing of the Pixies that shifted public perception.

As the decade went on, the Cocteaus remained the label's cash cow, and over the course of three more albums, and a handful of utterly essential singles and EPs, they would continue to refine and develop their sound, losing much of the aggression and violence, but creating some of the most indisputably beautiful music ever heard. They left 4AD in 1990, and released two more albums which found them moving closer and closer to that weak, ambient New Age sound that they had previously been so far from, sounding not unlike an edgier Enya in their later days.

But none of that is important, really, because even a cursory listen to Treasure confirms that its power remains utterly undiminished. It still glistens, it still wounds, and it still surprises, 30 years later. It might indeed be beautiful, but like all the most beautiful things, it still hurts too. Steven Rainey