Features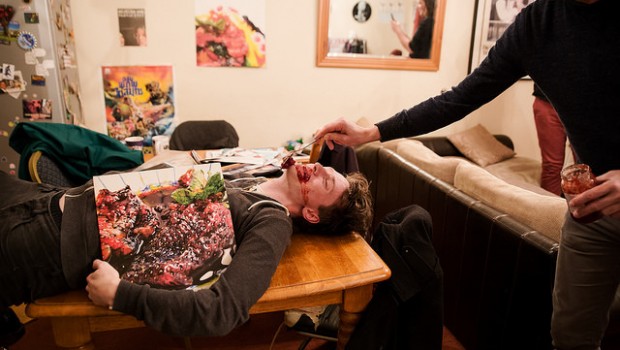 Published on November 28th, 2014 | by Loreana Rushe
0
Track Record: Bobby Aherne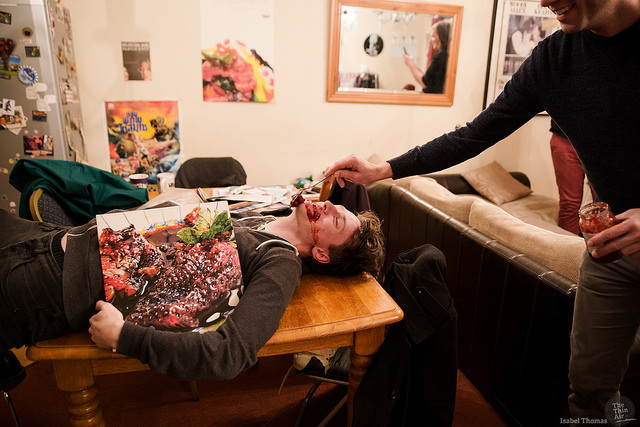 Bobby Aherne is one very busy lad who can be found bouncing between various bands such as No Monster Club, Ginnels and Women's Christmas to penning a hilarious book about Dublin legends. We caught up with him and his Kalamazoo synth-pop house guest,  M.Sord for a fun flip through his record collection. Photos by Isabel Thomas.
Animal Collective – Strawberry Jam
I got more and more into Animal Collective as I grudgingly made my way through university – with a particular fondness for the one in which the only lyric is the drawn-out line "You don't have to go to college". During the (very welcome) summer break after second year, some friends and I planned a couple of trips to finally see them play live – to The Coronet in London and Benicassim in Spain. Strawberry Jam had just leaked to a huge fanfare (it wasn't due out for another three months). We were hooked on it, and so psyched to hear those songs – along with some old favourites – being played live. Instead we got a set consisting almost entirely of tunes that we'd never heard before… songs that weren't even going to be released for another two years… the likes of 'In The Flowers', 'Grace', 'Guys Eyes' & 'Brother Sport'. We were all pretty pissed off about it, which of course we felt like idiots about in hindsight, once we fell in love with these songs a couple of years later. I guess that's what I love about Animal Collective – not only do they constantly seem like they're way ahead of everyone else, but they're always a few steps ahead of themselves too.
Clues – Clues
The Unicorns made just one unbelievably good album before disbanding. A few years later, Alden Penner finally came out with this new band. It was exciting; his former songwriting partner Nick Thorburn had already put out a few consistently great albums since the split, and now it was his turn… and he didn't disappoint. This LP was like a more earnest and fancified version of 'Who Will Cut Our Hair When We're Gone?' and I think that a lot of people were wondering what the hell would come next. Around the time of its release, I ended up interviewing Penner, and so I asked him if he'd learned any lessons from the demise of The Unicorns which might help to ensure that Clues could stick around for longer than one record. He response: "Just not to take myself so seriously, and to be a little more patient with the process of interaction with other people." I don't know how that worked out for him, but of course this ended up being Clues' only album – but my word, it's a doozy.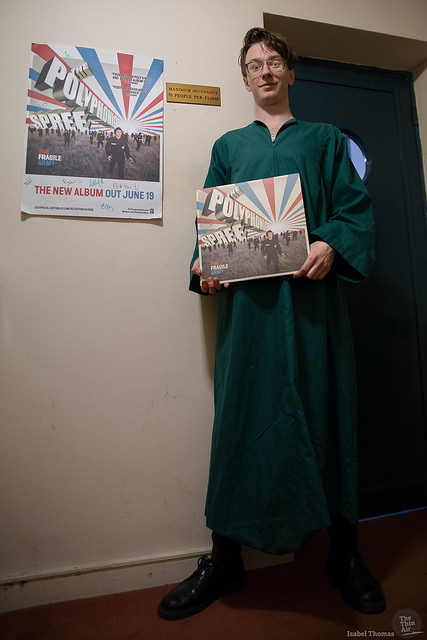 The Polyphonic Spree – The Fragile Army
Tim Delaughter is my favourite ever music guy, having been at the helm of around a dozen amazing records (with Tripping Daisy & Preteen Zenith, as well as the Spree). I could preach about these guys for hours, but I'd probably just end up sounding like a brainwashed missionary (as you can see, I even have my own robe), so I'm not sure what to say. I don't know how well known it is that a pre-fame Annie Clark played guitar on 'The Fragile Army' – maybe that'll pique your interest? If it takes a fact like that to draw you into this one, then so be it. Sections 23 and 28 should be first on your list.
Neutral Milk Hotel – In the Aeroplane Over the Sea
I think that Anne Frank would've loved these guys.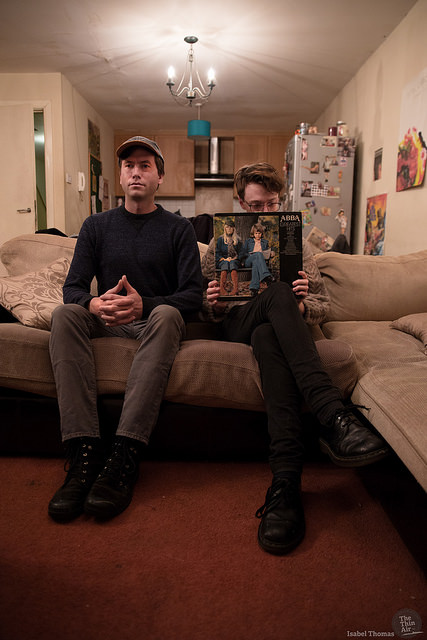 ABBA – Greatest Hits
I know, I know – picking a Greatest Hits is a very 'Alan Partridge' thing to do. The truth is that this is by no means my favourite ABBA album, but just the only one that I have on vinyl. In fact, a lot of the joy of ABBA – for me – is in how they wrote dozens of songs which are just as good as the ones which you've heard a million times in really mundane (and often cringe-worthy) situations. It was in 2007, thanks to WFMU's Tom Scharpling and his obsession with his ABBA box-set – an obsession which became so intense that he would often confide in it, live on air, that it was the only real friend he had left in the world – that I delved deep into their archives and came up trumps with all sorts of perfect pop songs… just listen to 'Tiger', 'Nina, Pretty Ballerina' or 'Me and Bobby and Bobby's Brother'. Oh and in the photo, that's me as Benny and M.SORD as Bjorn… which leads me to…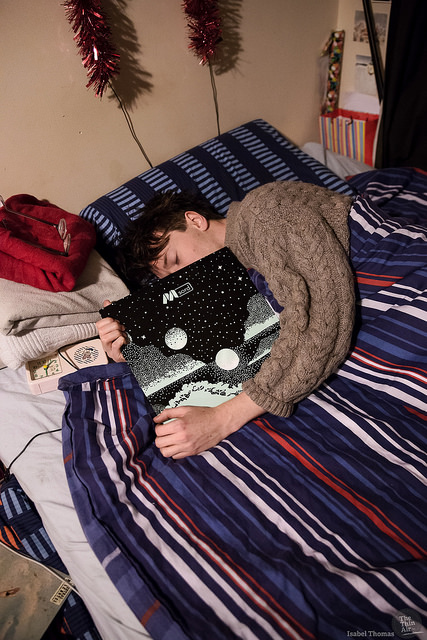 M.SORD – M. Gard
In September 2013, only a couple of weeks before No Monster Club's first American tour, we found out that our planned method of transport had fallen through. With very little time left on the clock and panic setting in, I finally got a life-saving message from our label in Kalamazoo (Already Dead Records), telling us that we were going to be supported on the tour by an apparent local legend who goes by the name of M.SORD. My reply: "We had a listen to M.SORD today and it sounds great. Watching his kickstarter video now and he seems like a cool guy too… very funny… awesome!" If only I knew what lay ahead! This bizarre arranged marriage could've easily been a shit-show (what if he's actually an asshole? what if he's crap live?), but instead we became firm comrades and I became addicted to his wonderfully wonky interloping melodies and octopus-like drumming. This particular record is excellent, and pretty much immune to any comparisons (the best reference point that even the man himself can give is to suggest "Phil Collins meets John Carpenter"). By the way – I'm in bed in this photo because the album artwork was taken from a design on a bed-sheet belonging to Mike. See, it all actually makes sense – unlike the music of M.SORD.
The Barbaras – 2006-2008
Jay Reatard produced this fuzzy bubblegum pop record (featuring two members of his rhythm section) at an intentional snail's pace, over the course of a few years. He was so famously difficult to work with that he apparently became fearful of Pope and Hayes quitting his band – so he used their music as a form of blackmail, often threatening to delete all of their work if they so much as thought about ditching him. When they eventually had enough of his crap (and went off to play with Wavves instead), Jay had a hissy fit and told them that he'd made good on his threat – and so, The Barbaras' album was lost forever. Or was it? No, it wasn't. Sometime after Jay's death, Goner Records were going through his archives, found these songs, rumbled him as a fibber & finally released this LP. Until that point, only two Barbaras' songs had actually been released, but – thanks to a live set & some demos that I'd managed to procure – they'd somehow already managed to weasel their way into my brain's 'Top 20 Favourite Bands' sector. I'd even made for myself this grotesque Barbaras' t-shirt, in a paltry attempt to make up for the lack of official merchandise. Obviously, the existence of '2006-2008' came as a great surprise and a huge treat to me – it really is brilliant. But it also meant that I no longer ended up feeling like a classic hipster eejit, ranting about how some random Memphis band was one of the best bands ever, even though they'd only ever released one four-minute long 7".
Andy's Airport of Love – Actually, I Am Sasha Fierce
I own as many cassettes as I do records, so I had to throw one in. For music that is actually recorded onto tape, it makes a lot more sense to listen back to it on tape. The lack of any conversion or interruption in the process is one thing that I love about this medium – after all, you can't record directly onto CD or vinyl! Anyway – Andy's Airport of Love is a guy called Andy Smith from Baltimore, Maryland. We both used to release music on a net-label called Rack and Ruin Records, and as a result of that I think we became mutual fans. Last year, No Monster Club ended up crashing in Andy's apartment on tour, and I found out that his best friend as a kid was a guy I know from Dublin… until their friendship was rudely interrupted when this guy (Dan) moved across the ocean at the age of six. There were a lot of blown minds that day, but – and here comes the segue – it was still nothing in comparison to the day that I first heard Andy's deranged pop music, which lies somewhere in the void between Beat Happening, My Bloody Valentine, Daniel Johnston & Animal Collective. This tape from 2009 contains some amazing songs like 'Duquesne Incline' and 'Childhood Friend of William Morris', as well as some goofy spoken word bits where he addresses the listener (he opens the flipside by saying "Ah, Side B… the best side there'll ever be… so how did y'all like Side A?"). In my own skewed version of the world, this guy is on Top of the Pops every week.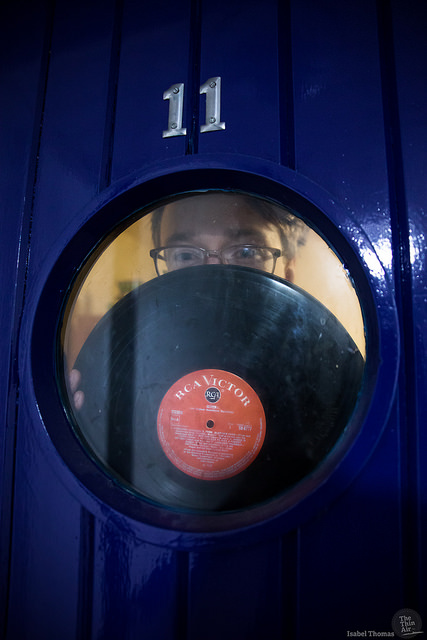 Lionel Bart – Oliver OST
Songs from several musicals burrowed their way into my brain at an early age – probably before I'd even learned to talk, and certainly long before I ever "got into" music. In particular, tunes from the likes of 'Chitty Chitty Bang Bang' and 'Oliver' are so deeply ingrained into my consciousness that certain melodies and turns of phrases from them have ended up making cameo appearances within my own music. To this day, whenever I'm doing work that I'd rather not be doing, you'll find me constantly humming 'You've Got To Pick A Pocket Or Two' (this has literally happened as recently as yesterday). At some point, I acquired the notion that I could make for a decent Oliver – maybe because I used to have the same coloured hair and I can do a high voice. I wasn't a Billie Barry brat though, so I guess I missed my calling. But if they ever make a sequel where Oliver is some deadbeat Dandy in his mid-twenties, I reckon I'm a shoo-in for the role.
The Revs – The Revs
The Revs had a tough ol' time of it. They arrived on the scene in 2000 with multicolour dyed hair, dopey grins and a couple of novelty hits. As a result of this, they seemed to end up spending the rest of their career trying to convince people that they weren't actually some terrible manufactured punk-pop band. I was a huge fan from the off, and, sadly, one of few left by the time they came out with this wonderful little jangle-pop record – one which could stand up for itself against even the snobbiest of scrutiny. Every now and then, in the company of others, I'll put on a song from it (without introduction) and sit back for a moment until somebody – visibly digging it – asks me who we're listening to. Employing this method, I've tricked a whole bunch of people into inadvertently admitting that they like The Revs. It's not that difficult – John McIntyre is one heck of a guitarist, Tore Johansson made it sound deadly, and the last song could be Real Estate several years before those guys even met. This was their final album, and the theme of impending doom seems apparent throughout ("time slipping away", "good times always end"). Maybe they were tempting fate too much, because this album completely bombed and that was that.