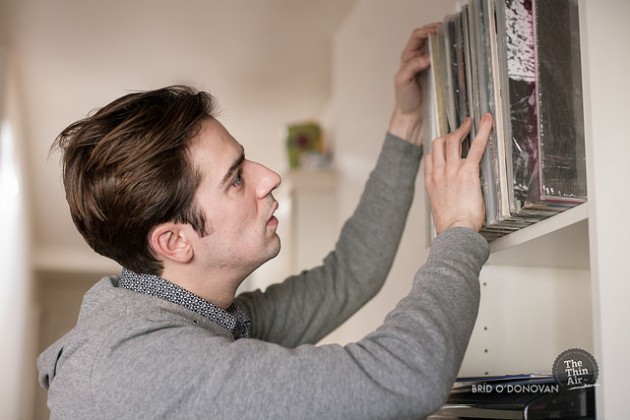 We spend an evening with Patrick Kelleher for a cup of tea to warm our cold dead hands while he rummages through his record collection and tells us why the selections he made means so much to him. Photos by Brid O'Donovan.
Mulatu Astatke featuring Fekade Amde Maskal – Ethio Jazz
This album was introduced to me by a friend who heard it first on the soundtrack to Broken Flowers. It's just got this lovely catchiness, as you can tell. The same friend who introduced it to me played it quite a lot at his house. Recently for my thirtieth birthday another good friend of mine who I play music with bought me this record. Now I own it! I don't really know much about him but Mulatu Astatke played in the Sugar Club in Dublin a couple of years ago with a big full band. They had a big clavier with them and they were playing them with double drumsticks – two in each hand.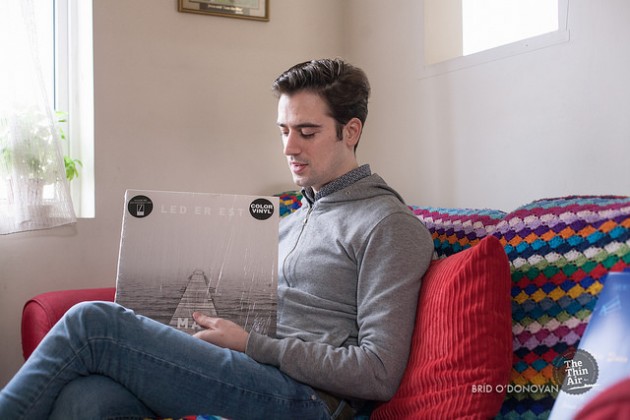 Led Er Est – May
This came out in 2011. They are from New York and they are sort of like New Wave Synth. They have a 1980s style but they are a contemporary band. They have connections with Ireland as well. The lead singer is going out with an Irish woman so they are here quite often. I was introduced to Led Er Est through the gig promoters Skinny Wolves – they put on lots of gigs in Dublin. Once they brought over a band called Xeno & Oaklander and these guys were supporting them. I think I preferred Led Er Est to the headliner. I saw them play in South by Southwest once as well, it was so good.
Meet The R. Stevie Moore! – An Introduction to the Godfather of Home Recording
And that leads nicely on to this because I bought this record almost immediately after South by Southwest where I got to see R. Stevie Moore twice live. One playing an acoustic set and once playing all the hits. He's one of the biggest names in home recording. You know those sort of quirky weirdo home recordists like Ariel Pink, John Maus, Daniel Johnston and people like that. R. Stevie Moore is the king of all those guys. He's been making music since he was a child in the sixties and he bought tape recorders and all that. He never really became famous. He's really influenced by British music in the sixties and seventies. It's got this really heart breaking, honesty about it and he has a real dry sense of humour about it as well. I got this down in Cork actually, in Plugd. Albert's the best.
Bill Callahan – Dream River
Bill Callahan, formerly known as Smog. He's from Texas and I was really into his earlier music when he was under the Smog moniker. This is his most recent album and it's really bizarre. It's got this seventies Prog-ish feel and as usual with Bill Callahan it's still folky and melancholic. He's got this really calm, relaxing voice. But it's got that touch of seventies flute playing weirdness. When I first listened to this album I thought "Oh, I'm not sure about that flute." But with this one it works, once you get used to it. Smog is pretty important for me actually. I learned a lot about songwriting, and how to put music together from him. He's worked with Bonnie Prince Billy and Joanna Newsom. He's had this really interesting arc over his career. Again another home recordist, well most of my collection is home recordings. His music, starting out, was distorted and raw, angsty. He sang in a high pitched voice and so if you were to listen to his first album and then this you wouldn't think it was the same person. He now sings in this lovely, perfectly paced, baritone bass voice. Everything is really measured. Every word is like poetry. It's nice when you find someone that changes style completely so many times over.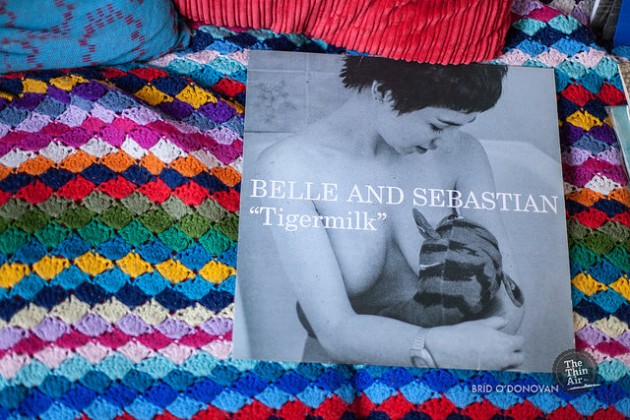 Belle and Sebastian – Tigermilk
A lot of the music that I own and that I'm into was influenced by my good friend Ger Duffy. He has a band called School Tour. We lived together years ago and he had a huge influence on my musical taste. I need to credit him for that! Belle and Sebastian was one of the bands he got me into. It was really apt for me because I had moved to Scotland and as I was moving there my friend gave me a Belle and Sebastian CD and when I got there I fell in with a group of kids that were into Belle and Sebastian. I didn't have many friends so I was all by myself walking around with a discman. Belle and Sebastian were the perfect band to walk around a cold, snowy Edinburgh with all it's beautiful architecture and all the sadness. Lonely white boy music. This is a great album. Belle and Sebastian often get accused of being twee and a little too cutesy but their lyrics are really astute. Stuart Murdoch's lyrics are just amazing, I don't know how he writes such beautiful lyrics. They had a surge of about three or four records within a three or four year period and they are all just gold. They matured as a band then but those early records are really amazing and raw.
Beach House – Beach House
Beach House are a band from Baltimore and they are friends with Future Islands. This is their first album and to me the only Beach House album worth getting into. Maybe it's because I've loved it so much that I couldn't appreciate the later albums. I loved how raw and unprocessed and home recorded the first album sounded. When they started learning about how to make a record, I didn't care as much. They learned how to play instruments, everything sounds so well produced and I tend not to enjoy that so much. They've turned into quite a euphoric band with their big climactic moments. I like it a bit more toned down. When you see her live she has the most amazing technique for playing the piano. Her fingers are like melting into the keyboard. Amazing voice.
Future Islands – In Evening Air
This is my favourite Future Islands album I think, it's nearly four years old. The first time they came to Ireland they were on tour with Dan Deacon and Teeth Mountain. A sort of contingent from Baltimore came over. Dan Deacon and Teeth Mountain had a massive band and Future Islands had just three of them. It was at Andrew's Lane and it seemed like everyone there really loved Future Islands and Sam and his incredible charisma on stage. We hung out with them the few times they were over and they gave us early tapes of them as the band they were before Future Islands. They were called Art Lord & The Self Portraits and you can hear how they have formed their sound. Sam used to sing in this crazy, almost cabaret style English accent. It was like something from The Rocky Horror Picture Show. He had this kind of exaggerated English accent. I don't know was it consciously English or just a sound he was making. He hadn't quite discovered that character that he has on stage now – that heartfelt, hitting the floor, animal man thing. They are really nice people. After that show they came back and played upstairs in Whelans to a fairly small crowd. It was a really good show. They came back again and played the Workmans Club, bigger crowds every time. And then they played downstairs in Whelans and that was sold out and obviously they sold out two nights in Vicar Street in November. This album is my favourite one. It's very energetic and it's probably the album where they crystalised their style. You don't really need to say much about Future Islands. They're a powerful band.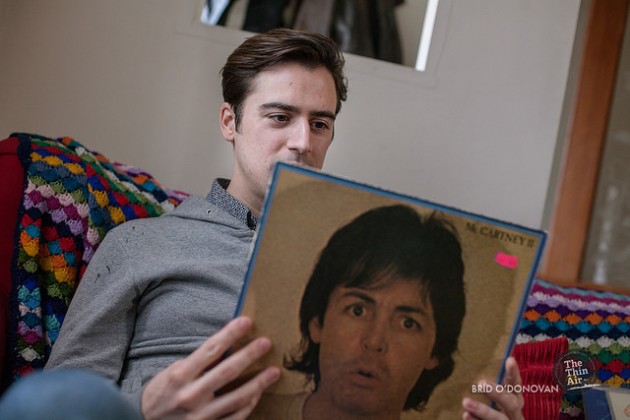 Paul McCartney – II
After The Beatles he recorded an album called McCartney and it was nice. It was pretty good. It was what you'd expect of Paul McCartney – good songwriting, slightly quirky and heartfelt. He released his second solo album in 1980 and nobody knew what was going on. It's all glitchy synths, mix of cheesy pop, and synth pop. Some songs, like Waterfalls are heartbreaking. It's got that real cheeky, Paul McCartney style. You know that side of Paul McCartney that no one likes, or that you're embarrassed to see? This album is just not what you expect at all. This album is sane. Linda took the photos for that record.
Arthur Russell – Calling Out of Context
This was a Record Store Day Release. It's a collection of Arthur Russell's unfinished tracks but it doesn't sound unfinished, it sounds incredible. He was a cellist, from somewhere in the vast expanses of America. He became famous in the gay disco scene in New York under his own name and also under Dinosaur L. He plays the cello but he also makes interesting, experimental dance music. His lyrics are very off the cuff. They are very sincere. The lyrics are quite like Bill Callahan – measured and perfectly rhythmed. It's dance music but not like any dance music you have listened to. It doesn't follow all of the rules of dance music. He died of AIDs in the early nineties.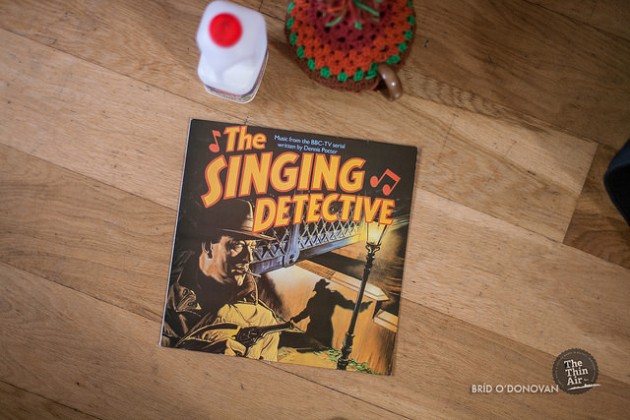 The Singing Detective – Soundtrack
This is one of most influential records for me. It's music from the forties. My parents had it when I was a kid and they played it quite a lot. It's so relaxing and the quality of the singers is incredible. So I heard it all the time growing up, oblivious to the fact that it was the soundtrack to a TV show. The TV would be too adult for me as a kid. When I grew up and got back into it again, I watched the TV show. When I listen to it now, I just want to be a jazz singer. Watching the series made the music more creepy and disturbing. There are scenes in the TV show where unpleasant things are happening and nice music is playing. You know, like David Lynch or Quentin Tarantino. The writer of the series is a really interesting man as well, Dennis Potter. Like the main character in the series, he had psoriatic arthritis which forms on your skin but also spreads to your bones and joints so say, your hands will seize up and stiffen. I've seen him in interviews where his hands are completely stiffened to a fist and he holds them close to his chest. So in the series the main character has this condition and is hospitalised and it's partially based on himself. The story is semi-autobiographical. So Dennis Potter draws a lot of inspiration from songs that he remembers growing up as a child listening to the radio. The TV show, all the way through, though you see him in the hospital surrounded by doctors and nurses and they are doing an examination, you then see them lip syncing to the music and performing this big show. The guy's sitting in the bed, watching it all happen, terrified.