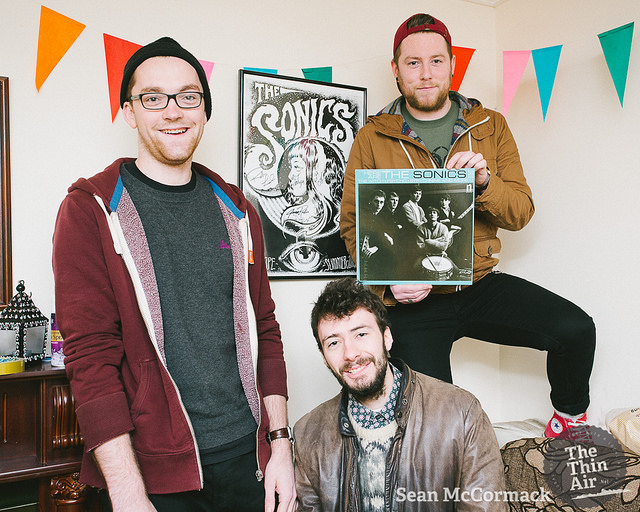 We head back to Galway for Track Record, this time to hang out with Oh Boland, where Niall Murphy (vocals) mostly discusses his favourite albums and Eanna (MacDonnacha, bass/vocals) sneaks in with a few words about Weezer's Blue Album. Photos by Sean McCormack.
The Sonics – Here Are The Sonics
One of the first garage bands they say. It's hard to disagree, and what a band. That super primitive sound, mad rackety rock n' roll played by pimples on a one day studio bender. That guitar sound is just to die for! Total belligerence. The beat is total energy and Gerry Roslie has to be the greatest voice in rock n roll, a devil of a man. The first record has to be my favourite. Hit after hit after hit! 'Have Love Will Travel', 'Robber Barons', 'Strychnine' and 'THE WITCH'! On and on and on and on. The Sonics turned me onto this stuff! They are year zero! And it was an absolute dream come true when we were given the opportunity to open for them in the Roisin Dubh as part of the Galway Arts festival last summer. And believe me: they haven't lost it one bit!


The Oblivians – Popular Favorites
This one's a monster. Three guys, two guitars, one drumset, no bass, swap the instruments … make a record. Don't know the whole story, but The Oblivians started as almost a piss take between friends. Jack, Greg and Eric Oblivian taking turns singing their songs and swapping their instruments about. But boy, they've produced some great records and this ones the best(in my opinion). Howling lunatics in a room playing million mile an hour garage punk tunes recorded in what feels like a scatter brained single take through a dying tape machine with guitar amps in meltdown. 'Bad Man' and 'Strong Come On' are 50's rock n' roll played by a hardcore band and 'You Better Behave' is just the most delicious slice of blues punk this little sprout has ever laid ears on. The guitar on 'Do The Milkshake' is also phenomenal! It's a constant shuddering mess of noise and buzz screeching and shrieking. This record is a must for garage fans. It's simplicity at its best; it goes straight for your balls and doesn't quit. Satisfaction guaranteed!


Thee Oh Sees – Help
Myself and a mate saw Thee Oh Sees play Whelan's two summers ago and it was mind-boggling. They have this way of trancing you out with the drums and bass repeating and repeating and repeating. Then you have John Dwyer on guitar going wild creating these crazy squalls of noise and just shredding like a maniac. This one's my favourite at the moment. I just love how frantic the songs feel on this one. Mad frantic pop ditties with the hooks super catchy; Dwyer's guitars at maximum jangle and the drums and bass perfectly simple. And of course when Dwyer turns on the noise it just goes to that other level. It's just a really great psychedelic punk record!
Ty Segall – Manipulator
Next, I've decided to pick a new record. This one hasn't left the turntable in a few months now. I've been into Ty Segall's music since he put out Goodbye Bread in 2011 and was really excited when he announced this one. It's great, he blips along from style to style with ease. Some of the songs are thrash punk at its best with him just shredding endlessly. And the sounds he gets are utterly insane. 'Feel' has the most amazing solo ever, the notes seem to dissolve and wander spastically around the track, shrieking this way and that way. He manages to break these fuzz freakouts up with lovely string arranged psychedelic folk pop songs. The production is also great. That super syrupy 70's glam sound with the loveliest of drum sounds and everything else sitting so tastefully together. 'Tall Man Skinny Lady' being a prime example. A total dreamboat!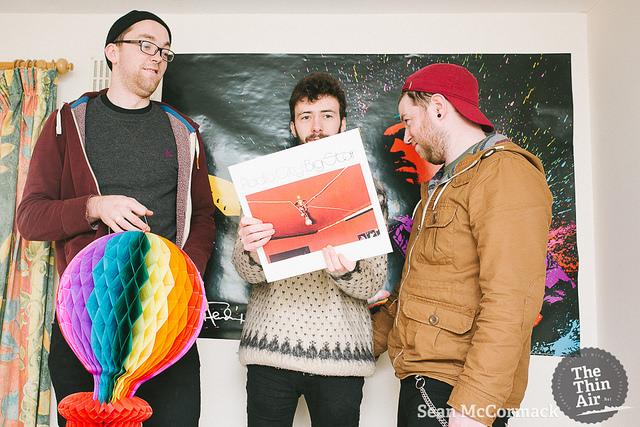 Big Star – Radio City
One of those bands where I could pick any one of their records and be fat and satisfied but right now THIS IS THE ONE! It's got the whole package. The songs are great big pop hooks and the sounds are massively ignorant slabs of guitar – what's not to like? You've got the hits with 'September Gurls' and 'Back Of A Car' – you've entered power pop heaven! Jangle monsters everywhere. It's just a great band firing on all cylinders. That cocktail of 70's muscle guitar and thug drums with all that genius 60's pop jangle and songwriting could kill a young north Galway boy at forty paces. 'You Get What You Deserve' and 'Mod Lang' are two of my favourite tracks of all time. Mod Lang, what a tune. That guitar sounds totally delicious, the drums are insane, and at one point Alex Chilton forgets the words and just moans "ahh" for the rest of the verse. That has to be one of my favourite moments on any record, at once totally ignorant and at the same time totally works. I think that's what I like about the whole record actually, the beautiful pop hooks and the beginning of Chilton not giving a shit!


The Flying Burrito Brothers – The Gilded Palace Of Sin
I love country music – I am not ashamed. And this is one of my favourites. Of course, I'd hardly call this a traditional country record. It's a mad cocktail of pool hall spittoon music and psychedelic hippie jig acting. I can't resist the delicious cheese of it all. Just love those vocal harmonies and the twang. And the songs are great. 'Hot Burrito #1' is one of the greatest country songs ever. It's country, but the chords are unlike any other country song I've ever heard. It sounds super smoky, mysterious almost and just a little bit overdramatic (as you'd expect from a country song) but I love that melody and that drama and those words. The whole album is amazing though, all devils and women and booze and an amazing cover of 'Dark End Of The Street'. And it's got a guy called Sneaky Pete playing mad psychedelic fuzz pedal steel guitar. Give it a try!
Love – Forever Changes
This is one of my favourite 60's records. At once blissfully optimistic ('Alone Again Or', 'Maybe The People Would Be The Times Or Between Clark And Hillsdale') and extremely dark ('The Red Telephone', 'A House Is Not A Motel') and sometimes both sides are seen in the space of a song ('You Set The Scene'). I got this one the summer between fourth year and leaving cert and I remember being deeply confused by it. The songs seem to constantly change, mad bridge after mad bridge breaking up the verses, songs taking constant left turns. But when I cracked it, my little mind was blown. I love that complexity. The songs are wonderful psych pop tunes and that unpredictability keeps you hooked throughout. The music is psychedelic, folky, awash in acoustic guitars with a super tight rhythm section. The electric guitars and keyboards veer in and out, at times ('A House Is Not A Motel', 'Live And Let Live') becoming shrieking walls of noise. Then you have the string arrangements all dark and beautiful and the mariachi style brass sections giving off these L.A street party vibes drifting through the record. I connected with the paranoia of the record. There seems to be a constant fear, of death or something. It's like a panic attack, all these sunshine melodies and love songs floating around a claustrophobic undercurrent. It's got everything though, a beautiful love song (Andmoreagain), a song you could play at a party ('Maybe The People Would Be The Times') and a song ('The Red Telephone') that opens with the line "sitting on a hillside watching the people die…". Scary but a classic!


Television Personalities – They Could've Been Bigger Than The Beatles
Jangle seems to be the universal theme of this here Track Record so it's no surprise that I should pick a Television Personalities record. So much jangle! Again this is a band which could have anyone of their records on the list but this is the one I seem to be listening to more than the other ones I have (first record and The Painted Word). Again, the main attraction is jangle. This record has got so much jangle going on, but with this great big punk racket underneath. It's also full of great big early 60's (early Who) guitars and trippy synths and fucked up organs laying down the catchiest of lil' baby hooks. Dan Treacy is one of my favourite songwriters of all time. It's like sitting down with him, the way it feels like he's talking to you. That has always really appealed to me. The lyrics are simple and goofy but totally honest and hilarious and at times really affecting. There's a real humorous side to this record. There are songs about being a struggling artist and songs about the sixties and songs about cross-dressing. He wonders about a perfumed garden (referring to John Peel's Sixties radio show possibly) in a daze ('In A Perfumed Garden'). He sits in his council flat bored out of his tree wondering whether his neighbours Jamaican or Irish in '14thFloor'. "Wouldn't it be fun if we all swapped clothes, everyone accept the grownups would know" in 'Games For Boys'. He would love his paintings to be on the walls of galleries but most of all he wants to be "in David Hockney's diary" ('David Hockney's Diary'). Then there's the line in 'The Boy In The Paisley Shirt' depicting a 60's nightclub full of girls fawning over the aforementioned boy talking about how he's such a "groovy fella, met him at the groovy cellar". What a ridiculous rhyme! He also manages in songs like 'Anxiety Block' and 'Mysterious Ways' to usher in some darkness. There's talk about anxiety and suicide and the IRA bombing the BBC. He also covers 60's band The Creation twice ('Painter Man' and 'Makin Time') which is class! He's got all those classic 60's sounds condensed into something that sounds totally of its time too – it doesn't feel too retro. And I would dare anyone to find better examples of a pick scrape. This record is full of #em!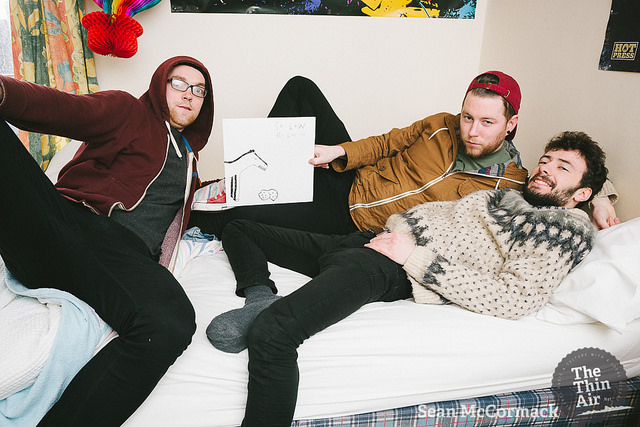 So Cow – The Long Con
So once upon a time Brian Kelly (So Cow's singer/songwriter) supervised my Leaving Cert class for a free class and he attempted to reach out to us by asking what music we were into. This of course led me to proudly declare my undying love of the free jazz which was what I was really into at the time. Let's just say my seventeen-year old self and Brian had differing opinions on the Mahavishnu Orchestra. We'll leave it at that! But sure here we are in 2014, so many years later and I have So Cows third LP on the turntable. So Cow, being from my hometown of Tuam has been on the radar for years and years now and I've loved everything they've put out but this one is my favourite ye.  It's brand new, put out by the ridiculously cool Goner Records, and produced by Deerhoof's (class band) shred drummer Greg Saunier. But aside from all that, it's an amazingly good set of tunes. The lyrics are really really clever and the tunes are super catchy. It's a lot heavier than previous releases too and on 'The Second Last Line Of The National Anthem' and 'I Want Out' those guitars are set to shred (almost at Mahavishnu levels). It's got the whole package, kids. Buy it!
Weezer – Weezer (Blue Album)
Over twenty years later the Blue Album still turns every mid something year old into a snivelling, insecure and awkward teenager. Cuomo and co. created a very special album in the Blue. Personally its special early years of music discovery. It was the first full on album that I listened back and forth and continue to dissect even to this day. I can go back to this album six months down the line and still discover something new and discover a little bit about adolescence once more. Its important, every now and again, in listening to the albums of the Blue's ilk that we're not too far away from that awkward teenager and that's not that bad a thing to remember. 'Only in Dreams' is still to this day my favourite song, perfectly quiet and perfectly loud at the very same time.