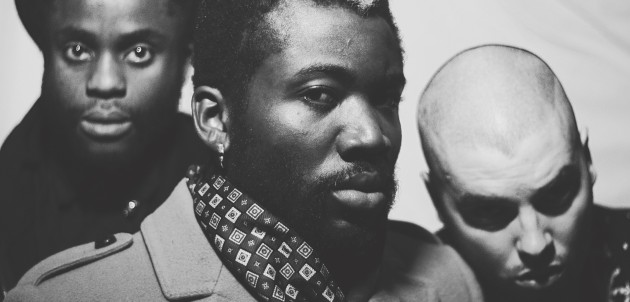 OK, so we're all broke. Big deal. Put that desire to eat to one side for another week in favour of hitting up one of the following. Trust us: you will not be disappointed – just very, very hungry, and possibly dangerously ill. You're welcome.
Out To Lunch: Young Fathers
Black Box, Belfast
Friday, January 16
An absolute credit to the ever-tasteful foresight of the organisers of the annual Belfast festival, 2014 Mercury Prize winning Edinburgh trio Young Fathers will play this year's Out To Lunch festival on Friday night. "Where, like? The street?" you ask. Not at all: the Black Box. Close enough. Also: this is sold out. So, either have a ticket or get bribing.


Mark Lanegan
Limelight 1, Belfast
Friday, January 16
Also on Friday night in Belfast, Godfather of gruff Mark Lanegan will simultaneously delight and intimidate hundreds at Belfast's Limelight 1. True story: in a recent interview, Lanegan stated that he used a phone app called FunkBox to write the drum parts on some of the songs of his latest album, Phantom Radio. Nice.
Lanegan will also play Dubin's Academy on Saturday and Sunday night, as well as Galway's Seapoint Ballroom on Thursday night.


Come On Live Long w/ Tongue Bundle
Whelan's, Dublin
Saturday, January 17
Dublin five-piece Come On Live Long utterly beguiled us at the start of the week with their latest single, 'Trough'. Their first show of the year, the band will play Whelan's, Dublin on Saturday night, supported by the wonderfully-named Tongue Bundle (say it a few times. Very pleasing indeed).
Chromatic: Sleep Thieves
The Woodworker's, Belfast
Saturday, January 17
Dublin electro-pop trio Sleep Thieves are a genuinely hypnotic sight (and sound) to behold live. If you've yet to catch them, make sure to pop down to the new-fangled Woodworker's, Belfast on Saturday night. The show is held as part of weekly club night Chromatic. Admission is totally free.


Read our brand new interview with the band right here.
There's loads of other great stuff happening over the next few days. Delve into our Gig Guide here.