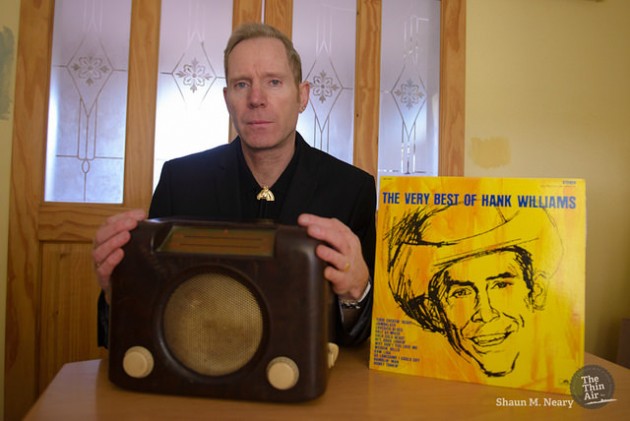 In the latest installment of Track Record, The Blades' Brian Foley gives us an insight into his record collection, featuring everyone from Hank Williams to The Clash.
Photos by Shaun Neary.
Hank Williams – The Very Best Of
I love traditional country music as sung by Patsy Cline, Johnny Cash, Don Gibson and best of all, Hank Williams. Some people find his voice a bit jarring but I find it quite appealing and it adds to some of his more bleaker songs. The little yodel he sometimes uses blends in with the pedal steel guitar and the country fiddle. The lyrics are always simple and usually quite humorous. In 'Half as much' which he covers, he sings:
'If you missed me half as much as I missed you,
You wouldn't stay away half as much as you do,
I know that I would never be this blue
If you only loved me half as much as I love you.'
One of the finest songs that Hank wrote is track five, 'Cold Cold Heart';
'There was a time when I believed that you belonged to me
But now I know your heart is shackled to a memory
The more I learn to care for you,the more we drift apart
Why can't I free your doubtful mind and melt your cold cold heart'
This song was covered by Tony Bennett. A real rarity in those days for what was termed hillbilly music. Hank had the knack of taking a simple phrase and turning it into a great song.
Ironically Hank's last single (before he died) was titled 'I'll Never Get Out of This World Alive.' And he didn't.


Slade – Slayed?
This was the first album I ever bought so I'll always have a soft spot for them. Slade were also the first gig I ever attended. On March 17,1973 I saw them in the National Stadium for the princely sum of 75 pence! Slayed? was their first studio album. It had two big hit singles on it 'Mama Weer All Crazee Now' and 'Gudbuy t'Jane'. They also covered Janis Joplin's 'Move over' with some great bass playing from Jim Lea and an extraordinary vocal from Noddy Holder.
I liked them because they were loud, flash and always seemed to be having a good time. And there were no 20 minute guitar solos. I was living in 70's oppressive Ireland and cutting through this grey squalor were four lads from Wolverhampton whose clothes looked like an explosion in a paint factory, who couldn't spell properly but came up with these glorious, beefy pop anthems. Their lyrics were never going to give Bob Dylan any sleepless nights but this was the time of three day weeks, electricity black outs and general strikes. We needed a bit of glamour, a bit of noise and most of all a bit of fun.
Aztec Camera – High Land, Hard Rain
This was Aztec Camera's first album. The singer, Roddy Frame, wearer of suede jackets, was only 15 years old when he started working on the songs and a mere 18 years old when the album was recorded. He plays a beautiful style of acoustic guitar throughout the album. Lovely jazzy chords reminiscent of Django Reinhardt whom he was a fan of. It was an unusual sound at the time. Roddy's sensitive vocals soaring over these pure pop songs with unexpected chords and mature lyrics from one so young. Three tracks were released as singles:'Pillar to post', 'Walk out to winter' and 'Oblivious' and they're all laden with magic.
There's other great tracks like 'The Bugle Sounds Again'. It starts off with just acoustic guitar, a light drum beat and vocals and then slowly builds up to a sumptuous slice of pop perfection with a real melancholy feel, and as if to underlie it, a lone bugle creeps in playing above the melody.
'For strength will come to tower above
the things that I've learned to love
Just as I'm about to say 'Amen'
the bugle sounds again.'
There isn't a dud track on the album. 'Release' starts off with some lovely jazz chords and a tender vocal and some poetic lyrics:
'The lock is overflowing, the sun has shed its light,
And all that's left to warm your breast's the wine we stole tonight,
Bottle merchants both of us, overdosed on Keats,
We smashed them all and watched them fall like magic in the streets,'
'The Boy Wonders' is also laden with a sad feeling as he sings:
'Now this boy wonders when he'll feel the fall of honest rain,
I came from high land
Here the hopefuls have to hesitate
Now this boy wonders
why the words were never worth the wait,'
But my favourite track is 'Down the Dip' which features just Roddy and his acoustic guitar and some heart felt lyrics;
'I put all the love and beauty in the spirit of the night,
And I'm holding my ticket tight,
Stupidity and suffering are on that ticket too,
and I'm going down the dip with you…'
Roddy Frame never bettered this album but then again maybe he said all he wanted to say.


The Beatles – Abbey Road
The Beatles' last album and still George Martin didn't get a credit as the producer! Just a thanks along with the engineers. To be honest I could have picked any of six or seven of the Beatles albums. At the moment I like Abbey Road but next week it could be Sgt Pepper.
The album opens with John Lennon's 'Come Together'. An echoey 'schhh' from John, a swooping bass line from McCartney and a tom tom motif from Ringo leading up to a big crunchy guitar chorus. Very psychedelic lyrics from John. He didn't contribute many songs to this album but his 'I Want You (She's So Heavy) is a real bluesy, tour de force which nearly runs to eight minutes. Lovely hammond organ playing from Billy Preston on it.
George Harrison came up with the goods with two of his finest songs; the sublime ballad 'Something' featuring some lovely bass from McCartney, sensitive drumming from Ringo, and George's fragile vocals. Also the jangly acoustic guitar driven 'Here Comes The Sun'. Two of the best songs on what is one of the Beatles' best albums.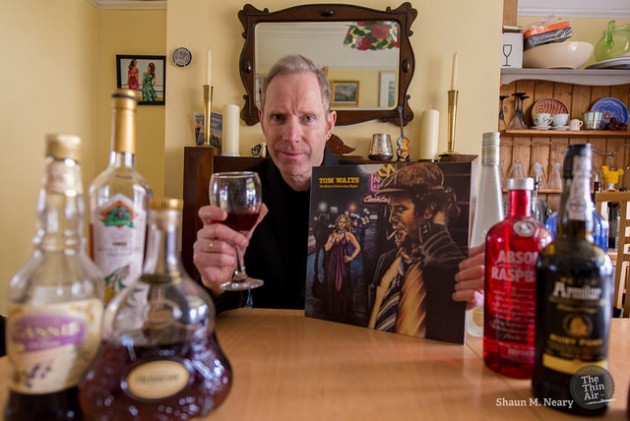 Tom Waits – The Heart of Saturday Night
Anyone who knows recent Tom Waits material and his foghorn voice may be surprised to learn that when he first started out he had a nice gravelly, soulful voice. This album was his second and is full of great melodies and lyrics that portray characters living on the margins and paeans to lost love affairs and too many nights spent in badly lit bars. Lots of great tracks here from the string laden ballad 'San Diego Serenade' to the heartfelt 'Fumblin' with the blues' and more in between. I think Tom Waits is one of the great lyricists around. How about this from the closing track 'The ghosts of Saturday night';
'A solitary sailor
who spends the facts of his life
like small change on strangers…'
'He dreams of a waitress with Maxwell house eyes,
and marmalade thighs with scrambled yellow hair.'
The sound is quite sparse on most tracks. Just double bass, drums, sax, a bit of trumpet and Tom on either piano or guitar. On 'Diamonds on my windshield' it's only drums and a busy walking bass line with Tom talking over the beat, taking on the persona of a long distance lorry driver heading home in the rain (hence the diamonds on his windshield);
'Wisconsin hiker with a cue-ball head
He's wishing he was home in a Wisconsin bed,
but there's 6 feet of snow in the East
Colder than a well digger's ass…'
Like Bob Dylan, other people have bigger hits with Tom Waits songs. Maybe the voice is too hoarse, and the arrangements too sparse, but It's my album of choice in those wee, small hours. 'Drunk On The Moon' sums up the situation:
'And the moon's a silver slipper
it's pouring champagne stars
Broadway's like a serpent
Pulling shiny top-down cars…
and I've hawked all my yesterdays
don't try and change my tune
'Cause I thought I heard a saxophone
I'm drunk on the moon.'


Randy Newman – Good Old Boys 
One of my favourite albums of all time. Written, arranged and conducted by Randy Newman. The album is loosely based around people and places associated with the deep south. Track one is called 'Rednecks' and has Newman's rolling piano style to the fore. He spends most of the track sending up rednecks. He continues in this vein for most of the song slagging off rednecks and then he slyly turns the tables at the end when he turns on the northern intellectuals who would echo these views on rednecks mentioned earlier.
In 'Louisiana 1927' he sings about a devastating flood in the area. The vocals are plaintive and the strings are seeping through the sad old melody. Shades of Stephen Foster about some of these songs.
'The river have busted through clear down to Plaquemines,
Six feet of water in the streets of Evangeline,
Louisiana, Louisiana,
they're trying to wash us away….'
But my favourite track is 'Guilty' which has been covered by numerous artists. The opening lines set the tone:
'Yes, baby, I been drinkin'
And I shouldn't come by I know…'
and ends with;
'You know I just can't stand myself,
and it takes a whole lot of medicine
for me to pretend that I'm somebody else.'
Randy Newman may not be one of the coolest of guys, or the most fashionable but who cares when he can write songs like this.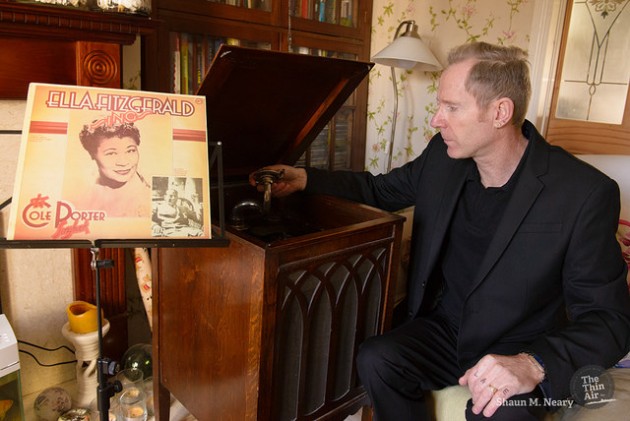 Ella Fitzgerald – Sings the Cole Porter Songbook
Another decade or so and some of these songs will be 100 years old. Their witty, sophisticated lyrics and beautiful melodies still stand the test of time. Ella recorded eight songbooks in total but this one is my favourite. It's a double album featuring thirty two tracks and so is an embarrassment of riches. Ella's voice is pure honey and the orchestrations are lush and sweet so it is like being showered with grains of sugar. Every track is a masterpiece. You only have to scan some more of the tracks to see that they are all familiar for one reason or another.
The Jam – All Mod Cons 
This was the Jam's third album and it marked a big departure from the previous ones. Gone was the frenetic, guitar driven rawness and in it's place a more mature approach with songs like 'Mr Clean' and gentler love songs like 'Fly' and most shocking of all, an uncredited track called 'English Rose' which featured just Weller on his own plucking an acoustic guitar and singing a love song!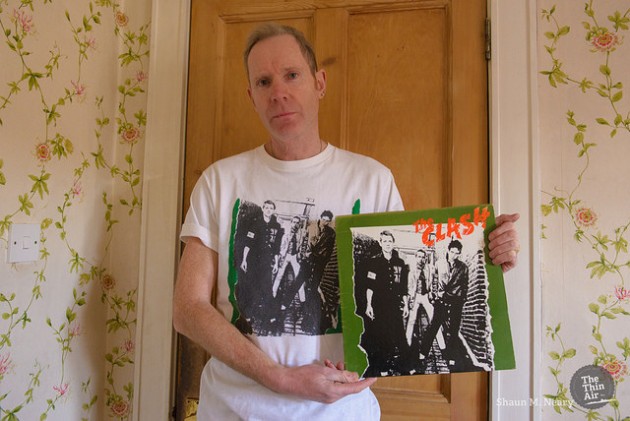 The Clash – The Clash
The Clash's first album. The iconic front cover looked so startling among all the prog rock albums in 1977 and inside that cover was one of the greatest debuts of all time. Most of the songs aren't much longer than 2 minutes. A blistering set of lo fi classics. Living in dreary old Dublin I could relate to 'Career Opportunities', 'I'm so bored with the USA' and '48 hours' more than the latest showband releases. When Strummer howled 'London's burning with boredom now' you believed him even though it couldn't have been worse than church ridden Fianna Fail Dublin.
One thing I liked about the Clash was that they had a sense of humour. They weren't dour agit prop merchants. In 'I'm So Bored With the USA' Strummer sings:
'Yankee detectives are always on TV,
cos killers in America work seven days a week…'
In 'London's Burning' he snarls:
'Face the new religion
everybody's sitting 'round watching television.'
Ok, he didn't foresee iPads, I suppose!
'Garageland' and 'White Riot' are just great three chord masterpieces but unlike the Ramones, the Clash weren't stuck in a rut repeating the same old formula. Even on their debut album they started to experiment. They tackled the Jamaican reggae song 'Police and Thieves'. While the original was sweetly sung and laid back, the Clash stabbed it with their guitars, spat out the lyrics and made the song their own.
Note to Fleetwood Mac fans: the album was recorded and mixed over three weekends and cost the paltry sum of 4000 pounds.


Elvis Costello – This Year's Model
This was Elvis' second album. This time Elvis teamed up with the astonishingly, brilliant Attractions and what a difference they made to his songs compared to the first album.
'They call her Natasha
when she looks like Elsie
I don't want to go to Chelsea…'
The first single off the album. Starts with a great drum intro, then a big pumping bass joins in followed by a ghostly organ sound. A much darker album than his debut with Elvis in free flowing form on tracks like 'Pump It Up';
'She's been a bad girl
she's like a chemical
though you try to stop it
she's like a narcotic
you wanna torture her
you wanna talk to her
all the things you bought for her
putting up your temp'rature.'
Another track 'Night Rally' has military style drumming on it and foreboding lyrics dealing with the rise of fascism:
'You think they're so dumb
you think they're so funny
Wait until they've got you running to the night rally…'
My favourite track is 'Lipstick Vogue'. A tour de force from the Attractions with the band hanging on to the words and almost spiralling out of control at one point. Savage lyrics concerning love and paranoia;
'Don't say you love me when it's just a rumour,
Don't say a word if there is any doubt
Sometimes I think that love is just a tumour,
you've got to cut it out….'
Elvis may have looked like a geek but there was no denying the verbal gymnastics, the bittersweet melodies and the impact this record had at the time.