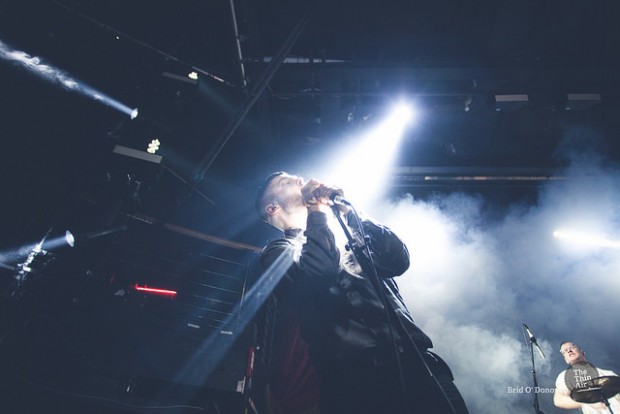 A chatty Thursday night crowd sit through an increasingly punchy, but not overtly engaging opening few minutes from support Simi Crowns. The Dublin-reared rapper throws out some strong armed but inaccurate hooks that fail to engage all but the most enthusiastic in the audience. Such is the lot of the support slot, right? Except Simi Crowns does not pack up his things and go home. With a bit of charm and a hint of exuberance he manages to make his pop-esque, Chase and Status inflected style of hip-hop hit home. By the time the set is over the crowd are sufficiently warmed up but, perhaps, not quite ready.
That's because the three members of Mercury prize winning outfit Young Fathers are an imposing presence. In stripped down smart wear they are as effortlessly cool as they are a little intimidating. 'G' Hastings with his soundboard is like a tripped out mad scientist, Kayus is like a ghost appearing and disappearing in clouds of dry ice and Alloysious Massaquoi looks out like a Greek demi-god waiting for the next assault. They are complimented exponentially by the presence of DJ/drummer Steven Morrison whose dancy-rigid rhythm works as the musical backbone and thematically like the galley-slave drum beater. For a few minutes at least the crowd don't really know what to make of it.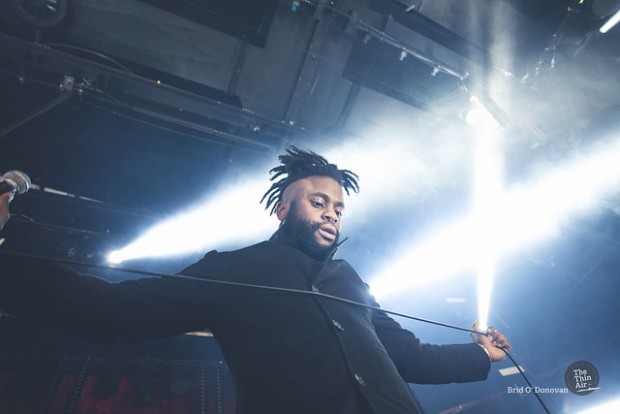 But kicking straight in with tracks like 'Queen is Dead' and 'Come to Life' they are easily won over. It's a simple performance but immediately an emotive one. Their live show further complicates the inaccurate 'left of field' hip hop rubric that they've been stuck with because clearly this is soul music as much as it's anything else. In fact, without any crowd participation the show begins to feel like a ritual, like a spiritual movement in an alternative universe where it's Alec Empire who died for our sins. The three men on stage seem less like a band and more like they're inflicted by the same possession.
The reverential atmosphere continues with high intensity versions of songs 'Rumbling' and 'Sister' but as time passes the avant-garde at the heart of this extraordinary trio pushes its way into the set with dissonant rumblings and wails. It's an accumulative movement that only compliments a heart rendering version of 'I Heard'. There's a few confused faces in the crowd but there's little you can do but pity them. Everyone else would tell you that this is a pitch perfect performance, expanding on the bands recorded work as well as complimenting it.
Then it's over. There is no encore. The service is finished. And it will be a long time before anyone else offers up such a perfect mesh of emotional fraughtness and clever musical discordance. Eoghain Meakin
Go here to check out Brid O'Donovan's full gallery from the show.