Live Reviews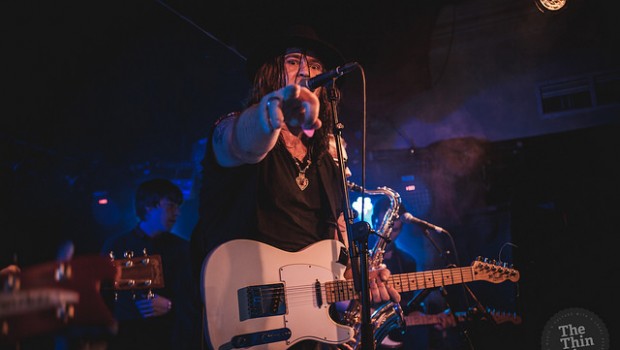 Published on April 12th, 2015 | by Joe Madsen
0
AAA: The Mighty Stef Album Launch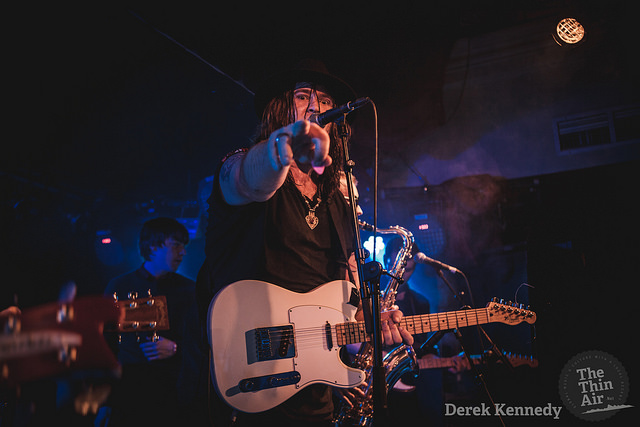 Redemption is a story told intimately well by the tattered glory of rock 'n' roll.  At the peak of an atypically hot week in Dublin, hometown hero Stefan Murphy embodied that redemption through a genuine baptism by fire in the sweat-box that is Whelan's music hall.  Heralding the launch of his new album Year of the Horse, The Mighty Stef, as he's known to fans, led his band mates through a raucous set, featuring friends old and new, and making a remarkable fresh start in the local legend's career.  For an hour and a half of warm-up acts, as cult followers slowly trickled in, the house saw a gregarious Stef darting throughout the crowd of comrades, decked in tight black jeans and t-shirt, gold chain and medallion, worn leather jacket, and trilby hat.  The long-haired, larger-than-life frontman was raring to mount the stage on what felt like a momentous start to a comeback tour.
Kicking off the night with tracks from the new album, Stef and his three leather-clad mates showed off high energy in their strum-happy set with a flashy light and smoke display to match.  Stef's animated antics between verses found welcome contenders in bassist Gary Lonergan and lead guitarist Dan Fitzpatrick.  Powering through heavy-handed riffs and progressions that hailed the vivacity of both alt and pre-alt rock, the trio made a sheer spectacle of their axe-swinging dance moves with drummer Ken Mooney beating his instruments to a bloody pulp behind them.  A proper sweat was hatched within minutes among both stage and house.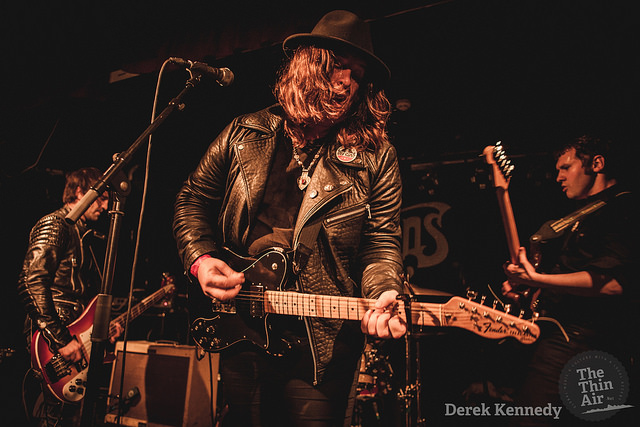 Playing through the eras of his musical career in top-down fashion proved the most interesting aspect of Stef's performance, and his raspy vocals consistently found the guttural chant iconic to working-class heroes like Bruce Springsteen.  The group's initial display of easy-going rhythms soon cascaded into a dark torrent of sound that echoed the frustrations of early, wasted youth.  The band's fresh outlook rang clear in the new material.  Meanwhile, past struggles were sonically revisited in older numbers.  The developed tastes of The Mighty Stef's former personas allowed the four gents to find a delicious blend of rock. Technical difficulties nearly marred a few moments throughout the night, yet Stef and mates maintained an unfaltering presence which whisked away any missteps taken by the sound board.  Old friends, too, made their way to the stage to help Stef pay homage to the past.  Seasoned performer Cait O'Riordan dueled heatedly with Stef in their bitter, bass-heavy duet 'Safe at Home' off 2009's 100 Midnights.  Republic of Loose's Mick Pyro, who once toted Stef as a support act years ago, revamped his funktastic 'Something in the Water' in what Stef later gushed as 'a dream come true'.  Even former drummer Brian Gallagher claimed a corner of support onstage with his keys.  Moreover, Stef's eye to the reinvigorated act invited the young lads of Co. Cavan's Strypes to play the encore, a group recently seen supporting Stef's latest live ventures.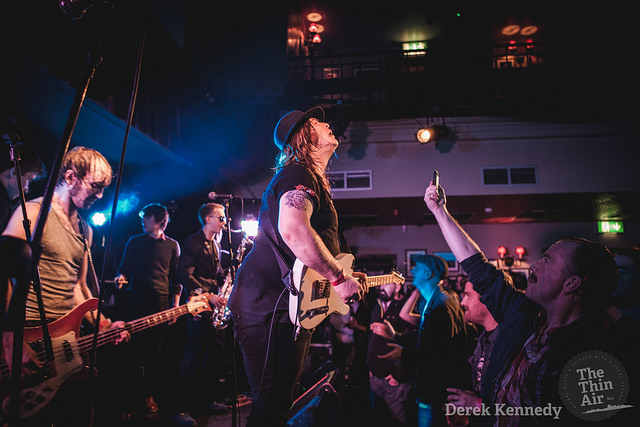 By night's end, the show was a carnival of faces and sound built into the history of Mighty Stef.  With an unfathomable amount of support displayed for this local legend of Dublin, the new forging of The Mighty Stef sits at an enthralling threshold in career that is pulse-pounding to witness live.  If Year of the Horse puts up a return as impressive as its christening concert, Mighty Stef stands to represent a generation in music nowhere close to surrender. Joe Madsen