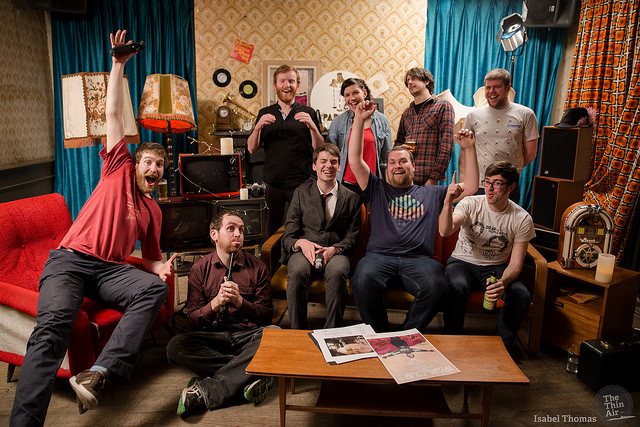 We go behind the scenes with the crew of Dublin independent TV series The Parlour TV and discuss what exactly goes into directing and producing a weekly show. Words by Mike McGrath Bryan. Photos by Isabel Thomas.
Hi Guys! Can you tell us a bit about yourselves? 
John Breslin (Director/Camera): I've been making community television and doing bits and pieces on music related videos for years now, I also play drums in a few bands..,. so The Parlour is a fairly natural environment for me to be working in at the moment.
Barry Lennon (Producer/Location Manager): I have been involved in various music projects and collectives since the age of fifteen/sixteen and also been involved in producing several community TV projects. Most of the projects I have been involved in come out of a passion and a thirst to create something interesting and hopefully inspiring and at the same time trying to pay the bills when I can.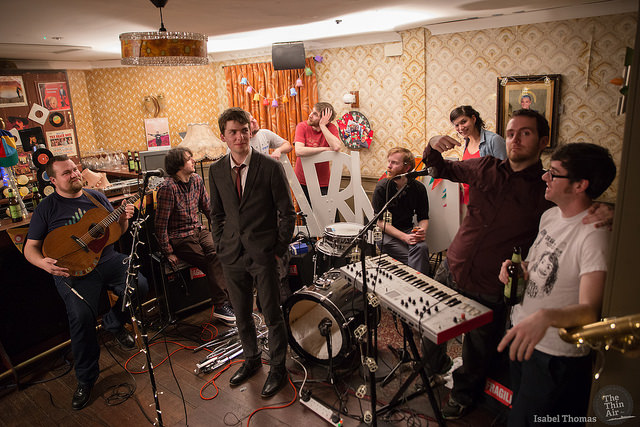 The Parlour follows on from Community of Independents, but transports the show's coverage of independent and DIY music to Whelan's, in front of a live studio audience: what brought the changes about? Who reached out to who?
John: We wanted to apply for some BAI (Broadcasting Authority of Ireland) funding to make a music show, using Community of Independents as a springboard. That production had come to an organic end after four seasons of fairly mirthful but very relevant volunteer-made music shows. For BAI funding applications, you generally need a partner and Barry getting Whelans on board seemed like a logical fit – they have shitloads of gigs on that we could film and we figured their parlour bar could be turned into a studio. The studio where Community of Independents was all shot is now a solicitor's office.
Barry: I think we learned a lot from making Community Of Independents and wanted to add another element to the show when making the Parlour. This ended up being a 'live' audience which added a lot more energy to the show and makes each of the shows a night out for all the audience. I felt Whelans would be a great place to shoot the project and had the Parlour bar in mind as the studio. They have been great supporting the project.
Ciaran: I was sort of a newcomer to this show because even though I'd worked with the lads on loads of other projects I hadn't been at the Community of Independents shoots. But what always struck was how interesting they were from the outside – every volunteer or intern or work experience person in DCTV wanted to go to the COI recordings. In Scarlet Row an audience of 3 got in the way so its great to see the approach start to get some space.
The show has been recorded regularly at Whelan's: a season of 12 episodes has been planned for, what's been the reception so far? Are there plans for more? What would the challenges be, aside from the spectre of having to block-book a major venue?
Barry: The reception and feedback has been great. We would love to do a season 2 of the show as the momentum and community around the show builds each week so it would be great to keep this going. We would love to look at distributing the first season to other platforms so it could reach more audiences nationally and overseas as we never did this with Community Of Independents. I guess the main challenge would be having the financial support to make a second season. We were lucky to be able to get funding from the broadcasting authority of Ireland for season one after applying to the sound and vision fund.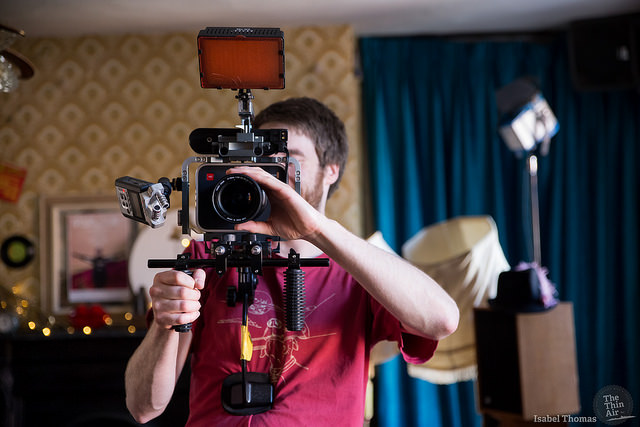 How did you approach Whelan's as an on-camera venue initially? What were the considerations for laying out the individual venues/rooms? What's your camera setup for each?
John: It was pretty straightforward. We did a recce and then test shoot in The Parlour. We saw there was two or three possible staging areas, we figured that only certain types of acts would work from an audio perspective and we figured we'd get about 20/25 people in there having some beers while we pointed three Blackmagic Cinema cameras at people talking and playing music. One camera on a tripod and two on monopods or handheld.
Thom McDermott (Edit/Production Design): I guess that shooting in the Parlour Bar you already have that kind of grotty, chic, boudoir thing going on so we used that as the basis for the set and built stuff around that look.
Ciaran Moore (Executive Producer/FOH): Getting a beer sponsor on board and a decent sized audience changed things a bit – dealing with all that in the venue was interesting and made the whole thing feel more like a gig than a shoot. It helps the atmosphere a lot, though on the flipside it makes the shoots more unforgiving.
Whelans have been unbelievably accommodating – it's not just the Parlour Bar itself we use but storage, audience registration and green room spaces are all supplied. One of the strengths of the team we have is the relationships they bring, Barry knows Whelans well and that relationship makes a lot possible.
John: For the VT sections with Ray, that's a two camera and one audio crew going along with him to gigs in either of the other two venues in Whelans. Pretty discreetly with DSLR cameras on monopods. Shooting an interview before the gig and then a couple of tunes from a band's set.
What's the process of booking artists, presenters and other guests for the show, and deciding which segments they're put on?
John: The acts filmed for the VT inserts with Ray had to be playing Whelans – preferably the main stage – over the course of the production, which started in October and will finish in May. We picked ones suggested by different crew members and generally tried to get music a lot of us could agree on. Pretty much everyone we've asked had been fine with us recording them.
Then for guests on the show – again the crew discussed it, we went through the different themes we want to hit in every episode, and then talked through people who would suit exploring those themes. With regards musical guests, we had to rule out most bands with drums and select stuff that we like that would sound good in the room.. most people in the crew have picked someone that has been on the show.
Ciaran: I think there is a real sense of showcasing or curating something. A very deliberate policy of going for a variety of genres as well as trying to have each episode work together.
Barry: The idea was to keep the show varied each episode and to try have a mix of artists from different scenes and communities to help showcase musicians we felt were interesting in a particular musical community. It always hard to make the decision of who we pick as there is so many great artists we would love to include, as John says there's some limitations on who we pick based on the room. The topics for each of the discussion segments was based around showing the different elements that make up the musically community in Ireland outside of bands/artists like record shops, graphic designers or this magazine and to create a discussion around what these people are doing and why they are doing it.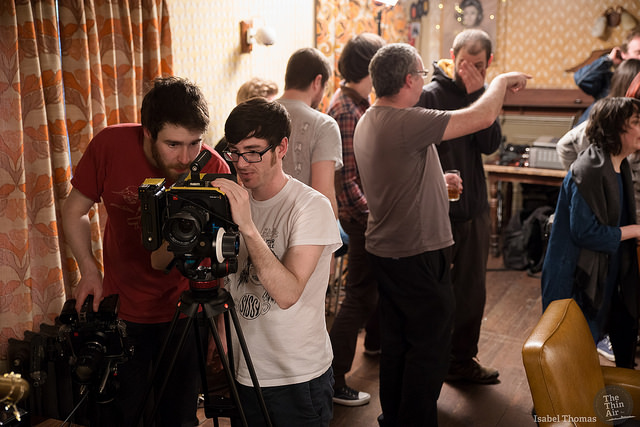 The days before, and the day of the show. Timing out any recording session in advance can be a risky business, owing to Murphy's law, for want of a better term, on the day. How tightly does the ship have to be run across three locations?
Thom: I'm not sure about Murphy's Law but there has been a deep level of thought put in at the planning stage for the entire series which included getting the right crew in place. Having everyone on the same page and getting everyone on the crew as involved in all the various stages of production has taken a lot of risk out of the production as everyone knows that this is a pretty mad but worthwhile endeavour. That coupled with having really sound musicians on each show has made the whole process pretty good… or: as good as you would expect something as complex as shooting an 'as-live' low budget TV show to run.
Ciaran: The audience arrives at 6.15pm and leaves at 8.30pm. There's about 35 people on set during a shoot so without a plan that everybody sticks to it won't be shot and ready to go to post in time for the broadcast. I think the crew on this have really hit the ground running to get the quality at the level its been from the first episode.
Barry: As Thom says we put lots of thought in at the planning stages of the project to get this right which nearly broke our minds but helped the project run smoother. After the first shoot we learnt how to improve it for the next one. We have a crew production meeting before each show and this helps keep everything running smoothly we also usually have a chat after the shoot about how the show went and continuously look at ways we can make it better. I think getting the right crew was the key to making the project work so well, everyone involved has given extra time to the project making it something special that I feel we are all very proud of.
John: Yeah, we learned certain things from the first shoot which informed the next but then there was a host of different things to learn from that one. That has followed with every shoot since to be honest. While we've managed to signpost a lot of the variables that might trip us up, there's always something that can go a little bit askew. And we're ok with that, it keeps us on our toes. There has to be an element of us being beholden to the events on the room, because capturing that buzz on camera is more important than us having a really regimented studio floor.
Directing across the two venues can present a challenge, especially with segments and interviews happening in the Parlour too. Is it difficult to relay messages and direction around between the different locations? Where would the "command centre" be? 
John: Well I'm ultimately responsible for what happens in front of the cameras translating into a coherent and enjoyable TV show and, to a slightly lesser extent, an enjoyable shoot for everyone present. As Thom outlined, our crew is carefully selected and we're all 'on the bus' ie. know what we're collectively going to achieve as a result of pretty meticulous planning. My attention becomes more and more focussed on Danny as we get closer to the 7pm roll time. Barry & Fiona – as location manager and floor manager on the parlour shoots – are key in making sure everyone and everything else is looked after, knows where we want them to be and generally what's going on. Which is great, because I often don't know what's going on. Once we're rolling, we generally communicate with our eyes and if there's any technical or content issues we can always go back and retake something. We try to keep the takes as continuous as possible, with one break in the middle for chats and drink topups. Keeping things flowing swiftly between the three little staging areas in the room is enjoyable for everyone involved.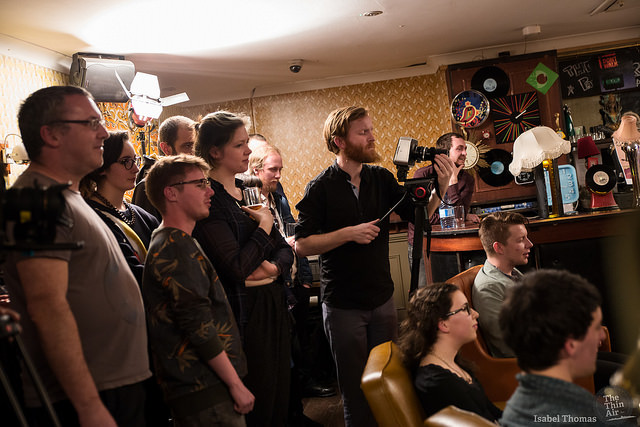 On the night of recording the episode, just like any other gig or live event, there's the usual concerns – people running the doors, stage management, sound for the venue. Are there a few separate bodies handling the live-event aspect, as in doors, artist liaison, etc. or is that very tightly tied in with the overall production process?
Ciaran: There's a big enough studio audience – 20 – 25 people, so we've had to plan that side tightly. The VT or touring act material is very act dependent – Barry, Dave from the location crew and Ray have to work with the existing plan for their show. But our studio shoots are pretty formulaic and it does feel like putting on a theatre show from the front of house. With the crew being performers as much as the acts.
Barry: We all have set roles on the project. On the day/night of the show I liaise with the guests as they arrive then hand them over to Fiona who is the studio floor manager she looks after them as they do soundchecks and get ready for the show. I usually make sure all the audience is okay working with all the crew downstairs (Front of House – Ciaran and volunteers – Brendan, Art and Luke) and I liaise with Fiona about how all the production crew preparations are going like sound checks etc as we await the green light to bring all the audience upstairs to the Parlour bar to where the show is shot. All the audience wait in the venue below the Parlour watching the previous weeks episode and other material and are given literature about the content on the screen and project as well as getting some tasty free O'Haras beer. We have some great student volunteers from IADT Dun Laoghaire who work on the shoots each week, they're really key to the process.
An overlooked aspect of recording stuff like this is data-wrangling: theart of swapping sometimes limited numbers or capacities of cards/drives around, and continually backing up the previous segment's raw video at a central location while recording the current one is in progress. Can you go into a bit more detail on it and its importance?
Thom: There's a lot of data to collect at the end of the each night and from a wide range of different devices. The lads from Guerilla Studios have a top notch rig which allows them to record everything into the one 32 track system. So they copy all the audio and give it to us and then we immediately have a backup if something goes wrong somewhere. All the Blackmagic Camera's use solid state hard-drives which are backed up straight after the shoot at our production office in Block T and then there are a few ambient, safety net, type audio capture devices which take SD cards. Everyone knows who takes what and where it's supposed to be so it runs pretty smoothly and of course, if you don't have the media you don't have a show…
The show hits post-production very quickly thereafter. Obviously, making sure to get all audio and video wrangled, edited, etc. are the important parts, but how does the team go about it? What software is the programme edited in, and what finishing touches are put on the raw footage? What's the routine for those few days?
Thom: Most of the wrangling is done directly after the show so that backups are created pretty quick. Then it's about filing and getting it into the edit suite. We use premiere for the edit and colour the footage in after effects. There was a few long nights for the first couple of shows as the turnaround for each episode is so tight.. but we have a better workflow going now, I think. I usually do a quick pass edit of all the content and try get it to John asap so that he can shape the show. Then I tighten up cuts as is required and get an audio lock to send on to the Guerrilla guys for a mix. This is usually done by Wednesday night at some stage. Then we can concentrate on getting the visual's as clean as possible and start the final assembly with all the different assets in a timeline and prepared for colouring. A lot of time after that is spent rendering as we're dealing with a high quality recording codec. Getting as many things done simultaneously is crucial for getting the episode's out on time and this basically, is a 7 day working week.
What's remarkable about the show is there's still a scheduled broadcast to sit down and tune into, at least before it's uploaded for on-demand viewing: is there much to that final day of the process? Is there much between the final cut getting the okay and it going out? Have there been any close calls as of yet?
John: Thom has pretty much outlined the process. The show's content is generally locked by Wednesday night so it's all about mixing the audio and selecting shots and colouring them at that point. The different video/broadcast files required are exporting on Friday & Saturday and then it's just getting them – and subtitles – on to the relevant machine/server before Sunday's broadcast. We've (well, Thom has…) had one horrible week with a machine blowing up but we've hit every broadcast relatively comfortably so far.
Ciaran: The tight broadcast deadlines have been pretty smooth but I think it really gives the show its feel. The discipline and rhythm of the weekly transmission really keep the energy in the team and also makes everything very collaborative – because so much is happening in parallel there's a lot of communication and sharing happening. One thing we've tried to do is shoot with that live gig feel – but make sure we don't date the show by talking about gigs or releases in a very 'current' manner.
Besides live streaming and coverage, what do you think the prospects are for scheduled online broadcast in the face of on-demand services, and do you see more independently-produced shows following suit?
Ciaran: The scheduled broadcasts for us are DCTV and the stream on theparlour.tv every Sunday. We know the numbers on that are way below the online views of material from the show and full episodes on-demand. So some of the live streaming aspect for us is about it fitting into our production process, it's a good way for us to make it and the releases help that. But also there is the idea of asking how we can fund this, how making television like this could be paid for. Most of what we've made before we stuck it up for free online as soon as it was made. With this show we decided to do something slightly different.
Are there plans for taping the show outside of Dublin at any stage, or devising a similar format for other iconic venues? What venues would spring to mind for it?
John: The production unit has to move in and out of the Parlour every week (we get everything in on a Monday at 3pm) so it could go anywhere. I guess there's something somewhat similar to Whelans in lots of towns in Ireland – the Róisín in Galway, Dolans in Limerick, the Triskel in Cork, Teelings in Sligo, Spirit Store in Dundalk..
Ciaran: I think of The Parlour as some form of theatrical show so I think going on the road is a natural progression. I do think you need local knowledge to book acts though.
Barry: Yes I would love to do this outside Dublin and even outside of Ireland and link in with other musical communities in these areas.
What's the grand plan for the show? Would television through one of the terrestrial broadcasters ever be an option?
Ciaran: This is the television we want to make. If people can bring this to audiences and show people what amazing musicians are working in Dublin we would like that. If we had to change it to get that to happen we would have to think about that.
Barry: To reach bigger audiences and to be able to make more episodes of the show. I believe terrestrial broadcasters could definitely help in this process. That said, we've built up quite a fondness in retaining editorial of what we make.
On that subject, while the TV industry's old firmament has hugely shied away from Irish music in recent years, preferring to stick to older and safer names and faces (see: The History of Irish Rock), do you think there might ever be a place for DIY or independent music on the national airwaves again? Should there be one?
Ciaran: I am not sure what the national airwaves are. The TV License fee should be used to help people make media documenting and presenting the best of our creativity and culture. But the culture is possibly too risk averse to allow something truly DIY be made with those funds on the national airwaves, which is a shame as the amount of media talent and skills available in Ireland today is really exciting and underused.
Barry: Yes, there should be, especially based on the fact that our national broadcaster is funded by the public via the license fee so they should be looking at ways at providing a platform to support these communities. As Ciaran says the level of creativity is undervalued here you have lots of artists getting more support outside of Ireland which is a shame and usual leads to some moving overseas based on this. Ireland is known for its music and so many bands here don't have the platform to support them on national radio and TV whereas online blogs/media seem to be the main outlet which don't always have the same audience. We should be looking at more ways to support these cultural entrepreneurs.
What are your plans for the future of The Parlour TV?
Ciaran: Five more shows to make and broadcast. Show it to people.
Barry: To reach bigger audiences with the series and try get it distributed to other platforms and broadcasters within Ireland and overseas.
Watch this week's episode of The Parlour TV here.