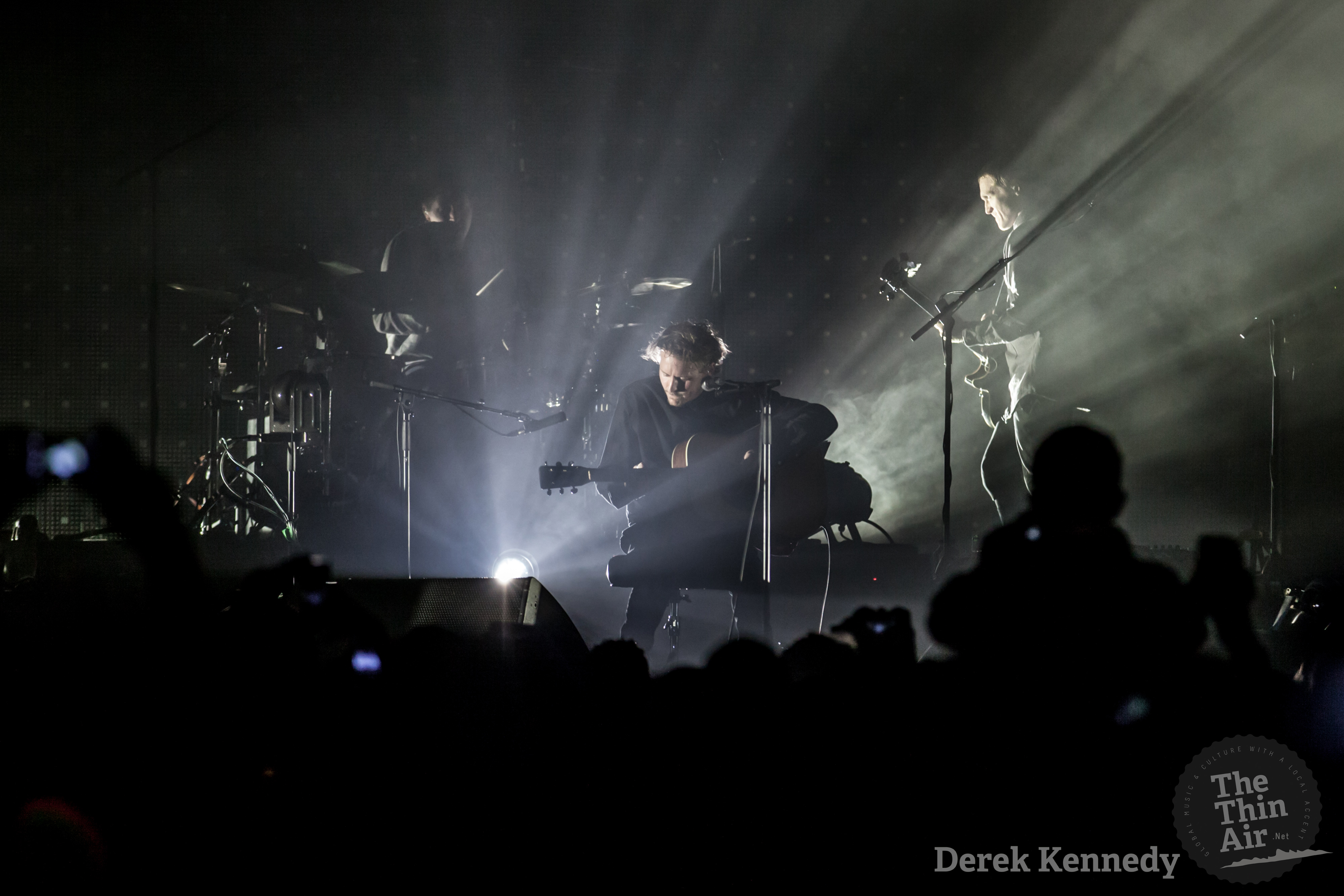 Returning to Dublin after four months on from two-night run at the Olympia, Ben Howard's sold-out performance at 3Arena would normally indicate momentous progress for a second-album tour. October 2014's I Forget Where We Were marked a piquant shift toward the sultrier side of Howard's folk bearings and has captured coveted spots on charts the world over, including number 1 in the singer's own UK. And yet, as a set list for an arena tour, Howard's new material simply falls short.
The packed crowds of Dublin's stunning 3Arena broke into wild applause as the house dimmed to welcome Howard's humble entrance with his five band mates.  Each clad in simple black garb, they tacitly took their places onstage without a word and began a six-song foray into material strictly from the new album.  Meanwhile, debut LP, Every Kingdom, which iconicised Howard's sound, was put on pause.  Compared to the first LP, the music of this most recent venture incorporates qualities of synth, lets the acoustic find its electric counterpart, and paints a moody alt-rock visage over indie-folk roots.
Yet these changes are not the sound Howard's fans fell in love with.  Important though it is for performers to explore depths and capacities for different styles, this performer left his audience feeling restless and agitated who at the start were eager and ripe for the taking.  Loyal followers of the charmingly demure folk artist were kept in anxious anticipation before all feelings of familiarity were unleashed on 2011 single 'Keep Your Head Up', with a steady lyrical chant emanating from every corner of the house.  The mid-show number proved a striking glimpse of what the crowd was craving.  Yet the jolt to the system delivered by this older track was quickly abandoned yet again by the concert agenda in favour of new and far less exciting material, heavily compensated by a severe over-saturation of light and visual works that out-performed the performer. In contrast, the folk-centred tracks of old featured tech displays far less indulgent, letting the music sing for itself.
Naturally, artists are often excited to show fans the results of their latest labours, even when those fans are at first lest willing.  Howard's problem in this fresh presentation is that he simply didn't seem excited, at least not enough the fill the space of an arena.  In a house filled with nearly 15,000 spectators, he played through a newly forged set list with an enthusiasm which did little to transcend row 10.  His coy shyness befitting the softer tones of Every Kingdom's melodies didn't make the cut on I Forget Where We Were's mood-imbued, soundboard-assisted arrangements.  Not only did the music outstrip his persona, light displays unique to each number drowned his stage presence, too.  House banter between numbers was utterly non-existent, save the repeated, "Thank you Dublin," and it wasn't until encore and show-stopper, 'Old Pine', that Howard loosened up and relieved the house of what, 'til then, was a rather still and robotic performance.  The solo-acoustic track featured a striking projection of the lone Howard that allowed his shy nature to soar, and even a joke about drinking Guinness in Dublin found its way into the smiling singer's set.
Unfortunately, the number arrived too late.  Though the song elevated Howard and fans to new levels of thrill left dull until this point in the show, its place in an already ambiguous encore prompted many to depart before the next track.  What should have been a galvanising opener somehow got buried in the show's epilogue, instead.  Perhaps Howard's upcoming showcase this festival season will take lessons from the letdown of this arena demonstration, but somehow it feels as if the molding hands of others have been placed on a formula that was already working.  Where Howard takes his next work will prove a move worth noting. Joe Madsen