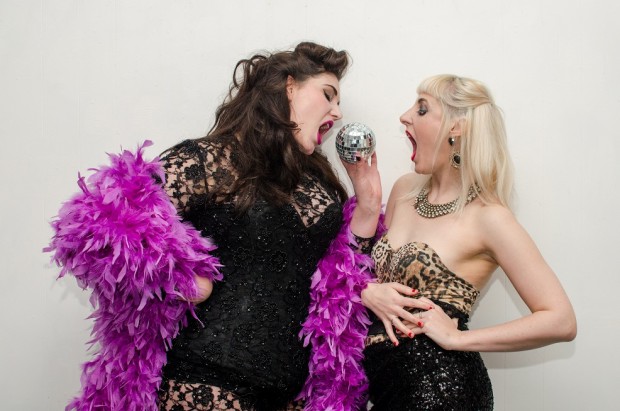 One of the more expectedly fabulous prospects in the Marquee of this year's Cathedral Quarter Arts Festival, Belfast Burlesque showcase Tease-O-Rama promises an evening of music, dancing, glamour and fun on Sunday, May 3. Ahead of the event, we speak to Burlesque extraordinaire Soup DuJour and and DJ Venus Dupree about what's in store. Photos by Sara Marsden.
Hi guys. Can you give us some background on Tease-O-Rama; previous appearances and what will set this one apart from the others?
Soup DuJour (above, left): I founded Tease-O-Rama nearly two years ago and it's all about creating really fun nights that make people laugh and feel good about themselves. I do this by hiring a very high standard of creative performers. What makes this one extra special is having world class burlesque artists that are on another level and it's an extravaganza that the audience will experience with us. In addition to our Burlesque acts this one features a live six-piece jazz band and finishes with a solid gold disco set from Venus Dupree.
You're called Soup Du Jour and Venus Dupree. Where did those names originate and how do they sum up your respective alter-egos?
Venus Dupree (above, right): Disco was calling me and I couldn't resist any longer… thus Venus was born! I've been obsessed with New York Disco and the underground queer culture of The Drag House Ballroom scenes of the city for years so this inspired the name. Venus Xtravaganza and Paris Dupree were two iconic members of this scene so I put their names together and it's stuck with me. It sums me up well, though: disco and drag!
Soup: When I started Burlesque I noticed that there seemed to be a lot of names around food, especially sweet things like candy, cherries, cakes etc. I wanted to use a food that wasn't quite as sexy: 'Soup' and 'DuJour'… well, I'm always the dish of the day.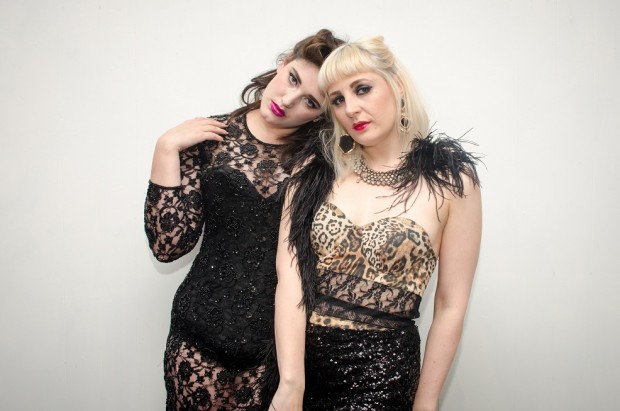 Venus, this is the first time you've performed at CQAF, as well as being a programmer for the festival. Are you feeling a little nervous?

I've been a member of the CQAF family for the last four years – without them I wouldn't be taking to the stage at all! Nervous? A little. Excited? Hell yes!
Soup, as a first-time audience member, what can one expect to experience at this CQAF show?
People can expect to see Burlesque at its best and in all its glory. Burlesque combines sexuality, beauty, comedy and self-expression in a wonderful and creative way. It's about making a fantasy a reality in an inspiring way that sparks something in other people.
Venus, similarly, people have quite a distinct idea of what disco is. What is it for you and what can we expect from a Venus Dupree set?
Venus: Well, I think most people associate disco with Studio 54 or Saturday Night Fever which, of course, it is, but for me disco started in loft parties and was not about exclusivity or being seen. It was about community and good music. This is how I discovered the House Ballroom Scene which is all about self expression through creativity and it's also where Vogueing comes from. The kind music you can expect to hear will be a mixture of well-known disco classics with a few hidden gems of pumping four-to-the-floor bass lines.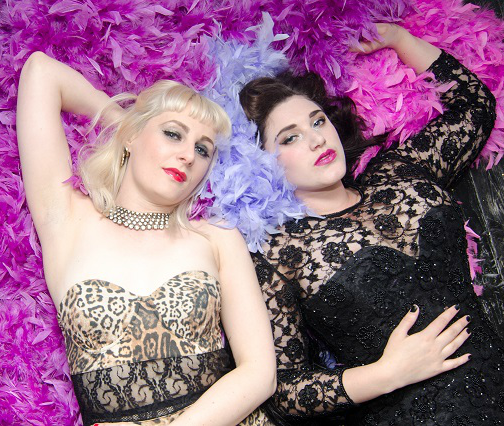 There are loads of different types of Burlesque routines; classic, neo-Burlesque, comedic. What would you say is your favourite and why?
Soup: For me, it's about what people do with Burlesque, so if it's classical I want to see that beauty and grace, I want to feel like I'm clutching my pearls and breathless in awe of beauty. Vicky Butterfly embodies this completely. I love having comedy in a show as it brings joy and a type of inner confidence, like Kat Moiselle does its intelligent and funny which, in turn, is sexy. And then you have you're avant guard performers fusing performance art with costume and using their bodies to express and emote and Eden Berlin captivates audiences with something that feels dark yet beautiful.
Finally, to anyone sitting on the proverbial fence: what makes this performance unmissable?

Soup: It's a whole experience – three nights in one. Live jazz music to sing and sway to, some of Europe's best Burlesque acts and a full on feel-good disco for people to let loose and dance the night away. It's glamour mixed with vintage class but also artistic, modern and most importantly fun! It's a night anyone and everyone will enjoy.
Go here to buy tickets to the Tease-O-Rama at Cathedral Quarter Arts Festival 2015.