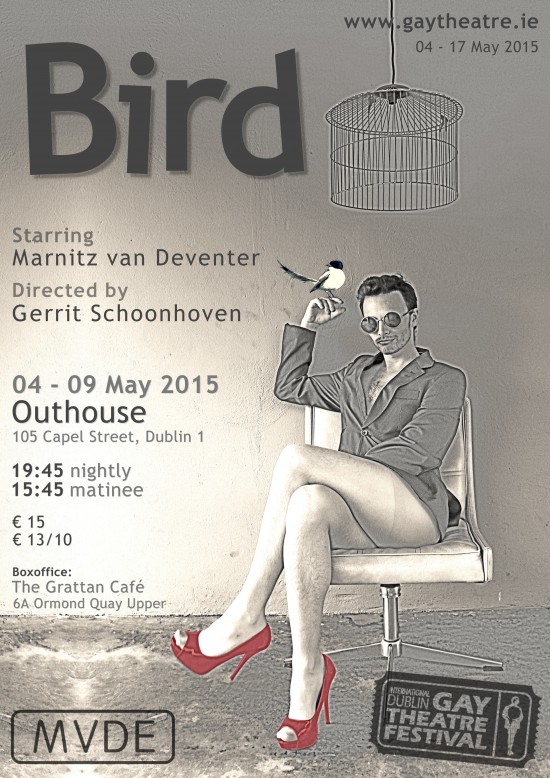 Just before a major move of show from South Africa to Dublin, playwright and performer Marnitz van Deventer chats to us about the impact of past relationships, story-telling as the heart of performance, and bringing a South African flavour to Dublin's International Gay Theatre Festival.
Hi Martniz. Can you tell me a little bit about Bird and the creative process behind the show?
Sure.  Bird is actually a story of the self before, during, and after a relationship.  I guess the story started three years ago when I was in a relationship with somebody, and I fell head-over-heels in love with this person.  After a while, he decided we couldn't be in a relationship anymore because he was moving back to Spain and I was staying in South Africa, and when he left, at first I was really depressed and lonely until I came to a point where I realised what his role in my life was.  He'd shown me a whole different life that I didn't know existed.  So basically Bird is told in the same way, only it's told more metaphorically.  It's based on a bird that must migrate.  This bird must travel and seek opportunities and a better life for himself after this devastation of a relationship.
And how long have you been writing and creating works like this for the stage?
Well this is my first self-written play which I'm also performing in.  I studied drama at the University of Cape Town for four years and I graduated in 2012.  From then on, I started working in television, theatre productions, and films.  I'm also an agent which is what keeps me busy.  It's been three years writing this piece, making it all come together.  It started as a sort of short story and then turned into something bigger.
So it wasn't meant for the stage in the first place.
No, it's almost like a children's book in a way because it's so poetic.  I always imagined it to be some little book with drawings, etc., but then it became something different.
So was there anyone along the way whom you shared this story with and who told you that this piece belongs on the stage?
Yeah, I suppose.  When I'd send it to people to read and get feedback, they'd tell me that they thought the words were very rich in images and wanted me to read it to them.  They thought it needed to be read through someone's voice because it's so rich.  So I'd be reading it to people and they'd give me feedback like that telling me it's the kind of thing that needs to be heard.
So is this the very first premiere of the show?
Yes, indeed, this is the world premiere of Bird.  It's very exciting!  I'm ready for people to see the work and share my story.  I think it's something that a lot of people can identify with.  We all go through relationships where we are in love, happy, and in a good place.  And then we all fall out of love, and we feel insecure again, depressed, and wonder if we're gonna meet the right person again.  And we do.  The play starts on an airplane.  The plane goes up and we fly and we're happy, and then there's turbulence, warning signs that the airplane might fall.  And then the plane lands again and we're ready for our next flight.
And you're starring in this production, yes?
I am, indeed.  I am the only one performing it, me in a chair in high heels.
And how has it been working with a director on a play you've written yourself?
Sure, you know, sometimes you have to sit back because you can feel pressure about the words you're writing.  But this director [Gerrit Schoonhoven] has spent a lot of time with me working with the text, cutting a lot of stuff, and I was quite open to letting a lot of the words go and just letting it happen naturally.  [Gerrit] is an award-winning South African director.  He does television, mostly, and has been working on a soap for more than nine years now.  When he was younger, he did lots of shows for theatre, as well, and he works with a lot of stars in South Africa, so I'm really quite lucky to have had this opportunity because he doesn't really say 'yes' to a lot of projects that come his way.
And how did you get in touch with him?
Through my agency.  He's actually one of the actors in our agency, as well.
You mentioned that the story finds roots in a relationship that was a big part of your life a few years ago.  Does that person know about this whole creative process?
No, not at all.  He's in Spain now, I never told him I'm doing this play.  I did send him a message asking to check some of the text because there's a bit of it in Spanish so I wanted to make sure it was correct, and when he replied, he said, 'This is me.  I'm this person.'  And I don't think he was consciously aware that these were actually his lines, I just think he felt like the words were his when he read them.  So I told him, 'Yes, it is you,' without actually telling him, 'Listen, this story is you.'  I'm actually hoping he comes to watch it.
Ok, so he knows there is a piece you've been working on, then.
Yes, he knows I'm doing a show called Bird and that there's Spanish in it, but he doesn't know that it's really about him.
Ok.  So what do you hope is your show's big take-away and niche within the whole festival?
I hope people see that there is always life after anything.  More specifically, within relationships, there is always hope for a new day.  When we fall out of relationships, we need to think about what that other person actually meant because a lot of relationships end badly with people not speaking.  But I think there's something we can take from everyone we meet and encounter.  I'm bringing a South African flavour of movement, physical theatre, and dance to the piece, as well.
So in regard to that relationship, can you give some examples of what you took away from it, how it changed you, why it's inspired you to embark on this whole creative process?
Well I come from a very small town where if you drive too fast, you'll just miss it.  I think when I met this guy from Spain who had all this culture and worldly knowledge, my world just broadened in terms of being open-minded, accepting different things, being rooted in myself, and learning to love myself.  If I should give you specific examples, on a personal note, I guess sexually he took a blindfold from my eyes.  Culturally and mentally, he showed me a new way of life.  I remember when I used to be scared of doing something or trying something new, he used to say, 'Well, why not?'
Not a bad attitude to have.  So speaking to that mentality, how do you feel about the festival in terms of what it's doing for marriage equality, specifically the role of theatre in the movement?
I think it's phenomenal because that's where our stories start, in theatre; it dates back to the Greeks.  And I'm so happy to have this opportunity where we can tell these queer stories in this environment where everyone is accepting.  I don't think anyone's gonna come in and have judgments about the stories.  It creates a huge platform for everyone to come in and share their stories in one space.
I know you're premiering this show in Dublin, but how do you think it would be perceived if you were premiering it in your hometown in South Africa?
It's very controversial.  I think South Africa, although it's very open…there are still a lot of conservative people.  Dublin, I think, will give me the opportunity to experience performing the show in front of a more liberal society.  The play is actually written in Afrikaans, my native language in South Africa, so whatever response I get in Dublin, I do want to come back and do it in Afrikaans and see how it works out here.  I'm a bit scared, though, because it is so controversial.  I think also the Dublin festival will open a lot of platforms in South Africa because if I come back and say that this play opened in Dublin, people might be more willing to invite it to festivals around here because of the international standard of the festival.
So you do have future hopes for the show, to keep developing it after the festival.
Most definitely, yes.  I'm thinking of taking it to New York later in the year, maybe in December.  Definitely want to travel with it.
Are there any other festivals you have in mind at the moment for the show?
Yes, there's a festival in South Africa called Sex Actually which usually focuses on sexual identity, and my show also focuses on identity and finding yourself in a relationship and afterwards.
And could you tell me a bit about perceptions of homosexuality and the legal protections of same-sex couples in South Africa?
Yea, it's legal, plenty of same-sex couples who are married here, and it's quite open.  I suppose because we're such a democratic society…I mean, we have 11 official languages, and with such a broad spectrum like that, people are more welcome and more open to things outside themselves.  In the smaller communities, though, there are, of course, conservatives who might not be as open and you see that in other parts of culture.  For example, in the soaps, you notice that all the gay characters are usually just funny and completely effeminate.  So I would love for South Africa to show normal gay couples who aren't wearing pink feathers in their hair because translating what we do socially into the entertainment platforms, I think, still has a long way to go.
Do you feel like you have a personal mission to represent South Africa at this festival, then?
Definitely.  I think South Africa has a very rich cultural background because of all the different people living here.  I know there are a lot of South Africans staying in Europe at the moment, but the theatre we do here is much more physical and there's a lot more movement involved, so I'm really hoping to bring that aspect to the festival this year.
Bird premieres at the 12th Annual International Dublin Gay Theatre Festival in the Outhouse, 105 Capel Street, Dublin 1, May 4-9.