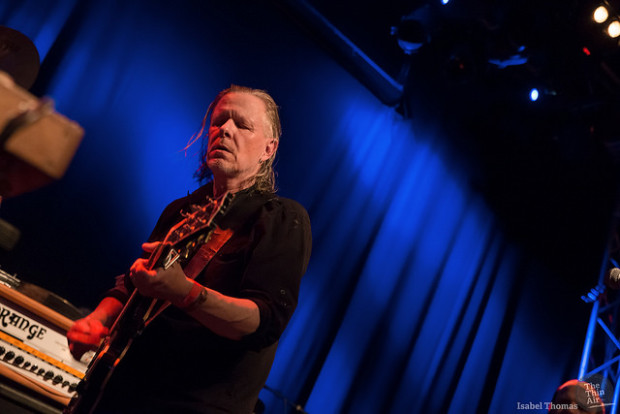 Despite being a Monday after the weekend before there's a sense of excitement for those milling around waiting for the show to start. They're all ages, a physical embodiment of the decades long span of Swans career and the age defying loyalty they inspire. But before that there's something of a gatekeeper in the image of Okkyung Lee (below). Her face spookily serene, she weighs taste on her rapidly moving bow as she makes her cello gurgle, spit, shout and scream. In fact everything except sing. So is this deranged arthouse fun? There is something of the performance about it, and humour is clearly embedded somewhere within its maelstrom of construction. Or rather that should be deconstruction because this is music torn to shreds, derailed, debunked and gestated. Perhaps the point really is just to see who can keep their serious face on the longest. But then again, somewhere in the dissonance there's something like a hook, and though intangible it's certainly intriguing.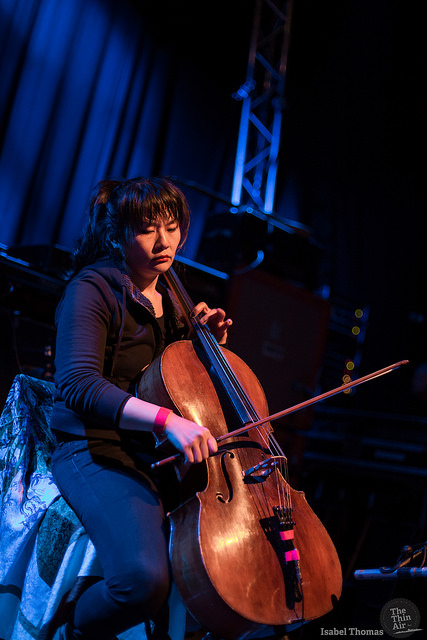 It's a clever choice for an opener. After all, Swans themselves are often perceived as a form of musical masochism. The Ulysses of music who reward while they frustrate, confuse as much as they beguile. Just look at the albums that have brought them their latest surge of attention The Seer and To be Kind. Even the most academic or alternative critics admit these albums need time to love. What's different in the live show is that these big, clunking soundscapes are being conjured in front of your eyes. No longer do they feel like spirits appearing up from the inferno or the guts of Olympus but suddenly they're human, and largely tangible. This heightened accessibility may not lead to complete comprehension, but it does create an inclusion that chops the air with electricity.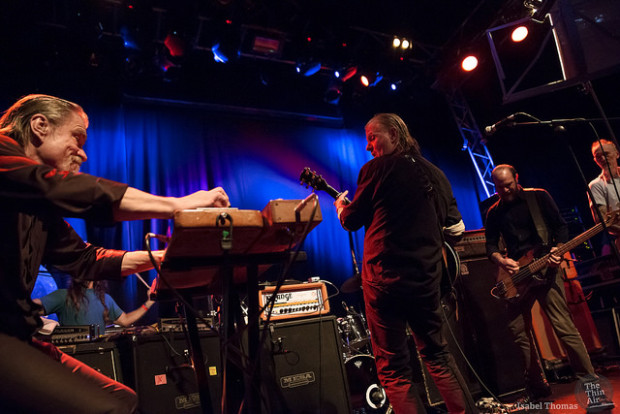 Despite playing songs over fifteen minutes long the set is surprisingly direct. There's no meandering. When a single riff plays on for ten, twelve, twenty bars it feels right. When feedback is the lead instrument it makes sense. It's because this is a rich tapestry. Like the films of Ron Fricke it's a continuous stretch of the imagination where reality is there but kind of out of focus, obscured by its own magnitude. The music is heavy, heavy but spritely and sharp on its feet. It's a genius construction and all the more because it seems so fluid, so organic.
A near unbearable cliff of heft comes which surely must be the end but then there's another one, this time tinkling with xylophones. Then another one played in short sharp shocks. This is the power of Swans to surprise and endure. And long may it last. Eoghain Meakin

Photos by Isabel Thomas