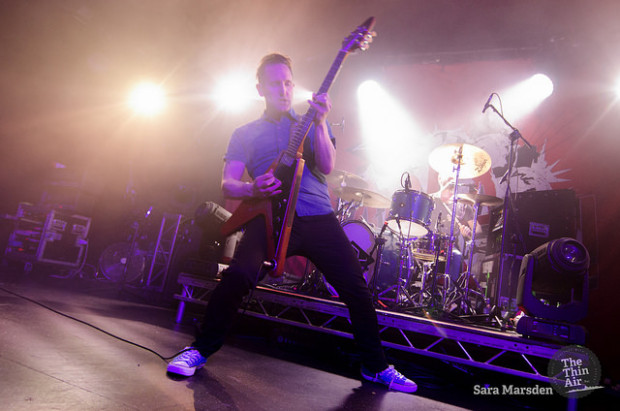 "How many of you have never seen us play before?"
Very few hands are raised. It's probably fair to assume that the majority of this Belfast crowd have, in some shape or form, grown up with Ash.
Having been upgraded, due to demand, to the larger room in The Limelight complex, it speaks for the enduring appeal of the home grown band who are currently touring to mark the release of Kablammo!; their seventh album.
For a band sporting a back catalogue as well regarded as Ash, you would forgive the temptation to forge a set list of favourites. It says a lot for the confidence of the band and indeed the strength of their new songs that instead we're treated to a show with a satisfying balance of old and new. So often, new material can be politely tolerated as audiences patiently wait to hear something familiar but in this case, the new material is actually welcome. Kablammo! is an excellent new album that consists almost entirely of the sort of catchy power-pop songs full of melody that Tim Wheeler can write in his sleep. It's wonderful to see tracks like 'Go! Fight! Win!', 'Moondust' or the great new single 'Cocoon' bleed seamlessly into a set list of well-worn favourites.
Nostalgia is, of course, indulged with tracks like 'Girl From Mars', 'Wild Surf', 'Kung Fu' and 'Jack Names The Planets' but not to the point where it seems jarring. Every so often you overhear a yelp of a "Yes!" as a personal favourite is played or the odd exchange of glances between friends who have just heard a song that has transported them back further than they probably like to think about for too long. Songs like 'A Life Less Ordinary' and 'Angel Intercepter' sound just as fresh as the moment they were first played and the addition of feel good, summery tracks like 'Orpheus' and 'Machinery' make the night really easy to enjoy. The band know what we all want to hear and predictably it's anthems like 'Shining Light' and 'Oh Yeah' which appear to make the biggest mark on the crowd and are enough to coax even the most reserved audience member to sing along.
In the midst of this unexpected rejuvenation in their career, Ash sound better than they have in years. From the moment they step onto the stage in Belfast they burst into life and perform with an assurance in their own style and sound. They seem to have compensated for the absence of the second guitar reasonably well and with Rick McMurray filling in on backing vocals there is a stripped back, 'return to basics' feel to the music. Despite their years in action, they still look utterly delighted to find themselves performing for a living. Wheeler, in particular, never stops smiling. The band were clearly having fun on stage and seemed to insist that we did too. Every track is played with gusto and spirit and although it's clear so many of us present have seen an Ash show before, this time around there was a renewed feeling of excitement.
The only real criticism was the timing of the show which probably couldn't be helped. Monday night is a notoriously difficult night to bring in a crowd and be able to make them detach from the thought of work the next day lurking in the back of their mind. Determined pockets of energy and enthusiasm dotted around the audience tried to get the night going but it took a long time for the crowd in its entirety to wake up. This, unfortunately, impacted a little on the overall atmosphere but the band did their best.
Replicating their recent Slane performance, Ash give us an encore sporting a joyous cover of the now iconic 'Teenage Kicks' which then kicked into a boisterous and loud rendition of 'Burn Baby Burn'. It's hard to think of a more fun way to spend a Monday evening. It's great to have Ash back. Laura Carland
Check out Sara Marsden's full photo gallery from the show – also including support in the form of A Bad Cavalier – below.