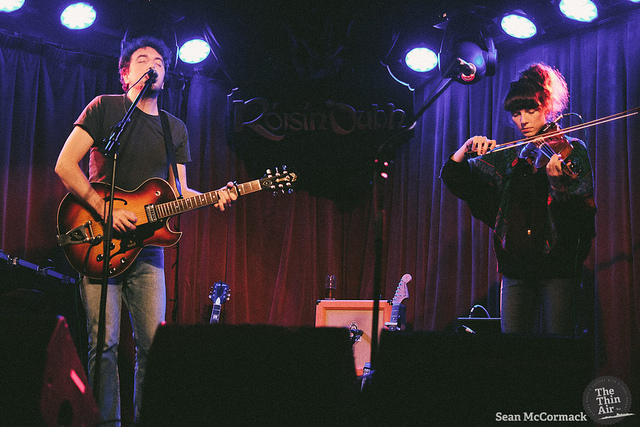 In the past year or so, Irish indie-folk institution David Kitt has made leaps and bounds in a more club-oriented scene with his warm, groove-based approach to house music under his New Jackson alias. Other audiences however will associate him a lot more with something like the folk soundtrack to a rainy summer somewhere in Kerry, triggering the same nostalgia that comes with listening to The Frames Set List or Bell X1's Music in Mouth. To see Kitt touring extensively around the country this summer in between massive dance settings such as Body and Soul's Midnight Circus Stage or District 8's all day Maeve Rave only days prior to this gig in the Roisín Dubh suggests that maybe that nostalgia isn't only felt by his fan base, but also by him. Prior to the show, the atmosphere is warm and subdued, people converse quietly and I overhear two guys talking about how on the 14th of August nineteen years ago they saw Oasis play in Páirc Uí Chaoimh and another woman telling someone how she met an old friend tonight and how he had taught her some jazz chords on guitar.
Kitt hops onto the stage, casual as you like, and immediately eases us into an ambient, gentle folk song with his love of all things effect laden shining through straight away with the reverberated and delayed guitar washing over the entire room. In his introduction to the crowd he reminisces about when he used to play here several years ago, when the venue had a much different layout, but he quickly says that he doesn't want to dwell on the past. Funny how he then flits into a jigged up rendition of The Big Romance (2001) lead single 'You Know What I Want to Know', substituting the campfire acoustic guitar for a more ambient tone. As the gig progresses it basically just feels nice to see a performer whose station has changed recently to fit a "younger crowd" – which he blurts out when he accidently plays the start of New Jackson single 'Having a Coke With You' on the drum machine – going back to his "roots" (what want of a better word. It's as if this countrywide tour is a mini-holiday where he gets to play whatever he likes in relaxed, welcoming settings where faulty cables and technical difficulties (of which there are a few) can be laughed off and joked about with the crowd instead of being met with scowls from and confused shrugs from club goers.
Sifting through a collection of covers including Prince's 'When Doves Cry', gorgeous tracks from older albums ('Saturdays' being a personal highlight'), and a rake of new tunes, some taking on a scuzzy, gritty sound, Mr. Kitt really just seems to be having a nice, unpressured time. That feeling is transmitted into the audience who react to each song with appropriate applause, the occasional cheer and the odd joke here and there. The sound of the show is given an enormous boost by the accompaniment of Margie Lewis on violin and backing vocals whose improvisational playing and controlled vocal harmony brings even more fullness to an already big sound.
The shows finale comes in the form of a song which kept on being put off during the gig due to faulty equipment but the pair seemed determined to get it into the set, and with good reason it would seem because it is a huge, layered, electronic laden track reminiscent of one of Mogwai's vocal moments.  Kitt and Lewis skip off stage for about ten seconds before coming back for a quick but beautiful encore of 'Strange Light in the Evening'. A tender, warm ending to a gig that was full of charm, fun and maybe a few sprinklings of nostalgia. Eoin Murray
Photos by Sean McCormack