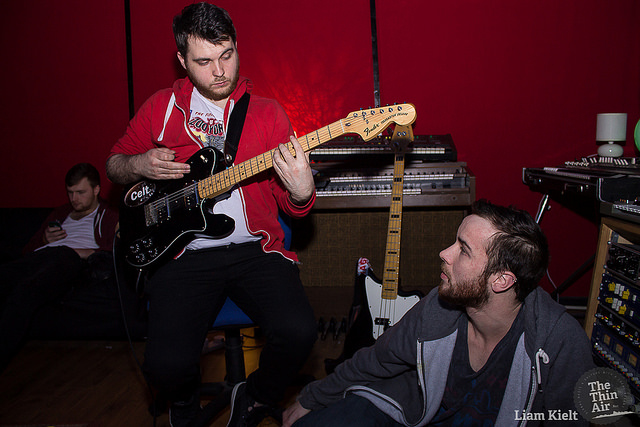 Featuring in studio photos by Liam Kielt, we chat to Belfast-based alt-rock trio Stonemasons about the writing, recording and release of their vehement new five-track EP, Lost Layers. 
Hey guys. For complete newcomers, how did the Stonemasons come about and get off the ground?
Pod (Kerr, bass/vocals): We all grew up around the same area of North Antrim. Blaney was playing guitar in a pop-punk called Breaking Even and McCann and myself were playing covers with a different drummer. We initially met through from beating lumps out of each other on a hurling pitch until a hazy 18th birthday party where we got chatting about music. We started jamming and the rest is history.
Is there any meaning or significance behind the name?
(Connor) McCann (guitar/vocals): None, although we do get asked about Free masons and the stone cutters quite alot. We do not keep the metric system down. The record is called 'Lost Layers' and features freshly molted snake on the cover. It also comments on ourselves as a band and how we feel this record is turning over a new leaf and generally shedding our skin for a new sound for Stonemasons. We're very excited to have a new record which is representative of the sound we've been working on for a long time. At the moment were eager to release it so we can keep growing into the next record.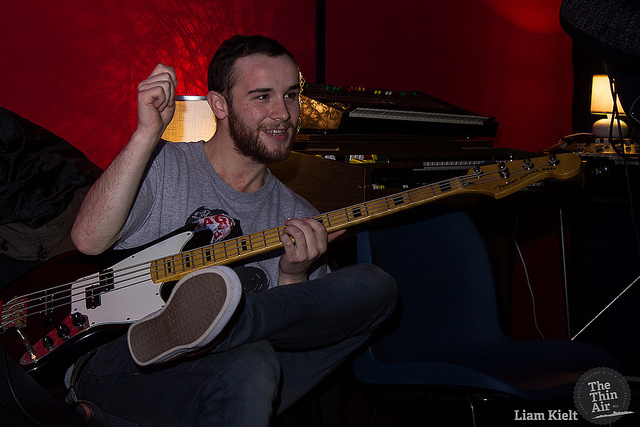 You recently launched your new EP at Belfast's Voodoo. How was the show?
(Patrick) Blaney (drums/vocals) : It was an absolute belter. We invited our friends See Monkey See over from LA to support, one of our favourite local acts, Small Hawk Orchestral, and hot newcomers Salad Boyz. We had a few new tracks, not on the EP, we unveiled too which added some extra excitement for us. It was amazing to have such a good crowd in and the encore made the night really special for us. We will be talking about that one for a while!
How was the writing process for the EP? Did you follow a particular approach in terms of schedule or did the tracks come together more sporadically?
Pod: We've found ourselves focusing on the technical side of the music a lot more this time around, taking a lot of time ensuring that the music was exciting to listen to as well as play, filled with shifts in tone, theme and sound. Rather than spending weeks constantly in the studio, we decided to take a more staggered approach to the recording process which allowed us to focus in on every aspect slowly as it was built from the ground up. In the end the whole project has taken several months, but we feel it was much more relaxed way to go about things and achieved a better result.
You recorded at Belfast's Start Together Studios. Was that your first time in the studio and how did you find the experience?
McCann: Niall has been fantastic to work with. Patient, professional and an overall legend of a guy. We've always been of the mind that the best idea wins, no matter where it comes from, and having him on board we were happy to turn into a four piece whilst in the studio. There have been many 3am mixing sessions and manic 'We need to fix this tiny bit of reverb on cymbals right now!' phonecalls so it has been amazing to work with someone who shares the same enthusiasm and passion for the project as we do.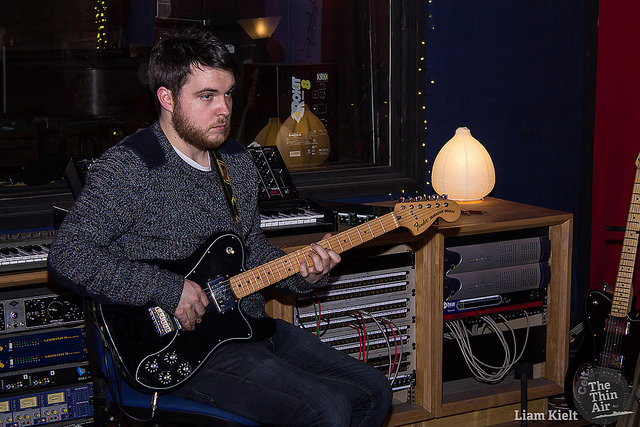 Did you experiment much in the studio or was everything set in stone before you went in to record?
Pod: Things always change in the studio. No matter how well prepared and demoed you are, having a fresh set of ears in the room and hearing everything in different environments often means certain ideas need to be adjusted. We never want to be too rigid going in to a project. Being a three piece, we've generally stuck to a traditional guitar/bass/drums set up but we spent a lot of time playing around with keys, strings and loads of mental tape machines from the 70s to add extra ambience and feel. It was a lot of fun and we are very happy with the end result.
Looking at the release as a whole, is there an overriding, main arc or theme that binds all the tracks together?
McCann: There is a general anger towards indoctrination or anything which requires you to adopt the opinion of others to be a member. Whether thats politics, religion or anything. The subject matter isn't always the same but we've found it coming up over and over.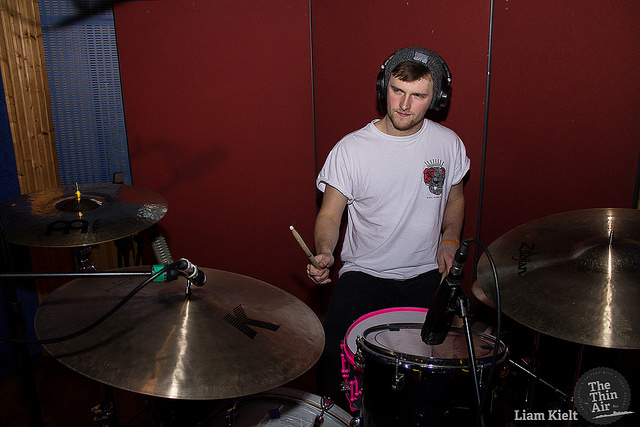 In terms of influence and inspiration, what things, experiences or other music makes an imprint on the EP?
Pod: Its hard to live in Northern Ireland and not get drawn in by the huge influx of talent thats kicking around. I think the people we have met have had a huge influence on how we conduct ourselves and in opening our eyes to new ideas. Individually, we each have pretty eclectic tastes in music and we like to try to indulge ourselves in everything. It's funny, on the same night we've been told we sound like ASIWYFA, Tool, Modest Mouse, Goo Goo Dolls and System of a Down. I don't think we are like any of the above. We are mainly just trying to keep ourselves interested. It's always more fun stepping out of your comfort zone and experimenting mixing different styles in a way that still comes together.
Finally, looking towards the rest of the year, what's your plans for promoting the release, gigging etc.?
Blaney: We have a pretty daunting tour schedule in September taking us all over Europe to Russia and back. We are travelling and co-headlining each night with 100 Onces, an incredible math-rock band from LA, who we've toured Ireland with in the past, so that will be interesting to say the least. If we make it back from that we are planning another Ireland and UK tour for the new year, while working on a new album which is already starting to take a lot of shape. It's an exciting time!