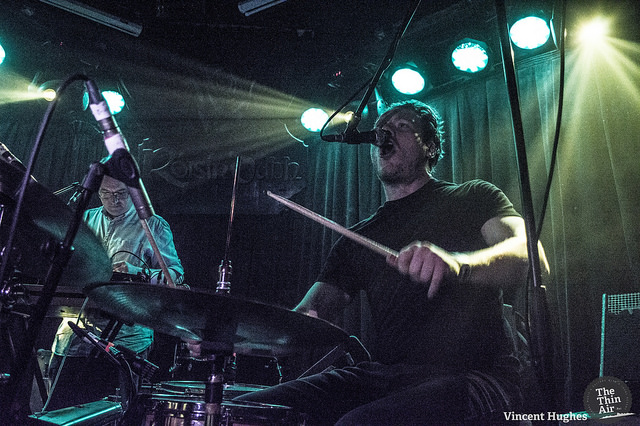 It's still relatively early in the evening on the Thursday of the Galway Races, July 30. I'm walking through the town which is flooded will ill-fitting suits and headwear that ranges from patch caps to multi-coloured shapes that defy the laws of physics. It's mayhem. It's loud. There's a man with curry sauce all over his shirt shouting at a seagull and there's a bunch of lads singing (read: bellowing) 'Don't Look Back in Anger'. Despite the sense of mania of it all, it's hard to not find it all just to be a lot of fun. People have come in droves from all corners of the country to have a feast of unabashed craic for a couple of days and don't seem willing for a second to let rubbish weather infringe on that. There's a buzz and vibrancy here that, despite how cynical it is easy to be, would without a doubt be missed if all of a sudden it was gone.
Arriving at the Roisin Dubh at the start of the 11th Strange Brew Summer Shindig there is a similar sense of that vibrancy and festivity, of excitement for the mini-festival we're being given tonight with fifteen acts from around the country performing between the upstairs and downstairs venues of the building. From the get-go it's impossible not to feel that this is a really rather special occasion. It's a testament to the variety and passion that exists in the Irish music scene and a testament to the togetherness that exists within it. This is seen not only in how several of the musicians are performing up to three times in different groups tonight but also in the genuine eagerness the performers all have to see each other play. There is never for a second a sense of "competition" or a feeling that each act's performance will act as a gauge of "who's doing better". No, instead the atmosphere is that of support, of appreciation of the joy and fun that making and experiencing music gives everyone here. In a scene that is thriving more and more lately, this mutual support and enthusiasm acts as really great, reassuring fuel. And where better to host the occasion than in one of the venues that values and promotes the Irish scene the most?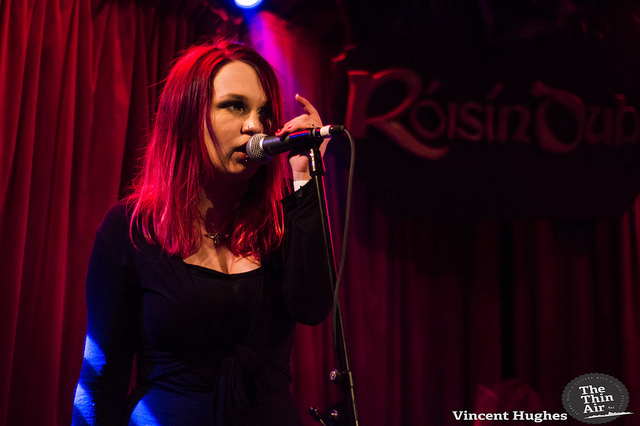 The first act of the night is new local four-piece, Strays, whose small collection of heavy, dirty and kind of sexy grunge went down a treat and got proceedings started straight in the deep end. This being only their second show, there was an impressive amount of comfort on the stage among the members – possibly because two of them work in the venue, but who knows. The sound was reminiscent of bands like Queens of the Stone Age or The Strokes, but given some time honing their own sound shouldn't serve as any problem. Next up downstairs is Dublin rock outfit Gangs whose admitted varying style changes over the two years they have been together is evident during their set. This doesn't mean that the tunes are any less captivating mind you. Ranging from shoegaze sounds similar to DIIV or Real Estate to more Arctic Monkeys reminiscent sleaze, the search for a definitive sound to call their own is noticeable during the set. Certainly at points it definitely clicks, where the balance between pop sensibility, fuzzy guitars and heavy bass groove make it clear that given time these Dublin lads could well be a force to be reckoned with.
Meanwhile, upstairs in the dimly lit and cosier second room, New Pope, a recent project fronted by Galway songwriter Dave Boland, create an atmosphere of warmth and prettiness, as if it's four in the morning at a woozy house party and everyone's passing a guitar around. Working closely with Galway event organisers and label Citóg, Boland is heavily immersed in the local scene and is joined tonight by former band mates from The Deprivations. The songs trigger feelings of nostalgia for things you didn't know you missed and yet everyone in the room is smiling and nodding to the blissful folksiness of it all. Closing their set with an older song from their time in The Depravations to a delightfully responsive audience emphasises further the sense of community in here tonight.
Paddy Hanna is next upstairs with the accompaniment of a full band – including Tandem Felix's David Tapley. His sound benefits hugely from the accompaniment and allows also for the man himself to throw himself fully into the show, looking a tad on the possessed side during songs like 'Barry White' and 'On This Pier Too Long'. The house-party vibe in the upstairs room has become less woozy and has been given a second wind that will continue for the rest of the night. Recent single 'Austria' and accompanying b-Side 'Camaraderie' hit all the right emotional hotspots while still keeping energy levels up.
The set by local gems Boyfights serves as one of the highlights of the night downstairs with a huge sense of progression and direction for the band giving the feeling that they have finally established a sound that they are comfortable working with. Anthemic dynamics and jaw dropping vocals by Liza McCann paired with backing vocals and lead guitar by Oh Boland's Simon McDonagh show Boyfights to be a band who, once have some form of release on the table, will be moving onto exciting things. Meanwhile, upstairs, local post-rock outfit Zinc deliver a set of hefty instrumental rock which stays true to a sound that may have had its hay-day a few years ago, but is shown tonight to still be capable of knocking an audience clean of their feet when put together tastefully.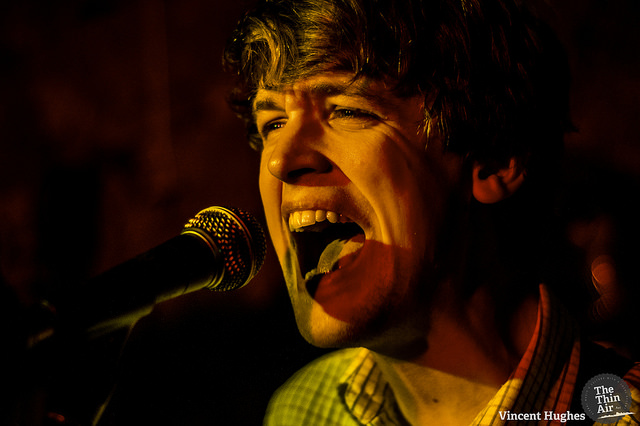 SPIES' set downstairs is filled largely with new material. It takes one or two songs for the band to get into the flow of their set, perhaps having something to do with drummer Jeffrey Courtney and guitarist Neil Dexter having just finished their set with Jet Setter and maybe just needing to re-adjust to SPIES heavier, bigger sound. Nonetheless, the new material sounds great and anthems like 'Sea Creature', 'Moosehead' and 'Red Oak' are huge and vocalist Michael Broderick's visible (not to mention audible) passion throttles the room which has now filled considerably. The same can be said for the rest of the venue, and worming around the droves of people to get upstairs to catch Grounds for Invasions set of anthemic, soundtracky electronica proves ever so slightly challenging. Tandem Felix's set may have felt a little ill-timed following Grounds for Invasion's heaviness. The folky, gritty Americana sound of the Dublin band could be said to have not necessarily fit with the time of night they were put on but was nonetheless met with a warm response. The songs are great, no one seems to mind too much, and the fun continues. No harm done.
Local institutions Dott and Daithi take the downstairs stage effortlessly, knowing it so well by now having both played here more times than one can count. The sets both go down a treat, with Dott's charming and fun garage rock persevering despite minor technical difficulty. Being this one of their last shows before half the band move to Toronto it serves as a lovely possible send-off to this version of Dott. Daithi, signed to Strange Brew Rekkids and regular DJ and performer in the Roisin, rouses a more electronic pulse to an otherwise rock-band heavy night and gets feet moving, readying the crowd for the downstairs headliners Not Squares, who also released their 2015 album Bolts on Strange Brew Rekkids. Not Squares, who have claimed Galway as a bit of a second home, have always left the place in tatters after a show here and tonight is no different. The room is completely full and is jittering with energy. From the instant they take the stage to the second it ends, Not Squares are unrelenting, not letting up until everyone in the room is moving in one way or another. The groove of the newer material balances seamlessly with the frantic older tracks 'Asylum' and closer 'Release the Bees'. It's mayhem. It's loud. Everyone is bellowing along and it seems the night has come full circle from walking through the chaotic streets of Race Week Galway to here, exhausted in front of a stage. For those who didn't fancy that level of intensity, the upstairs room was kept full of levity and groove with the jangly indie-pop of No Monster Club followed by local noisy heroes, Oh Boland who played until the very bitter end of the night.
I ran home in pouring rain through streets that had somehow become more insane since I had arrived, with more people running around and shouting and putting pizza anywhere other than their mouths. Yet I couldn't keep the smile off my face because the Strange Brew Summer Shindig really just seemed to go off without any significant hitch whatsoever. Audience members, band members, staff members and interchangeable members of the three had just seemed to have a truly terrific time celebrating the musical culture that fuels so many people in this country. As a venue, the Roisin Dubh and everyone involved in the running of it has proved time and again how much that culture is valued here in Galway, and how forward is the only way for it to go. Tonight that was hit home once again. Eoin Murray