Features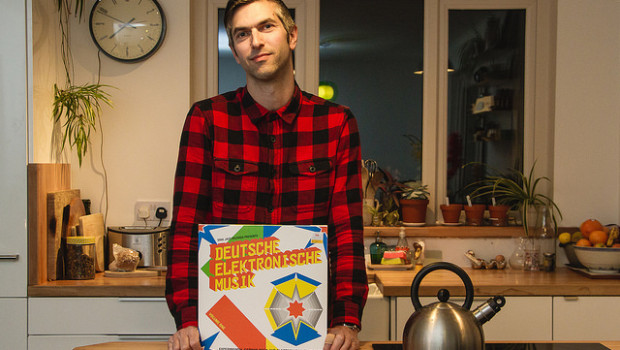 Published on October 13th, 2015 | by Loreana Rushe
0
Track Record: Al Higgins (Le Galaxie)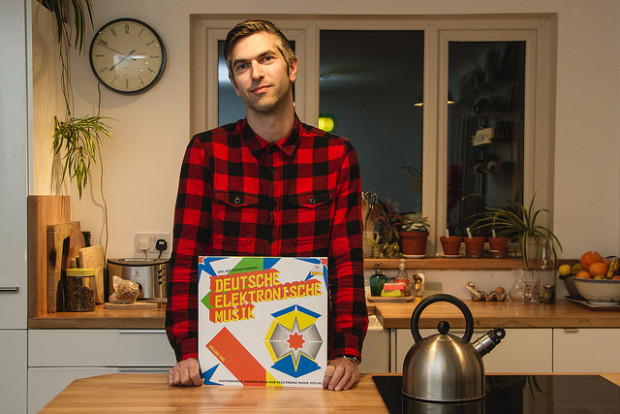 In this installment of Track Record, we call into to Al Higgins from Le Galaxie for a cup of tea and a chat about some of his most favourite and influential records from The Cars to Chromeo. Photos by Francisco Michel.
Deutsch Electronische Musik – Volume 1
I bought this after watching one of those BBC4 music documentaries on Krautrock. That's term that still doesn't make sense to me and it's also a bit offensive, but then I suppose it is easier to say than Deutsch Electronische Musik. This always goes down well at parties and I am constantly having to tell people what's on the turntable. There are no Kraftwerk songs on here, but maybe that's why it works so well as a stand alone album. There's a nice progression through the whole body of work. Listen to: Neu! – 'Hallo Gallo'.
The Cars – Heartbeat City
This was ridiculously cheap in Oxfam, so I took a punt on it. Now it is one of my favourite albums of all time and it has had a similar impression on the guys in the band. It was the record Mutt Lange was making when Def Leppard were waiting to make Hysteria, so think of it as a better version of that album with better synth sounds, cooler haircuts and far better songs. Stand out track: all of them, it's all killer. Oh and speaking of Def Leppard you really must watch'Hysteria – The Def Leppard Story, a VH1 dramatization of their early career.
Talking Heads – Stop Making Sense
This still sounds great and was one of the first albums I got into as a kid that wasn't heavy metal or the Beatles. We actually own three copies of this record in our house for some reason. Maybe we should buy a few more. The acoustic version of 'Psycho Killer' still stands out for me and it must be one of the best album opening tracks of all time.
Miami Vice – The Album
Ok, I admit it. I don't really listen to this album much, which makes me sad. Almost as sad as I was after watching the movie remake with Colin Farrell. It's style over substance, exactly like the show itself. But hey look at that cover! Bizarrely this doesn't even have 'Crockett's Theme' on it. Favourite track: 'Crockett's Theme'. No, wait. Er.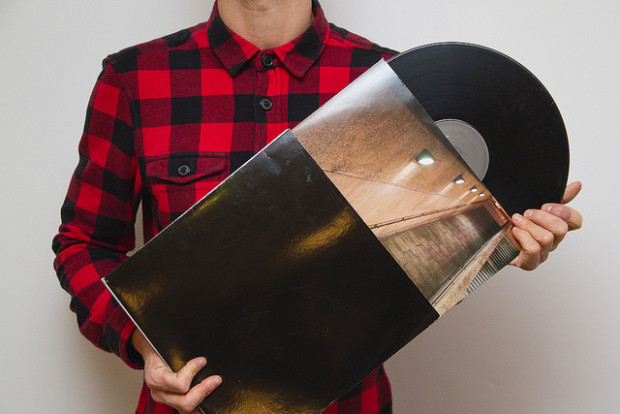 Steve Mason – Boys Outside
This ex-Beta Band man's album can be uncomfortable listening. The lyrics are raw and honest, tackling issues such as suicide, mental health and the breakdown of relationships. Despite that it can be very uplifting and it works particularly well on vinyl where the warmth of the production really shines. Steve has since released dub reggae versions of these tracks which were about as pointless as it sounds. Favourite track: 'All Come Down'.
Duran Duran – Rio
A bit of a guilty pleasure this one. My sister was mad about Duran Duran when I was a kid, so for obvious reasons I hated them. Hence the guilt of liking it now. What strikes me most is just how good they were as musicians, it almost makes you forgive the badly fitting suits. Interesting fact: favourite track 'The Chauffeur' was written by Simon Le Bon in 1978 well before he joined the band.
Hall and Oates – Big Bam Boom
The songs are great throughout and the production has aged surprisingly well. Do I need to say anymore about Hall and Oates? Maybe I should mention that they went on to form a piano moving business called Haulin' Notes. Nope, sadly they didn't but they should have done.
Chromeo – Fancyfootwork
Best buddies with Hall and Oates, I would recommend checking out the episode of Daryl's House that features Chromeo jamming with the house band. This edition has the second disc with all the remixes on it, and I probably play those more than the rest of the album. It's pretty good when you consider it is made by an accountant and a French language professor. On heavy rotation: 'Tenderoni' (MSTRKRFT remix)
Kate Bush – Hounds of Love
If you don't love this album then you are no friend of mine. This is my most recent LP purchase and it sounds great on 180g vinyl. Of course I already had it on CD but tracks like 'Hello Earth' sound even better on a good turntable. Even just thinking of the songs on this record gives me goosebumps. The emotion and depth of feeling in her voice is incredible. Now, off to dream of sheep…
Daft Punk – Tron Legacy Translucence
Not strictly an album and definitely not Daft Punk's best work, the vinyl mastering engineer did a pretty awful job on this too, but I still love it. This was a special Record Store Day release and is on coloured transparent vinyl. Did anyone actually figure out what the hell Tron was about?