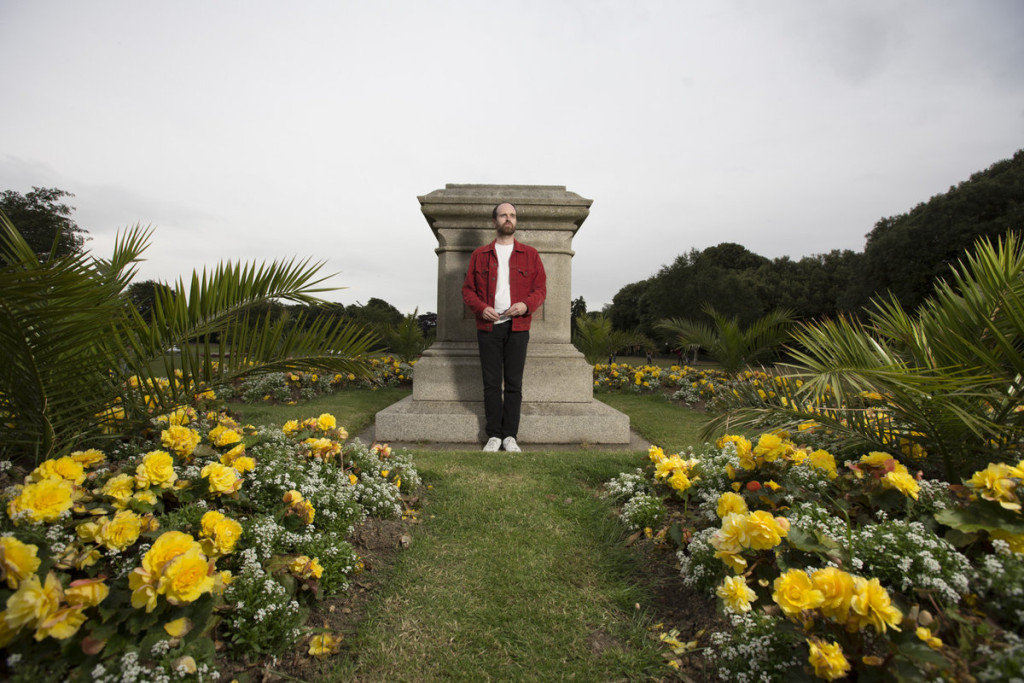 Ahead of the launch of his superb fifth album, Oracle, at Dublin's Unitarian Church on November 28, Dublin musician and producer Neil O'Connor AKA Somadrone takes to Brian Coney about progression, abstract themes and the importance of collaboration.
Hi Neil. Congratulations on the release of Oracle. It's been said of the album, "This is music equally at home on the dance floor as in your earphones." Was that your intention from the get-go?
Thanks. I guess that's true. It's dance music I guess, but it's not aimed at a contemporary dance music culture, so it does not play to its rules. That's where the sound design element comes into it. It developed a lot of the tracks through headphone listening, so that detail comes across in the listening. Some reviewer said that 'It does not deliver or there is no payoff', but if they listened more carefully they would realize that delivery is not part of this record. Listening modes are pretty screwed these days. If you wait, hold off a little, it's a much more satisfying experience and for me that's what makes making albums fun, taking the listener through the process.
Oracle is your fifth release. Did you approach the writing and recording process differently to previous releases (The First Wave, in particular) or did it all materialize naturally, without much conscious deliberation to make it "different"?
It's pretty much the same, backwards and forewords, doubting, throwing out, keeping material, writing fifteen tracks, keeping eight.  I guess I have been trying to make more commercial music over the last three records, or just tried to put them into a more traditional framework. I started off in 1997 very much as a more experimental project but I feel now that perhaps it's time to revisit that way of writing. I definitely always try and challenge myself, each album has been proof of that, in that each one stand as 'works in progress'.
The album features Richie Egan, was mixed by Simon Cullen of Lastertom and mastered by Dunk Murphy of Sunken Foal. With that in mind, in what ways, if any, do you consider the release collaborative?
Very much so. As well as being good friends, they have very good sound sensibilities. They all have played a part in my musical development so I wanted them to have influence or to put a stamp on the record. I really enjoyed handing over the material to others. My mixes and masters often end up being very dense. This route opened more clarity and air to the songs.
Are there any conceptual or lyrical themes threaded throughout the record?
Conceptual for sure.  My lyrics mostly deal with notions of situations we put ourselves in, by choice or at will. They are abstract to the point of which it can be hard to trace a line of coherence. I like writing that way. Being earnest would not suite the context of the music. The great thing about electronic music is that you can dream up new worlds and create then with ease, put a listener inside it. I find it impossible to do that with say something like an acoustic guitar. The lyrical ideas/themes act almost like another instrument, providing accompaniment rather than message.


Do you feel any artists or records – new or old – made a notable imprint in terms of inspiration and influence on the release?
Certainly. Library and radio phonic workshop music (Delia Derbyshire), French Disco (Cherone, Space Art), Minimal Wave (Linear Movement, Crash Course in Science, Iron Curtain). 
I think it's important not to over-listen. I tend not to listen to music so much when I am writing. I prefer to read or watch movies but if I do its music from the past. I tend not to listen to much modern electronic music. I know that sounds silly, but there is logic in it.  I tend to go and dig out music from the past, I much prefer this process rather than it being spoon fed to me.
Oracle has been called a "playful" release. Do you ever aim to frame your music in such a way or does pervading "happy/sad" dichotomies happen in and of themselves?
That's a good question. Maybe I don't know what or how to write a happy or sad song? I suppose it's all up to what I was talking about, about how electronic music so is liberating. I can use these machine to create something 'neutral', free of forcing the listener  to feel a certain way. Maybe I am just too much of a robot, or dead inside, or both!
You've been making music since 1997. What have been the greatest positive advances between then and now that have accommodated how you approach making music?
Completely bypasses me at times. Sure I use a computer to record, but I tend to have a MIDI free studio, playing, recording until I get it right. I do use CV (Control Voltage) to trigger synthesisers via drum machines. I have always had a back to basics approach, less is more. Too many options, too many control options, too much possibilities can pollute the process. Good synth, good drum machine, nice delay unit, sorted.
Finally, a string of Irish dates coming up, including the launch at the Unitarian Church on November 28. What do you have planned in terms of set-up? Are you playing solo or will you be in tow with co-conspirators?
Solo for the Cork (Triskel Nov 15th)  and Limerick (Kasbah Social Club Nov 21st) shows but for the Dublin show Richie Egan and David Kitt will be joining me. Modular synths, guitars, vocoders, bass. It's is great because they played on the last two records and the Unitarian Church gig I did there in 2012. They are amazing musicians, so versatile. Emmet from Homebeat Productions is helping me out is that's great and I am joined by  two amazing supports – Badlands (Sweden) and Goodtime (J. Cowhie). Simon Cullen, who mixed the album, is mixing the gig so that should translate well!
Somadrone plays the following shows in November:

Nov 15th

 – Triskel Arts  – Cork
Nov 21st

– Kasbah Social Club – Limerick
Nov 28th

– Unitarian Church – Dublin 
Stream Oracle via Spotify below.