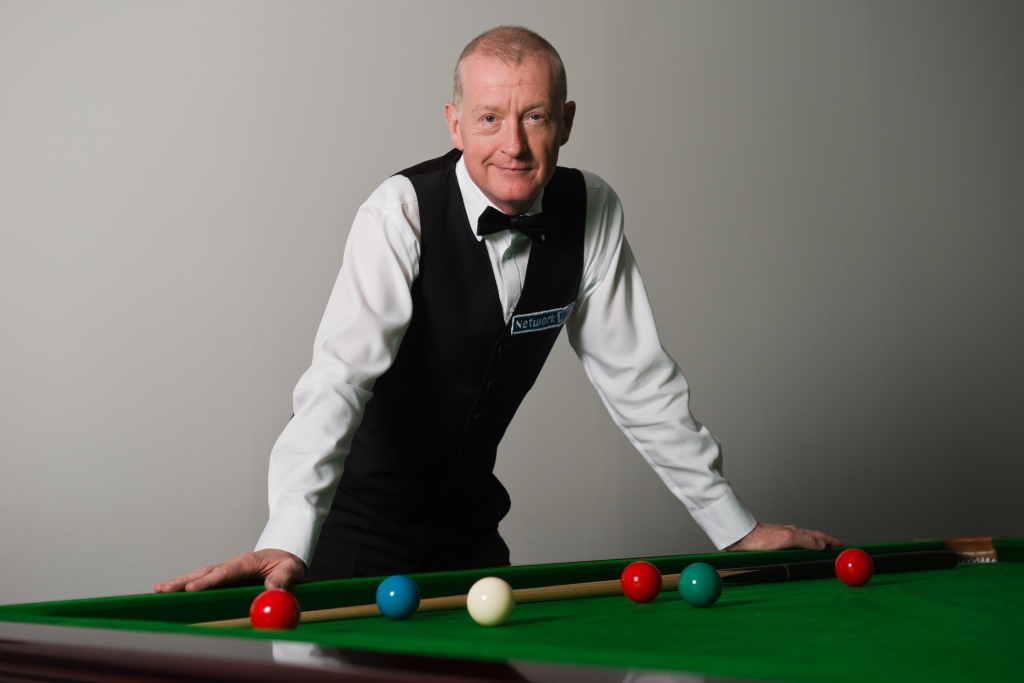 Having recently been announced to DJ at electronic mecca Bloc in March – an unmissable prospect in itself – snooker legend Steve Davis chats to Loreana Rushe about his deep, decades-spanning love of collecting and discovering music and swapping the snooker table for decks for the century break of his life.
Hi Steve! It's brilliant to chat to you, I'm a big snooker fan for a 30 year old woman but I'm not here to talk to you about it unfortunately, so let's get to talking about your love for music! When did you first start collecting music and how large is your collection as of today?
I've had a vinyl problem ever since I was 16! First record was Neil Young's Heart of Gold. I started off listening to Prog Rock – Gentle Giant, Hatfield and the North, Henry Cow, Magma, Soft Machine etc – and then slowly (through British Jazz Rock and then American fusion bands) got into Soul (not Northern Soul – just Soul). I've got a few thousand 45s and about the same LPs. I started to go back to my "roots" around 2005 and started a radio show called The Interesting Alternative show (every Monday 10-midnight) on Phoenixfm (Brentwood and Billericay community station). 
Kavus Torabi (guitarist with Cardiacs, Guapo, Gong and band leader of Knifeworld) joined me on the show a few years later and we now do a regular two man presentation of a great mix of eclectic styles. We have also branched out into doing a live bimonthly DJing evening at the Redchurch Brewery in Bethnal Green, London.
On one of our IAS special guest shows, Matt Baber and Joff Winks (Sanguine Hum band) brought in some Boards Of Canada stuff and I asked Matt Baber after for some recommendations for similar stuff. That's when all the trouble started! Six months later I was a big fan of Autechre and Oneohtrix Point Never and started to investigate other like-minded bands. The list goes on and on but I really like Tim Hecker, Secede, Prefuse 73 and recently have been blown away by Holly Herndon and Flying Lotus etc.
I was also lucky enough (few years ago) to be in Berlin and stumbled upon Hard Wax, and while most of the vinyl was unknown to me at the time, a member of staff recommended 'Breaking The Frame' by Surgeon AKA Tony Child.
While I much prefer the "less obvious" less "banging stuff" I was smitten with Surgeon (I think this was my gateway into appreciation some quality techno stuff) and by chance Tony Child agreed to come on our IAS show and do a "special". I upload the shows to mixcloud and the Surgeon special show has become our most streamed show. As I type I'm waiting for Tony Child's Mauri Jungle LP to whizz through the letterbox.
You're doing a DJ set at Bloc next year. How did this come about? Did they get in touch with you?
I think George Hull (from Bloc) had heard about our Radio show and perhaps had listened a few times and saw that I was into stuff that wasn't too far removed from some of the more eclectic stuff that had been at the Bloc festival in previous years … so he got in touch with an idea!
How long will your set be and do you have any idea what you're going to play?
I think the plan is a two hour set in one of the smaller rooms and fortunately there is no pressure on maintaining a full dance floor otherwise I'd be … snookered! I've been assured that I don't have to match any beats at all (which would be an accident in the making) so I'm going to concentrate on playing stuff I love and hopefully gauge the feeling in the room. I think my set is on Sunday evening so I reckon by then everyone will be exhausted anyway! If that is the case perhaps everyone will be delighted with stuff less that 100bpm. Also there is a plan afoot to have a DJ pool event on the Sunday afternoon. Perhaps the final will be a shootout between Holly Herndon v Surgeon!
I'm sure most folks would think it's unusual for a famous snooker player to be added to the bill. What has the response been like to the news of you playing? How will you win the crowd over, or do you even want to?
I suppose it is quite a weird scenario! A snooker player (who had a Spitting Image puppet called 'Interesting') who has the reputation of being tucked in bed before 10pm with a glass of hot milk, turning up at the Bloc Weekend. You never know what's going to happen in life. One minute the Crucible, the next I'm A Celebrity and now Butlins!
The response has been quite funny, especially on Twitter. Obviously there are plenty of people who are not aware that I have an interest in "electronic" music, so for them it's probably quite surreal. I've always sought out "different" music. Not just to be different but I've just been drawn to it whether it's been Magma or Zappa or Oneohtrix or Vakula.
Are there any other snooker players who share your enthusiasm for music?
I don't think there are any that are into electronic stuff (I might be corrected after this though). I'm probably the only Snooker player who had heard 'Nuane' from the album Chiastic Slide! Not sure that many players cite music as that high a priority.
What do you mostly listen to when you play snooker? Any particular records that help to psyche you up before a match?
I never listened to music before a match. Certainly not music I liked as I wouldn't have wanted to have associated it with the worst of all memories (losing!) However, on my last visit (as a player) to the Crucible the game had reached the sad stage where players had to walk out to their own personal walk-on music (we've drawn the line at dry ice!) Obviously the players went for the big walk on classics: the Rocky Theme, Eminen's 'One Chance', the Superman theme tune etc. Me? I thought that the words to Stealers Wheel's 'Stuck In The Middle With You' were quite apt! I also quite liked the irony of walking in to the Steptoe and Son TV Theme tune (especially after the big build up) but I plumped for a section from 'Nosferatu' by Art Zoyd (music to accompany the black and white original vampire film). I remember coming off the table and Mark Williams saying to me, "What the fuck was that pile of shit?" in a Welsh lilt!
Do you have an interest in techno? If so, when did you notice your taste deviating from Prog and Jazz?
Yes I have started to appreciate Techno … depending upon the time and place. Not sure Breaking the Frame is Surgeon at his Technoiest but I like Clark, Squarepusher, Aphex and when I have been sitting in Phonica records in London on occasions I've enjoyed selections I wouldn't have otherwise given enough time otherwise to get under my skin. I really like Ricardo Villalobos' Kime Me at the moment, although I've got to be honest I'm not sure exactly what sub sub sub genre it falls under.
We heard you were in All City Records in Dublin recently. Can you tell us what you purchased there?
Yes, I popped into the wonderful All City shop, which is great! It reminds me of an old fashioned wool shop except that the wool is replaced by spray paint of all colours. Obviously after I've picked up a few cans (OK I am Banksy. I think it's time I revealed myself) I've also found some lovely stuff on their label. I like Herva's How To Mind Your Own among others.
Do you have any favourite spots for picking up records? Would you use Discogs at all?
Most of the music I buy is through Discogs or Bleep (for new stuff) but there are a couple of places in Berlin (obviously) and of course Phonica.
What are the last 10 songs you listened to/really digging at the moment?

OK these are the last artists I've actually featured on our Interesting Alternative Show:
Secede – 'Sleeping World' (Vega Libra CD)
Vakula – '19 Hours Prior To Arcturus' (A Voyage To Arcturus LP/CD)
The Gasman – It Is always Now (It Is Always Now DL)
Oneohtrix Point Never – 'I Bite Through It' (Garden Of Delete LP/CD)
Surgeon – 'Remover OF Darkness (Breaking The Frame LP/CD)
Holly Herndon – Chorus (Platform LP/CD)
Prefuse 73 – Applauded Assumptions (Rivington Não Rio LP/CD)
Chrononautz – Nomnets (12")
Isotope 217 – 'Meta Bass' (Who Stole The I Walkman CD)
Katie Gately – 'Pivot' (12")
What would your ultimate entrance theme be and why?
No music, just the Star Trek matter transmitter, give the word to Scotty and then a fuzzy shimmering and there I am by the table cue in hand. Why? I think the other guy would probably struggle to come to terms with it before it was too late!
Final question. Gong covering 'Snooker Loopy': would you be ok with it being played at your funeral?
Obviously my credentials as a serious music star are not just recent. In 1963 I formed the Spencer Davis Group along with John Spencer. The 70's I was practicing and then in 1986 'Snooker Loopy' was unleashed onto an unsuspecting public. Most people don't know that I wrote and arranged the whole thing and originally I played all the instruments and had all the vocal parts but I let Chas and Dave put their name to it along with a couple of my old muckas from the snooker world. I'm not sure anybody could do justice to such a legendary record as 'Snooker Loopy'. That would be like someone trying to do a cover version of 'God Save the Queen'. It's just not going to happen!
Stream some of Steve's favourite tracks via Spotify below.
Go here to buy tickets to Bloc 2016.