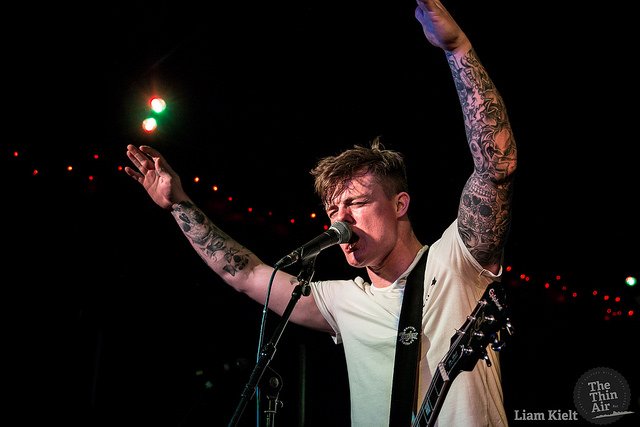 If you ever needed proof of just how varied the heavy music scene is in Northern Ireland you need only to check out last Saturday night's Distortion Project gig lineup. Set in the Pavilion bar, it featured groove rock, punk rock, glam/horror metal and modern metal. Impressive, eh?
First up were aforementioned groove rockers Cavehill (below), who are forgiven for their slightly too loud snare mike and late bass issues when we discover that due to the rugby match being shown, only the headliners had time to soundcheck. Rock and roll, man… their catchy brand of groove-heavy bluesy rock is proper toe-tapping stuff, all jangly guitars and low end boogie.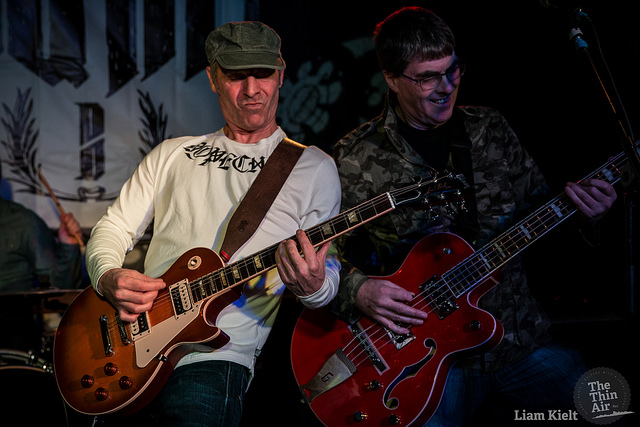 The inclusion of a guest vocalist gives their set a feminine touch as Tanya croons along with frontman Sinco Goudie on 'Precious Little Life'; when her mike finally kicks in her smooth voice combines very well with Goudie's throaty rasp. Although they seem slightly off their game (with drummer Gary looking pale and unwell) their set earns warm applause from the small crowd. A solid B+.
The Organ Grinders (below) follow them; again, these are 'elder statesmen'-type gentlemen, having been punks since punk was punk. They launch into their spirited set of three chord punk rock, throwing in a few covers (The Outcasts, The Clash, Rancid's 'Ruby Soho') as well as some of their long standing favourites ('Born To Lose', 'Enemy Mine'). It's all well and good, apart from a few distractions (what's with the music stand beside vocalist Brian Beattie? Why does bassist Stephen 'Gus' Craig only play his top string? etc). In all, a solid yet a slightly unremarkable set.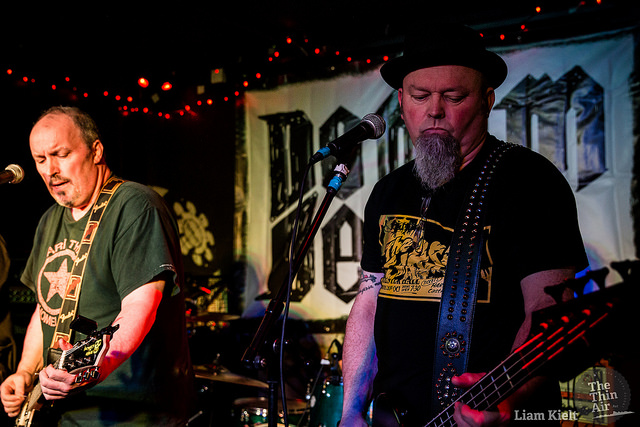 Now for something completely different… we at The Thin Air have been a fan of So Long Until The Seance (below) vocalist Mike Van D since his days with horror punks Little Miss Stakes, and have been rooting for this new band. Their set a few weeks back in Voodoo supporting Maverick saw them struggle to connect with the audience (read our review here); tonight they clamber onstage and blow this audience away. Opening with a goth-tastic keytar piano intro complete with fingerless skeleton gloves, they launch into their set with gusto and make everyone in the room sit up very smartly indeed.
The tiny stage is awash with their goth/glam/sleaze heavy metal, as well as a hefty dollop of theatricality – think 'KISS x Misfits' and you'd be on the right track. Second song 'Dead Boys' shows just how cohesive a unit the band have become, improving since their previous gig a few short weeks ago. This could be because, as Van D explains, they have been in the recording studio all day working on their debut EP Should You See the Devil; the songs seem more fleshed out and the band themselves are brimming with confidence.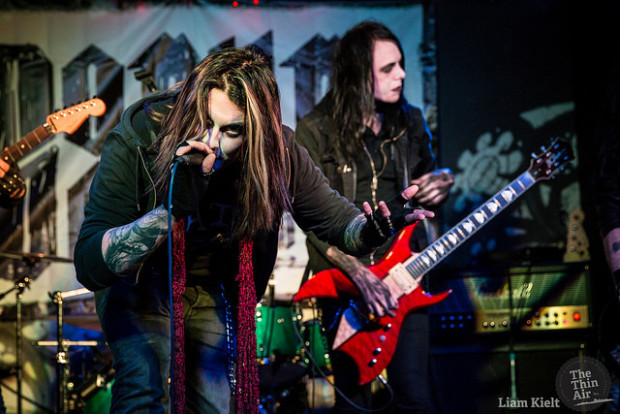 A brash cover of Little Miss Stakes 'Samara' as well as Twisted Sister's 'Burn In Hell' demonstrate their versatility (and their silly, biting humour), while a technical issue with their drumkit ("apparently we're too loud" quips Van D) thankfully does little to halt their momentum. There's certainly nothing like them in the local scene, as the crowd gathered in front of the stage can happily attest to. Final song 'Dead Pretty' seals the deal and they are treated to loud roars of approval at the end of their fantastic and jaw-dropping set.
Finally, almost twenty minutes late, it's time for headliners Donum Dei (below). Without any ado whatsoever they wade into their set of modern, groove-laden thrashy metal, immediately setting the energy level to neck-craning heights. As usual they play like they're headlining Wembley, all intense stares, gleefully enthusiastic grins and chiropractor-bothering headbanging.
Every song features a pounding beat that feels like a giant stomping all over your brain, from the galloping toms of 'Erased' to the battering ram groove of 'Gravelands' ("I wanna see a lot of bobbing heads in this one cos it's kinda groovy!" frontman Thomas Marshall cheerfully demands).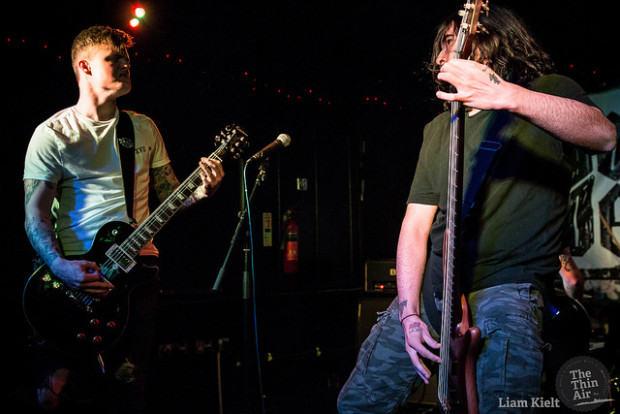 This young band are something of an anomaly: they look for all the world like a metalcore band but play a modern take on classic metal like the Devil's own children. It's a juxtaposition that's as pleasing as it is unexpected.
Pausing briefly to pay tribute to our fallen comrade Lemmy, they launch into a walloping cover of Motorhead's 'In the Name of Tragedy', doing Lem proud in the process. Honestly, the amount of local bands doing this is heartwarming, and we've loved hearing them stamp their identities on the tracks.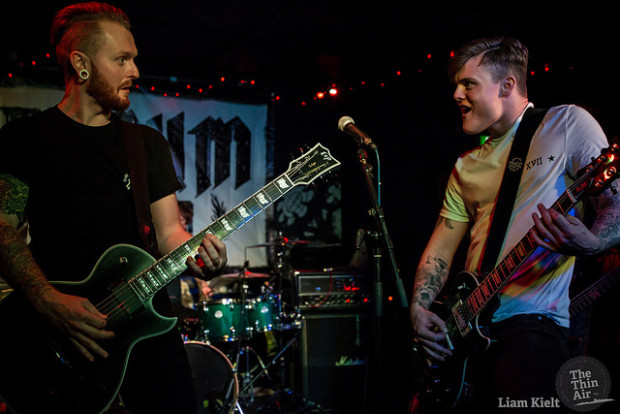 A slinky, vocal-less cover of Pantera's 'Domination' follows before they slam into the title track of their debut EP Justice Fails, to the delight of the crowd who sing along lustily. Marshall then pauses again to thank his mates for their support, dedicating 'Courage From Within' to them – nice. The audience seem to think so too: they may be small in number, but they're going bananas enough to fill the whole room.
Final track 'Torture Makes Them Speak' simply explodes from the stage as a mini stage invasion takes place – half the crowd end up climbing up there (including our own intrepid photographer!), which perfectly caps off a brilliant set. And thus a really quite astonishingly varied night ends, with plenty of highs and very little in the way of lows, bar a rather disappointingly low turnout – c'mon folks! Get out there and support your local scene. Aside from that it was yet another top night from the ever-creative Distortion Project. Melanie Brehaut
Photos by Liam Kielt