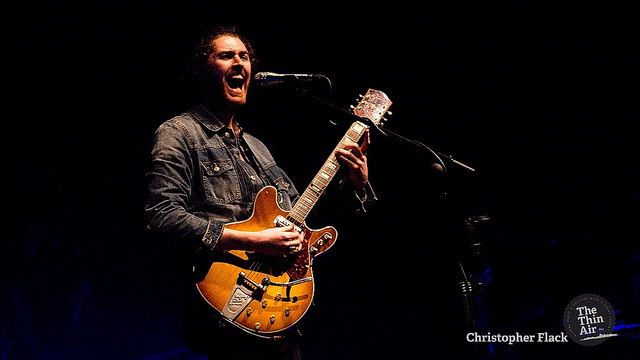 There are many grand theaters in Liverpool, a city where they come ten to the penny. With a dozen or so within spitting distance that would work, tonight is about the splendour of a proper neoclassical master. Bathed in tons of marble and acres of velvet The Empire sets the scene for the 2400 odd that have packed in to a sold out show. Sandwiched between the Panto and Priscilla Queen of the desert, tonight's show has a very Wicklow bent. I say this as I was asked on numerous occasions if there was a local support act, there wasn't…
Liverpudlians are very keen singers.
After a fascinating piece in the Liverpool Echo there is lots of talk about a David Bowie show in this room in 1973, there is hope Mr Byrne does something to mark Bowies passing. With a headliner that needs little introduction and a support that started their day with a bus tour, things get underway shortly after snacks are delivered by appropriately attired ushers… It has to be said, I'd rather Wyvern Lingo had taken the fab four black taxi tour so they could hear that in a scouse accent. Try it, go on, the linguist in me adores it.
Wyvern Lingo do a superb job warming the place up, with poppy hooks, sweet melodies and a fleeting mention of the limited stock of their limited edition EP the gathered mass lap it up, cheer in the right places and refuse to budge. Having not heard them live I'm inclined to search out a little more. Sadly I'm not sure I can say the same for the room, we all know what they're waiting for. As a brief aside, during the intermission the room is full of selfies. It was practically overflowing with them, everywhere you look, selfies, selfies and more selfies. Hozier must have the most photographed crew for about 100 miles. People were so busy taking pictures I could get a drink at the bar.
It's odd to see someone you've always thought of a solo performer appear with a seven piece troupe, but the band are tight, entertaining and they don't miss a beat the entire show. With melodic blues, hints of reverb, a smidgen of feedback and just enough twang, 'To Be Alone' brings with it a sing along and some well timed strobes. For your reviewer it is this noise, the soul, the heart and the sweat that makes Hozier what he is. With a bass that shifts the blood in your veins, raises the temperature and voice, this bottom of the heart stuff, this brings the punters in. I wonder though if that's where the room lets it down, it is very hard to get your groove on when your ass is in a very comfortable seat. For Hozier seat numbers were a "suggestion not an obligation" but most of the punters were happy to sit it out for the most part.
'Someone New' slows things down, with deft plucking on the cello by Alana Henderson and some subtle lighting it's strangely the one song that gets Liverpool on its feet. The appreciation is mutual and perfectly timed, the band have find their groove and cling on for dear life, the choir of two rejoice in the energy. Take these sunken eyes and learn to see. This particular Blackbird, as a local species, seemed to take the crowd by surprise, seemingly reluctant to join in, the response was a slow burning one. After the initial apprehension the chorus struck a chord and the crowd piped up on a song with a very local heart. It's a tough call to do a Beatles cover in Liverpool but everyone pulls together and just about gets away with it.
As the band clear the stage for a breather and (I hope) some liquid refreshment to mark the last night of the tour, Hozier is joined on stage by Karen Cowley from Wyvern Lingo to sing a song about the Wicklow hills. Straddling some place between an old Irish tune, an English folk song and a Nick Cave murder ballad it creates a silence that a theatre like this is built for. They could have unplugged the lot and let nature takeover, pulling them into the stage. It's a song some of the punters didn't know, there were a few who weren't sure where it ended.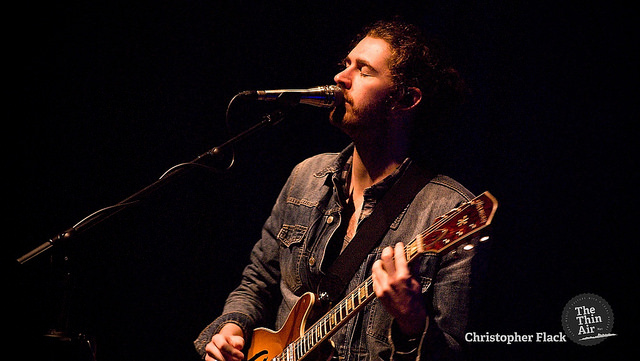 'Arsonists Lullaby' brings out that depth, that thumping bass (and that bloody strobe) and that Cave-esque vision, it is dark and brooding and brings us to the song the punters are waiting for. After a slew of thanks, some love and a promise to return 'Take Me to Church' has the effect you imagine it might. The phones make a reappearance in their hundreds, the scousers sing, holler and sway. To your reviewer though, I'm not sure it's the best song of the night – or the album for that matter. To be alone has more soul, more grit and more depth. Regardless, the crowd are on their feet and there they stay as the band exit stage left. They give a proper encore call, lots of whoops, whistles and more selfies.
The mere hint of a skinny jeaned boot and the squeals increase tenfold. The encore does what it does, 'Cherry One' sees Hozier standing centre stage bathed in a blue light that suits the songs sound and story.​ ​Hozier thanks the entire crew (all of them, Duchess included) and finishes with a moment for Bowie, much to the audible relief of a significant number of punters. 'Worksong' is​​ dedicated to his memory and his craft and comes with a call to arms for everyone to explore the back catalogue, regardless of their age or taste… there is a Bowie for everyone we're assured. He's not wrong.
The band launch into 'Worksong', it delivers a little more soul, lashings of handclapping a bit of a sing along and what sounds almost like a confession. Hozier and the band depart, having well and truly played their hearts out and given the chandeliers a bit of a rattling. There was dancing, not in the streets but plenty in aisles. As the crowd filed out under blue light Bowies' 'Heroes' created its own little stir on the PA.
I'm sure I saw a few tears.
Words and photos by Christopher Flack