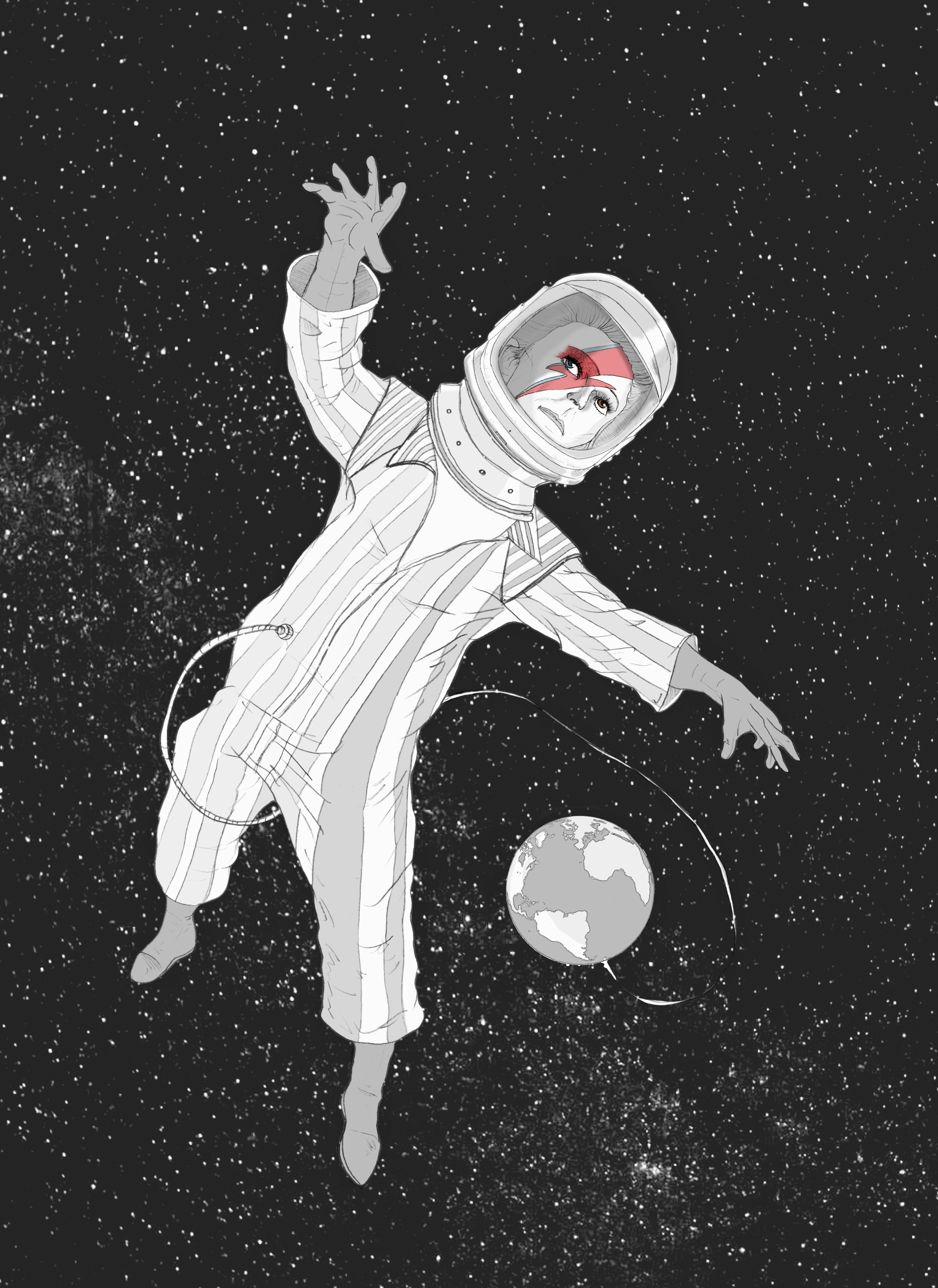 Today marks the 2 month anniversary of David Bowie's passing. Steven Rainey discusses his impact, as featured in Not Gospel in our current issue of The Thin Air magazine. Illustration by John Harrild.
In 1993, David Bowie appeared on the Tonight Show with Jay Leno, performing his take on 'Nite Flights' by The Walker Brothers. Bowie is doffing his cap to one of his all-time inspirations, but he looks uncertain. He's technically promoting Black Tie, White Noise, the first album to be released under the name 'David Bowie' in six years, but there's more at stake; Bowie is testing the water to see if the world still needs David Bowie.
Black Tie, White Noise would take the top spot in the UK charts ('Nite Flights' would not be so lucky, and anyone interested in the song is strongly recommended to stick with the Walker Brothers original), but somehow this chameleonic reinvention of Bowie manages to make a No1 album somehow seem precarious.
Over the course of the 90s, and the early 21st century, Bowie's music would become increasingly self-referential, at times almost straining to proudly display its very 'Bowie-ness', other times, pushing too far in the other direction with deeply uneven results. After the release of  in 2003, and with health problems looming on the horizon, David Bowie disappeared from view.
Waking up on January the 11th 2016, the world realised just how much it needed Bowie. What's been startling to me, as a life-long fan of his music, is that feeling of shared grief, the personal mixing with the universal. 'My' Bowie is the one who embraced soul music in 1975, and sneered at his own persona in 1980. That run of albums is jaw-dropping, and it's all I need from him. So imagine my surprise as I encountered people who were equally devastated who cared little for any of the music made in that period, having loved the Glam Rock era of Ziggy and Aladdin Sane, the pop funk glory days of the 80s, or even those uncertain days in the late 90s as Bowie rediscovered himself.
There are very few people who could secure the position of global icons, and mean that much to so many different people, in so many different ways. I wish I could go back in time to that performance in 1993 on the Tonight Show and reassure David Bowie that he need not worry about his place in the grand scheme of things. The world will always need David Bowie, and thanks to the incredible body of work he has left behind, we'll always have him. Steven Rainey