Columns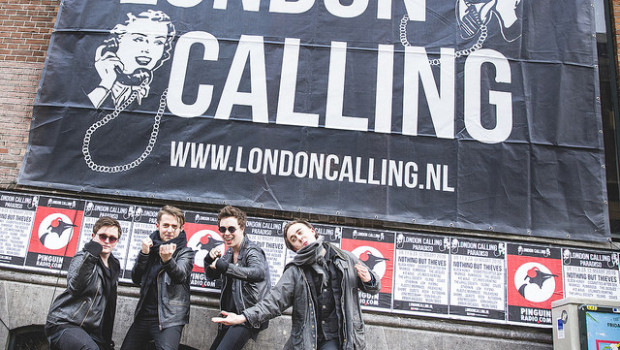 Published on March 23rd, 2016 | by Tara Thomas
0
Roving Eye: Otherkin in Amsterdam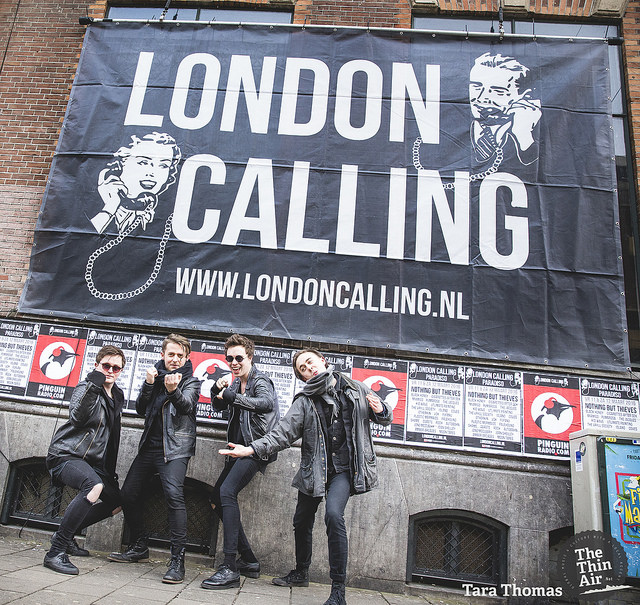 I people watch, I guess who they are, imagine where they are going, wonder what they do in life. It's generally how I pass the time in airports. As I wait in line to board my flight I don't need to guess who the approaching group of young men are. All clad in black denim and leather, with guitars strapped to their backs, this is most definitely Otherkin and we are Amsterdam bound for the iconic London Calling Festival. Fresh from a support slot on Ash's tour, and performances at Eurosonic these lads are in seriously high demand. As we settle into our seats Bananenbar is mentioned with a cheeky grin. David, AJA The D.A., glances up from his book, Kurt Vonnegut's Cats Cradle – butter wouldn't melt. I know the prospect of a wicked weekend is on the cards.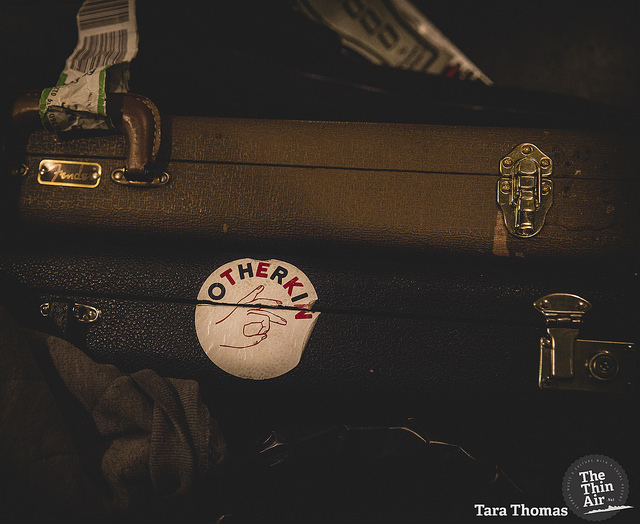 Amsterdam, a fishing village established in the late 12th century, became a linchpin port during the country's rich trading glory. Today it is undoubtably a most unique city. Instantly appealing offering quirky architecture, a vast array of art collections and an unparalleled liberal approach to life. With its illicit reputation I had anticipated exposure to sex, drugs and rock 'n' roll, but what I witnessed was so much more than that. The beauty of Oude Kerk (Old Church) is in profound contrast to the surrounding seediness of the Red Light District, suited and booted professionals sit stoned side by side with aged hippies in Mary Jane cafés, antique stores and art galleries compete with tacky souvenir shops and yet it all works in harmony.
Following on from an incredible 2015 Otherkin show no sign of slowing down, already having booked a jam packed summer festival diary. Named for The Clash's third album and one of the bands major music crushes, London Calling Festival is Otherkin's second booking in the Netherlands in the space of six days. Walking in the foot steps of some of their influences, Queens Of The Stone Age, Blur, Arctic Monkeys, The Ramones and The Strokes, playing in the legendary Paradiso is a tick on the bucket list. Arriving into Schiphol airport I am mid conversation with drummer Rob Summons about his mastermind specialist topic "Justin Hawkins; The Demise of The Darkness" when they are whisked off by tour manager Eamonn to 3FM, the Netherlands premier pop/rock station. Whilst they're away I take the opportunity to check into my hotel before joining PR representative Lorraine for dinner and wander around De Wallen. After that the old adage "what happens in Amsterdam stays in Amsterdam" kicks in.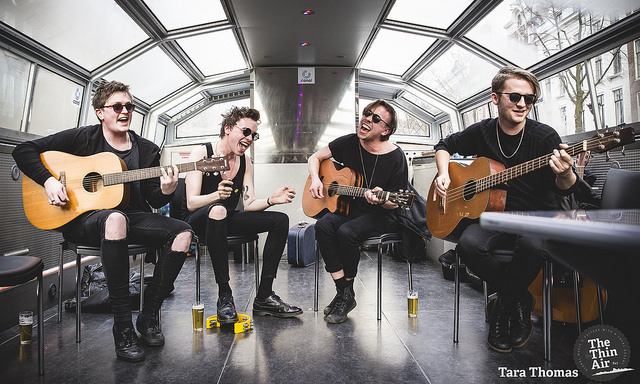 The next afternoon I meet with the band as we head to their first appearance on the London Calling schedule, a barge full of fans and competition winners await them. The barge is nothing like we'd see on the Grand Canal, it's a glass encased sleek machine, and most importantly it has a bar. Front man Luke is apprehensive but keeping his cool, he confides it's an acoustic set and they haven't much prepared, nothing reworked. The other act onboard, Plastic Mermaids, are in stark contrast. Their sound of gentle harmonies is ideal for the job at hand and they breeze through their set as we float along Amsterdam's canals. It's idyllic, the perfect way to ease us into the day. What comes next knocks the audience out of their restfulness. Having indulged in a few perfectly poured Heineken, Otherkin, one by one strut the length of the barge towards the stern, their temporary stage. They proceed to rock that boat and with no regard for the fact they are playing acoustic guitars they thrash out their music their way. The lucky few onboard lap it up, but it's only a taster for what's to come later. A small river boat glides by, an unusual character at the helm, "EVERYTHING IS FUCKING ART" blazed across the starboard side. It definitely seems to be the case in Amsterdam.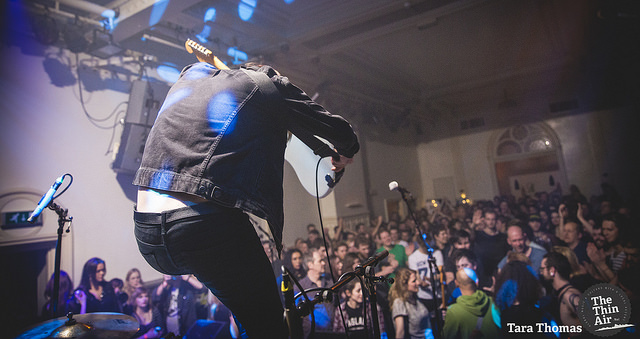 We disembark leaving behind some very satisfied music lovers. It's just a short walk to the notorious venue, Paradiso. The converted church provides a cultural space hosting gigs and club nights since the sixties. Over the next two nights it plays host to London Calling, a bi-annual festival renowned for forecasting future stars. Tonight, Otherkin perform in the smaller room but as we walk into the main hall the promoter predicts next time they'll be on this hallowed stage. I spy Luke wistfully checking it out for size.  Down in the crypt the green room is sectioned by red curtains into smaller private areas for each of the festival acts. Four musicians, one roadie, a tour manager, a PR rep, a music photographer and associated gear pile into the space allocated to Otherkin. Tokens for catering and beer are distributed and since there is no sound check the lads take the time to chill out. Rob arranges to meet his sister Anna who coincidently happens to be in the city on a weekend break. Conor, nick named Pizza Dog (I didn't get it either till I googled pizza, birthday, cake, Conor) shows me a message he received. It's a screen shot of a Facebook comment. The gist of which is "get tickets for the Otherkin's gig in Whelan's, they'll be doing cocaine and dating Kate Moss soon" Conor is well chuffed with this camouflaged compliment.
As call time approaches I cannot detect nerves, the air is charged with anticipation but no jitters. The D.A. tells me he doesn't get nervous he just needs time to himself before a show. During the change over he is statuesque on stage staring out over the audience, psyching himself up. Change over takes fifteen minutes after which Rob, Conor and Luke bound onto stage to join David. Then it all kicks off. It's straight into the rhythmic intro of "20 to 11" swiftly followed by 'Feel It' which drives the crowd feral. It's barely two bars into 'I Was Born' when the moshing intensifies to insane levels. I make my way to the sound desk for self preservation and some wider shots. Otherkin are frenzied in their delivery and the audience is captivated. The capacity of the room is two hundred and fifty souls but it's evident that punters have been enticed from the main hall. The walls are sweating. I've barley managed to push myself back towards the stage when Luke launches himself into the crowd. They engulf him, grabbing and groping as they hoist him up into the air and onto their shoulders.  It's in moments like these that experienced back line tech Keith Killen, "Skinny", proves why he is so sought after. Acting as a protector, while feeding the guitar line to Luke, he ensures the show goes on. Safely deposited back on his feet, on stage, the adrenaline is palpable. As a final treat, members of the audience are invited on stage for 'Love's A Liability'. Chaos ensues, yet the music continues pumping. As the last number "So So" climaxes I'm behind Rob on drums, looking down on a scene of pure anarchy.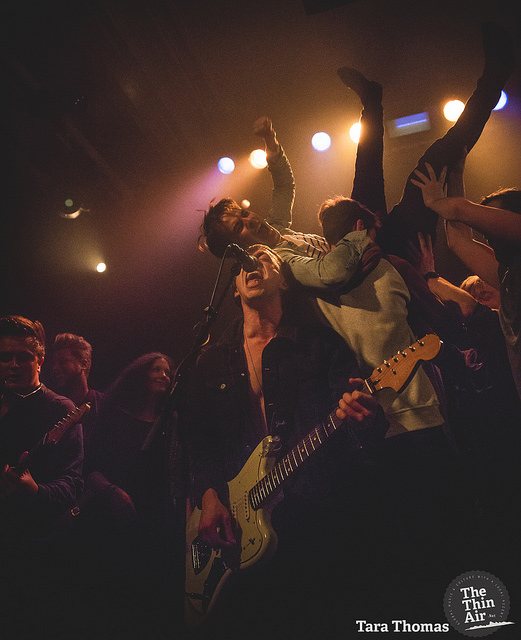 The band disappears into an anti room where they are high on the back of a phenomenal performance. Izzy, front woman of Black Honey the next band up on the billing, is trying to conquer her performance anxiety. Otherkin provide a temporary distraction and some encouraging banter. After load out friends, family and a few comely groupies join them downstairs. Luke is famished, not surprising considering the amount of energy he expelled in the previous thirty minutes. The band are giddy recalling the kicks received, ripped set lists and one crafty lad who tried to pilfer part of the drum kit. It's a performance that won't be forgotten by anyone for a long time to come. There is no pedantic scrutinising, they consider this one of their best gigs to date. Having seen them perform on a few occasions in 2015 I can only agree. They were good before but now have superseded expectations. Take some advice, see them this summer before you find yourself at the back of stadium wishing you had caught them earlier on in their meteoric rise.
Words and photos by Tara Thomas.
Otherkin play Whelan's on Friday April 8. Buy tickets here.