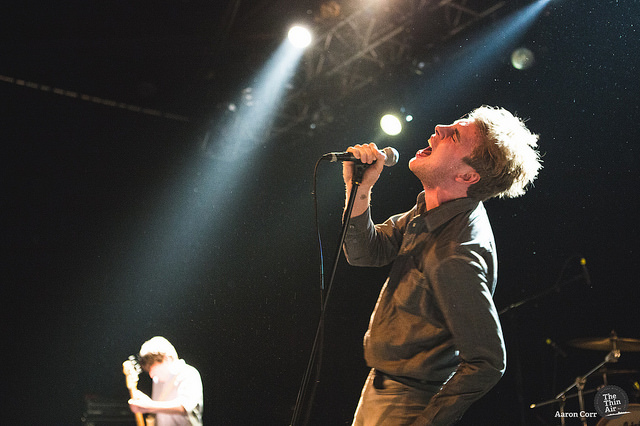 There is a sense of mystery about the Girl Band show at Vicar Street tonight. They have not played Dublin since releasing their debut LP Holding Hands With Jamie in September 2015. They rescheduled their Dublin show since cancelling their North American and European tours, including the Button Factory in November. They have since whittled down their new tour to a handful of dates worldwide, including Pitchfork Festival in Chicago where they are the only Irish act to play. This is a hot ticket to have.
From the moment you walk in the front door you can smell the anticipation. Stepping into the dark crowd, there is a low chatter with surrounding screams of enthusiasm. Girl Band launch into the set with crowd favourites 'Why They Hide Their Bodies Under My Garage?' a stomping, lo-fi re-incarnation of Blawan, and 2014 release 'De Bom Bom'. The stage setting is basic. No backdrop, no visuals just an arrangement of high hanging blue, red and yellow lights that remind you of cheap 80s disco. Anything more would be inauthentic.
Musically, Girl Band are flawless. Guitarist Alan Duggan (below) and bassist Daniel Fox play musical chess all night as they interchange fleshy distorted melodies back and forth with their arsenal of Fuzz pedals and beautifully crafted minimalist style. Adam Faulkner pulses each track forward with a strict dynamic on the kit. You sink into the groove with each hard strike, while Dara Kiely stalks the centre microphone as he belts out his enchanting yet distressed lyrics.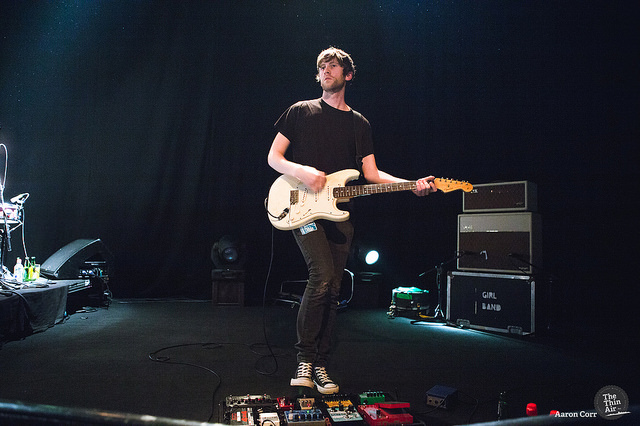 The proceedings push fiercely into tracks from the band's debut album. Tracks like 'Pears for Lunch' and 'Baloo' completely engage this crowd with their presence on stage. They are graceful and casual, as if they are just playing for their friends, having done it a thousand times before. It's hard to believe this is the same band that was forced to cancel tours due to health reasons.
Girl Band pause for a moment at this point looking a little tired, but they are encouraged to push on by the cheers of their adoring audience. Kiely smiles in thanks as they kick into 'Fucking Butter'. Strobe lights pulse along with the kick drum as the bass holds the melodic counterpoint, while the guitar screams like a banshee. The Last Riddler takes a wonderful stride as Kiely tears at his shirt in agony, blasting out the words. This is primitive punk that even Mark E. Smith would say is 'alright'.
'We don't play this one very often', Kiely grins as they move into the slow dreamy spoken word gem Texting an Alien. They are humble and coy between songs but are complete pros in their movement as they do their thing. The feeling in the room is of utter angst mingled with sincere gratitude. We know we are seeing something very important here tonight.
The crowd are going berserk while all of this shining blistering noise is filling the room. 'Lawman' is the stand out track for me. The crowd mosh hard as Girl Band light their fuse, sending them into a frenzy. The bass and drums are playing on the beat while the guitar breaks up the tight rhythm section with a cutting gritty coating. Harmony isn't important to Girl Band – their best tool is space.
Elsewhere, 'Paul' is just a great song. Fox controls his bass playing masterfully, the dirt in the tone when he digs in a little more is just about audible. The slide playing he accomplishes on bass is really breathtaking. I have never seen a bass hold such a high pitch while maintaining such a gutsy sound. It sounds just like the LP, it's quite frightening really.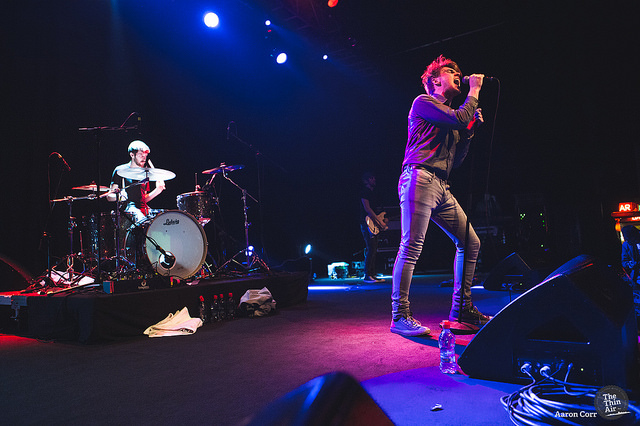 Kiely announces that this will be the last track of the night to the elated crowd. I doubt he knows how important they are to us in the audience. They attack 'The Witch Dr.' with the same poignancy as they have done with every song tonight. They are a shockingly tight unit. They are the real deal. Leaving the stage of a fan filled room with grace, they are just a bunch of lads in t-shirts and runners with absolutely no pretension. There are four voices in Girl Band, and each one is as dangerous as the next. Joey Edwards
Photos by Aaron Corr