Live Reviews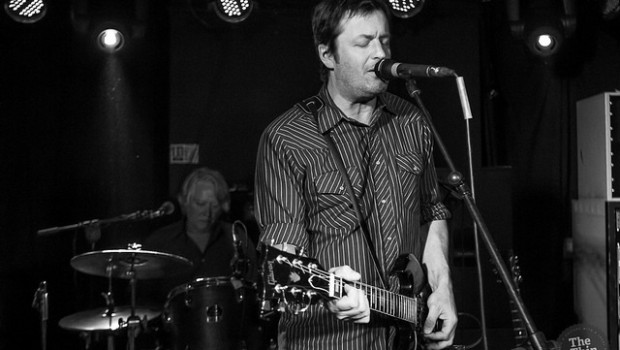 Published on May 4th, 2016 | by Jonny Currie
0
Richmond Fontaine @ Voodoo, Belfast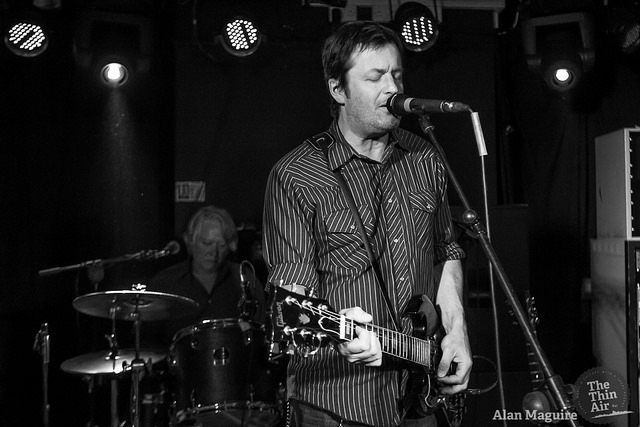 There's no room for sentiment during Richmond Fontaine's last ever Belfast show. The band from Portland, Oregon have been regular visitors to the city since the release of the critically-acclaimed Post To Wire in 2004, and tonight their final album You Can't Go Back If There's Nothing To Go Back To gets some serious attention from the setlist.
You Can't Go Back is a summary of all that's great about this much-loved Americana band so it's fitting that most of the record is showcased this evening. 'I Got Off The Bus' – a song about the worst homecoming ever, alternates between hope and resignation with shimmering beauty as Willy Vlautin's doomed protagonist pounds the streets of his hometown, propped-up by Dan Eccles' melancholy arpeggios.
The guitarist is in his element tonight, firstly playing back-up to the support act (and Decor Records label-mate) Fernando before cutting loose through a heavier than expected set. Anyone expecting a nostalgic strum through some of the band's more wistful numbers may have been slightly disappointed. The ragged garage rock of 'Lost In The Trees' from 2011's dense, concept album The High Country, and the atmospheric live staple "Williamette" are undoubted highlights of the evening. The latter in particular struggles to an epic feedback-drenched conclusion like the sound of a band fighting against its own demise.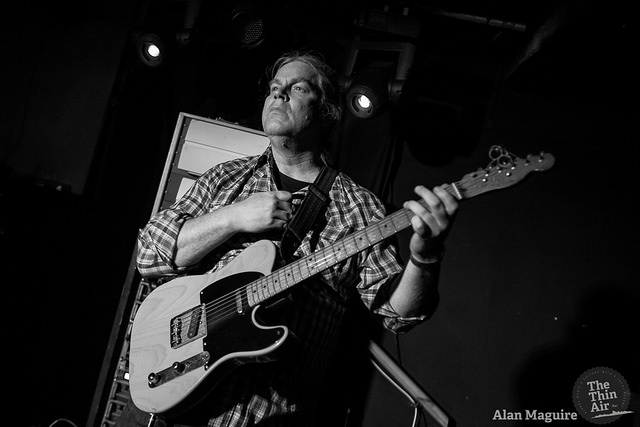 Frontman Willy Vlautin spars playfully with audience members between songs and manages the obligatory requests with wit and grace. There's a relaxed vibe on stage. Drummer Sean Oldham provides some well-timed wisecracks, and recent recruit on bass Freddy Trujillo just gets on with it.. Vlautin and the rhythm section are core members of acclaimed new country-soul band The Delines, which might explain why Eccles is showcasing some serious chops tonight with Richmond Fontaine while he still has the opportunity. It's not all strum und "twang" however, as he skilfully makes up for the absence of organ, pedal steel (and trumpets, in the case of 'Moving Back Home #2' from Thirteen Cities) on several songs.
Some expected classics from the back catalogue do make an appearance. Life appears to imitate art at one stage as Post To Wire's glorious title track is swiftly dispatched with an air of over-familiarity that echoes the weariness of the song's worn-out lovers. Willy Vlautin writes observations about the hopeless and the downtrodden of America's underbelly with a humanity and dignity that never seeks easy answers or "lessons" to be learnt. The over-worked nurse, paranoid veterans, drink-addled manual labourers, are just some of the characters saying their final live goodbyes tonight. The packed venue is a tribute to Vlautin's unique gift in making these characters' travails universal in their relatability. They are often one step away from tragedy or self-sabotage but are always hoping to do the right thing by others if not for themselves.

"Four Walls" is an apt closing song for the band's farewell shows, with its romantic closing lines:
"All we need is a window with moonlight coming through the trees.
Maybe a colored light so at night I can see her and she can see me.
We'll lay around and our hearts will sing like Mariachis."
Fans within the four walls of this upstairs room would surely agree. Jonny Currie