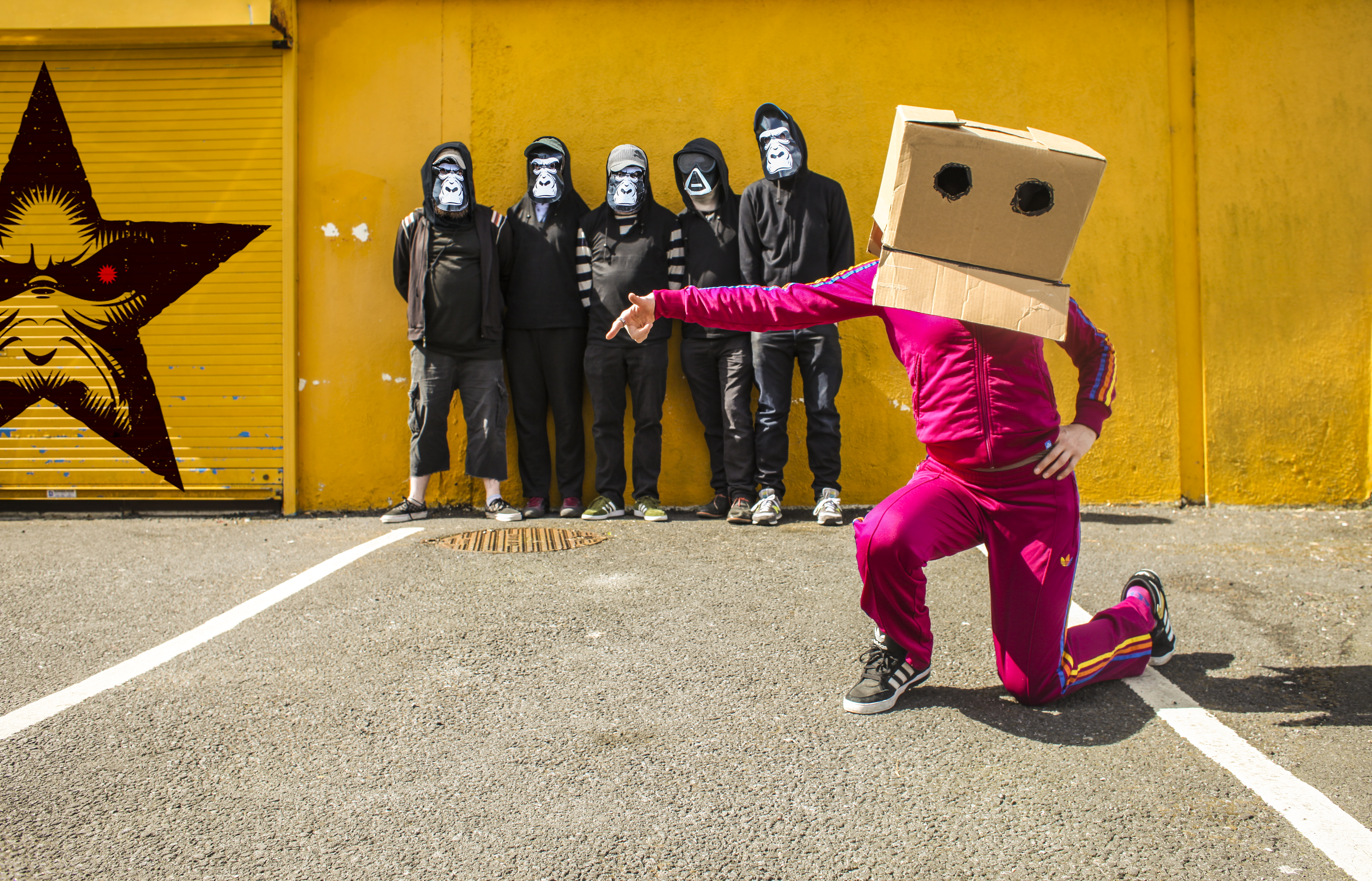 Not merely one of the country's most singular, genre-warping acts, Waterford six-piece King Kong Company are right up there with the very best live propositions around. Having just released their emphatic self-titled debut album, Brian Coney talks to the band about working with The Prodigy producer Neil McLellan on the release, capturing their live energy in the studio, their diverse range of influences and what the future holds in store.
Hi guys. You've been getting some great reviews for your new, self-titled album. It was originally set to be released last year. Was perfectionism (or at least only wanting to release something you were 100% happy with) to blame there?
The reviews are a bonus, we wanted to make an album that we'd be proud of, getting to create something like this is an opportunity that we might never have again and we didn't want to waste any part of it. The original plan was to release the album at the end of last November, we even had a launch night in The Academy. We were on course to get it finished on time, but we made the wonderful mistake of sending the last track to prodcuer Neil McLellan (he's worked on every Prodigy album since Music for the Jilted Generation). He did such a good job on that one track that we had to call a halt to the release and ask him if he'd mix the whole album. It was more fluke than perfectionism. We had all but one track ready to roll, so we pretty much mixed a new second album, which took another six months and cost us the price of producing another album. None of the KKC crew have been paid for a gig in over two years, we've put all the money back into the band and album. It sounds hollow and clichéd, but we do this because we enjoy the buzz of playing live… getting paid sometime would be nice, but it's definitely not what drives us.
You worked with Prodigy producer Neil McLellan on the album. How did that come about and do you much do you think his involvement lent to the album's sound and direction?
We had that one track left to mix and we'd just read an article about Neil Mc working with Universal Audio gear. His CV was right up our street and he was saying things in the interview that set lots of light bulbs popping. We sent him an email on spec with a rough mix of the track, firmly believing the old saying "The silent priest never got his parish". He got back straight away, said he really liked the track and got stuck right in. Just as important as doing a really good job, he told us he had fun mixing the tracks, he liked our approach. He hooked us up with VIP passes when The Prodigy were in town and he's coming along to one of our festival gigs in the UK later in the summer. We've made a new buddy. The spit and polish that he added to the tracks definitely helped the sound and energy of the album, but these are tracks we've been working on for a while, road testing most of them with festival crowds. The sound and direction is very much our own, the polish and cohesion is the work of Mr. McLellan.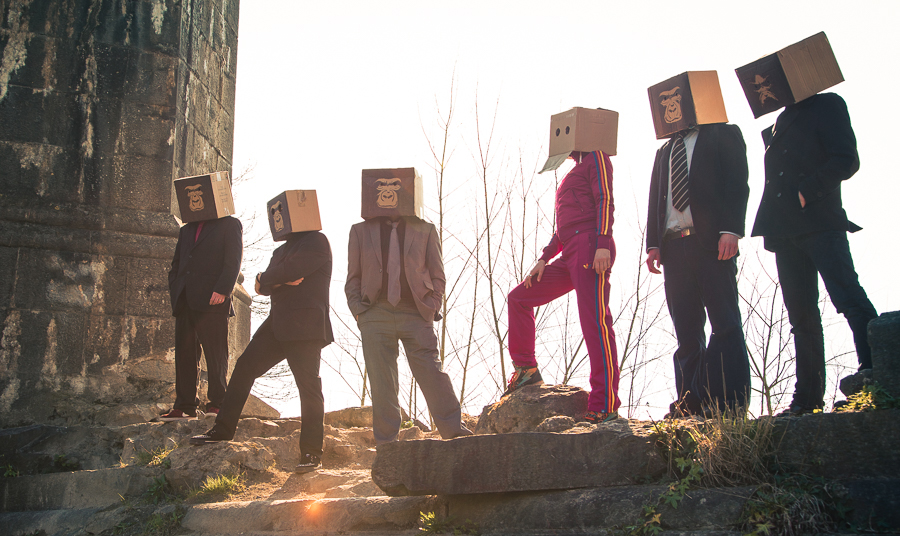 You've a really strong live reputation. How have you found your live show develop over the last couple of years – in terms of both delivery and how you seem to go down with new audiences?
Yeah, the live show has definitely developed over the last couple of years. We're working towards our biggest, brashest and bassiest show yet for a festival gig at the end of the summer (we're not allowed say what festival it is yet, but you can probably guess). We're constantly adding new elements to the show. Stress works on lights, Andy and Matt twiddle the sound knobs and Lofty works the flickering images, so as things stand there are nearly as many of the KKC family working off-stage as there are working on-stage at our gigs. That certainly wasn't the case when we started this trip a few years ago. Box Head is our resident crowd fluffer, busting moves and waving flags, but we have a few more guests limbering up in the wings for our upcoming festival gigs and we're building up to a very special show in The Academy in Dublin on September 29th, and we'll actually have the album with us this time! We try to give as much energy as possible when we play and we're really lucky that at every gig, the crowd give us back even more. It's like a self perpetuating cycle of buzz and intensity. Playing to new crowds is always interesting, especially when they have no idea what to expect. We played a festival in Holland earlier this summer to a crowd who had no idea who we were. It was a stormer and they're having us back next year for a headline slot.
How did you manage to capture the energy from those live shows on the record? Was much of the record laid down live in the studio?
It's likely that at some point you've been at a gig and enjoyed the band so much that you bought the album, only to bring it home to find the recordings don't have the same energy and vibe as the live show. We really didn't want that to happen with our first album. If anyone was ever going to listen to the album it would be the people who come to see us live. We recorded the album ourselves and spent a long time getting things right, but it wasn't always in the studio, Col recorded the trumpet for The Crab in his bedroom. Being tech savvy and having the skills within the band to work hard on getting the sound right helped a lot. Mark W. puts a huge amount of work into programming elements for the live shows and that was invaluable when it came to the album. There were times when we recorded as a group, and times when we tracked elements individually with different set-ups and mic positions, but we were always conscious of keeping that live spark, abrasive edge and energy in the recordings. Neil Mc helped accentuate this.
Are there are overarching themes or ideas to be found on the record?
This is not a concept album, unless the concept is, "Lads, is it about time we recorded an album?" We're influenced by what we see and experience. Some tracks are more literal than others, some themes are pretty earnest and others are definitely tongue-in-cheek. We have some things to say (one rant on the album is very targeted), but there is no way that we're ever going to be preachy. 'Donkey Jaw' was a chance to have some fun, but everything in that track has been seen and experienced out on the festival trail, which will not be a shocker to any seasoned festival heads.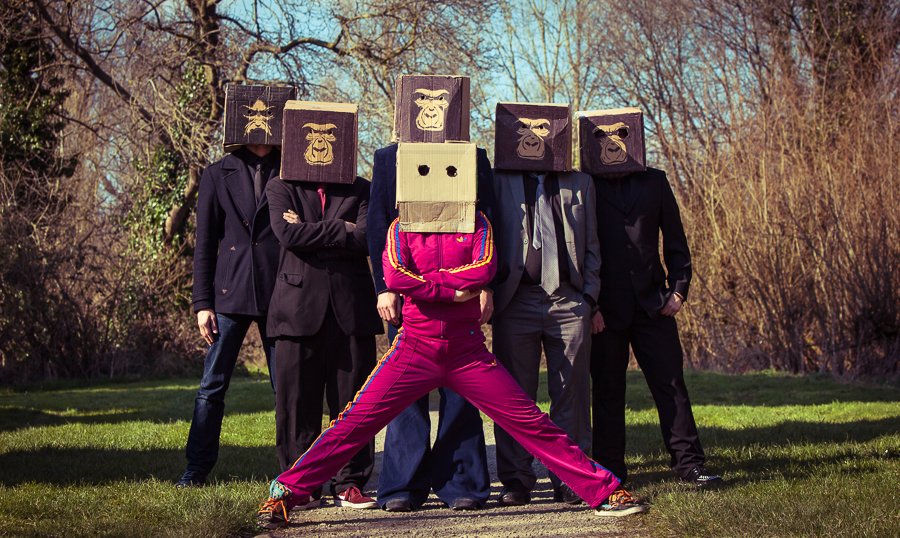 The album got to number 6 in the Irish indie charts, which is very impressive. How is it to see all that hard work materialise in your fanbase actively purchasing and spreading the word about the album?
The most important thing for us was that we could stand over the album and say that we're proud of it. We've achieved that, so as far as we're concerned the album is already a success. People actually buying and listening to the album is the bonus round. We're always blown away when people put their hands in their pockets and pay to come and see us play; without people coming to our gigs, we wouldn't have been able to fund the album. When the same people who come to the gigs actually go out and buy the album, it feels like we're operating some kind of dodgy pyramid scheme. We feel very lucky and thankful, we're constantly pinching ourselves and although we know that the buzz we're having could finish any day now, we're going to enjoy every minute of it and milk every moment dry while we can.
You sound is wonderfully genre-warping but which artists or sounds do you feel have made an imprint on the tracks capture on the album?
Everyone in the band would probably answer that question differently. Colin will not hear a word said against Kate Bush, Aley will refuse to go onstage if St. Vincent is playing somewhere else at a festival, Tom lost his mind at Battles last year at Electric Picnic, Mark G will probably soil himself at Toots and The Maytals at Electric Picnic this year, Mark W enjoys getting the retinas and ears blown off him at something like Squarepusher and it's difficult to stop Box Head dancing to anything with a beat. The closest we can get to describing what we do is Dubby-Electro-Rock. There was a moment last year when we were travelling to a gig in Sligo, hung-over after a savage night in Limerick playing in Dolans. As we made our way blearily up the west coast, Colin banged on a bit of Cyndi Lauper and everyone in the van was singing 'Girls Just Want to Have Fun' at the top of their voices. Does something like that make an imprint on what we do? Hopefully!
As ever, you've been very busy on the live front. What's in the pipeline for the rest of the summer and the rest of the year?
We still have a clatter of festival gigs ahead of us, Nozstock in the UK, Sunflower in Belfast, Indiependence and that festival we're not allowed mention yet will probably be the highlight of these. Keep sketch for the second single from the album at the start of August, it's a very different beast to the version we put on the album. The gig in The Academy on September 30th is going to be a big one. We have festival gigs right through September and this gig is going to be our end of season session, we're planning on making it a big one. We're planning on taking November and December off, getting our selves ready for a tilt at Europe in January. Oh yeah, we're playing at The Great Irish Beer Festival in Cork in the middle of September with Crow Black Chicken and The Frank and Walters. That'll be no fun at all.