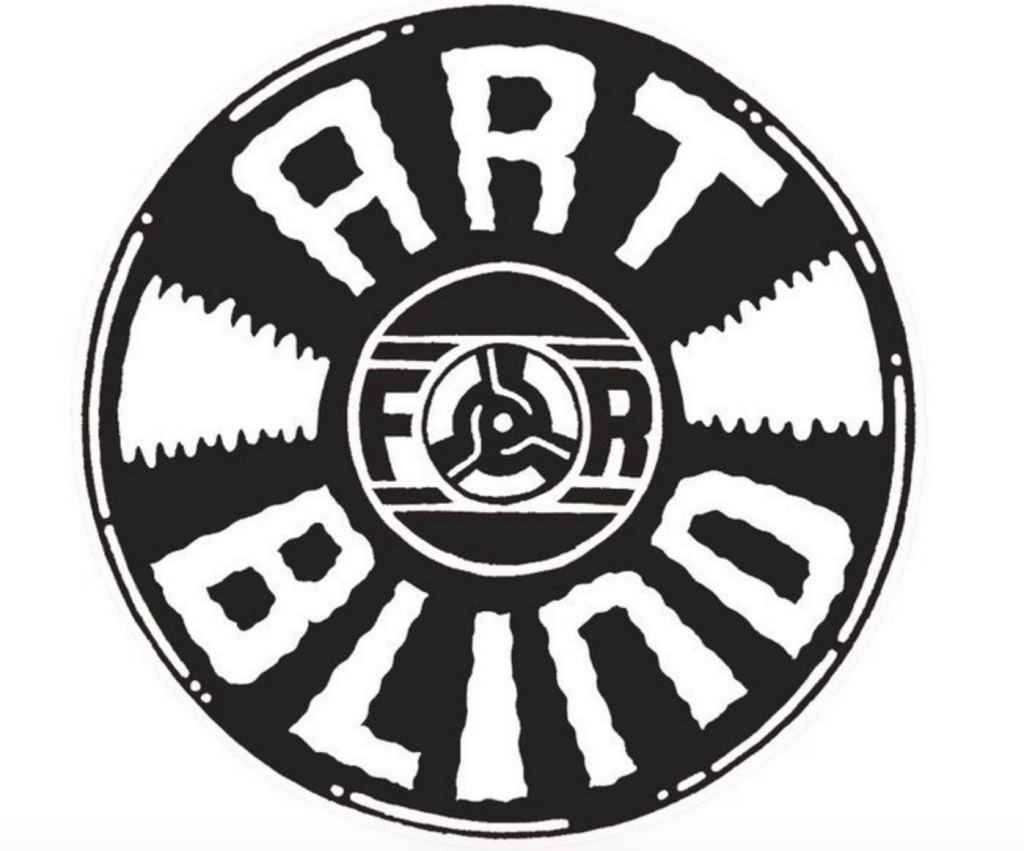 For over a decade, Art for Blind Records has been a home for underground, DIY and subversive music and zines of many stripes, both as a label functioning from wherever its composite parts are at a given time, and a series of stalls and shops that have followed them. As the duo prepare to release the debut EP from Cork noisemaker ELLLL and just off the release of the Altered Hours' first 12″, Mike McGrath-Bryan speaks to Dany and Edel from Art for Blind about the label, its place(s), the people around it, and the future.
Art for Blind doesn't really have roots, having gone from Leeds to Cork to Sligo. Do you see this as a defining feature of the label now?
Dany: It's defining in that the label follows us wherever we end up! Since starting the label it has also been a feature and a goal to be as involved as possible in our local DIY music scene wherever that is, whether it's through working with local bands or organising events. I think the music industry has changed so much even in the relatively short time we have been doing a label that it isn't as important to be totally immersed in a particular locality as it once was. The internet, digital music and cheaper travel has made it easier to work with bands in different towns or countries than it was when we started.
In terms of running a label in Ireland however, I do think that labels, bands and promoters, especially in alternative music have to work a lot harder to raise their profile and gain recognition than they would if they were based in Belfast or Dublin. To us that trade off is worth it though as is it important to us to be based in a place that we want to live. Moving to the North West has been great for Art For Blind. It is an inspiring place to live and that breeds an urge to create which is always helpful for a label. We will be putting on a lot more gigs this year alongside Mark from Bluestack Records and it would be great if we can nurture the music scene here in Sligo. Distorted Perspectives up in Letterkenny has had great success already and between us we are hoping to build a strong network for alternative music in the North West.
Explain how the label came together – circumstances, bands, etc.
Dany: I originally started another label with a close friend who I had been organising shows with in my home town of Barnsley for a year or two beforehand. We released 2 CDs before we realised that if we were to remain friends we ought to go our separate ways in business! The result of that was Art For Blind. The first release was a split 7" featuring 2 post hardcore bands from Leeds just up the road and shortly after putting that out I decided to quit my job and move to Leeds to study and run the label. Since then the label's activity has gone up and down depending the amount of time I could commit to it but it has certainly increased since we moved to Ireland.
You've taken a particular interest in Cork, owing to your time here – Rory O'Brien, Altered Hours, and now Elll. What is it about the city that caught your attention?
Edel: We had a shortlist of places we were considering as part of the move, I always had good memories of visiting Cork from when I was younger and after a couple of recces, the second of which coincided with taking in Cork Film Festival and a serendipitous Rachel Grimes gig, after which we met a load of sound heads and we kept in touch in the meantime. As a place it just has a nice feel, you're in a city without it being too busy, it's very compact and there is so much going on. Musically, it didn't probably have an awful lot, on the surface, that we would have been interested in and certainly for the sorts of touring bands we would generally have gone to see back in Leeds, they would often only play one show and that would be in Dublin. But it just meant we investigated the local scene more and we wanted to support what was going on regardless of genre. There's definitely a do-er ethic in Cork, not long after we were living there we took a stall in the then newly opened Mother Jones Flea Market as an outlet for the distro. It had been a plan of ours to expand the distro from just records to include apparel and zines. Also it was integral to carry more Irish bands, The Altered Hours were one of the first we approached and we got copies of their CD EP 'Downstream', they gigged quite regularly too so we really felt we were witnessing a band taking command of their sound and development.
Our first encounter with Rory O'Brien happened fairly early on too, we were at an ill-fated Rest/Ten Past Seven show in Sample Studios. We had the distro in tow and I think he recognised fellow punx trying to peddle records when absolutely no one else was bothered. Everyone was hopping from the music, that was, until the cops shut it down! We spent a lot of that night talking about music and hung out occasionally over the next few years.
It was some time before the collaboration with Rory took place, he shared a really interesting recording with us, much different to his many other musical projects and was right up our street at the time so we asked if we could release it. We really enjoyed that record as it was written, recorded and even the packaging was individually handmade in Cork.
There are so many layers to the city's musical landscape and it's been a quiet revelation getting immersed in it and seeing, collaborating and making friends with bands and musicians not just from the label but also folks like Morning Veils, Irene Buckley, Siorai Geimhreadh and JusMe of The Hobo Convention. I don't think our dalliance with Cork is over just yet.


The label released and distributed stuff for Perfect Pussy right before things happened for them. How did you establish that relationship and what do you make of their success now?
Dany: We were big fans of Meredith's pre-Perfect Pussy band Shoppers and when they decided to call it a day it left a catchy, reverb drenched hole in our lives. As soon as we saw that she had something new on the go and we heard the demo we immediately got in touch with them in the hope of releasing something. Initially we were chatting about doing a new 7" after the demo but they suddenly exploded and were in demand by labels with much more reach and resources than ourselves. So, in the end we re-issued the first track from their demo tape on vinyl to coincide with their first European tour. I'm delighted that they have been so successful, they are lovely people and have worked really hard to achieve everything they have so far. Their music is also refreshing and daring so as far as we're concerned the more of that there is in mainstream indie the better. I would be lying if I said I ever expected a member from an Art For Blind band to be presenting MTV news though.
The Altered Hours' debut album came out as a joint release with PENSKE, Albert Twomey's label. Give us any Albert stories or witticisms you have.
Dany: Bert is a great friend of ours, he was the first person we met in Cork and he seemed to make his mission to ensure that we settled in well and stuck around. Collaborating with him to release something was inevitable and I'm pretty sure there will be plenty more PENSKE/AFB shenanigans down the line. My Dad loves him so you can't really get a better recommendation than that.
You're now releasing a vinyl EP for Ellen King, aka ELLLL, who's been a part of the Cork scene for years now. How do you feel about her finally collecting some material and releasing it, who came to who?
Edel: We met Ellen a good few years ago and she has been involved with several live events we staged in Cork either performing as ELLLL or DJing. We've been big fans of what she has been doing live for a while and like a lot of other people we were looking forward to her releasing something physical. Prior to moving to Cork, we never thought we'd put out a techno record, it's quite removed from the early hardcore records of the label but you appreciate good music when you hear it. And ELLLL is unbelievably good! We were quite surprised that no one had put a record out yet for her, so we just came out and asked her.
Dany: Over the last few years we have started to broaden our horizons a little and release more experimental and diverse music such as Wolfbait and Gross Net, I think it's definitely a facet of the label's sound we are keen to develop. So when Ellen released the digital version of 'Romance'  which is such a great track that we felt we couldn't wait any longer to get in touch! The vinyl release will be a 12" EP featuring 'Romance' and 3 other original tracks and we hope it will be out around September.


The label's been going for over a decade – to what do you owe its longevity?
Dany: Stubbornness really. When we moved to Ireland I wasn't sure whether it would survive but a combination of Edel becoming more involved with the label and the stimulation of a new environment has meant it has gone from strength to strength over the 5 years we have been here. There have been several times over the decade that it's been close to coming to an end but there is always a band around the corner that re-ignites my love for the label all over again. I still work a full time job alongside the label and with the exception of studying have had to do so throughout the ten years. I've probably made peace with the label not providing me with a steady income and being a labour of love but that definitely doesn't mean I don't want to see it grow and I work as long and as hard on it as I ever have these days. I think if you want to run a record label in 2016 you have to be prepared for a tough slog as it is tougher now than it has ever been. Records are more expensive to manufacture, they take up to three times as long to press and people buy less. One of the most frustrating things for a small label like ours is the "vinyl resurgence", which is non existent for us. Pressing plants are clogged up now with catalogue represses from majors which had previously all but abandoned vinyl as a medium. It is a great thing that more people are discovering and buying records but we find that the people that used to buy handfuls of records at gigs and via mailorder are becoming fewer and fewer. I think that is probably due to a combination of new vinyl records being very expensive and streaming services allowing us to listen before we buy. Basically, I think if someone buys a record it is more than likely they have heard it already and know whether they like it. That's obviously great for the consumer but I'm not so sure it's good for labels… every label puts out the occasional turkey and we need to sell those too!
What next for the label?
Dany: We have at least four more releases that will be out before the end of 2016. As we mentioned earlier we have ELLLL's Romance EP on the way by the end of the summer and we are also releasing a 7" single by an Austrian post punk band called Lorraine in August.
We have a couple more planned that we will be announcing very soon that are almost ready for the pressing plant. The Altered Hours will be heading back out on tour towards the end of this year with some new material in the bag for their live show. Their album is also currently being re-pressed and that should be ready for the tour too. After that we have a few bands in mind that we would like to work with so we will be working to make those come to fruition.
We also recently released an LP for the Manchester garage punk band Hipshakes, whom we've been long admirers of and were featured here in The Thin Air with an exclusive video premiere of the track 'Attention Spans'; we are currently booking an Irish tour for them in September / October. They did a one-off show in Dublin's Retro Revival clubnight a couple months back and they're dead keen to come back!
We have also recently set up a screen print studio / arts collective called Pulled (pulled.ie) through which we will be promoting gigs and facilitating print projects. We're based at The Model arts centre in Sligo.
Keep up with Art For Blind records over at their Facebook page