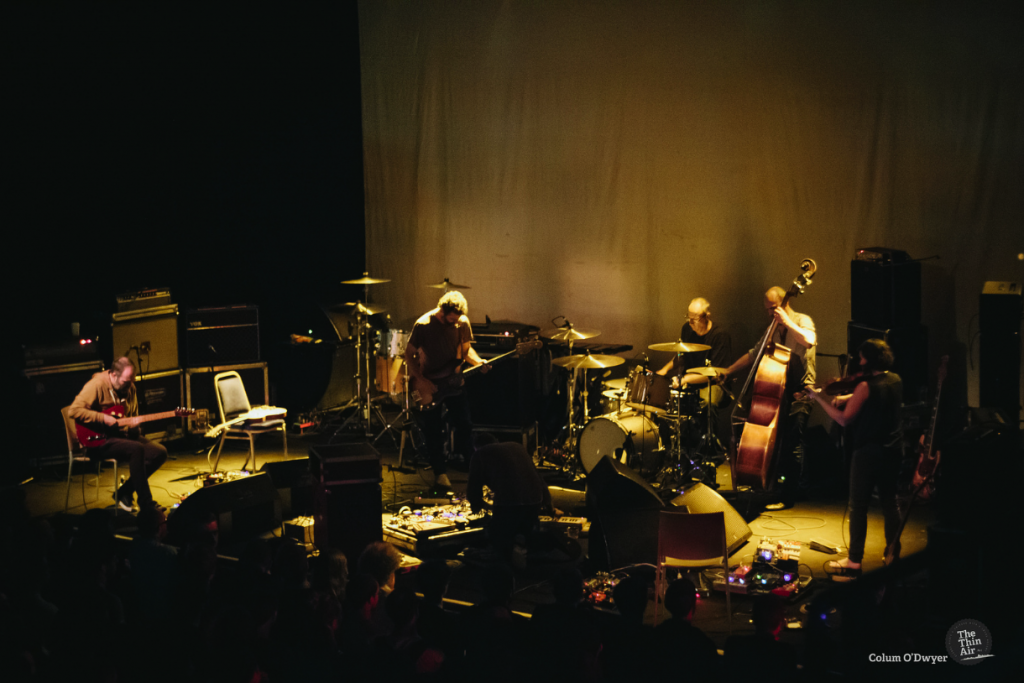 It's about sixteen months since instrumental Montreal collective Godspeed You! Black Emperor last played Ireland, and with the venue, stage backdrop, equipment, lighting, and setlists almost identical to the last, there's a familiar sense of n different sort of ritual on this particular Sunday at Vicar Street. The ongoing sub-50Hz rumble of the venue gives way to the entry of the seemingly accidental wandering onstage of a percussionist, double bassist and violinist, kept just visible by warm amber light. As they ease into some droning, exploratory notes, more musicians appear onstage, before the mass organically transforms into the band's now de facto opener, 'Hope Drone'. It's hard not feel something when the song reaches its apex, the word 'hope' flashing dynamically congruent behind the eight-strong lineup.
Despite still technically being on a 'reunion' following their noughties hiatus, Godspeed have taken on something of a new meaning since the post-rock sound ran its course. This decade's Godspeed show takes on a ritualistic sense of importance that used to be often mistaken for the genre's own self-importance, and although they technically fall into the same genre as Explosions In The Sky – who more intentionally embody the sound of post-rock, they ultimately have turned out to have more in common with the likes of Swans and other masters of the long game, with a compositional statement that tends toward the viscerally cerebral.  Never is this more evident than when they move from 1998's Moya into a full run-through of their latest LP, 2015's Asunder, Sweet and Other Distress, which sees the clearly in-sync eight who, by this point, have a vice-like grip of a trance on the nodding audience, interrupted only for polite bursts of applause or occasional screams, emerging from band and audience alike.
Their audiovisual show – the performance merges into one – evokes that of the death of the old West, and some nihilistic predictions towards the new one too; this is, after all, the band Danny Boyle cut the entirety of 28 Days Later to. The desert train tracks rapidly traversed onscreen lie parallel to the conventions of contemporary music they've left in their wake. Visually, as we reach the footage of early skylines during 'Buildings', the optimism returns for its towering crescendo of looped strings, and one of the few fully unrestrained wig-out moments of the performance.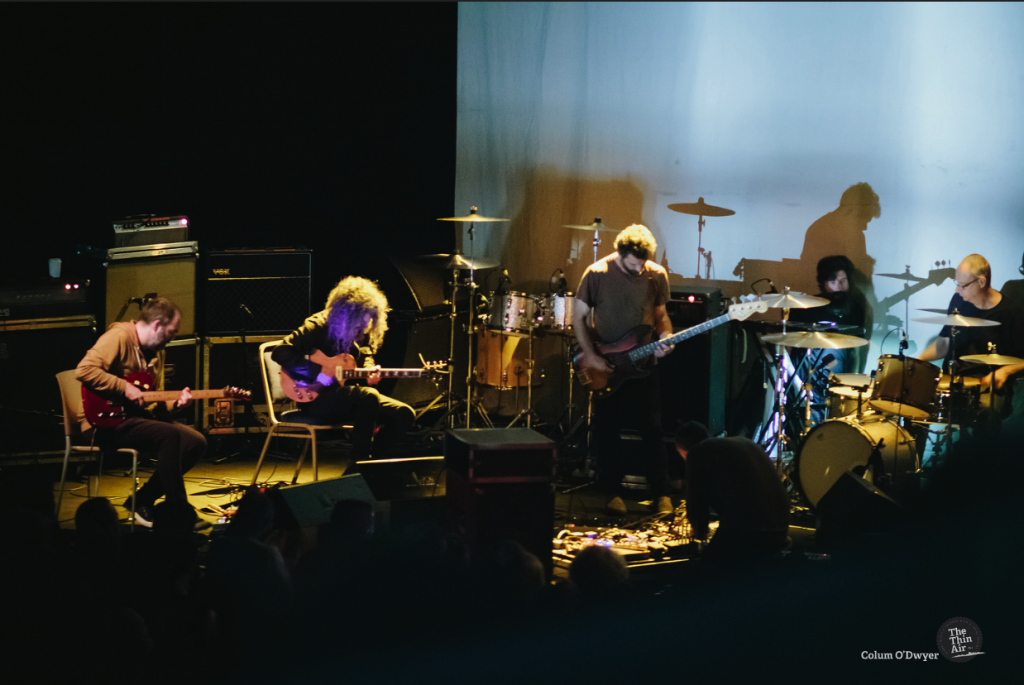 At this point, Godspeed could solely perform live and just continue to adapt their show; including 'Buildings', a quarter of tonight's setlist is comprised of unreleased music. taking the most esoteric of Western music while eschewing its philosophy in favour of something farther East. A nameless, faceless, voiceless entity, it could be argued that they've revealed themselves to be the great orchestra of the turn of the millennium, sounding like the Mahavishnu Orchestra's world-weary spawn. It's hard to create a substantial narrative without any words in just eight songs, but they do it, as if Adam Curtis directed a Koyaanisqatsi live for this age.
The second half of Slow Riot for New Zero Kanada, the Iron Maiden-referencing 'Blaise Bailey Finnegan III', much like 'Moya' early in the night, bookends their latest material, allowing it to take on meaning like a nostalgic postcard of the band they were at a time. They seem to have seized part of an undercurrent of the zeitgeist: implied social and cultural commentary combined with the kind of mystique Zeppelin IV was gunning for with the intellect and authenticity left intact. As a result, they're arguably more forward-thinking, and at least as relevant in their maturity as in their first run. While their records are undoubtedly strong, they're a band whose full-bodied impact is at its most complete when felt in the same room as the people performing.
Band members leave as intermittently as they arrived, with the last man standing left to phase out the pulsating, deafening swathes of feedback and harmonic content in Vicar Street as everything quietens and shuts down shop. One-horse towns are lost to the traintracks on the horizon, skyscrapers ascend onscreen, and eventually fade into static as the house lights rise. Even though, as a wise man once said: "Your revolution is over. The bums lost." Godspeed are there to remind us that every once in a while, it's maybe worth taking two hours out to sit in silent awe and contemplation in the hope of something transformative. Wasn't that what they told us Sundays were for anyway? Stevie Lennox
Photos by Colum O'Dwyer