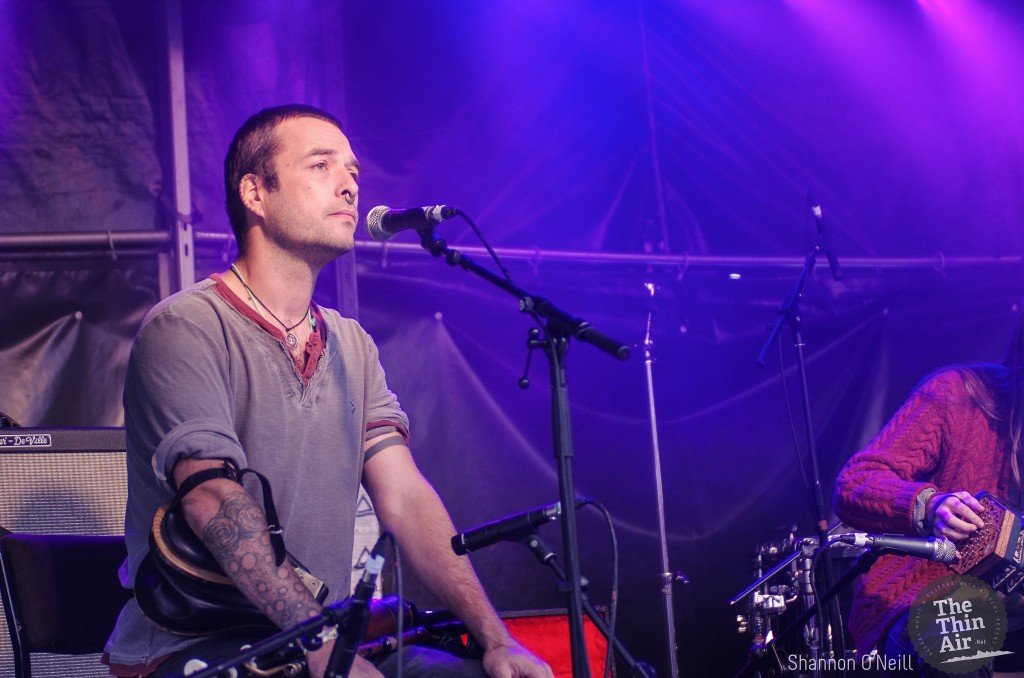 Totally unimaginable up until very recently, this year's Stendhal Festival of Art was framed by tragedy for so many. A year to the day on from delivering one of the Limavady festival's truly great performances, news on Saturday night began to circulate that Stevie Martin AKA Rainy Boy Sleep – having been reported missing for three weeks days earlier – had passed. Hovering like an unseen spectre over good friends, fans, festival organisers and fellow musicians on the Friday, confirmation of our collective worst fears on Saturday evening sent a shockwave through Stendhal's tight-knit, communal fabric. And yet, propelled by Stevie's spirit, hope sprung up in dedication by many performing artists – each and every shout-out to his whereabouts and soul instilling a strong yet unspoken air of solidarity at a homegrown festival that played a pivotal role in the Rainy Boy Sleep story.
___
Just one of the many curiously-assembled hideaways on site, a handful of close-eyed casualties from last night are contentedly strewn out throughout the Annan's Arch area early on Saturday afternoon. With young musician Conor Phillips' earworming 'Water and Lime' providing some some breezy respite from the Sign Up hut stage (below) nearby, sounds of crashing waves stream out of concealed speakers fringed by natural installations and crafted wonderment that reward passers-by with a slow stride and inquisitive eye.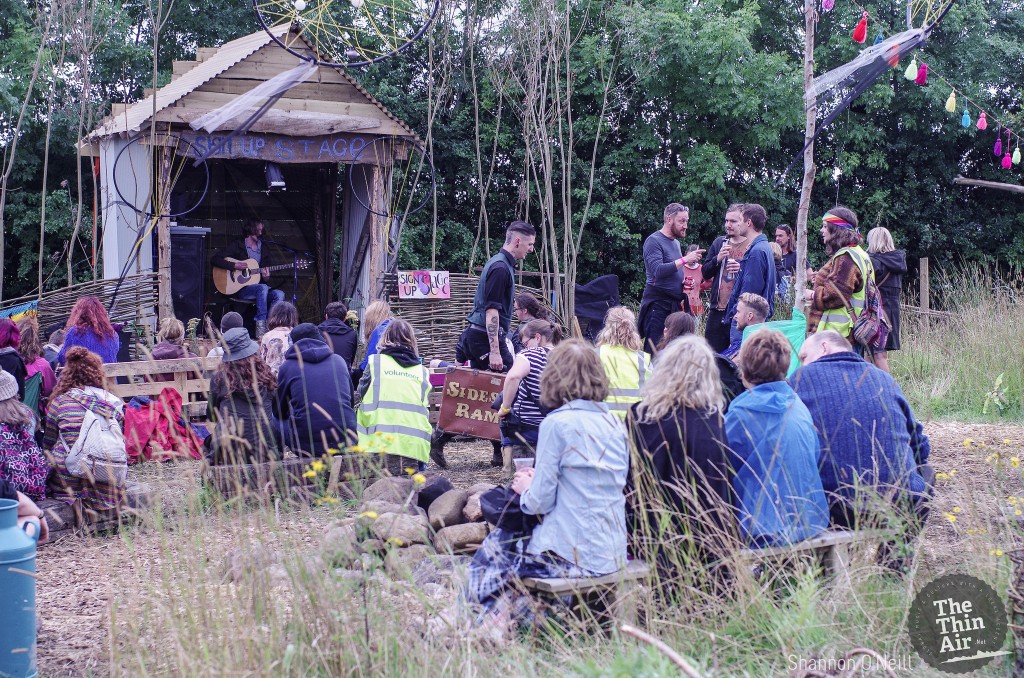 Likely the most highly-regarded local act on today's bill, Paddy Nash & The Happy Enchiladas ease a few fuzzy heads into Saturday with their usual blend of wonderfully endearing folk-pop, defiance and camaraderie. From 'Adam & Evan' ("Welcome to Northern Ireland, the land of fear, make sure to set your watch back fifty years") to 'Laughter & Love' ("From Derry to Santiago from Berlin to Tuscany/From Rio to San Francisco all spent in good company") Nash and his seven-piece band burst through a progressively-minded, international-leaning set that both lends their feel-good craft substance and effortlessly hits home with onlookers of every age and ilk. Inspiring and unashamedly cheerful stuff.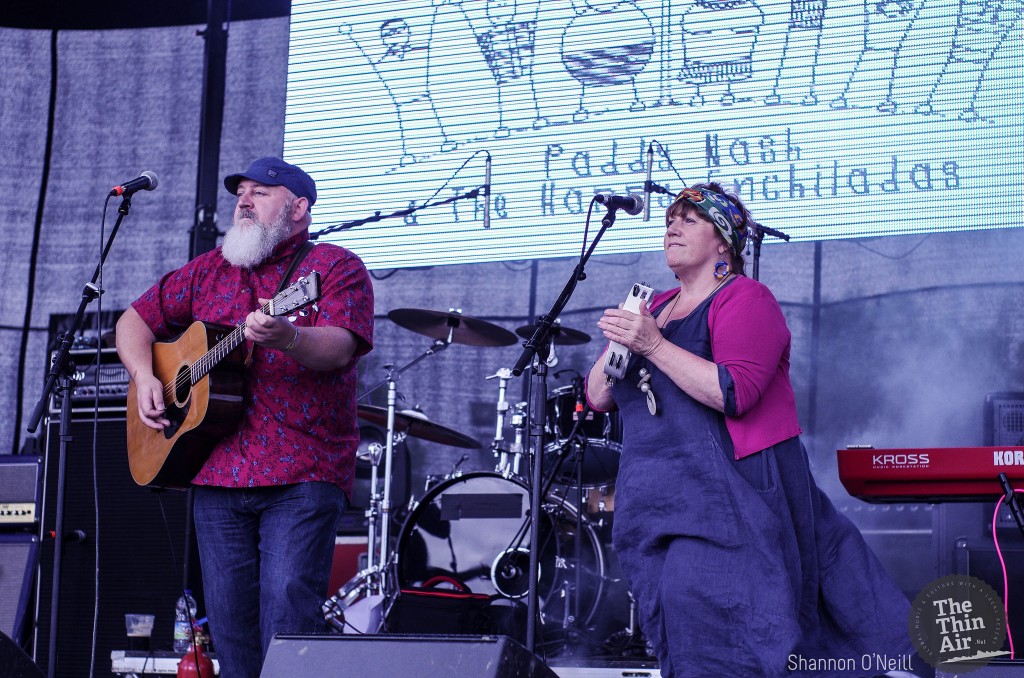 A short stroll down to the lower area of the site reveals Belfast's Streetwise Samba Band (pictured below) and their kaleidoscopic troupe of merry pranksters popping up on the hill for an impromptu performance. With a stream of curious onlookers shedding their inhibitions and edging ever closer, it proves an unexpected yet well-received happening marking a mid-point between afternoon and evening on Day Two. A further traipse down to Karma Valley stage and the Keady Clachan Ceili is fully under way with loose renditions of jigs, reels, poems and tunes including the fitting 'Lovely Derry on the Banks of the Foyle' offer a change of pace and tone. Culminating in a pre-arranged, traditional Irish dance-off slap bang in the middle of the audience, it's a heartening and unaffected appearance.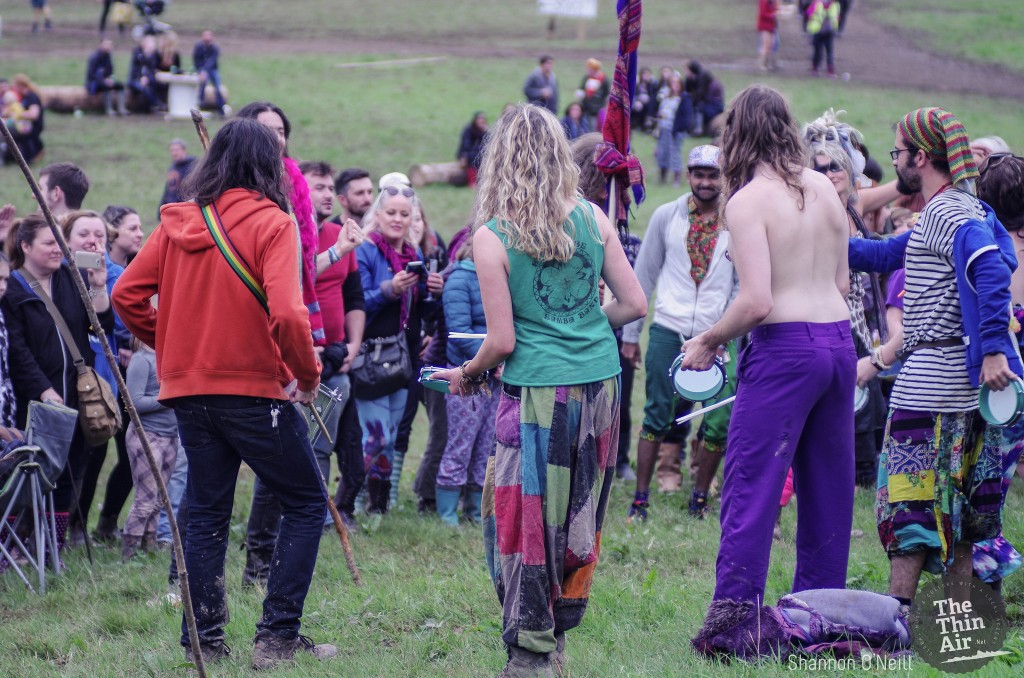 A brand-new prospect for many watching on, Cavan rock n' roll quartet The Whereabouts deliver arguably the slickest set of the weekend over on the Main Stage from 6pm. Despite there being more than a hint of peers The Strypes to their throwback sound and suited shtick, the Wayne Watters Reilly-fronted quartet spend just under an under an hour crushing any doubts about their own particular appeal. Helped along by several strong originals and covers including Spencer Davis Group's 'I'm A Man' and Led Zeppelin's 'Bring It On Home' it's an emphatic performance that – notwithstanding Reilly's exceptional harmonica playing – sees the up-and-coming band mark their territory with gusto.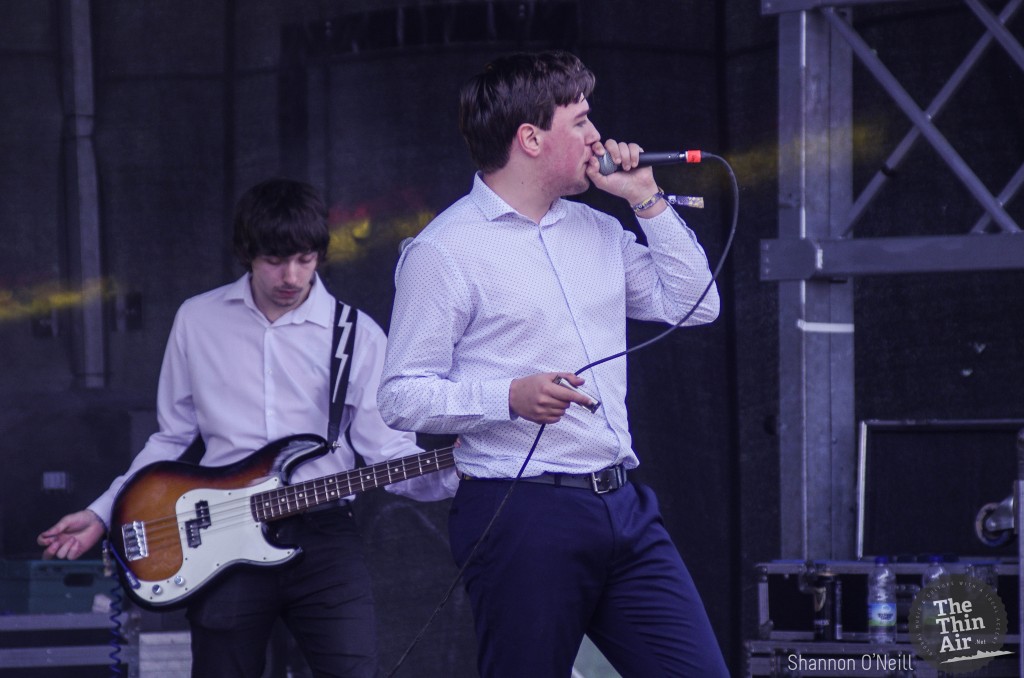 With evening creeping in, self-styled Dublin folk miscreants Lynched (below) are soundchecking to a full tent back down at Karma Valley. Having seen something of a marked rise over the last while – not least due to a coveted slot on Later With Jools Holland – their audience are perfectly balanced between attentive and zealous, newcomers and the initiated, young and old. "We've been up in Limavady loads of times and always heard about this amazing festival called Stendhal," Ian Lynch (pictured main) begins. "So it's really great to finally play here," he adds to a resounding cheer before the band work their way through a set including highlights 'Sergeant William Bailey' and life-affirming singalong 'Daffodil Mulligan'. Delivered with authority, charm and extraordinary musicianship, those lucky enough to gain a vantage point to witness the Dubliners are far from disappointed.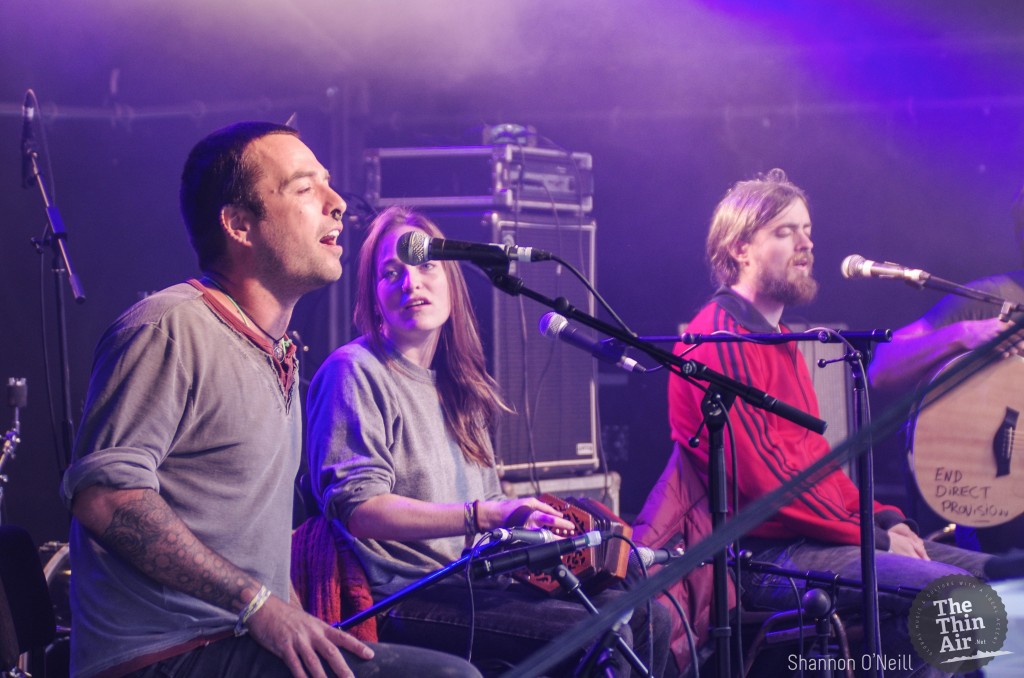 With a highly-anticipated new release in the works, Co. Down experimental folk singer-songwriter Joshua Burnside (below) and his band have assembled an eager crowd of heads over at the Woodtown Stage. Despite peaking on 'Black Dog Sin' and 'The Winding Straits' – a progressive folk gem from 2012 – new material very comfortably indicates Burnside is once more on the cusp of stellar things. Meanwhile, back at the Main Stage, veteran English singer-songwriter Damon Gough AKA Badly Drawn Boy – easily one of the biggest names on this year's bill – is nailing the likes of 'Too Many Miracles' and 2002 hit  'Something To Talk About'. Whether touching upon Brexit ("It's days like these that we should be sticking together, not moving apart. I was ashamed to be English when that happened but, look, we're still together") or dedicating 'The Journey From A To B' to the recent passing of a good friend, there's an intensely likeable quality to Gough's straight-up character. Combined with the depth and wisdom of his stripped-back tales, it's a performance that firmly proves that he is still very much a commanding songsmith.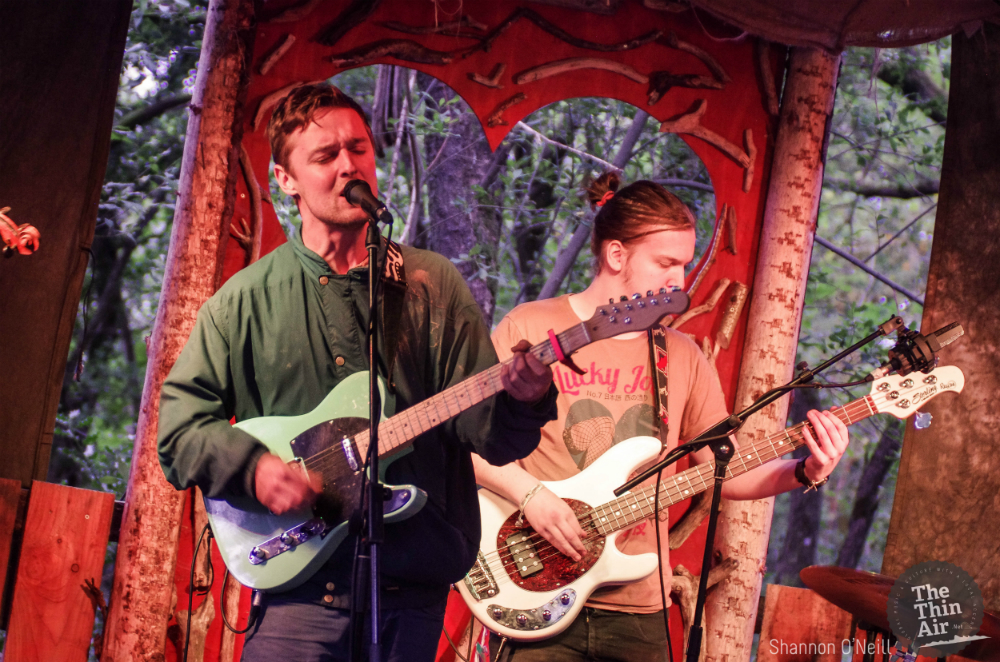 Featuring three-quarters of And So I Watch You From Afar in Rory Friers (guitar), Chris Wee (drums) and Jonathan Adger (bass), North Coast band Sons of Burlap offer possibly the most singular set of Stendhal 2016 back at Karma Valley. With their impossibly tight, downright celebratory brand of music "steeped in the ancient and forgotten folk sounds from hidden corners of Europe and beyond", they blast through a series of rapturous instrumentals to the delight of yet another packed tent. Very much a solid unit, the band have honed a sound that – whilst seldom making an appearance on the live front – betrays a collective passion in pursuing an approach that, defined by syncopated handclaps, flute voyages and a nonnative compositional approach, really pays off for being so distinctive.
But with Hayseed Dixie trailblazing a feel-good, Main-Stage-on-last-night-of-festival masterclass taking in everything from 'Eye of the Tiger', 'Duelling Banjos' (inevitable, really) and AC/DC's 'You Shook Me All Night Long', the unequivocal highlight of Stendhal 2016 comes at the opposite end of the sonic spectrum in the form of new-fangled threesome Worm Hears. Fronted by ex-Serotonin vocalist Charlie Loane (below), the London-based band meld fervour and fury with rare, breathless conviction on the likes of the stark 'Alone', 'I'm Cold' and closer, the positively possessed 'Would It Be So Perfect'. Propelled with a sense of deconstructed punk bombast, Loane's mantras of choking intent reveal a band whose tenacity, combined with a collective ear for the swell and repose of scuzzed-out alt-punk, will muster some spectacular things if they don't steer from the path they're currently on. Better still, you'll struggle to find a frontperson that means it so much.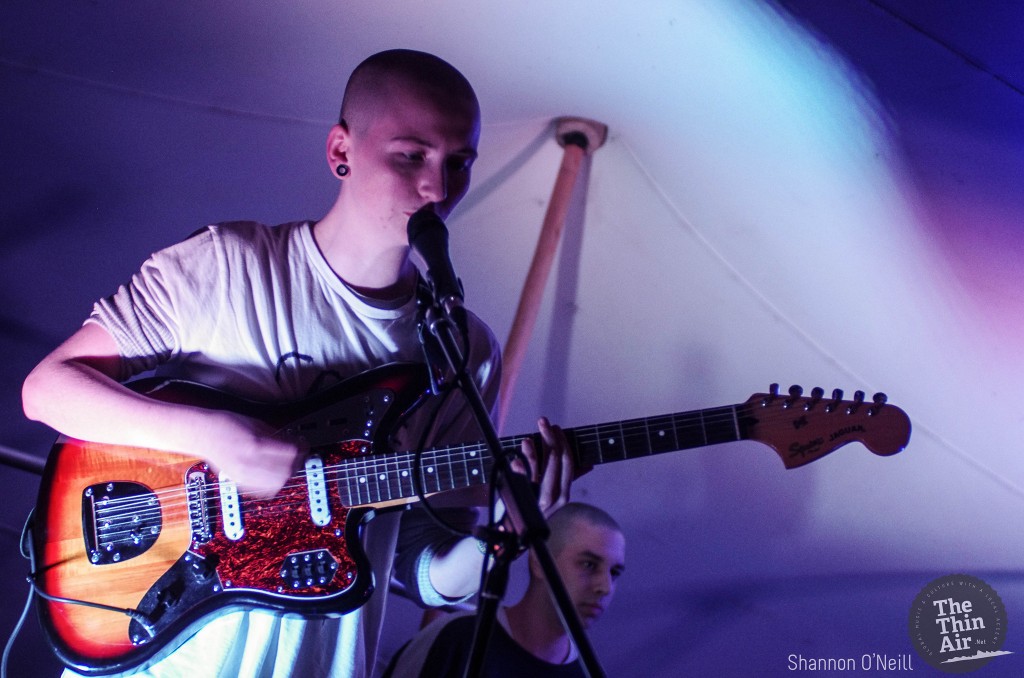 Leaving the criminally underattended Nerve Centre and Oh Yeah Stage to brave the mud once more it seems Hayseed Dixie are still trawling through the banjo and mandolin-led medleys of re-imagined classics as disparate as 'Let's Get It On', The Beatles' 'Michelle' and 'More Than a Feeling'. An inspired booking to close out the festival for many, the band veer between the wholly expected, inflated "redneck" caricature that their music clearly implies and socially-conscious, surprisingly earnest remarks about fracking, the NHS and more. But with his passing beginning to circulate throughout the festival site, dedicating their final song to Stevie Martin AKA Rainy Boy Sleep naturally coincides with things taking a sombre turn at the end up. It's a corroboration of an odd sense of lingering unease that woven across the two days and nights, the second of which closes out with assured sets courtesy of Naomi Hamilton AKA Jealous of the Birds, Bosco Ramos (below) and Derry producer Ryan Vail, whose closing performance – delayed due to hearing the news – culminated in a sublime cover of the Stranger Things theme, accompanied by his daughter.
Despite the heartache that is inseparable from this year's festival for many, the true spirit of community and open-handed sense of belonging that Stendhal offers up, year in, year out, most definitely comes into sharp focus as a result. Just one scroll through their recent social media posts reveals just how much the passing of Martin has affected the team, from organisers to volunteers; their grief is ours and vice versa. Such is the nature of Stendhal and the spirit that continues to set it apart, both far and wide. Whether you look to the most tragic instance or to the most joyous (which, frankly, are countless) that profound sense of oneness is tangible to every single person that takes the winding road to Limavady's Ballymully Farm each August. No matter what next year holds in store – no matter what the line-up, the state of the weather, the ticket-price or any other extraneous circumstances – you can be wholly certain Stendhal will deliver a weekend to remember. Brian Coney
Go here for Day One. Photos by Shannon O'Neill