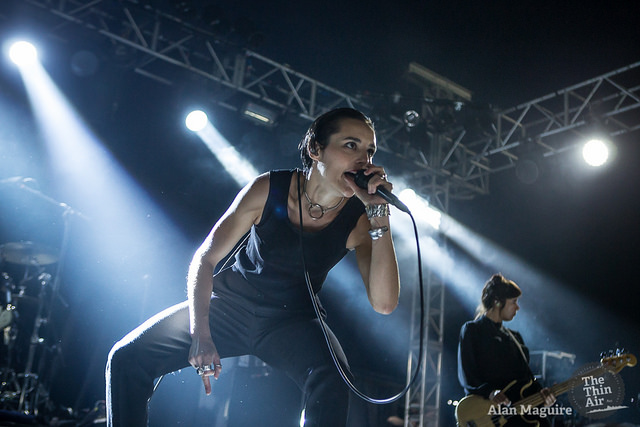 The Holy Grail of Irish music and the summer season is back again with the fastest selling ever Electric Picnic gracing Stradbally in its typically flamboyant style. Despite the speed with which tickets sold out, murmurs of disappointment have been rife all summer due to Picnic's decision to pull the lineup back slightly from the massive names of the last few years in favour of a roll call of bands that would have been standard in the earlier years of the festival.
This change is evident immediately due to the slightly older crowd strolling around on Friday afternoon pitching up their tents and preparing themselves for the weekend. However, that doesn't stop the youngest demographic of the weekend swarming to the Main Stage for internet favourites, the 1975. Despite pulling one of the biggest crowds of the weekend, the Cheshire group seem entirely unperturbed and race through their back catalogue with frontman, Matt Healy, living up to his role as the ultimate disaffected pop star. Technically, the band's sound is flawless and the set lighting makes for a highly stylish affair however, at times, it feels like that style is pretty much all the band has. There's little substance to the performance and despite tracks such as 'The Sound' and set closer 'Sex' sounding so impressive on record, the lack of charisma or interest from the band means they just don't carry well in a live environment. It's a disappointing set from an act whose potential seems to always be stunted by their image.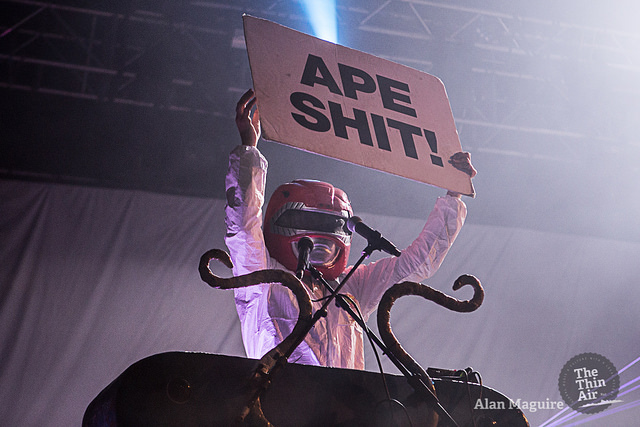 The opposite could be said of Electric Arena headliners Super Furry Animals (above). Their tried and tested brand of accessible indie rock couldn't be further from The 1975's posturing. A surprising hit of the festival, they rile up their crowd with tracks that span an eclectic and consistent career. They're charismatic and know how to put on a great show – it's quickly apparent that it's a pity that they're so often overlooked in the 'indie greats' name call. Over at the RedBull Stage, Cork locals Fish Go Deep close out the night to an avid, packed out audience. They've been so reliable for so long that it's easy to take the act for granted but with tracks such as 'The Cure & The Cause'  drawing the type of mass singalong very few house acts could ever inspire, Fish Go Deep are one of the best at what they do. The set ends on a technical fault but the lads take it in their stride as their first of sets this weekend is a roaring success.
Saturday morning roars in seemingly only a few minutes after the previous night's festivities have ended but that doesn't stop a packed out tent congregating for a live recording of the Soundings podcast over at the Mindfield. Sharon Horgan and Dylan Haskins present Irish comedian Aisling Bea, boxer Andy Lea and, seemingly the reason for the crowd, singer-songwriter SOAK. It's the perfect example of why Electric Picnic succeeds so better than most other festivals – marrying storytelling, artists and people from so many backgrounds and politics together gives Electric Picnic the type of heart that most corporate festivals lack. All of the guests are wearing Repeal the 8th jumpers against a backdrop of the Repeal the 8th heart logo – establishing the political theme of the weekend. For her only appearance of the weekend, SOAK performs tenderly and beautifully – further sealing her place as one of Ireland's greatest musical prospects at the moment.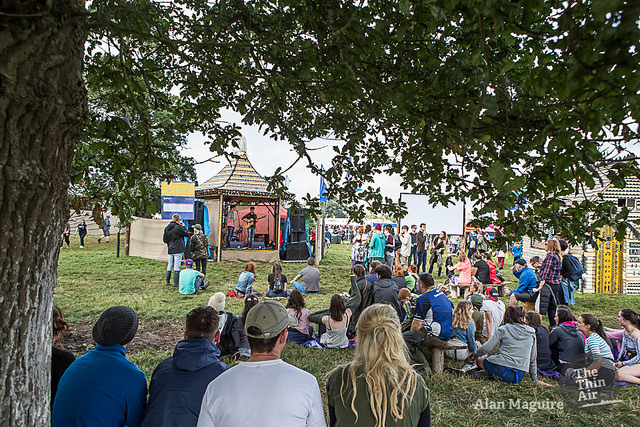 Up and comers, Hare Squead, have had an exceptionally successful few months and that's furthered by a rager of a set. Despite their short back catalogue, their energy and eclectic sound makes for an exceptionally fun set and there's no doubt that this trio will be massive in the next couple of years. Over at the Comedy Stage, Rubberbandits bring in the masses for their political humour. The large setting of the tent is a little too much for their intimate performance style but it's good fun and they reveal a new song about abortion which suitably rallies up the crowd.
Despite coming up against Noel Gallagher, The Shins pull a decent crowd into the Electric Arena for their late evening set. With the festival this year largely shying away from the veins of indie music within which the band exists, The Shins could have been forgiven for seeming a bit lost on the line up. This is far from true with the indie folksters storming through a stellar set list reminding everyone just how excellent and consistent a back catalogue they have. The old favourites 'New Slang' and 'Simple Song', of course, bring in the biggest cheers but James Mercer and his merry men remain one of the most underrated bands of their scene and an excellent set is testament to this.
Reginald D Hunter puts in a disappointing performance at the Comedy Tent next with a very short and not so sweet set. Several off colour jokes about bisexuality, Bill Cosby among other topics leave a bad taste in the audience's mouth and it's not helped by his end of set declaration that he 'believes he fulfilled his contractual obligations'. Dylan Moran couldn't be further from disappointing with a wonderful set – his cranky but insightful quips get better with age and his humorous takes on politics and life are scarily accurate and astute. He's an exceptional comedian and this gig only further proves so.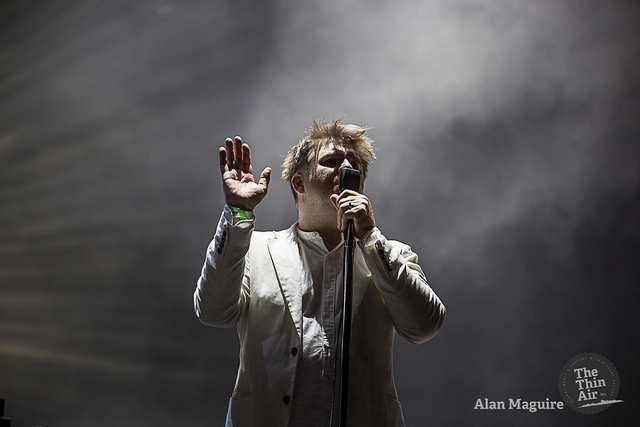 Ireland has been waiting for the return of LCD Soundsystem and the arena is full of expectation as James Murphy's (above) cult gang take to the stage. On his 8th year in a row at the festival, it's clear that Murphy's adores every moment and the band put in a spectacular performance. 'Daft Punk Is Playing At My House' sounds funkier than ever, 'All My Friends' is life-affirming and 'New York I Love You' is beautiful. It'd be easy to write LCD Soundsystem's return off as a money making reunion tour but every piece of the performance drips in authenticity and earnestness. There was hysteria when they announced their return and tonight proves exactly why LCD Soundsystem are considered heroes of our generation.
Sunday faces the hard job of following up from a magical night but Toots & The Maynalls try their best to breathe life into an exhausted morning crowd at the Main Stage. Their accessible reggae vibes do the job and leave everyone a little more upbeat as they face the day. Despite such an early slot, Californian indie kids, Local Natives, perform one of the better sets of the weekend, filling up a rainy main stage with their lush guitars. Cuts from 'Hummingbird' and 'Gorilla Manor' still sound as attractive as they do when they were released initially and garner quite the singalong. Tracks from their upcoming album 'Sunlit Youth' seem to signal a change in sound with a much more anthemic vibe which could be a good direction for a band that often get caught under the shadows of the counterparts, Grizzly Bear.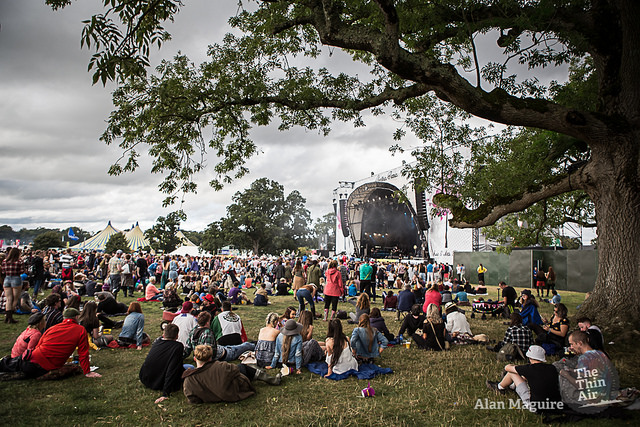 Wild Beasts roll out a seductive set of poppy indie tracks, holding the audience in the palm of their hands with Hayden Thorpe playing every part the charismatic frontman. Kano, unfortunately one of the smaller players in the recent grime revival, plays to his diehard fans with a fun and musically enjoyable show. He may not have the edge of some of his contemporaries but it's a wonder how Kano hasn't been the biggest breakthrough grime act with bouncy, soft, live performed beats and spitfire rapping.
Animal Collective are foiled by an early slot but also an uninspiring set. Compared to so many of the DJ sets and electronic acts on the line up who throw so much energy in their performance, the group couldn't look less interested and just reel out tracks. Comparatively, New Order (below), show exactly how to perform electronic music over the main stage – every track lands to a joyful crowd and they perform with the enthusiasm of band of a much younger age. With Savages (pictured, main) delivering a typically storming set over at Rankin's Wood, New Order's stage backdrop is mesmerising and the band are flawless. By the time that closer, 'Love Will Tear Us Apart', kicks in it doesn't matter that most of the audience's parents were once New Order fans – the atmosphere is electric.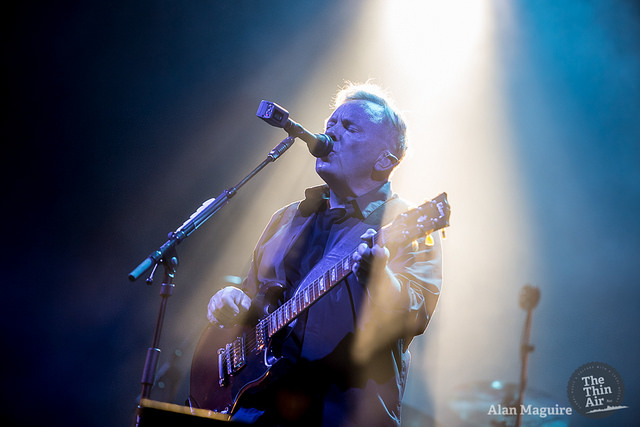 With one of the odder clashes of the weekend, the final act of the weekend for most punters lies between the dramatic pop of Lana Del Rey and grime king Skepta. Despite popular opinion swaying towards the former, Skepta draws a massive crowd (mostly composed of the tallest men of the festival). Although some sound issues occasionally making it difficult to hear the Londoner on his second Irish festival run of the summer, Skepta gives one of the most energetic performances of the weekend. His enthusiasm and high octane tracks energise the fans for one last time while tracks such as 'Shutdown' and 'That's Not Me' cause minor rioting. He's a diamond of a performer and one of the brightest acts in the UK today and brings Electric Picnic to an end that leaves you only wanting more. Kelly Doherty
Photos by Alan Maguire
Friday and Saturday
Sunday