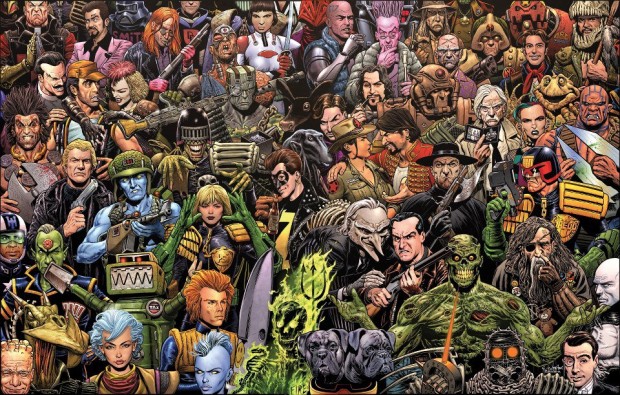 The story goes that the editors of 2000AD – British sci-fi institution and self-styled 'The Galaxy's Greatest Comic' – chose its title thinking it would never see the millennia. Nigh on 40 years later it's still in print, with this week seeing the release of its landmark 2000th issue, giving a perfect chance to reflect on its almost incalculable influence on the comics world and pop culture as a whole.
When editor/writer Pat Mills was commissioned with creating a Star Wars cash-in in 1977, he saw it as a vehicle for his own brand of anti-authoritarian anarchy, enlisting fellow scribe John Wagner, who had collaborated with Mills on the equally violent Action and Battle comics. Drawing inspiration from the B-movies of the day, they delivered punky, hi-octane tales like Harlem Heroes (an all-black Rollerball rip) and Invasion! (which saw Soviets thinly-veiled as 'Volgans' executing Margaret Thatcher in the opening panels) under the guise of alien editor, The Mighty Tharg.
The comic really hit it's stride with Wagner's post-apocalyptic Dirty Harry, Judge Dredd. The combination of artist Carlos Ezquerra's striking character design (with Dredd's eagle reflecting his childhood in fascist Spain) and scripts full of frantic violence and pitch-black humour guaranteed an instant hit. Over time it would mature from satirical, cartoony vignettes into full-scale, socially-conscious epics, and Dredd would become one of the most iconic figures in British sci-fi, inspiring a solo magazine, an Anthrax song and, as the excellent documentary Future Shocks: The Story of 2000AD suggests, probably Robocop.
There was so much more though: Mills' highlights included Celtic warrior Slainé and Nemesis the Warlock, a complex political allegory whose freedom fighter hero is drawn into committing atrocities of his own, while Wagner-penned Strontium Dog's mutant bounty hunter Johnny Alpha doubled as a metaphor for civil rights.
Through the years the comic attracted the cream of British comics talent, with many using the comic as a stepping stone to American comics. Alumni include writers Neil Gaiman, Alan Moore (Watchmen, V for Vendetta) and Grant Morrison (Arkham Asylum), with artists Dave Gibbons, Kevin O'Neill and Brian Bolland among those making a splash stateside. There's been plenty of Irish talent through the years too: writers and artists like PJ Holden, Michael Carroll and Rufus Dayglo, not to mention Belfast's Garth Ennis, who anchored Dredd through the 90s and is finally getting the recognition he deserves following the Amazon Prime adaption of his Preacher graphic novels.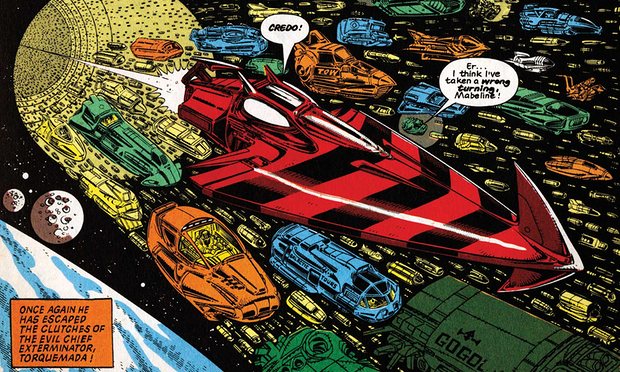 It hasn't all been plain-sailing either. Ennis aside, the 90s were tough, with bad licencing deals including the risible Sylvester Stallone Judge Dredd film and an unfortunate embrace of 'lad culture' brought dwindling sales and found it on the brink of extinction. A buy-out from videogame developer Rebellion in 2000 saw a true return to form, with fresh faces like D'Israeli and Al Ewing adding new strips that steadied readership. Healthy graphic novels and videogame tie-in sales were the result of finally finding owners who understood the comic, with 2012's cult classic Dredd movie reboot finally banishing the ghosts of '95.
It's hard to say how far 2000AD's legacy stretches beyond comics, but plenty of artists have payed tribute to it over the years, in TV, music and film. Simon Pegg's classic sitcom Spaced was littered with references, leading to a tie-in comic promo for his debut feature Shaun of the Dead in 2004. 28 Days Later screenwriter Alex Garland acknowledged how the punky attack of the comic was inspiration for his own film, and today, Charlie Brooker's uniquely British dystopia of Black Mirror feels close to the 2000AD one shots Tharg's Future Shocks. Beyond Anthrax, musicians as diverse as Lemmy, Transvision Vamp ('Hanging Out With Halo Jones'), Ride, Richey Edwards and Die Antwoord all counted themselves fans, with even Run DMC wishing it a happy tenth birthday.
Prog 2000 welcomes many old favourites back to the fore, with artists like Brian Bolland and Mick McMahon contributing strips for the first time in years. It doubles as both a celebration of its own legacy and an introduction to new strips, reflecting a publication that continues to grow artistically into its 40th year. 2000AD still has plenty of places to go, too: by its own admission, it's a bit of a boys' club, with Emma Beeby becoming the first woman to write Judge Dredd as recently as 2013. Still, that's a sign of a comic striving to try something new, which bodes well for the next 2000. Caolan Coleman