Live Reviews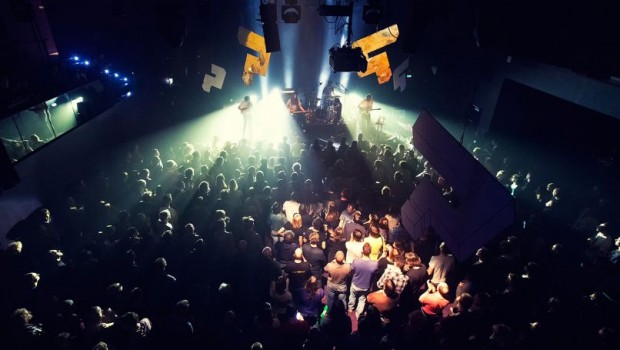 Published on November 28th, 2016 | by Stevie Lennox
0
Le Guess Who? 2016 @ Utrecht, NL

It's been a weird year for the 'Boutique' festival market, with ATP coming to an official end following a string of debacles, but in its tenth year, Utrecht's Le Guess Who? somehow does it. Across four days, it ties together seldom-seen legends, a pocket of essential esoterica, and today's most boundary-pushing acts, the lineup this year curated by Wilco, Suuns, Julia Holter & Savages.
Utrecht is the sophisticated, civilised, more communal sister city of Amsterdam, located just half an hour south of the capital, and in a city with the Rietveld Schröderhuis built in 1924 it houses the kind of forward-thinking culture befitting a festival such as this. Unphased by genre tags or the lofty tag of experimentalism, the crowd is a fitting reflection of the lineup itself, both of which are as diverse across the spectra of age and gender as this festival frequentee has seen. With cinema screenings, art installations and even a series of food co-op events
Again, where ATP failed infamously and dramatically this year – after several other times – in offering boutique, curated lineups with no profit margin, this is a much more deserving alternative, and in its tenth year has earned its laid-back, trusting staff – nary a festival casualty is to be seen – and door policy that tends to bog down many a music festival.
Most of the action conveniently occurs in the massive, 6-stage TivoliVredenburg music complex, which, like much of the city, is SimCity-like in its perfection of city & facility planning, upgrade on previously existing venues. Timing and organisation, as you'd expect on the continent, is generally impeccable, minimising personal scheduling difficulties, with no heavy pushing of big-name beers or hefty security checks. Nor was this a Coachella-esque fashion parade. It was an unpretentious gathering of people here for one thing, so let's get down to it.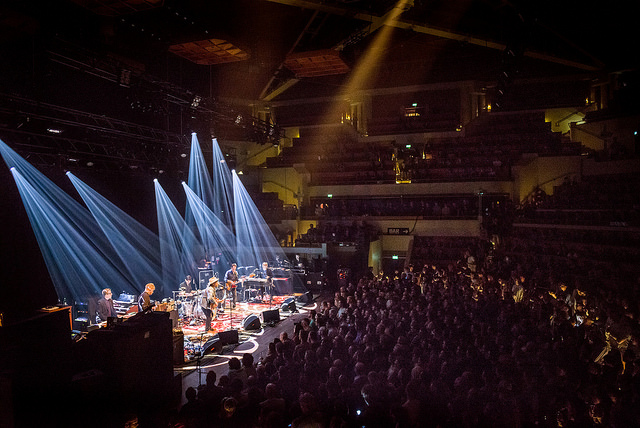 Wilco @ Le Guess Who? 2016, © Juri Hiensch

LA's garage-psychsters Wand close out the first night by bringing the raw power in one of the most assured, tight sets all weekend. Deerhoof's schizoid indie-noise-pop is its usual eccentric, infectious self, where no-one leaves without a baffled grin, BEAK> do what they do as well as they always do, with Geoff Barrow's, self-deprecating patter always bringing levity to what would otherwise be a tense affair. Many of today's finest indie and alternative outfits thrive, like Suuns, Preoccupations and established guitar heroes like Lee Ranaldo, with his young ensemble El Rayo and Dinosaur Jr. Lesser-known earnest Canadians & Lou Reed-afficionados Nap Eyes win some new fans in Theatre Kikker across town.
As we walk up for the final performance of Friday, a sign on the door to the Ronda theatre reads "PLEASE NOTE: TIM HECKER SHOW WILL BE IN COMPLETE DARKNESS. MUSIC WILL BE PLAYED ON EXTREMELY HIGH VOLUMES". In a lineup that includes out-there techno acts Pita and Fennesz – brought over by Wilco, of all acts – Hecker had to pull something special out of the bag in a festival that normalises this kind of glitchy experimentation. Sure enough, with a room illuminated only by blue-purple-hued smoke, bodies become anonymous silhouettes gazing at something or nothing in particular. Sitting head-in-hands, or standing uniformly, Tim Hecker's music holds the room together in isolated unity. No chatter is audible as low frequencies physically move our bodies and turn the building into a resonant instrument.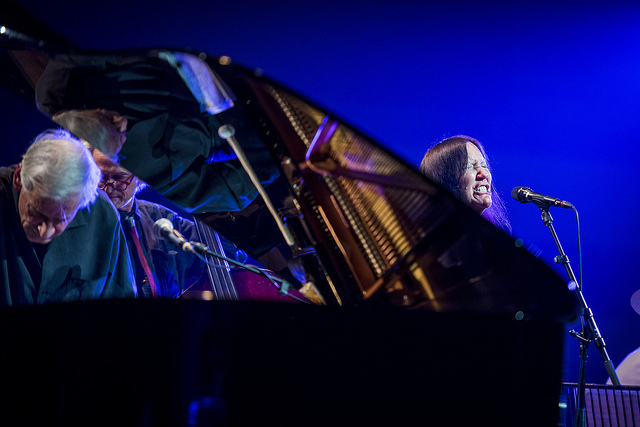 Patty Waters @ Le Guess Who? 2016, © Tim van Veen
Following the US election, stage patter is generally muted, with a message of solidarity and escapism by most, just for the weekend, with a particularly down-to-earth, unpreachy few words in a typically enjoyable set by alt. Americana axeman & singer-songwriter Steve Gunn. The generally ineffable Swans, as to be expected, play loud, long, and cerebrally viscerally in a set that unfortunately steals people from the Priestess of the Avant-garde, Patty Waters. Innovative as many acts here are, few, if any, compare to Waters' and her experienced trio's truly groundbreaking free jazz in what was only her sixth ever live performance – a fact that becomes understandable once we hear her voice and vessel it becomes. Pulling only from her two game-changing 1966 records, both she and the band are still fresh. A testament to her lasting artistic spirit, she returns to encore with 'Hush Little Baby' before stopping early to ask original pianist Burton Greene to "play on the inside of the piano. I love it when you do that."
London-based Irish experimental improvisational organist Aine O'Dwyer plays a muted, atmospheric performance in a church, with no speech or interval aside from the dropping of her sheet music between movements from the organ booth up-high. It's not as loud as it could otherwise be, and the sounds of outside get in the way of the audience's full concentration, so circumstances detract from what would otherwise be a captivating show. Guitar & percussion duo 75 Dollar Bill, on the other hand, while quiet, are in the right conditions. Using instruments of old, they blend strains of folk and classic experimentation into something new.
The passing of Leonard Cohen was known to all on the second day of the festival, where many awoke to the bells of the city's Dom Tower playing through some of his signature songs, as it did earlier in the year with Bowie and Prince. As fantasist as it sounds, Utrecht, it seems, has remained in good stead as a place of respite for many in what has been a black cloud of a year in 2016. Fortunately, it's hard not to get a taste of the world beyond the lonesome, crowded West when we most need it in true Dutch punks The Ex. Capturing the spirit of the event by not just playing from their own back catalogue, but with Ethiopian dance & music ensemble Fendika and more, across several hours during the weekend. Not far removed from this is the man advertised as being the Hendrix of the Malian ancient traditional lute, Bassekou Kouyaté. It's a fair comparison, as he captivates with surprising pedal use and liquid performance, transforming the ngoni into an extension of himself, seemingly shaping the room into his own vision through assisted by his wife Sacko and band, Ngoni Ba.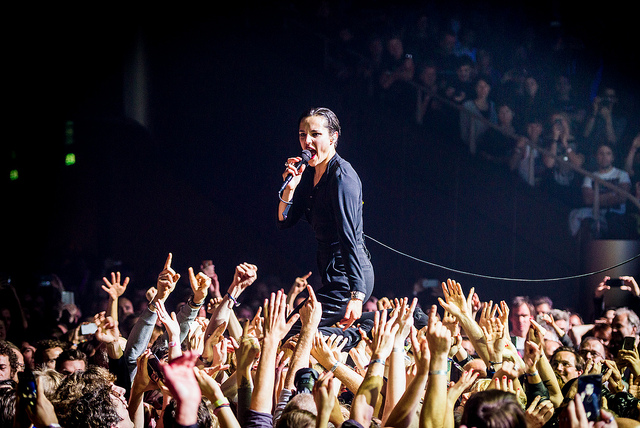 Savages @ Le Guess Who? 2016, © Jelmer de Haas
Savages pull one of the biggest crowds of the festival, and with their curations being amongst the most left field, they're a nice yin to Wilco's millennial dad rock yang; Frontwoman Jehnny Beth owns the room, commanding a crowd in a way that no-one else this weekend does as she surfs and strides – yes, fully strides – atop the crowd as Gemma Thompson, pedalboard-gazing, lays one towering guitar line over another amidst squalls of feedback. Their set fully affirms their position as one of guitar music's great hopes, and 2016's quintessential rock band, being to Le Guess Who? what the Foo Fighters are to the likes of Reading. That's not to say Wilco don't bring the power and play one of the most finely-crafted sets of the festival, with Nels Cline's guitar playing being its usual sublime, hi-fi self. They even throw in some surprisingly dissonant and heavy arena-tricks & arrangement curveballs that always hit after years in the business of crowd-work.
You could rely on Savages to bring some of the most leftfield acts to the festival, where Hertz' more vertical, claustrophobic layout aptly sees some performance art from cello, electronic, vocal performance art Ectopia, which includes the intensely affecting vocal performance of Adam Christensen, who remains haunched, face obscured, in a dress for much of the performance. A chance trek to this show leads to the regret of what else may have been missed out on while the opportunity was there. It's a difficult choice when overall quality of tune-based guitar bands here is so strong, but in another year, I promise myself I'll more frequently venture outside the comfort zone and leave some room for spontaneity, for if that's how great art is created, so too would that rule apply to the experience of it.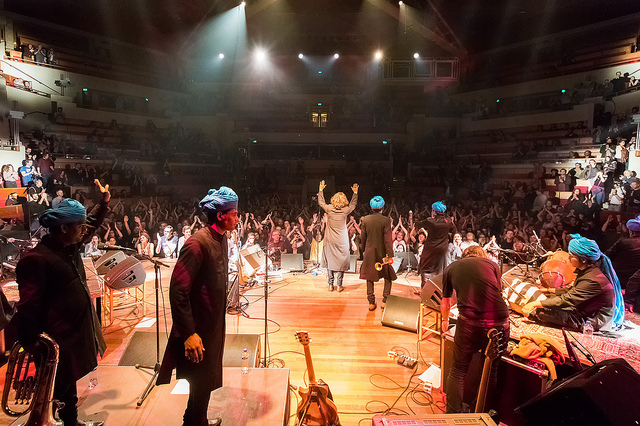 Junun @ Le Guess Who? 2016, © Juri Hiensch
It's unfair to call Le Guess Who?'s closing act, Junun, Jonny Greenwood's project; for even though he's the PR reason the band and people are here, he takes a back seat, orchestrating as he does while Israeli composer Shye Ben Tzur and the Rajasthan Express fuse Bollywood brass bombast with the bowed-string instruments of the Manganiar people, and Qawwali music with some electronics and a touch of rock sensibility. It's fitting that the festival closes with an act that has a Vox AC30 sitting comfortably aside centuries-old traditional Eastern & middle-Eastern instruments, as a key member of probably most important band in contemporary Western music since the Beatles can take the back seat amongst arguably even more gifted and well-travelled musical families from across continents, to a crowd of people who are fully receptive to the idea of the amalgamation of two vastly different cultures for an entirely new experience. It's a reminder that life should imitate art more often. Come not just for the music, but the location and spirit of the whole thing, and be beguiled. There's no chance next year will be missed, civilisation-permitting.