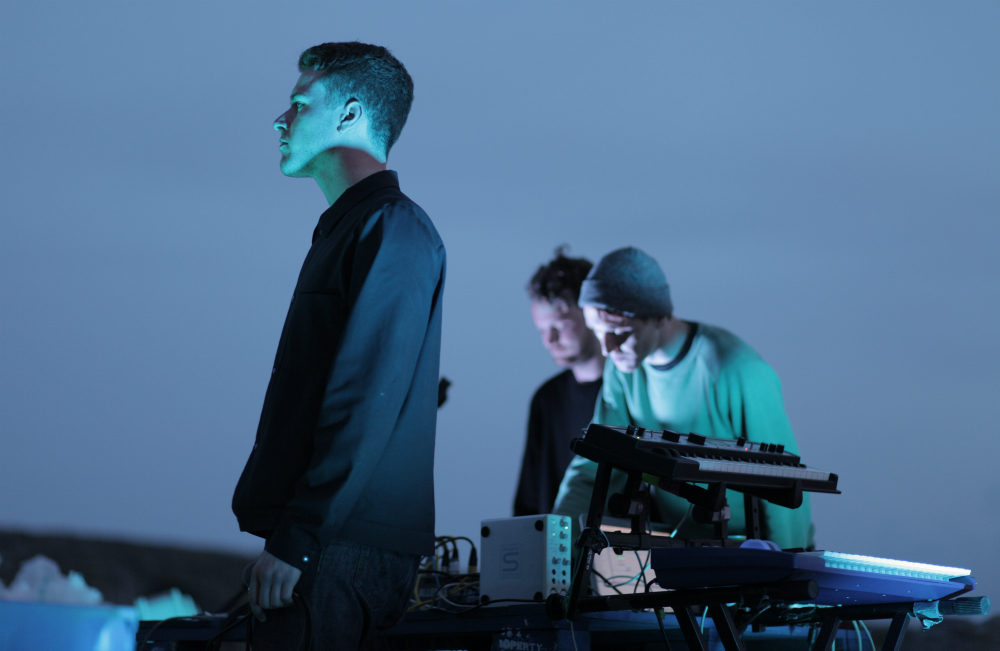 Presented by Improvised Music Company in association with Note Productions and HomeBeat, SPECTRUM is a new festival experience for fans of innovative music-making.
Set to present three days of stimulating music "at the creative intersection where jazz, contemporary, rock and electronic music collide", the Dublin festival – which runs from March 10-12 at Whelans and The Opium Rooms on Wexford St, Dublin – will have a focus on the live and improvised, complimented by a compelling programme of talks.
In the first of a two-part feature, Brian Coney chats to Kenneth Killen (director of Improvised Music Company) and Emmet Condon of Homebeat to discuss the birth and vision of the festival, which will host White Collar Boy (pictured), Kobina, Dans Dans, Hedvig Mollestad Trio, Ronan Guilfoyle, Izumi Kimura, Barry Guy, Paul G Smyth, Evan Parker and more.
Go here to buy tickets
Hi guys. When was the seeds for Spectrum sown – what got the ball rolling?
Kenneth: It started with seeing Dans Dans at Jazzahead (European jazz expo) in Germany last year and I really wanted to book them. I already had Ronan Guilfoyle's 'Hands' booked and I was thinking about the differences in the bands but also the similarities. Even though the sound is quite different on these 2 bands, the attitudes were fundamentally the same, so it started to build from there; this concept of an attitude to creative music that drives different outputs. Brian Carson (Moving On Music) had seen Dans Dans also at Jazzahead and wanted to book them. He had Hedvig in mind also for a double bill. Coincidently, I had seen Hedvig a few weeks earlier and thought it was a great pairing. Again, different outputs but the same vibe. So, we started to build on this concept of a broad spectrum of outputs driven by a creative spirit that exists outside of the mainstream. Then I got on the phone to Matthew to see what Note could plug in and he suggested Emmet at HomeBeat and we kicked into gear collectively.


What did you set out with in mind when preparing the gist of the festival; who was it "for" and what was the end-goal in mind?
Kenneth: The goal was simply to create a festival for artists who work at creative intersections, who don't neatly fit into one category or another. That's not earth shattering or anything but it was important for us at least to reflect what we are hearing in jazz, improvised and other creative music today. The lines are constantly being blurred. Ultimately definitions and stereotypes are so limiting and just don't cut it. What some would describe as 'fringe music' has been steadily moving into 'the middle' for the past few years and musicians are influenced by each other, irrespective of genres. A lot of musicians don't even think in terms of genre. They do what is instinctive to them and all of those instincts are informed by their peers. Izumi Kimura (performing at midday on Sunday with Barry Guy) described her music as having "aliveness". She may have coined a new word but I think it's a great one. It captures this sense of spontaneity, of being in the moment, of taking a leap of faith, trusting your instincts and A lot of the musicians who will play Spectrum live in the moment of their music and it's different every time. And that's what keeps music fresh and exciting so there is jazz and electronics and free music and folk and all sorts of things that all share the same DNA. And it's alive!
It's a collaborative affair between IMC, HomeBeat and Note Productions. Do you feel a synthesis between different facilitators and curators is important to getting the best possible line-up/angle from the get go?
Emmet: I think the common ground is the interest in bringing new audiences to new and crucially interesting and arresting music. All three act in a somewhat evangelical manner in their approach to forming a community of people who are invested in music as an art form, and hopefully through the bonds of this community the audiences will take the leap with us to explore acts that catch our eyes and ears. So, from that level it's not so much about the 'best' line-up more about one that has the correct balance for the event – but in saying that of course you're trying to weigh up the more experimental elements with the accessible ones to entice people through the door, and also to give the festival as a whole a heart as opposed to the colder feel of a totally experimental line-up. SPECTRUM is very much about the intersections between all of the genres as opposed to documenting the extreme isolated reaches of each.
Kenneth: I agree. When people who specialize in niche or non-mainstream live events come together to curate a festival, it is a great experience because we all have a shared goal of turning largely similar audiences onto other musical experiences. We want as many people to hear the music as possible, hence our tagline of 'creative music for curious ears'. There is an audience out there that are curious and willing to take a chance on artists they may not have heard before but the fact that they want to check out this music is the important part. We've a responsibility to create rewarding experiences for that curiosity.
Although that mightn't be instantly obvious to some, the experimental music landscape in Ireland is pretty rife at the minute. Is it the strongest it's ever been?

Kenneth: I think so. Certainly, in recent memory. There is an appetite for the new. Experimental music has been moving toward 'mass consciousness' for a while now. It's orbital in a way. Sometimes it's closer to mainstream while other times it's light years away.


How important is it for festivals like SPECTRUM to shine a light on what we have to offer in terms of experimental musicians, outfits and collaborations?
Kenneth: It's probably one of the primary motivating factors to be honest. We are putting this music on all the time. Folding it into an experiential festival format is a logical step in a lot of ways and I think the name SPECTRUM can leave programming options open, and most importantly diverse. So, as a platform it's a good way to tie together what a lot of promoters do already but present it under one new umbrella.
The line-up for the first SPECTRUM is a nicely varied affair. What did you take into consideration when compiling the bill?
Kenneth: We wanted to make sure the line-up was diverse but also of a really high quality. From IMC's perspective, we are always trying to flip standard ideas of presentation and create new models from it. We did it with 12 Points by creating a horizontal festival model with no headliner. This time, working together with Note and Homebeat, the goal was to take genre specifics out of the equation and challenge the audience to judge for themselves what the music is saying. There is jazz DNA all over the festival but frankly it's so much more than that. So instead of going down a traditional route of sub-genres in jazz we wanted to side-step this idea of adjective hierarchies, of labels entirely and focus on the music. An artist like Hedvig Mollestad for example is a jazz musician who plays jazz but also punk rock, pop, orchestral music and many other things. Like a lot of musicians, she has amassed a broad musical vocabulary and in her trio, she funnels that into her own thing where Hendrix meets Zappa meets Deep Purple meets John Coltrane. Jazz and improvised music is undoubtedly creative music. But creative music can be a lot more than jazz so that was a foremost in our minds when looking at the billing.
There's a nice relationship between Spectrum and Moving On Music in Belfast. How important do you feel it is to reinforce the commitment to exposing and hosting home-grown experimental music right across the island?
Kenneth: It's important for promoters in Ireland to work together more, for the benefit of audiences primarily, but also to galvanise and support creative music on the Irish scene. Our job is to support new talent in jazz and other creative music so everything we do has that in mind. Moving On Music have the same goal, as does Note and HomeBeat, so it's natural that we should work together to raise the profile of Irish talent and celebrate it the same way we do for visiting artists.
As well as live music, talks also make up a sizable part of the festival. How do these panels feed into the overarching essence of the festival as a whole?
Kenneth: The panels are designed to complement the overall narrative. However, for audiences checking out this music for the first time, it's a great way to add additional context. Having two legends like Barry Guy and Evan Parker sit down and have a chat on Sunday 12th is a great way to put what we are doing in 2017 into the context of what these musicians have been doing for over 40 years. It's not often you get a chance to ask them what the free jazz scene was like in the 70's in the UK, for example. How did they feel about what they were doing? Did they realise they were creating something different? Was it a natural thing? What influenced them? Safe to say I'm looking forward to that one!
The panel on Friday is essentially trying to define the undefinable. What's easy to communicate with music becomes difficult when you want to say it with words. It's the reason we have genre definitions in the first place so that people understand broadly what the musical style is. However, when genres collide in myriad new ways, the adjectives and labels on these genres or sub-genres or sub-sub genres gets longer.
Our desire to label things is becoming urgent in a way. It may be a by-product of trying to tame the torrent of information we live in now. But at a certain point, you can't say it with words because it's simply a musical experience. A lot of musicians certainly feel and think that way. They don't think in genre definitions. So, the discussion there is really about what do we call it and when do we stop labelling it to fit neatly into a journalist or critical definition and, most importantly, what would happen to the music if we were to stop labelling it? Would people attend a jazz gig if they didn't know it was a jazz gig? Ultimately there are only two labels, and both are completely subjective; music is either good or bad.


With the bigger picture in mind, how do you hope Spectrum will open up doors – literal and figurative – for experimental music in Ireland over the next while?

Emmet: I think from my side at least, the interest in more experimental forms of music seems to be very much in the ascendency here – although the mainstream is still the polished behemoth that bestrides the whole music world, the growth of labels like Erased Tapes, Devonali and so forth points to a new appreciation for a more intellectual form of popular music which is both heartening and encouraging in terms of developing an audience with a hunger and an appreciation for different types of music.
I think we all feel, as rounded music lovers, that the idea that a person should be into jazz, but not let's say electronic music, fairly ludicrous – so hopefully SPECTRUM starts a real dialogue and establishes an actual physical space in the calendar where people who like music in general can come and experience the familiar and the unknown in equal measure.
At the end of the day, IMC, Note and HomeBeat all exist on the mantra of bringing new and fresh music to people – we're not doing world tours with established stars in general, for the very most part we're going out into the musical darkness to shine a light on new and uncovered corners of the world, trying our best to bundle that gem in an attractive way to present it to a new audience here. Most of all, I hope it creates a space where the disparate elements of what we promote individually can exist together – I think that's a really valuable thing to have here.
Kenneth: I think it's an opportunity for us to rethink genres and have a festival that celebrates diversity but also links some core strands of musical DNA together. As Emmet said, we all want to bring new music to our audiences and we also want new audiences to hear the music. So, SPECTRUM gives us an opportunity to collaborate in a positive way and gives us scope to programme a diverse bill that can look at 'spectrums' across music in new ways. Whether it be a stylistic spectrum as we have this year, or looking at the gender spectrum, or a spectrum of content where music is just one element in future editions. So, we've lots of options for opening new doors and maybe shutting down some stereotypes at the same time, and we are hoping that our audience in Dublin get fully on board with open ears and open minds!