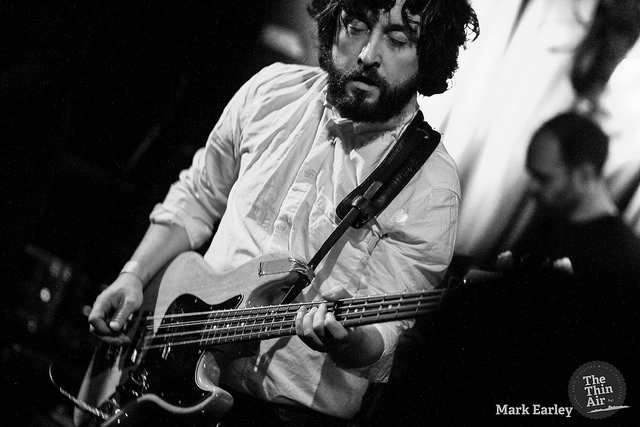 It says a lot about a band who having not released any new music in over six years and who play live so intermittently, that they still manage to more or less sell out two nights in one of Dublin's best-loved venues. Ever since their formative years, there has always been a strong bond between The Redneck Manifesto and their fans and tonight proves to be no different with bassist Richie Egan commenting after just the second track; "Wednesday was cool but already Thursday feels a lot better".
All six members – Niall Byrne (guitar), Mervyn Craig (drums), Glenn Keating (synth/tambourine/shaker), Matthew Bolger (guitar), Neil O'Connor (synths/percussion) and the aforementioned Egan – spend just a few short seconds fine tuning and then launch into new number 'Sip Don't Gulp', something that catches more than a few people out. The opening notes of 'Smile More' from 2010's Friendship are instantly recognisable, which leads to many a head bobbing in unison to a song that is still as fresh and absorbing as ever.
The band are renowned for their multi-layered sound structures and continuous time changes, on top of which at least one member will usually take centre stage for a period of time, while his bandmates will go along with it yet meander their way through various avenues and alleyways, before all six reunite in a fluid and rather mesmerising wall of noise. It's clear that this formula still works for them as new songs 'No One Plans Eleven' and 'Spicy' (working title), sees Byrne, Bolger and Egan partake in mini solos which culminate in broodier and heavier sounds emanating from the stage, while 'Jar Jar' (working title), which Egan doesn't partake in too much, has more a pastoral feel to it. If these are still seen as works in progress then the bar has indeed been raised for their next release.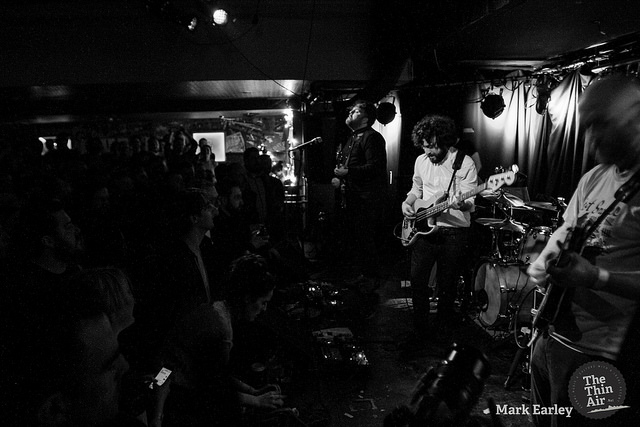 'Drum Drum' sees Craig unsurprisingly hit the ground running, while Keating and O'Connor's playing envelopes the room in a haze of synth, before a sudden jerk in direction sees all six converge into one pulsating force. Elsewhere, crowd favourite 'We Still Got It' has the audience clapping their hands and singing Bolger's familiar guitar licks back to him. Egan then asks the crowd to takes their phones out and film 'Weird Waters' so that the clips can be submitted and a video collage be put together, he jokes asking for all filters to be used as he'd "love to be a Pikachu bassist".
During the slower 'Another Day of Hunting', Byrne plays a repetitive tick-tick-tick like riff that seems to have the same effect on his bandmates as the Six-One Angelus does on the people who appear during it, where they don't move and take it all in, while the tail end of the track ends up in a glorious cacophonous wall of sound.
'Rubber Up' sees the crowd movement go up a few gears as crowd surfing ensues, although one poor chap chooses the wrong time and cannot get back down, such is the continuous fluidity of the bodies underneath him. Egan realises he's doing a lot of talking and blames his whiskey intake, while Bolger jumps in with "yeah we're meant to be an instrumental band anyway" which gets a great cheer.
They finish up with an exquisite rendition of 'Black Apple' and then leave before coming back out for 'I Am Brazil' and 'Break Your Finger', songs that merge effortlessly into one another and highlight beyond any reasonable doubt that these six fellas are meant to play together. Period. Conor Callanan
Photos by Mark Earley