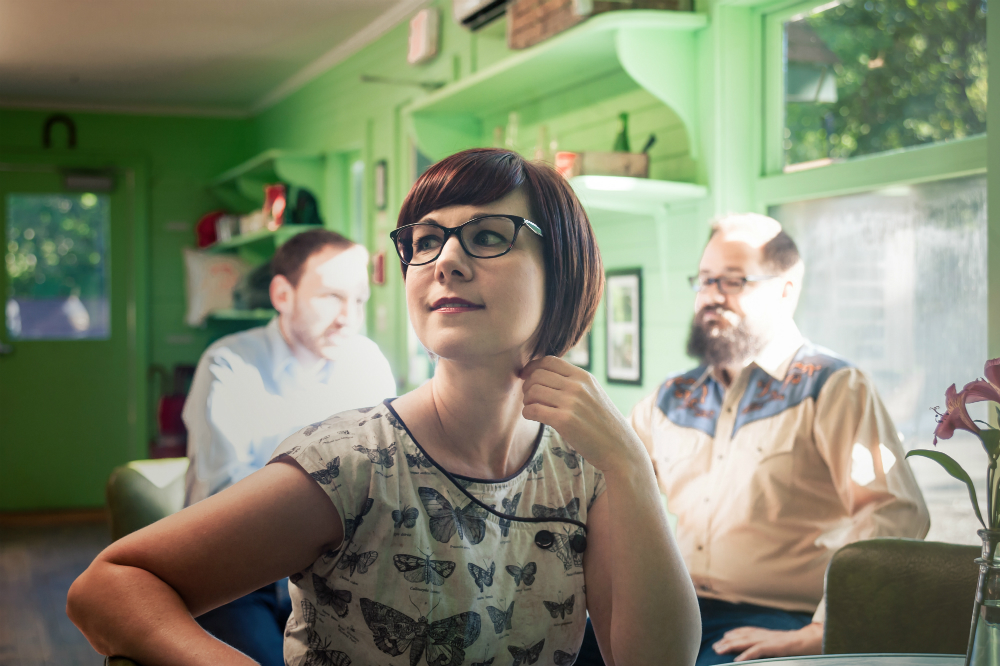 Antrim's The Old Courthouse was a fitting venue for the April Verch Band, which brought its vibrant, fiddle-based Americana to a building that dates to 1776. Fitting because, in a way, fiddler and step dancer Verch was bringing the music home. In the seventeen hundreds over a hundred thousand Irish left home to begin a new life in North America, bringing with them their fiddle music, songs and dance traditions, and these roots — amongst others — were evident during a captivating ninety-minute show.
Of course, along with the Ulster-Scotts/Irish came the Scottish, French and Polish — amongst multiple nationalities — and a little of the jigs, reels, balladry and polkas of these distinct traditions also infused Canadian Verch's mellifluous fiddling, with guitarist Alex Rubin and bassist/banjoist Cody Walters providing finely honed rhythmic and harmonic accompaniment.
The trio showed its hand on the mid-tempo bluegrass opener, 'Belle Election', from The Newpart (Slab Town Records, 2015) Verch's tenth CD as leader. All three musicians in turn soloed brightly, though in general, shows of virtuosity were rationed, the trio instead championing the songs' melodies – their contours embellished in playful give and take. Verch gave a mid-song demonstration of step dancing from her native Ottawa Valley, Canada – this exuberant percussive hybrid of Irish dancing, clogging and tap traditions bringing whoops from the small but partisan audience.
A seamless brace of fiddle tunes featuring Walters on claw-hammer banjo, 'Indian Ate the Woodchuck' and 'Hell and Scissors', hinted at the DNA linking Ozark Mountain fiddle tunes, Appalachian bluegrass and Irish reels. Verch lent vocals to a number of songs, the pick of the bunch being fiddler Benny Martin's 'If I Could Stay Way Long Enough' and Willie Nelson's 'Sad Songs and Waltzes.' Verch's is not a voice to die for, but like Bob Dylan's, her delicate voice is nobody's but her own, also serving to break up the predominantly instrumental set.
Canada too, has a wide range of regional fiddle traditions, as you might expect from such a vast territory of urban centres, hermetic rural communities, indigenous tribes, French, English and creole-speaking communities, and lumber yards historically manned by multi-national workers. One tune reflected the influence of the Métis — or First Nations people — of Western Canada. They married early French and Scottish fur traders and have preserved to this day a particular fiddle tradition noted for its rhythmic and percussive qualities. Verch's rendition of Métis fiddler Andy de Jarlis' 'The Stern Wheeler', preceded by the old-time reel 'The Midnight Serenade', were delivered with a verve  that underscored their timeless appeal.
Cody and Walters brought broad Americana colors to the mix with 'Makes No Difference to Me', a tune rooted firmly in old-style country tradition. There was a splash of gentle guitar-picking  blues circa-1920s on medicine show/vaudeville entertainer Lew Childre's song 'It Don't Do Nothin' But Rain'; cheery bluegrass of Dave Van Ronk's 'Hang Me, Hang Me' — sung by Walters — and country balladry on Bill Tradder's 'Fool Such As I'. On this latter number, recorded a couple of times by Dylan, Verch's soft-shoe shuffle stirred a gentle, brushes-like rhythm.
Having toured around the world for nigh on twenty years Verch is receptive to other traditions, and the Swedish fiddle tune 'Polska from Kumla' provided one of the most lyrical and harmonically arresting tunes of the set, with fiddle, bass and acoustic guitar entwining to delightful effect. Canada's Ottawa valley lumber camps, however, were the world in miniature, and the early Irish, Scottish, French, German and Polish settlers created a musical stew that has influenced the region's fiddle and dance styles. Verch's electrifying step dance on the lively, banjo-driven instrumental 'Spider Bit the Baby', however, was perhaps most evocative of Irish traditions.
Other highlights included the intricate Hillbilly instrumental 'Jump Cricket Jump' and Rubin and Walters' banjo/guitar duet. The trio paid tribute to multi-instrumentalist and steamboat pilot John Hartford with a breezy vocal version of 'Try Me One More Time' and the waltz 'Riverboat Gone', which bled into the Kentucky foot-stomper 'Bumblebee in a Jug.'
With a fine sense of stagecraft, Verch saved the best to last, combining her most animated fiddling and dancing, simultaneously too, on a set of sparkling old-time Canadian reels. For the encore the trio delivered the bouyant hoedown 'Tennessee Wagoner', with final flourishes from all.
The April Verch Band's music is a melting pot of European, North American and First Nations traditions – African too, if you consider the origins of the banjo. The provenance of many of the traditional tunes is murky, lost in successive waves of immigration, migration, and the fusing of bloodlines. In the end, however, the music belongs to everyone. Ian Patterson