Features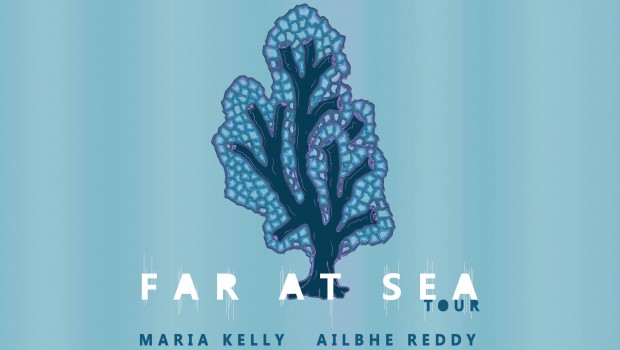 Published on May 5th, 2017 | by Brian Coney
0
Far At Sea: An Interview with Ailbhe Reddy and Maria Kelly
Two of the country's brightest indie-folk talents, Ailbhe Reddy and Maria Kelly are on the road as part of their Far At Sea Tour, which will take them across the country over the next while. Ahead of stopping off at Belfast's the MAC on Friday, May 12, we chat to the pair about collaboration, inspiration and why Ireland is a fertile land for folk music.
Hi guys. First off, your show at the MAC in Belfast is part of your forthcoming Far At Sea tour. How did that first come about?
Ailbhe: Well, Maria and I were working on getting venues we'd heard about from other bands around the country in a few locations. So the MAC seemed like a great choice and they were happy to have us! Really looking forward to it, looks like a cool spot.
Is there any significance to the title of the tour?

Ailbhe: The title of the tour is an idea Maria I had to mix up the names of both our EPs/songs. My last EP was called 'Hollowed Out Sea' and a track from Maria's new EP is called Far Below. So no big stories behind it. We had fun coming up with a few joke names though. We call it The Gal Pal Tour in private.
Ailbhe, you've also received rave reviews for your output thus far. Do you place much importance on critical acclaim?

I think it's always nice to receive good reviews from the blogs and publications that you respect. I've been mentioned in blogs that I've been reading for years and it's a great feeling because you feel like you're among all the other acts that you love yourself.
My last single 'Relent' was featured on some amazing blogs that I have been reading from all over the world. It's a great way of reaching people too. So I do think it's important to me. However, I've received plenty of negative reviews in the past and that's never stopped me from pushing forward with my music!
Irish indie-folk is experiencing quite a peak at the minute. From the inside looking out, why do you think we do it so well in the island of Ireland?
Ailbhe: I think folk is all about storytelling and we're an island of storytellers so it's just natural that we'd produce a lot of folk musicians. I'm influenced by a lot of other genres and I think that's where the modern edge to my folk music comes from.
Maria: In my own experience, I think a lot of it comes from our roots in trad music – when I was younger, I started learning the guitar from an Irish traditional player and I picked up a lot of my rhythmic playing from him. I think the 'indie' part probably comes from every kind of outside influence that you can think of.
Maria, you were recently name one of the 50 people to watch in 2017 by the Irish Times. What was it like having that kind of expectation placed on you?
It was slightly daunting but definitely a confidence booster! More than anything, it was just an incentive to keep working.
Ailbhe, you've just released a surprise EP, Attach to Memory. What are the main themes threaded throughout the release?

Attach to Memory is all about a break up I went through last year while I was recording my last EP, actually. I wrote the songs over the last 12 months since the break up. 'Fingertips' is about sexuality, and 'Never Loved' is more about accepting my own shortcomings and loss after the break up, it took me months to get to a place to finish that song. 'Loose' finishes the EP, because although it laments the loss of another person, by the end it is quite optimistic because I say that I'm letting go of it finally. So I guess it comes full circle by the end.
Maria, you've a diverse range of influences, but are there was one artist that has made an imprint on your sound and approach to songwriting, who would that be?
You can't massively hear it in my music now but Regina Spektor has always been influential to my writing in terms of vocal tone and her ability to tell a really descriptive story. I got her album Begin To Hope when I was quite young and it was my first proper introduction to songwriting in general.
The Far At Sea tour is taking you right across the country until the end of the month. Are there plans to collaborate, either on-stage or on record?
Ailbhe: We're hoping to do a song together at some point on the tour.
Maria: Yes, we're hoping to work on something while we're on the road! Most likely a cover of a cheesy 80's classic.
Finally, I'm keen to hear what fellow Irish acts you're currently enjoying at the minute. What's grabbing you?
Maria: This could be a long list; the standard of Irish acts at the minute is unbelievable! I have Rosie Carney, Saint Sister, Moonlookson and also LAOISE on repeat at the minute.
Ailbhe: I love BARQ, Bitch Falcon, Harbouring Oceans, LAOISE, Talos, HAWK, among many others. I am always listening to Irish artists. There are so many amazing bands in this country!
Go here to buy tickets to Ailbhe and Maria at Belfast's the MAC on Friday, May 12