Features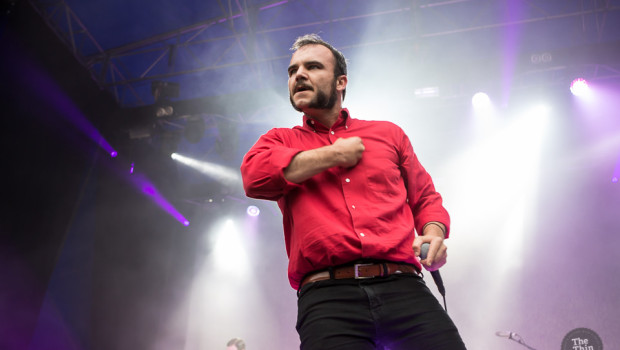 Published on July 10th, 2017 | by The Thin Air
0
Irish Tour: Future Islands and Sacred Paws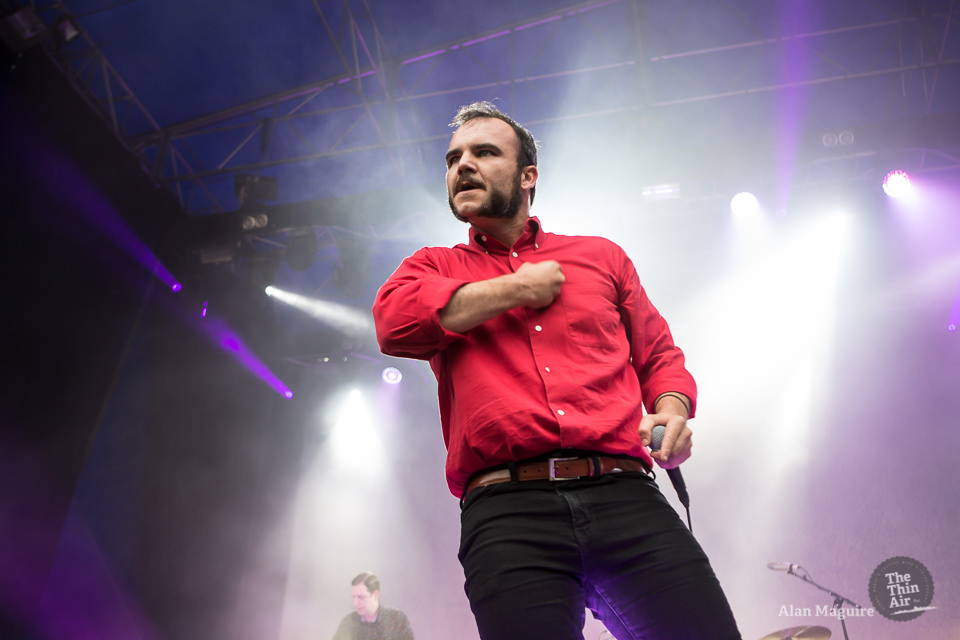 Future Islands with support from Sacred Paws live in Dublin, Galway and Cork. Words by Kelly Doherty and Paula Murphy, photos by Sean McCormack and Alan Maguire.
Cork Opera House
It's been a long time since Future Islands first played to an Irish crowd of 14 people and it wouldn't be a far jump to say that in the intervening years they've become somewhat indie darlings on this island and the sold out Cork crowd is more than happy to spend Independence Day with their favourite American exports.
Before they take the stage, we're treated to a blinder of a set by Scottish up and comers Sacred Paws. The duo recently won Scottish Album of The Year and it's easy to see why. Despite how hard it can be to open for a band of Future Islands size, Sacred Paws absolutely win over the crowd. Their infectious indie pop brings to mind a more invigorated, earnest Vampire Weekend and lead singer Rachel Aggs has charisma for miles. It's clear that they love what they do and that makes us love them too. Give it a few months and Sacred Paws will be headlining tours this size themselves.
With the crowd nicely warmed up, Sam Herring and his merry men take to the stage. Somehow already dripping with sweat within a moment of standing in front of the crowd, Herring launches into his front man persona – giving us the sort of intro you'd expect from a wedding performer or some cheesy act. Between this and his excessive dancing, Herring screams 'drunk, single Uncle at a wedding' but manages to make it work. Perhaps it's the desperation and sadness that tinges his vocals or that his dad dancing from time to time slips into him throwing himself around and slapping himself but his entire shtick draws in the crowd and makes them fall in love with him.
From time to time, it's easy to forget about the music whilst transfixing on Herring's stage presence but that would be a discredit to a band with an eclectic and enduring back catalog. Their synth led indie-pop manages to maintain danceability whilst having a raw and heavy edge lending gravity to their music that eludes so many other synth pop bands. With a 24 track setlist that includes so many high-quality anthems such as 'A Dream Of You And Me', 'Balance' and mega-hit 'Seasons (Waiting On You), it's easy to see why this band are having no problem selling out this tour – they create indie hits in a time when the indie hit is all but dead. Kelly Doherty
Black Box, Galway
Photos by Sean McCormack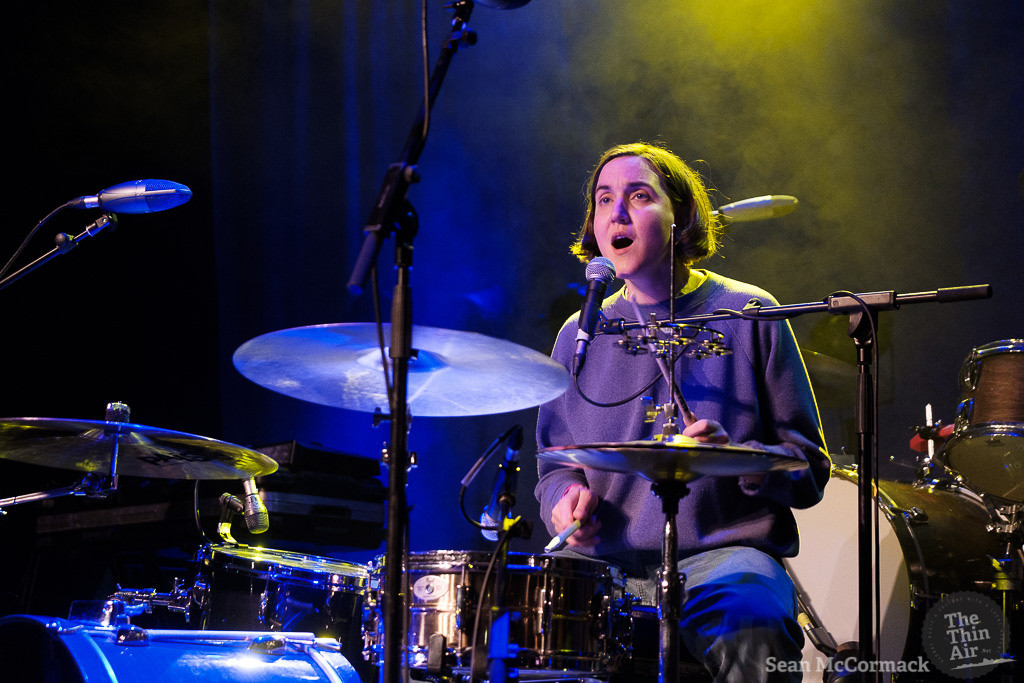 Iveagh Gardens, Dublin
Photos by Alan Maguire
It's one thing listening to their music on record, but watching Future Islands perform live is something well and truly spectacular. The Baltimore-based trio took to the stage at Dublin's Iveagh Gardens last Thursday, and did they impress.
There was a real charm to the place. The sun was just beginning to tuck behind the city skyline, pints were flowing, and the crowd was buzzing for the synth-pop rockers to burst onto stage following a storming set from Sacred Paws.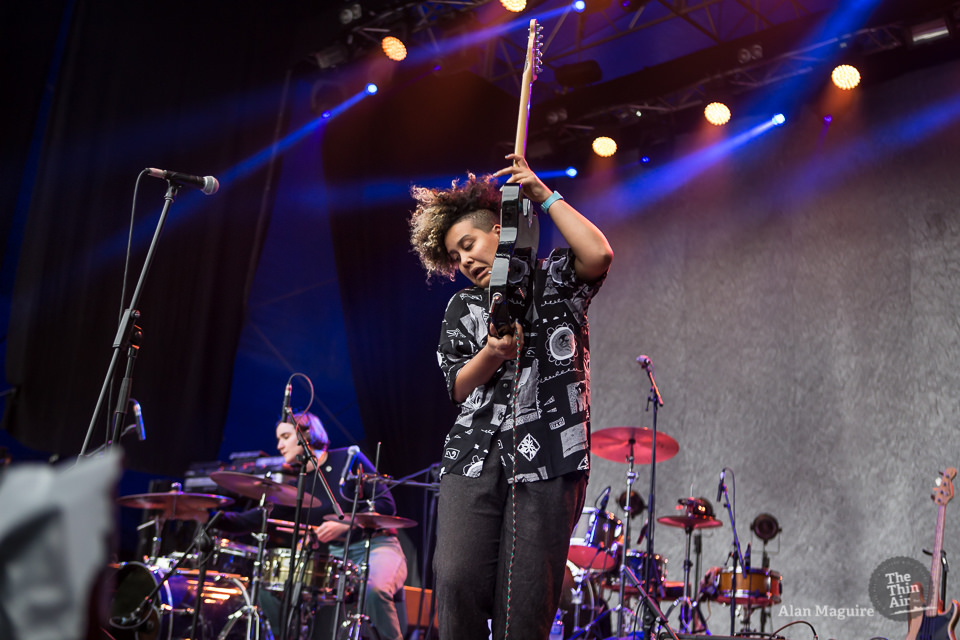 Future Islands emerged; frontman Samuel T Herring donning a red shirt almost identical to that worn for their explosive Jools Holland performance that really catapulted them to stardom back in 2014. Clearly amazed at the sight infront of him, Herring says "This is gorgeous," and that "…it's always great to be in Dublin," before launching right in with 'Ran', the lead single from their latest album The Far Field.
This was their fourth gig in one week, having already played Limerick, Cork and Galway – but you certainly wouldn't have thought it. Herring was as intense and as full of life as ever, killing it with his usual chest thumps (loud enough for everyone to hear), hip swivels, fist clenching and even a leg kick or two, or three.
The band, who were far more reserved, certainly hit the mark too. The contrast between them and their untiring frontman fell nothing short of brilliant. William Cashion delivered with pulsating basslines throughout, while keyboardist Gerrit Wilmer's 80s-inspired synths poured colour into every track.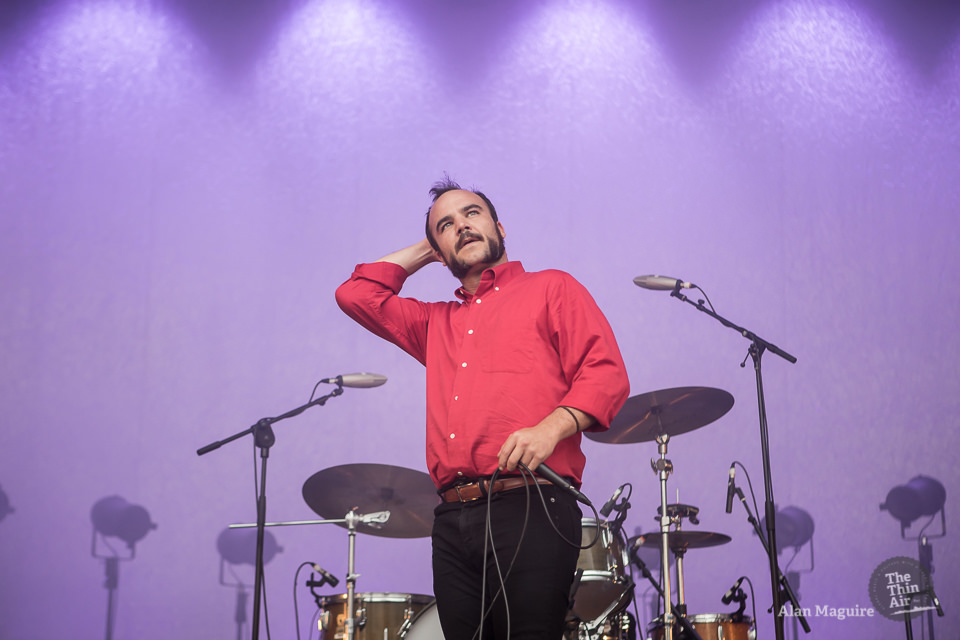 Their set list didn't disappoint either. They zipped from album to album, playing the greatest tracks from each, which really seemed to get the crowd going. The heavier emotion-laden 'Before The Bridge' saw Herring's face contort, pleading with the audience to feel all that he feels on stage. Whereas, for the faster-paced 'A Dream Of You And Me' no eccentric shapes were spared.
'Seasons (Waiting On You)' caused the crowd to erupt with delight. And the seriously committed frontman, so bizarre, yet so sincere, delivered once again. He prowled across the stage in his now sweat-drenched shirt, the epitome of the phrase 'living life to the full'. His theatrics didn't stop there, his spontaneous growls throughout were more brilliant and surprising than ever.
The evening came to what we thought was a close, but minutes later, the lads were back on stage, sporting Irish football jerseys and celebrating their Irish heritage. Of course, they played an encore – they dedicated an oldie, 'Beach Foam', to injured Irish soccer player Seamus Coleman and finished up with the ever-beautiful 'Little Dreamer'; an ideal evening closer. Paula Murphy