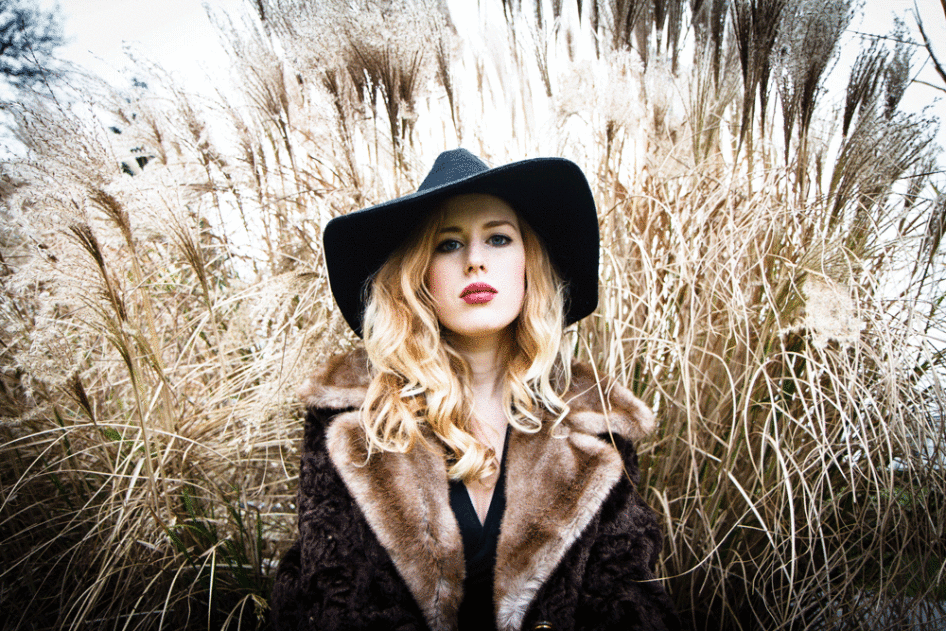 Far beyond providing mere entertainment, a festival has the capacity to animate everyday spaces and nudge people to perhaps see their habitual surroundings in a new light. Now in its fifth year, Open House Festival has brought Bangor's spaces – small and large, public and private, mundane and magical – to life, via the arts in their broadest possible spectrum.
The transformative nature of Open House Festival is evident in the concert of Holly Macve, the first concert held in the century-long history of the former The Good Templar Hall, re-baptized Studio 1A in April 2017, after extensive renovations and modernisation.
The one hundred-seater venue is sold out for Macve, whose debut album Golden Eagle (Bella Union, 2017) has marked out the twenty-two-year old as one of alt-country's most promising new comers.
The first notes to resonate on Studio 1A's stage, however, come from Northern Irish singer-songwriter and cellist, Alana Henderson. On the striking title track of her 2014 EP Wax and Wane Henderson uses her cello as a vibrant rhythmic tool, though it's her lyrical prowess that beguiles most.
Henderson refashions standard song-writing themes of love with a poet's eye, nowhere more so than on 'Museum of Thought', a reflection on an ex-lover's new belle, memories shared and memories lost:
'She gets the learning of lessons I taught
And she gets to walk in through gates that I wrought
And I've got the key to the museum of thought
That no-one but us ever entered.'
Henderson's clever turns of phrase are carried on strong melodic waves, the balance between melody, rhythmic pulse and story-telling craft finely weighed on tunes like 'The Only One I Don't Regret' – her latest single release – and older fare like the gently nostalgic 'Song About a Song.'
Arco-driven cello underpins 'The Tower', a buoyant song of love and loss that weds lyricism and metaphorical imagery to good effect. It brings a short but sparkling set to a conclusion, earning Henderson a deserved ovation.
Irish-born, Yorkshire-bred Holly Macve may be, but from the first notes you'd be forgiven for guessing the singer-songwriter was raised in Tennessee. Her voice is a seductive, gently undulating yodel, her melancholy delivery on dreamy ballads accentuating the blues that courses ghost-like through her music.
Macve has already been likened to Patsy Cline and Gram Parsons but there's also a little of Hank Williams' craft, and, on tunes like 'White Bridge' and 'Corner of My Mind', just a hint of Joan Baez, or early Joni Mitchell at her most introspective.
There is, however, a darker, Leonard Cohen-esque vein recurrent in Macve's songs: imagery of birds startled into flight by gunshot; inner demons; sudden bloodshed; wilting flowers; all these mingle with more traditional country-blues language of trains and hobos, the beauty and pain of love.
The emotional ambiguity inherent in Macve's songs is summed up in 'All of its Glory', where Macve sings of the 'sinister beauty' in the 'amber glow of the burning sky.'
You can almost imagine a chugging double bass on songs like 'Heartbreak Blues', which could have come from Ramblin' Jack Elliot's songbook, and on the aching 'No One Has the Answers', a gem of a tune that will surely outlive its author. For the most part, though, simple arpeggios and slow-strummed chords provide the framework for Macve's slow-burning balladry.
There are a couple of new tunes. The pretty, softly lilting 'Iris' cannot mask the melancholy at its core, while an untitled ballad-one of several tunes played on a Casio electric piano –conjures something of Tom Waits' brooding lyricism. A cover of veteran folk singer-songwriter Melanie's 'We Don't Know Where We're Going' underlines Macve's ability to weave anew with old threads,  while  the self-penned 'Timbuktu' and the set-closer 'Golden Eagle', a moving piano ode to Macve's grandfather, English classical composer Duncan Druce, are highly personal calling cards that linger in the mind.
Shorn of lap-steel guitar and rhythmic accompaniment, Macve's bare-bones artistry is all the more impressive for the emotional chords it strikes. There's a sense of privilege in seeing Macve solo in such an intimate, almost confessional setting, for surely greater stages await. Ian Patterson