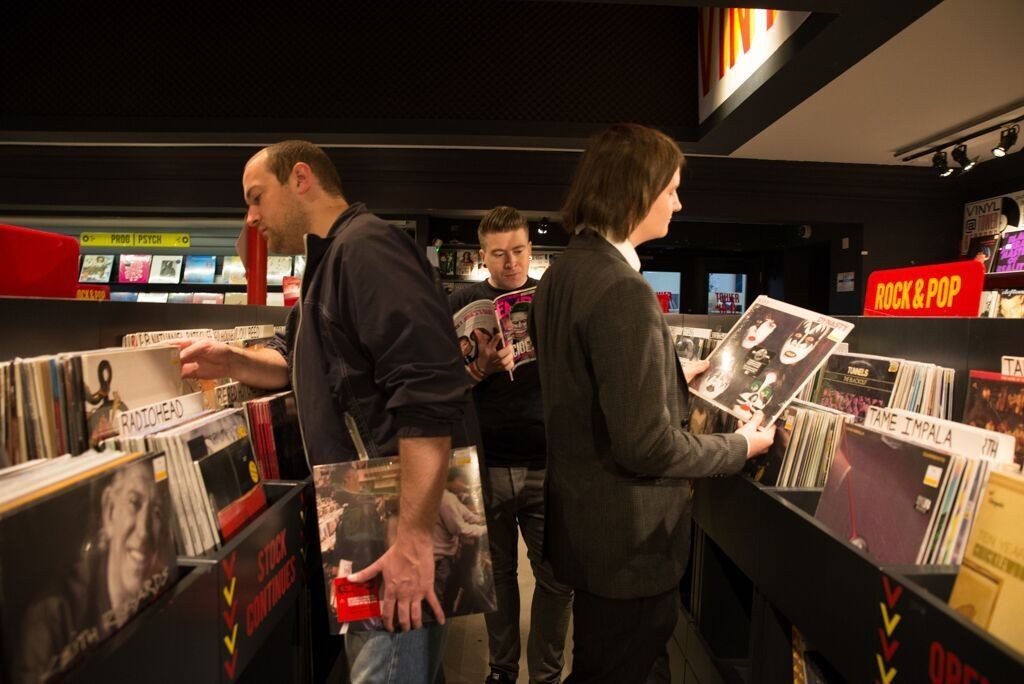 The country's self-proclaimed "pre-eminent music podcast" NO ENCORE will once again take to the stage at Whelan's on Thursday, September 28. Taking place as part of the inaugural Dublin Podcast Festival, the event will see hosts Dave Hanratty, Colm O'Regan and Craig Fitzpatrick record an episode live alongisde musical guests Overhead The Albatross, Daithi and Elaine Mai. Ahead of what's sure to be a stellar evening on Wexford Street, Brian Coney talks to Dave Hanratty about the podcast's conception, present and future.
Go here to buy tickets to NO ENCORE Live II
Hi, Dave. Take us back to the very start of NO ENCORE as an idea. Who was involved and how did it first get off the ground?
The original HeadStuff Podcast is to blame for everything. I had guested on that a couple of times in a supporting role next to Alan Bennett, who's as affable as a chief overlord with a dark past can get, really. He floated the idea of starting a network, and felt that a music show was key. I'd actually been thinking of doing a film one but this made sense, and so I quickly figured out the format.
The original idea was to have a rolling list of guest co-hosts, but it became immediately apparent that the dynamic of the show lay in the rapport between Colm, Craig, and myself. Given our shared history in the Hot Press trenches, that was perhaps no major twist. As some have rightly pointed out, listening to NO ENCORE is pretty much like hanging out in the pub with us, though I hasten to add that we don't go in for reductive 'banter' nonsense. We're much too erudite and sophisticated for such wanton folly.
A few different Irish podcasts have attempted something similar to what you guys do with flying colours but just come up short. What do you think ensures NO ENCORE stands apart from similar shows, past and present? 
Honesty and conviction. Not to trash our former stomping ground too much, but a lack of critical heft is a dangerous thing in arts journalism and broadcasting. If everything is great, then nothing is. As an independent show, we don't have to worry too much about pissing off the powers that be, and so we can express how we truly feel. The chemistry we have as hosts and friends comes into play here. With reviews, I tend to go for the jugular, while the guys rein me in with well-argued counterpoints. I really do believe that we stick the landing when it comes to switching things up from humorous asides to more serious debate.
Also, we have a terrific side project in the form of The Revisit; where Kieran McGuinness from Delorentos and I take the temperature of the Irish music scene on a given year between 1980 and 2005, kind of like an alternate Choice Music Prize. We've had some fantastic guests so far, including Paul Noonan from Bell X1, who was refreshingly candid and entirely reasonable when discussing Damien Rice's exit from their previous band together and his subsequent debut album. It was Paul's first podcast and I think he nailed that balance. It's a thrill to be present for those moments, and to bring them to an audience.
The show features on Ireland's premiere podcast network, HeadStuff. Do you feel, as we do, that the website is becoming an increasingly vital hub of great ideas at home?
Absolutely. First and foremost it's a features-based website, and a place for creative, passionate souls to express themselves. As such, it's no surprise to see it move into live events and podcasting, as there's an unending amount of people with good ideas that just require a platform with which to develop them. You hear so often about how Ireland is full of culture, and it's important that you have places to support that, especially in a time when hollow clickbait rules the roost.


A big part of NO ENCORE is how you've successfully expanded into a live show. Featuring Overhead, The Albatross, Daithi and Elaine Mai, the second instalment takes place at Whelan's at the end of month. How was the first instalment – many nerves there?
If you listen to the recording, you'll definitely hear my voice quiver a bit during the first part! Colm, on the other hand, was like a kid on Christmas morning. When I used to play in bands, I'd always feel tired and sick between sound check and stage time, and this was no different, apart from having to be front and centre with a microphone in my hand. But it's that good kind of fear, you know? Why bother doing it if you don't feel that rush of adrenaline? It just means that you care about putting on the best possible show that you can.
The night was amazing, though. We had a full house and everyone brought it. I eventually lost count of the amount of people who came up to me afterwards or messaged the next day about Farah Elle – she really stole the show, which is saying something considering Bantum, Windings and We Cut Corners were all magnificent, too.
The second instalment of the live show takes place as part of Dublin Podcast Festival on Thursday, September 28. Although it's its inaugural outing, the line-up is bursting at the seams with some unmissable events. For you personally, which are you drawn to most?
I'm intrigued to see Scroobius Pip work a crowd in a different fashion with his Distraction Pieces show. A microphone is like an extra limb to that guy, but it's cool to see someone normally so vociferous and often quite intense adapt to a unique setting like this one.
It also takes place during this year's Hard Working Class Heroes. To the various people inevitably sitting on the fence, what will NO ENCORE LIVE II offer that HWCH cannot?
We have Overhead, The Albatross and they don't. Honestly, I think it's healthy competition, if that's even the right word for it. HWCH is long established as a great reflection of what Ireland has to offer the music world, and it's cool to be part of that conversation on this particular evening. Plus, we're going to do a live commentary of Metallica: Some Kind of Monster. Maybe.
What are your general thoughts on Irish podcasting in 2017? Do you think we are world-beaters, slap-bang in the middle or playing catch up?
If you'd asked two or three years ago, we were probably behind; now, you'd be inclined to say we're punching above our weight. It's not coincidental that it's worked that way either – podcasting as an art form was a little more established and refined by the time it really took off here. It's still very much a growing area, though, and everybody with access to a microphone seems to fancy a go, so who knows where it'll be another few years down the road?
Finally, with many established music and culture websites driving away from written content towards audio and visual content, do you feel there's a place for NO ENCORE to rapidly expand to a much bigger audience in the next couple of years? 
If I hear someone say, "pivot to video" one more fucking time… Look, if someone out there has actually figured out exactly how people will consume media one, two, five years down the road then fair play to them; we, ourselves, have absolutely no idea. But it doesn't really matter, because it's the approach, and the philosophy, that's important. After all, which would you rather: someone who writes critically and honestly in boring old print, or someone who talks utter bullshit, but on video? As much as the medium might change, that ethos is still the most valuable thing.