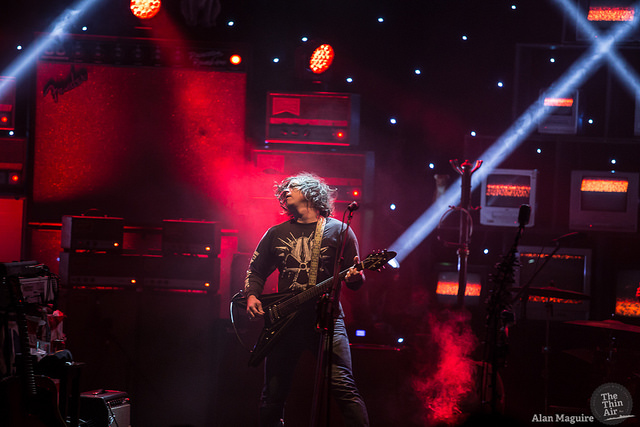 Walking into the main room of The Olympia Theatre, you would almost feel as if you are on the set of a 1980s Sci-fi movie as enormous Fender guitar amps, stacks of old cathode Ray TVs and stuffed tigers occupy the stage. As the no doubt Neil Young Rust Never Sleeps-inspired props loom over the audience it makes the room feel really small. This cranks up the excitement levels about being in such an intimate setting with Ryan Adams.
Karen Elson opens the proceeding this evening. Touring with Adams on the back of her sophomore LP Double Roses, Elson and her band seem to enjoying themselves as their lavish, psychedelic-folk tones boom through the old theatre. The haunting vocals and dramatic violin blend nicely with the tight band. However, they seem to have a sense of style over substance as the songs becomes quite repetitive as they move through their repertoire.
The room is filled to capacity as the time comes for Ryan Adams and The Unknown Band to make their Dublin return. A serious announcement from the tour manager informs the audience of Adams' medical condition Meniere's disease, where flashes of light could cause him to suffer an epileptic fit. It's about time Rock & Roll took health and safety seriously.
The black curtain lights up with star-like LED lights as the house lights go out as the audience roar as the band walk onto the dimly-lit stage. Ryan Adams greets audience warmly, saying "let's have some fun" as they begin with the opening track from his 16th solo album, Prisoner. He is straight to business blasting through tracks from his lengthy back catalogue. 'To Be Young' from his debut Heartbreaker and 'This House is Not For Sale' from 2004's Love Is Hell are stand out moments in the early part of the show. Heavy guitar chorus fuels the show giving the old material a new lease of life, fitting beautifully with the 80s guitar ballad style of his new record.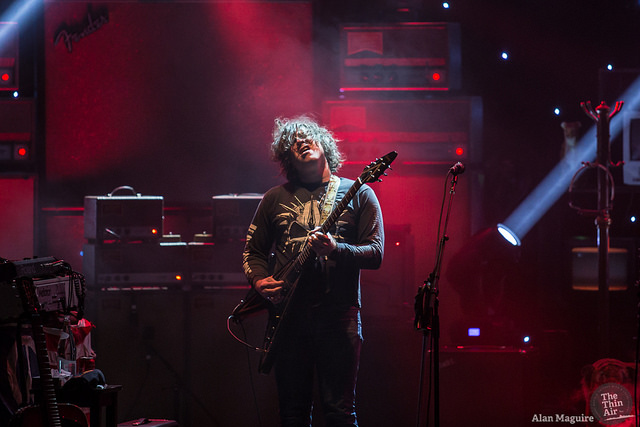 Adams is not as chatty as he has been at previous Dublin shows, where he doubled as a comic genius. He seems really engrossed in what he's doing and anxious to keep moving, quipping to a punter "I can't talk right now, I'm at work." As they plough through the show, cult hits from his back catalogue land a lot stronger than the new material, yet they are all executed with the same, slick manner. The title track from 2006's Cold Roses really shows what this band are capable of as they enter a long improvisational jam in the middle of the track and come out of it with segments of earlier melodies in quite a classical way, highlighting what strong musicianship is on display.
They finish with the rockabilly gem Lucy My Gal as the entire venue is filled with smoke until you cannot see a thing. This is Ryan Adams' way of saying the show is over, proving he's as unconventional and brilliant as ever. Joseph Edwards
Photos by Alan Maguire