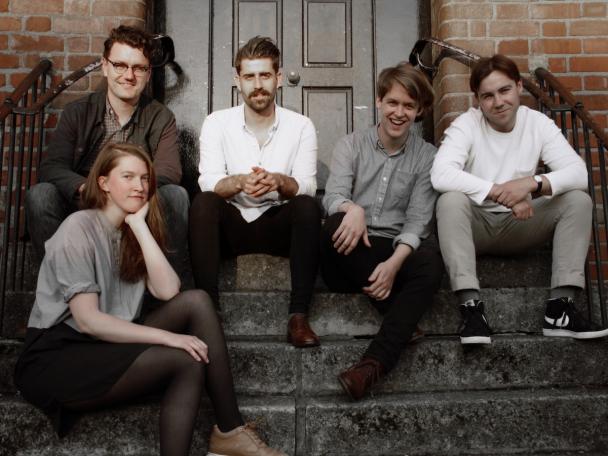 Ahead of their first Dublin headline show in over two years tomorrow night Hugh O'Dwyer talks to Tandem Felix frontman David Tapley about their new music and returning to the stage.
Tickets for their November 7th show upstairs in Whelans can be purchased here.

A little bit country, a little bit rock and roll, the sound of Tandem Felix has changed quite a bit since some of the band's earlier work such as Ryan Hoguet and the Popcorn EP. What would you attribute this change in style to?

A few things really; I've loved country and country-related music for so long. I was envious of singers who stood in front of an audience and were comfortable telling their stories. I also got fed up of making music that relied heavily on the guitar and fucking around with effects pedals. None of that is really as important as getting a story across.
You cite Wilco and Sparklehorse amongst your influences this time out but there's something more to your music. Pushing past the Americana, there are elements which add some more dulcet textures to the mix, particularly in the vocals. What were your influences here and were these aspects something you've always wanted to include in your music?

I am a big fan of ASMR. They're the videos on YouTube where people whisper into the microphone to try and send a shiver down your spine. I probably listen to ASMR more than I listen to music. I've been singing a lot lower as a result. Maybe soon I will incorporate the sounds of tongue clicking and cranial-nerve role-plays too!

Imagery seems to be more at the forefront in these songs, the surreal vision of Christ's birthday party in 'Were You There (When They Crucified the Birthday Boy)?' is so detailed that you almost feel like you're there! Does this come from more of a comedic or metaphorical place? Perhaps a mix of both?

I like to tell long drawn out jokes with a lot of extraneous detail. I guess there is a lot of detail in the newest batch of songs I've been working on. I've also been experimenting on writing long song titles too, like "Mother Teresa, The Butcher of Albania Part One". There's something that amuses me about a song title as long and as pretentious as that when the song's just 3-minutes long and has nothing to do with Mother Teresa of Calcutta.

The 'Birthday Boy' video is a clever play on a skype call where you play both parties on the line. What was the thinking behind the video and what was it like to make it?

I have been getting into the idea of using everyday technology to create multimedia; like shooting an entire music video on a webcam, or using an iPhone microphone to record parts for songs. The video was essentially free to make which is great although there is the possibility that Skype Technologies will come after us for using their trademarked logos and all that. It took about 45 minutes to make and edit, truth be told.
Your next release, the delightfully poppy 'Nightclub' evokes feelings of introversion in a crowded place. Is this generally how a night out for David Tapley goes?
I think if you really think about it, everyone has the same experience in the nightclub. It all depends on your expectations. Sometimes I love the idea of going to a club and standing in the crowded smoking-area for hours on end talking to everyone in sight. Other times, that idea terrifies me. Sometimes I want to dance. Other times, I look at people dancing and wonder what is wrong with everyone.
What can you tell us about your debut LP scheduled for release in 2018?
I will be a very happy boy when it's released. Some of the songs are nearing the 3-year old mark now and burning a hole inside of me. There's a lot of fairly personal lyrical content in there, so listening to the songs progress slowly over the course of months and months in the studio can be tough. There are a few more light-hearted tracks to balance things out though.

It's been some time since Tandem Felix played a headline show. What can we expect from your show in Whelans on November 7?

A room full of beautiful people singing along to every word and free pints of Guinness. One should probably lower these expectations though.

Lastly, any predictions for Ireland's crunch qualifier with Denmark later this month?

I predict a draw from the away fixture 1-1. Wesley Hoolahan bicycle kick. The legendary away-goal will be enough for us to play for the 0-0 in Lansdowne.