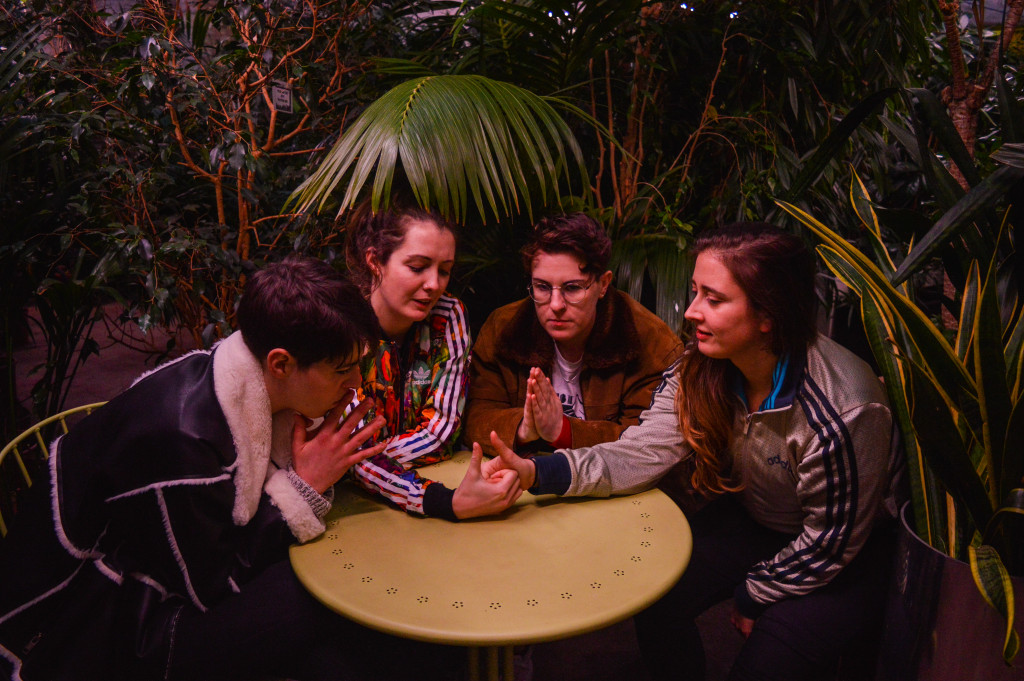 We continue 18 for '18, our feature of showcasing eighteen Irish acts we're convinced are going places in 2018. Throughout January we're going to be previewing each of those acts, accompanied by words from our writers and an original photograph from one of our photographers. Next up is Pillow Queens.
Photo by Ciara Brennan, taken at plantlife.ie
Queer, feminist, socialist. How does one encapsulate the pulsating movements of culture and ideals that are currently sweeping across the world, and furthermore, how does one do so colloquially and naturally? Dublin based Pillow Queens have the answer, using more than just their familiar accents to address their locality.
Self-releasing their EP Calm Girls back in December 2016, the quartet immediately gained traction with a handful of impressive gigs, selling out their debut in Dublin's Bello Bar as well as earning a spot on Whelan's ones to watch festival earlier last year. This preceded a UK tour which saw them play 8 shows in 12 days, an impressive feat for a 'baby band', a descriptor they use for themselves. However, the reasons for their touring are evident as it only takes one listen to conclude that this is the type of music that reflects off the dull, concrete walls of whatever venue it finds itself in and creates an aura of defiance and underdog glory.
Not wanting to label themselves as 'punk' or any other specific genre, the group pick up elements from pop, punk, and rock and combine them with punchy DIY colours to form what is a largely enveloping sound of comradery and community. It's with this catalyst that they show what they aim to accomplish, pushing forward with modern and reformed ideals, with a particular focus on their homeland. As their video for 'Rats' demonstrates, they hold no punches as they dive headfirst into political and cultural movements such as the repealing of the eighth amendment, the rise of socialist ideas in Dublin's youth as well as the spread of queer culture. The informal commentary serves as genuine insight on these topics, as opposed to the fabricated speeches from those who need to be seen as socially aware. This is especially valuable in a time where anyone who's anyone brands themselves as advocates for a cause that they don't have the slightest bit of interest in.
Pillow Queens have found a foothold in the pressing issues of the world (and more specifically, Ireland) which resonates with their unpolished, DIY approach to create something that is rough around the edges and leaves us gasping for more. Mitchell Goudie