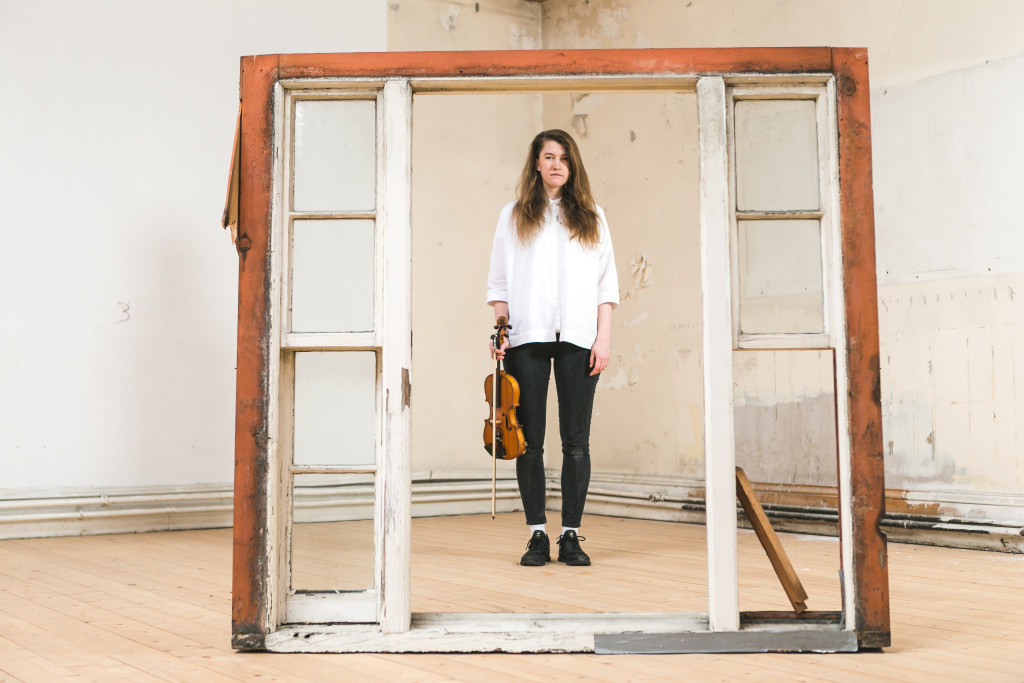 There is an ambient apposition at work through the debut single from Dowry, the solo moniker of multi-instrumentalist and composer Éna Brennan. In É unfolds with measured purpose, the instrumental track building gently in tension as it moves from a drone base through subtle orchestral counterpoints towards its dramatic, understated conclusion. Éna creates her sounds with violin and a loop pedal, inviting the listener to become entangled in the earthier low tones, and the ghostly high register notes that pull away from their mire like will-o'-the-wisps. It's that same emotional evocation that we've encountered on Éna's earlier compositions, and in her live performances – evocative soundscapes that would ebb and flow between repetitive, disembodied vocals and organic strings; the half-remembered, aural imaginings of a psilocybin fugue.
Éna came to Dublin from Brussels in 2008, to study Music & Drama at Trinity College. Her musical apprenticeship was already fully in train from an early age. While the arts weren't the primary focus of her old school, inspiration came from enthusiastic teachers and the fact that Brussels itself, unlike Dublin, has a multitude of physical spaces for the arts to flourish, and more importantly, money to fund them. Dusty school basements, soundproofed rooms, concert halls, academies, theatres, galleries – "multi-purpose homes for the arts", as Éna recalls – are a part of Brussels' musical history. Dublin, though, has its own musical draw.
"For generations, the Irish arts and folklore have lived within the pages of writers' notebooks, the corners of pubs and in family homes, and we are only just catching up," Éna muses, lamenting the fact that that while this country has the infrastructure, many buildings lie derelict when they could be turned into creative spaces. "Those with the means are packing their cultural pride into their suitcases to take with them on international journeys," she observes. However, this isn't a universal phenomenon, nor is it a journey that Éna is about to embark upon when faced with the difficulties of living as an artist in a country that doesn't go out of its way to help musicians. "There is a perseverance in the Irish blood to create come what may, and not to abandon ship."


Éna has held firm to the Dowry proverb: "Surround yourself with kind and sincere people and all will be well." Having played with Tandem Felix, Bad Sea, Paddy Hanna, Spudgun, and collaborated with many others in recent times, the time has come for Éna to focus on Dowry as its own entity. Her compositions are born from improvisation, drawing inspiration from thoughts or observations when they occur. "I am fascinated by how our minds work and about what leads people to act the way they do, so that definitely acts as a starting point for any of my material," she says. Éna's poetry is written separate to the instrumental tracks, mindful of the idea that words and music can exist as standalone pieces as well as being mutually exclusive.
Dowry's way of working also means Éna can modify songs from gig to gig, leaving sets open to experimentation and the unexpected. The last year has been a busy one on the live front, from a slew of city venues to the open-air beauty of Ireland's music festivals – the likes of Quarter Block Party and Sounds From A Safe Harbour, both in Cork, and Another Love Story in Meath, places synonymous with artistic freedom and the forging of musical alliances. "I love collaborating and it brings me a lot of joy to work with other people," Éna enthuses. "Although I've definitely become wiser over time about respecting my own self-worth. I'd like to think that I've overcome the naivety of thinking everyone has the best of intentions. I get told off fairly often for spreading myself too thinly and playing for little to no money." The money aspect, though, seems less important than the solid network of collaborators and friends Dowry has collected along the way, a community that has given her a stable platform from which to launch her solo work.
Where this last twelve months has been about honing her stagecraft – gaining confidence and opening herself to the audience – 2018 is all about stepping out beyond the live sphere, beyond the confines of a venue, to share her words and sentiments via song. Éna has begun to sort through all her home demos to revisit and rerecord the pieces she is most proud of. The promise of new material from Dowry is on our doorstep. In É is just the first of many new explorations in sound – a tantalising glimpse of what's to come. Justin McDaid
Dowry plays with Spud Gun at The Abattoir, 22 Montague Lane, Dublin, on Saturday 24th February. Facebook event page here