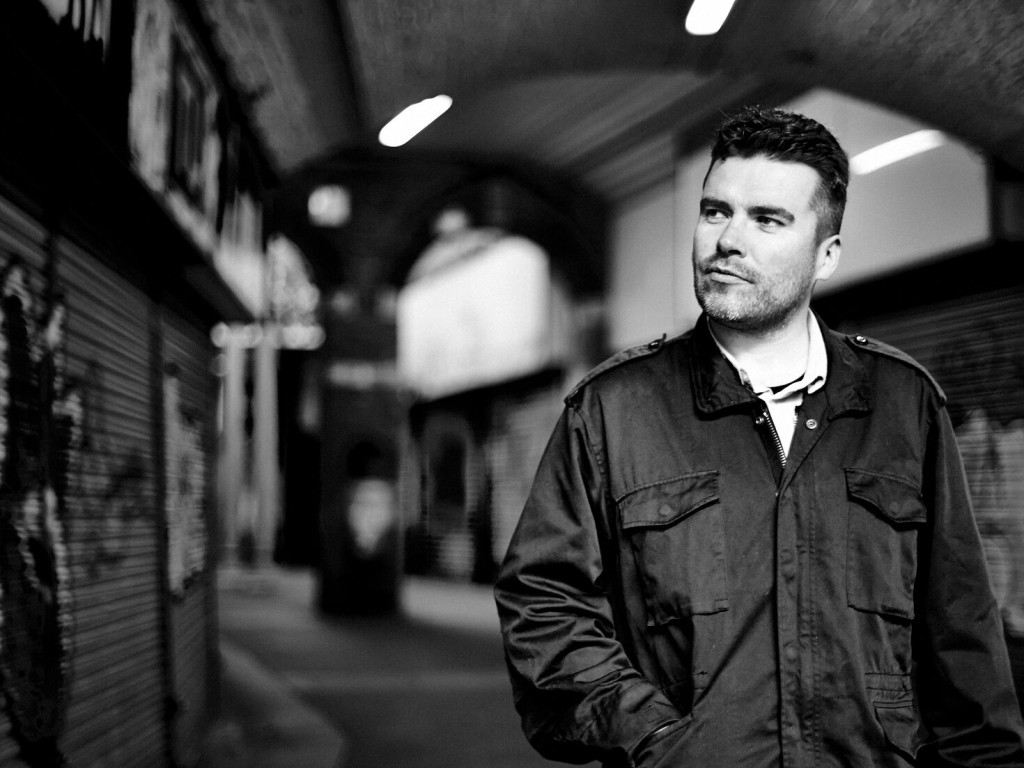 Ahead of playing alongside him at Bullitt in Belfast on Friday, February 9, DJs Jonny Carberry and Black Bones talk starting out, crate-digging, rare gems, returning home, imprints and more with Belfast-born, London based selector and DJ Brian Morrison AKA Brian Not Brian.

I think I first heard one of your mixes back in 2014, for one my fav labels Blackest Ever Black – I remember seeing the 'Brixton via Belfast' tag somewhere and thinking 'Belfast! Class!'. Can you tell us a little about your life (and musical interests) in Belfast, and when and why you decided to move to London?
Well, I'm actually from Antrim believe it or not (Not very 'cool' I know), so Belfast to me was literally the centre of everything, you know…. big city, bit of culture, good nights, parties, people etc. I was heading up to the city from the mid 90's initially to skateboard. In all honesty, I was a crap skater, but I did enjoy going up, cruising around and record shopping etc and through all that I ended meeting a load of people like Nik Muzka, Chris Nez and a whole world of others and that's where my 'official' rave life began. I was already DJ-ing by about 93-94 so naturally falling in with those guys fed into all that too and we all ended up doing loads of parties and playing a lot together.
I ended up in London nearly 20 years ago. I suppose it was fuelled by a need to explore, also things hadn't been so good back home for me and my family so I wanted a break. Just one of those things you know? But mainly I had met a girl in Belfast who was living just outside London and after a wee long distance thing for a year or so I decided to take the plunge and move over to be with her and I'm still here! The rest is history as they say.
That BEB is beautiful by the way, and a bit different to the deep disco/house/afro/dub excursions you're know for now (is that fair?). That's what I particularly like about your sets and radio shows: the open-mindedness. Do you still get a chance to explore odd synth/ambient/post-punk things? Or is your time consumed by what might work on the dancefloor, now that you're a fancy worldwide DJ and all? 
Thank you, I was really happy with that mix and I'm glad Kiran (BEB owner) dug it too. By the way, that's the first time anyone's ever referred to me as 'fancy' – thank you! I'm honoured.
DJ wise I suppose I'm very lucky. I get booked to play at a fair amount of parties where people know what it is I'm into musically and that's why they ask me to play initially. So the majority of the time there's no pressure to just 'bang it out' as such. I love going across the board. I get the chance to dig and play loads of left-field stuff, but I do also get the chance to make people dance too. For example one night I might play with the Horse Meat Disco crew where the focus is primarily on the dancefloor and then the next I might play at Brilliant Corners where it's more about selection, weird 45's, LP cuts etc and not that dance driven in the traditional way. Best of both worlds really! It's great. In my mind it's all just music you know? I don't look at it in genre definitions.
Tell us a bit about your DJ experiences. Where are your favourite places to play? And what type of sets? I know you've run with the Sex Tags Mania and Mood Hut crews in the past, and you're just back from an Australian tour…
Aye, literally just done 3 weeks down in Australia. It's the second time I've been down there in the last couple of years. Amazing place. Really enjoyed it.
My favourite types of parties are the small sweatboxes, preferably with a fairly 'free' sort of atmosphere, minimal security, minimal lighting, good mixed crowd and a decent sound. Also, a longer set is always fun too, anything between 4-6 hours. Somewhere where there's not just a sea of lads shazaming tunes or just standing staring at the DJ booth or whatever. Plastic People (RIP), Ohm in Berlin and TEAK in Cardiff all come to mind but then to be honest, so does Giros! I'm convinced Belfast in the mid to late 90's was killer for parties. I think about it often. It certainly shaped and inspired me.


What about Belfast. What's your impression of the city's music scene, looking from the outside? For me, straight-up house and techno dominate, but perhaps it's like that in most cities in the UK at the min? Personally, I'd like to hear a wider range of (exotic) sounds on the dancefloor – but disclaimer: this is coming from someone in their mid-30s…
My impression is good! I think things look super healthy in Belfast these days. From an outsiders point of view, of course. I'm not necessarily that up to date with the weekly and monthly manoeuvres but I suppose House and Techno have always been the mainstays there. There seems to be loads of people doing good stuff that isn't firmly in that realm though, Touch Sensitive records spring to mind here for example. I think it'll get bigger and better, generally people are way more open minded to music (and culture in general) these days than they've ever been. Saying that, there was always a bunch of great things on when I was living in the city, one of the main ones that was a big influence on me was Numb. Every Sunday Stan Ferguson and Chris Caul would play amazing music in Katy Daly's and there was a definite wee scene that was built around it. I mean, I remember the legendary Hip-hop photographer Brian 'B+' Cross (goggle him!) doing a 45's set there! That was amazing. Oh, and to touch on what you said, I too am wide open to hearing more exotic sounds in the clubs.
That wider range of sounds, that's something we're trying to push at Bullitt, and there are some other folk doing the same in the city. On our normal weekend nights, the ages and backgrounds are quite broad, but we can still play with some freedom across disco/soul/new-wave/house/boogie etc. Our guest DJ nights are where we push things further and even get a bit of dancing going. We've had people like Esa, Andras, Apiento from Test Pressing, Wah Wah Wino, Jon Rust – are you happy to be amongst that lot? How do you feel about playing in the city again?
Brilliant. Sounds good. I feel good to be included among such luminaries (a couple are mates too) and as for coming to belfast to play? I'm super up for it, I swear it must be nearly 20 years since I played in the city! I'm excited to see old friends, maybe have a drink or two (?) and see if I can force some folks onto the dancefloor.
The labels you're involved with, Going Good and Decent International, are serious. Any plans for this year? If I could recommend just one local NI label to you, it would be Touch Sensitive. To nick Dr Rob's words, they were 'electronically eclectic this year. Switching between Group Zero's Cold-Wave, Barry Lynn`s two Taurus Tapes of beautiful live, Eno / Fripp / Gottsching influenced experiments, and Autumns' accomplished – and punishing – EBM.' Up your street?
Thank you! I enjoy having various projects to get stuck into, there's a bunch of other things coming too but you'll undoubtedly hear about them as and when. I am very familiar with Mark and Touch Sensitive and he very kindly sent me the releases you've mentioned above. I think it's a brilliant label and a very fine recommendation, that 'Synthezoid heartbreak' 45 was mental! Also, doesn't the inimitable Dr Rob really have a way with words, eh? He's great.
I'm really excited that you're playing with local, mysterious edits dudes Black Bones – you have similar outlooks and (very particular) tastes I reckon. I'm just going to pass you over to them now for a couple of Qs…
The infamous Black Bones! Yes, I am more than familiar with their work…

Black Bones: As a fellow crate digger, please tell us one great find for minimum outlay?
Ooof, just one? Tricky. I am fairly tight when it comes to forking out for records, cheap ones are my favourites. A favourite recent-ish and cheap (£1!) one I dug up would be this. An amazing dub mix of Cabaret Voltaire by Francois K from '87, it's produced by Adrian Sherwood and it's basically just drum machines, reverb and a wee bit of synth. What else do you want?


Black Bones: If music wasn't in your life, what job would you be doing?
Another tough question, but a good one nonetheless. In the past I've dabbled in other fields of employment and have generally been pretty crap in all instances! I suppose I've always quite liked the idea of learning how to be a graphic designer maybe? I'm quite visually stimulated and get a lot of joy from looking at architecture, posters, record sleeves, books etc, it's a total artform and I'm consistently impressed by my design friends work. I'd probably explore that avenue (with limited success most probably).
And just to finish from me, here are some of my favourite quotes from the comments sections of your mixes: 'Dude this mix is SO SICK!!!!', 'buenisimo!', 'deeeeeeeeeeeep', 'noice', ':o', 'Oooof, vibey!', 'nice one m8', 'wow what is this cosmic groover', 'mmmm', 'it's going to be a good hour', 'sensual', 'whaaaat?!', 'real trip', 'insane mix. on the 6th consecutive listen'. And of course 'id anyone', 'someone, track ID pleeeeez!!', 'please, I beg, tell me the name of the song' – haha. You're going great at this DJing lark, right?
I have a feeling some of those people may have been 'inebriated' when they commented on those mixes!
Brian Not Brian, Black Bones, and Jonny Carberry play Bullitt Courtyard on Fri 9 February. Entry is totally free and there might even be some beers from Pabst.