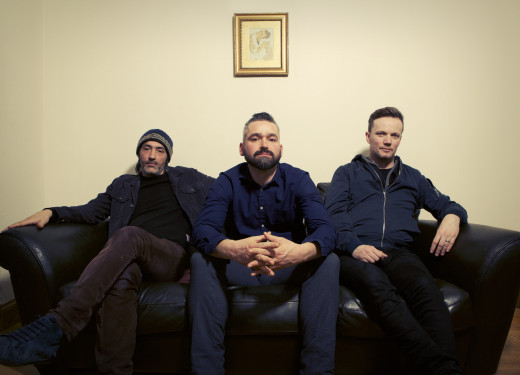 Dublin's The 202s will release their new album From When The Future Was Yet To Hurt Us tomorrow March 30 via Difference/Repetition.
With a selection of brand new cuts, previously released singles and tracks from their superb 2017 EP, Up In Thin Air, this album feels like the culmination of two years worth of gradual graft from one of Ireland's finest, most understated acts.
Having reformed in 2016 after a lengthy spell away – real life stuff, "since we last made a
record, The 202s have made five human beings!" – the trio have been steadily releasing tracks in anticipation of this album and now, as it lands, it seems that it has been well worth the wait.
Over the course of nine tracks, the trio of Mike Glennon (vocals/guitar/synths), Steve Melling (bass/synths) and Barry Smullen (drums/percussion) deliver moments of splendid energy and grit, demonstrating motorik krautrock groove and wiry new-wave swagger at one turn while delivering atmospheric, sombre moods at the next. The end result is an assured, versatile and layered record that balances its appreciation of all things pop with a healthy dose of experimentalism.
Tracks like 'Soul Don't Boogie' and 'Dash For The Exit (Real Love Doesn't Lie)' are fuzz-laced disco chops with nods to Talking Heads and David Bowie while the psychedelic pairing of 'Oh My My' and 'Melodiglockthing' are marvellously executed odes to the band's most definitive muse, Can. The album's dynamic peak 'Love Is In' then is on a par with tracks of some of the finest live electronic acts in the business.
Elsewhere, the kraut-pop clatter and verve takes a back seat as the band's indie-electronic and ambient sensibilities kick in on tracks like the stunning 'Refrain' and on the touching closing duo of 'Experts & Amateurs' and 'Are You For Real?'.
Discussing the album, the self-professed pop band have discussed the fascination with fusing that outlook with a more experimental edge "We've always been interested in the area where the fringes of pop music overlap with the edges of other forms," their official press release explains. "Experimental electronic or contemporary music, tape music, ambient or whatever."
"We're a pop band, yes, but we're willing to muddy the waters. All the bands we love did that."
You can stream From When The Future Was Yet To Hurt Us in its entirety below. The band are currently raising money to go toward a vinyl run of the record which you can contribute to here.
The 202s will play Rebellious Jukebox YEAH! – A Celebration of The Fall on April 21 in Dublin's The Grand Social.