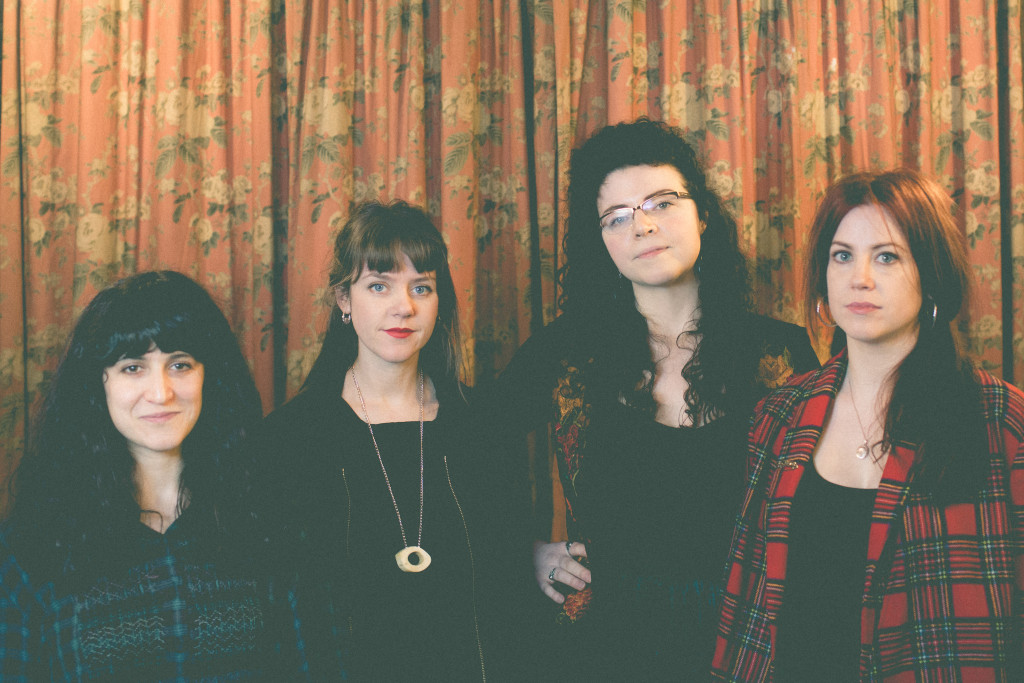 One of our 18 for '18 Irish artists, Landless are a rarity in today's traditional music landscape. Their unaccompanied vocal folk has been described by ourselves – and doubtless many others – as 'evocative, celestial, ethereal and, above all, extremely resonant'. Having formed in 2013, their debut album, Bleaching Bones – recorded in a variety of sonically rich, luxurious spaces – finally gets its release tomorrow through recently-formed Irish independent imprint, Humble Serpent. Alongside acts like Lankum and Brigid Mae Power, they're responsible for the establishment of folk music that's as appropriate today as it was in its stages of infancy; a conduit for the human spirit, and a platform from which greater ideas can be explored.
As part of our celebration of International Women's Day, we had a chat with members Ruth Clinton, Lily Power & Meabh Meir, about the inherent artistry & universality in traditional music, its relevance in 2018, and how being part of the folk community has shaped them.
Do you each come from a background of traditional music? Were you involved with other types of music or was it something you came around to in later years?
Ruth: I was aware of traditional music growing up – hearing stories of my great aunts and uncles playing – but had no direct involvement until later years. My background is classical piano and church organ.
Meabh: I took up classical cello, piano and guitar for a few years but singing was something which was just second nature around the house and was a staple at family gatherings. My parents would sometimes sing rather than speak in ordinary conversation for a laugh. I was always involved with school choirs and the like, and although I had picked up a few popular traditional songs as a child, I only really started becoming more interested in traditional songs as an older teenager after visiting singing circles in the west of Ireland.
Lily: My mum is a traditional singer who would have been influenced by the London Irish scene in the 1970s, so that music was always around. My aunt also introduced us both to music from the English and American folk revival.
With unaccompanied vocal being a less common folk tradition these days – was that just circumstantial, or was it always your intention? Did Landless come together with that idea in mind?
R: We mostly met through the unaccompanied singing scene, so it made sense for us to form that kind of group. It feels like a vibrant tradition still – from Drogheda to Donegal to Cork and most places in between.
M: It's more the singing in harmony than the unaccompanied element which is relatively rare in Ireland. We are admirers of The Voice Squad. I had always enjoyed harmonising and initially myself and Ruth sang together so that we didn't have to face the nerves of singing alone! We met Sinead and Lily a few years later, both of whom enjoyed traditional singing and harmonising as much as we did so we became four and started with the songs we knew.
Instrumental accompaniment is something which we may experiment with in the future, but I do think there is something special about the starkness of four human, and female, voices making sounds together without instrumental bolstering.
L: There's definitely something a bit magical about the starkness of unaccompanied singing, perhaps because it can exist in any time or place. It's fun to be able to sing together anywhere and at any time.
In terms of taste, do you find yourselves drawing influence, or even adapting ideas from any other, more contemporary styles of music? How do you bridge your musical & artistic interests in music outside of traditional music while remaining true to that sound?
R: I suppose you can't help but absorb elements of other types of music. Sometimes I think about the American shape note singing tradition or European harmony styles like those from Bulgaria or Slovakia (not wildly different I know). But we all have been singing in the traditional style for so long now that it would be more difficult to not stay true to that sound, if that makes sense!
M: I do not remember ever trying to force myself to adopt a particular sound or style, but singers like Dolores Keane and June Tabor were some early influences. I feel like I am happiest with a performance if I have sung honestly, openly, and confidently, so remaining true to your own sound I think is important and perhaps then the song itself works with that if it is a song meant for you.
Are there any other people or groups from here or abroad that particularly inspired or helped you to get to this point? What's your level of involvement with music outside of Landless?
R: We have been greatly supported by our peers in the Dublin folk & trad scene, as well as by older singers in terms of learning and performing songs.  Humble Serpent, the new Irish label who are putting out our album have been hugely helpful, as has John Murphy of Guerrilla Studios who recorded and produced the album. I'm fairly involved in other music and play fiddle regularly in trad and American old-time sessions in Sligo.
M: I am involved with an experimental choir called HIVE and volunteer as a vocalist for projects based at the Sonic Arts Research Centre in Belfast. I studied sound therapy in 2015 and now work with the Sound Healing Spa at festivals and other events. I have led traditional singing classes and workshops and I began a regular traditional singing session event in 2011 which still runs monthly in Belfast city centre.
L: There were lots of people in the English folk scene that supported me growing up – encouraging me to sing and introducing me to songs. I play a bit of old time clawhammer banjo now as well as helping run a singing session in Dublin.
Do you approach Landless in a creative & artistic sense, or do you primarily find yourself immersed in the communal spirit, and historically-rooted craft & tradition moreso?
In terms of taking a song from the canon, where do you draw the line on bringing your own level of creativity to it? Do you try to inhabit a particular space with your music in terms of making each song your own, or do you wish to channel the piece in a form that's a true to its original intent?
R: I think both! When approaching a song, we try to do something interesting with the arrangement without necessarily turning it another genre. I find there is also a lot of space for creativity in other elements around the music like album artwork, videos etc.
M: Definitely both! I think you have to make a traditional song your own in some way for it to resonate with you so that you can sing it a way that allows your listener to connect with what they are hearing. However,  I feel it would be disrespectful to the spirit of an old song to attempt to transform it entirely. I love how the life of a song can see it moving through so many different people. Often, while singing, it's like having a conversation with the song. In most cases, they have lived longer than me!
L : I think an important part of our sound is what happens naturally when we're all singing together with our eyes shut thinking about different things. You can't help but bring different ideas and creative forces to a song, even if it's very subtle.
Are there any themes on Bleaching Bones that you've specifically drawn to from the folk canon – or those written for you? For older pieces, do you find ways to derive new meaning from traditional pieces, or do you opt for the timeless?
R: I'm often attracted to songs based on their melody, which usually turns out to mean the song is a sad one! It's interesting then to look for songs that deal with other themes e.g. work or the supernatural and I'm not averse to a bit of romantic melodrama. Often the themes of folk songs are so universal that they still resonate easily with contemporary concerns.
M: As Ruth says, the whole sound of a song is generally more significant to me than meaning of its lyrics, but I think the reason why some song lyrics live for so long is precisely because they are timeless. Even when songs do illustrate a particular story or event, they usually deal with universal subjects like conflict, nature, grief, love, and death, which will never be specific to their times.
Are there any songs that you've had to omit or change due to lyrical content using what may be considered outdated ideas?
R: In some instances (e.g. the representation of women in songs) I think it's ok to acknowledge that values have not always been as they are now and appreciate the context in which the song was written – unless a song has particularly objectionable lyrics, in which case I doubt we'd be interested in singing it anyway.
L: For me, traditional music exists in the moment that you're singing it, so I have no problem changing lyrics that are offensive or exclusionary. But often this has already been done by singers before us. It comes back to the universality of experience within traditional song being its main appeal.
Do you feel folk music has something to say in a communal sense beyond just Ireland? With Bleaching Bones, have you tried to make any broader points?
R: Folk music is universal! We aren't trying to make any particular points, but hopefully listeners will hear something that speaks to their experience.
Despite actions and intentions of the church & its establishment for centuries now, Ireland has a long-running precedent for women who challenged the status quo, beginning from mythology through to modern-day cultural figureheads. In its music too, you have the likes of Margaret Barry who, on her own terms, made a career out of music that inspired countless important folk singers of the 60s onward. Each of these artists have been able to articulate, through a style of music often perpetuated by a culture that's historically had a (to put it lightly) poor attitude towards the role of women. Is there ever a sense of trying to reclaim Irish traditional music – and music in Ireland as a whole – from the darker sides of history, into a more inclusive sense of national identity?
What's the outlook from those involved with the scene?
L: I'm definitely inspired by women like Margaret Barry who put themselves forward unashamedly and made their own rules within traditional music. There are lots of great folky women out there at the moment but there's still a way to go in terms of attitudes as well as representation at festivals and singing sessions.
Along with yourselves, it looks like women in modern Irish folk & traditional music appear to be breaking new ground in the country at the moment – Brigid Mae Power, Lisa O'Neil & Radie Peat – do you feel that's the case?
M: These women, besides being brilliant musicians and singers, have the admirable quality of being completely themselves when they perform. There are no falsities or affectations. Perhaps there is a growing sense of confidence among women to be at ease in their own skin as part of an ability to ignore ongoing social pressures and expectations. Maybe talented women are just being acknowledged and appreciated more, and deservedly so!
What direction do you see your music taking, going forward? Do you feel ready to write music that fits into the context of a traditional performance or album?
M: I don't think writing completely new material is necessarily the next developmental step for Landless considering that we are rooted so firmly in traditional song.
Personally, I've been feeling an urge to find out what else the voice can do so I'd like to try more improvisation and experimental vocal exercises and find out how that might fit into a performance context. It's possible that this might then open roads into writing new material but I'd be equally happy to continue finding great songs and writing harmonies to go with them.
Finally, what are your opinions on the Repeal the 8th movement? 
R: I think all women should have access to free, safe and legal abortion.
M: All for freedom of choice.
L: I am in favour of repealing the eighth and grateful to all the people who've worked hard to get us this far.
Landless launch Bleaching Bones tomorrow, March 9, at the intimate setting of St. Ann's Church on Dawson Street, Dublin. Tickets are available here, and you can check it out on Bandcamp.