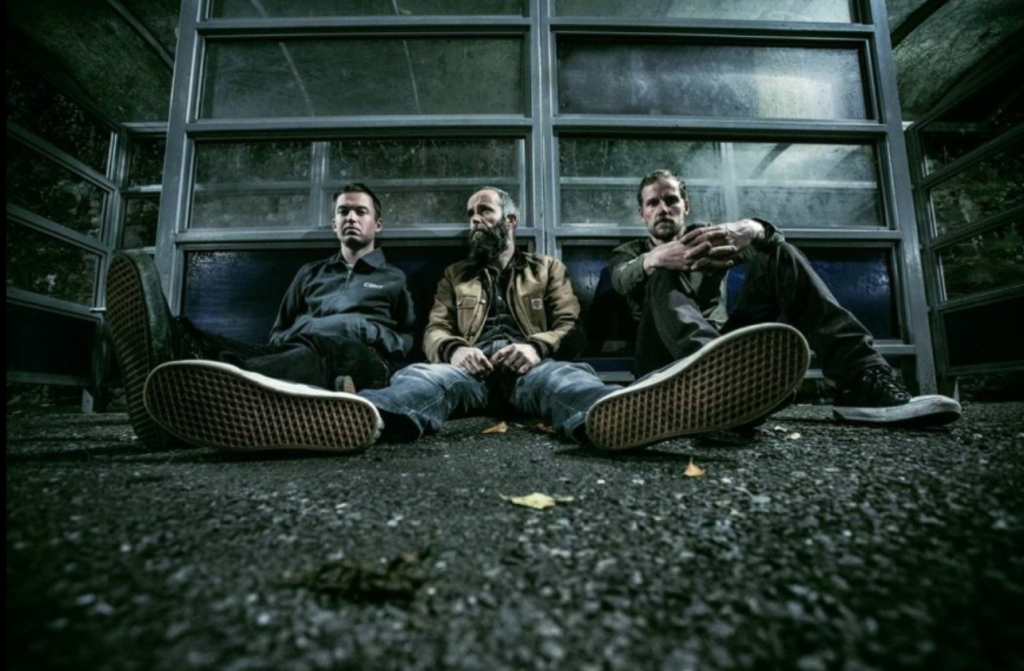 As everyone knows (or should know) Northern Ireland's alt-rock lineage is both proud and incredibly diverse. Comprised of stalwarts of the scene as it looked several years ago, Duellists are a new-fangled three-piece promising aggression, abrasion and intensity. Ahead of their forthcoming debut album, the Belfast-based band talk to us about influence, almost ripping off Fugazi, the John Carpenter-conjuring video for their debut 'Into the Fade', the state of NI music and more.
You founded in 2015 and comprise ex-members of NI bands Element and Throat. How does Duellists differ from those two acts, and do you think your previous incarnations works to your advantage?
Yeah, they definitely worked to our advantage, both bands gigged quite a bit and wrote a lot of material so we all gained experience which helped us in this band. I think our past incarnations could loosely be described as alternative rock, however with Duellists we wanted to achieve something altogether more aggressive, more abrasive, and much more intense.
You spent much of last year in the studio recording your debut album with Caolan "Tune up!" Austin. How was the recording process and what are the main themes running through the release?
Caolan was fantastic to work with. I think in the past we have had issues when recording as we were never fully on the same page with regards to our musical direction. When we arrived to work with Caolan we were all enthusiastic about our material. He totally understood what we wanted to achieve and was integral in helping us translate that vision to tape – digital, really.
Lyrically, I didn't really plan on working with certain themes. However, looking back much of the album deals with anxiety, whether it be in social situations or of the crippling kind which holds you back from achieving anything. Self-doubt looms over many of the tracks as does confidence, and generally trying to make sense of my choices and where they have led me. Cheery stuff, really, I think I'll have to start listening to Ed Sheeran or some garbage to inject positive vibes into our songs!
The music of some monolithic acts has filtering into your sound, but you manage to retain your own distinct sonic style. Which artists do you think have made an imprint on the Duellists sound?
Well, we are all massive fans of 90s American punk/hardcore, especially the DC/Dischord scene. We all grew up on Fugazi, Jawbox, The Jesus Lizard and similar artists and it's definitely affected the way we approach our instruments, as well as in songwriting. In terms of contemporary artists, The Bronx are definitely a big influence, as are The National, although you wouldn't know that from listening to us. But I always end up coming back to Fugazi. I remember writing a chorus to one of our songs a while back and just thinking, "God I have nailed this. It's amazing!", only to be told by my bandmates it is literally the chorus to 'Public Witness Program' by Fugazi. I knew it was too good to be true!
The album's lead single 'Into the Fade' is as emphatic as it comes. Tell us why chose that as the lead single and what the song's lyrics revolve around.
'Into the Fade' was one of the last two songs written for the album, we were still piecing it together two weeks before we recorded it. I always feel that there is a fresh energy and enthusiasm present for our newest material and that really came across in the recording. I also feel that into the fade is a great introduction to the band. We wanted intensity flowing through the songs whether it be aggressive and loud or stripped right down to a whisper, so I feel that this song shows off these different sides to us well.


When writing the lyrics I imagined a character who was extremely bitter towards the world, unhappy with himself and his actions, feeling wronged by everyone around him. As his relationships crumble around him he starts to gain perspective, realising how much he needs those around him but it's too late and they are too far in the distance. Again, cheery stuff!
It's accompanied with a really solid video. We hear it draws influence from a certain cinematic cult classic?
Ha, yeah – we felt that there weren't enough remakes in the world today so why not add to the shit pile! We are all big John Carpenter fans so we thought we would have a go at recreating Christine. Our drummer Mike is a total petrol head and owns the '57 Chevy so it made perfect sense. Our friend Marty Stalker from Scattered Images did a great video for us years ago so we pitched him the idea and he loved it. It was all done in three nights. I don't think any of us would make it as actors but it was a great experience! There is talk of keeping up the John Carpenter theme. I'm all for attempting Big Trouble In Little China but that conversation didn't go so well.
You're easily one of the finest noise-punk propositions on these shores. But which other NI/Irish acts are currently catching your ear at the minute?
Thanks a lot! There no shortage of great acts at the minute. I'm a big fan of Empty Lungs and Pocket Billiards, I always try and catch them when they play. Lately, I've seen New Pagans and Robocobra Quartet, who both blew me away. I always enjoy watching THVS and Dutch Schultz, who are also great friends of ours. There is just so much variety in the scene at the minute. Myself, Rus, and Caolan all went to Belfast Output and were able to catch the amazing Katharine Philippa, then walk across the road to see Empty Lungs or No Oil Paintings.
Finally, looking ahead of the next few months, what are your plans/expectations for the album and touring?
After spending so long writing and recording these songs we are just eager to let people hear them. It gets to a point where you are so close to these songs that we don't even know if they are good or not, so it'll be great to get the material out there. Our plan is to release Into the Fade as a single on June 1 then follow up with the full album at some point in August. I'm most excited about getting to play these songs live which is where we feel most comfortable. We are working on a bunch of shows with our friends in THVS for late summer and then ideally would like to branch out and play over the water at some point.
Follow Duellists here